Hey everyone, Jack Drees here! We have reviewed four Tom Cruise movies so far this month, now let's make it five! Before we go any further, if you do want to check out my reviews for "Oblivion," "All the Right Moves," "Days of Thunder," and "Top Gun," you'll notice that the titles are highlighted, meaning that you'll find the links right there! These are all other movies that I have previously reviewed for the purpose of Tom Cruise Month, but we're not focusing on those right now. Instead, we are going to focus on the year 2054, which looks mighty pleasant compared to 2020. It is time to talk about "Minority Report" as we begin our final installment of…
*LIGHTNING CRACK*
TOM CRUISE MONTH
"Minority Report" is directed by Steven Spielberg (Jurassic Park, Jaws) and stars Tom Cruise (Risky Business, Top Gun), Colin Farrell (Ballykissangel, American Outlaws), Samantha Morton (Band of Gold, Pandaemonium), and Max Von Sydow (Flash Gordon, The Seventh Seal). This film takes place during the year 2054 and is based on the material once created by author Philip K. Dick. In a future where Pre-Cogs can see upcoming murders and related criminal acts, a special police unit is supposed to stop murderers and arrest them before such crimes are committed. Interestingly, one of the police officers themselves is accused of a future murder.
Prior to making this review, I had not once seen "Minority Report." And at this point, getting to witness something new, even if it is almost a couple full decades old, is kind of a treat. I bought the Blu-ray when I was in Santa Monica, California, and I figured this Tom Cruise Month theme would give me a solid excuse to pop in the disc. Unknowingly, I was aware of this movie's existence. I mean, sure, I guess I knew the title and everything, but what I did not know was that this movie was the picture featuring Pre-Cogs. Like every other person under the age of thirty, I achieved a great deal of knowledge, or at least a conglomeration of useless factoids, over the Internet. If it were not for YouTuber Jeremy Jahns referencing one specific scene…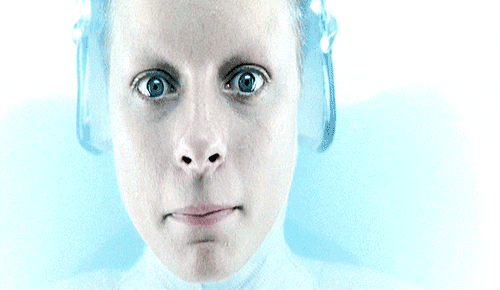 "Murrrrder."
…I would probably not know squat about this movie, or at least acknowledge squat about this movie. So I will say, this movie must have stood the test of time in terms of being recognized in pop culture. Then again, it is a Steven Spielberg flick, and he has a fairly recognizable, prolific, diverse, and masterful library.
By the way, before we go any further, one of the biggest compliments I'll give to this movie is that the framing is very well done. The scope of "Minority Report" pulls you right in. It does not disappoint. It takes this 2054 type of environment and makes you embrace it. Speaking of which, one of the best shots of this movie, is the first full-on glimpse we get of a Pre-Cog, which is shown in the GIF I would assume you have scrolled through fairly recently. It's just so clear and crisp. I don't know why, but the more I look at the shot of that Pre-Cog, the more I want to go into a pool. Although, maybe not until next year, knowing how things are right now. I will say, on that note, even though I really like the way this film looks, it's not pretty all the way through, because I think the color scheme of many of the shots are a little too somber. Granted, "Minority Report" is not a comedy, it was never supposed to represent the best of times, even though we do get some classy looking cars in the future, but there are some times where this movie doesn't come off as a soap opera from the script, but the color palette begs to differ. It almost reminds me of the "Point Break" remake from 2015, only this movie is twice as good as that film and in my personal opinion, technically qualifies as a "movie."
Since this is a Tom Cruise movie, and given how this is the final entry to Tom Cruise Month, let's talk about Tom Cruise himself. When it comes to Tom Cruise in this film, this is honestly one of his better performances. I think casting was a job well done with this film, not just with Cruise, but with names including Max Von Sydow and Samantha Morton. I bought into all their performances and it helped enhance the movie. I will say though, not that it matters entirely, Tom Cruise with a haircut like the one he has here is probably one of his inferior looks for one of his roles. But that's just me. Also, if you know me, when it comes to Tom Cruise, I don't always point out my love and respect for him through his ability to convey a character, even though he's a respectable actor in that regard, but his motivation to perhaps nearly kill himself. Like some of his other movies, he does his own stunts here. Granted, I never really noticed anything as scary or heart-racing as say his plane hang from "Mission: Impossible – Rogue Nation" as an example, but is nice to know that like some of his other projects, Cruise himself put an effort into the stuntwork.
One of the best parts of "Minority Report" is the concept. You have a special police force trying to stop murderers who are predicted by Pre-Cogs. I think the way that this movie went around executing the concept was worthy of a thumbs up. The movie kind of had me in the beginning alone. I will say when it comes to pacing it does slow down overtime, but the climax is fairly entertaining as well. It ups the pace of the movie when said climax begins, and it makes the viewing experience worthwhile.
Another point of the movie that stood out to me for a reason I truly should have grasped from the very beginning was the score. For the record, the score for "Minority Report" was conducted by John Williams, and I don't know why for the life of me I didn't conceptualize that from the beginning. I knew John Williams automatically went hand in hand with the "Star Wars" franchise but for some reason I completely forgot his attachment to Steven Spielberg, the two go together in the same way that Hans Zimmer and Christopher Nolan tend to go together. They have worked on so many films to the point where their coupling has become nothing short of iconic. When it John Williams, I will say, even though there are fractions of the score that I happened to like, it is one of inferior scores. This movie came out the same year as "Star Wars Episode II: Attack of the Clones," another score that John Williams did. And even though I, along with many others, would point out that "Attack of the Clones" is a lackluster installment to the "Star Wars" franchise, there's a solid chance I would agree with someone that "Episode II," per usual had a kick-ass John Williams score. When it comes to his 2002 work, "Attack of the Clones" kicks "Minority Report's" ass. Although, if you want me to go further, even though I barely remember, I do recall not hating Williams' score to "Harry Potter and the Chamber of Secrets." But I have to watch that movie again as it has been forever since I saw it. Sticking with "Minority Report's" score, I will say I enjoyed it, but if I had to say one standout negative about it, I think it's a little overbearing on drums. Just a little bit.
Little sidenote, this review is being written in 2020, the year that "Cops" was practically taken off the air for a list of reasons, so I will admit, I did get a slight chuckle seeing that apparently the TV show "Cops" was still relevant in 2054. Just thought I'd point that out.
In the end, "Minority Report" is a good movie, and a likable futuristic vision with a clever concept. However, when it comes to futuristic visions, specifically ones that come from the mind of Steven Spielberg, I much prefer his vision of 2045, which was represented through 2018's "Ready Player One," as opposed to his vision of 2054, represented here in "Minority Report." Then again, "Ready Player One" is based on a book by Ernest Cline, and "Minority Report" is based on a short story from Philip K. Dick, so in reality, it's not Spielberg's vision. Nevertheless, I think when it comes to movies that are set in the future from Spielberg, I personally prefer "Ready Player One." Although I will say, one thought that has been in my head for a little bit about this movie is the desire to check it out once more. Not just because I liked the movie the first time, which I did. But I feel like there are possibly one or two crucial points that I may have glossed over that are worth noticing in the future. If your movie can get me to have a urge to go back and see it one more time, no matter what the reason (unless maybe I want to torture myself), I'd say a job well done is in order. There are better Spielberg movies out there, I'd say there are better Tom Cruise movies out there. But this was worth my time, I didn't really have any regrets. I'm going to give "Minority Report" a 7/10.
Thanks for reading this review! Thanks to all who showed any ounce of interest in Tom Cruise Month! I will point out that July is coming up, and while I have no real theme for the month, I will note that "Tenet" is scheduled to come out pretty soon, so maybe I'll review some Christopher Nolan movies if I have the time. I will point out though, given how I have not really paid much attention to this year in film all that much, I do want to give this year's movies a shot before it is too late. So there is a solid chance that a lot of July's content is going to be of some 2020 movies that I missed. I've got a few on Blu-ray, I can probably check a few movies through streaming if I have the proper account setup. And even though I personally don't have Apple TV+, there is a movie coming to that service that I might end up reviewing if possible, specifically "Greyhound" starring Tom Hanks. Because who doesn't like Tom Hanks?! Be sure to follow Scene Before either through an email or WordPress account so you can stay tuned for more great content! Also, check out my Facebook page! Speaking of checking things out, if you want to see some more of my Tom Cruise reviews that are not exactly affiliated with Tom Cruise Month, the links are listed down below. These reviews by the way go all the way back to 2017, my second year of film reviewing on Scene Before. I want to know, did you see "Minority Report?" What did you think about it? Or, what is your favorite John Williams score of all time? Let me know down below! Scene Before is your click to the flicks!
Mission: Impossible – Ghost Protocol
Mission: Impossible – Rogue Nation