Hey everyone, Jack Drees here! It is time for the second entry to the official Scene Before event, Tom Cruise Month! It is week 2 in this limited run of reviews, or as I like to call it, a cure to boredom. I love Tom Cruise, I sometimes forget how much I appreciate him as an actor, not just as a performer trying to encapsulate the heart and soul of the individuals he portrays on screen, but also how much he is willing to learn, how much he is willing to risk his own life just to entertain a modern audience. He's this generation's Buster Keaton if you ask me.
We are still early into Tom Cruise Month, and speaking of early, we are going to travel back to the 1980s, when the actor was just getting started, taking on films like "Endless Love," "The Outsiders," and "Risky Business." But we are not going to talk about those films. I didn't watch those a few days ago. Although, the thought of going back to watch "Risky Business" does intrigue me. Instead, we are going to dive into the 1983 flick "All the Right Moves."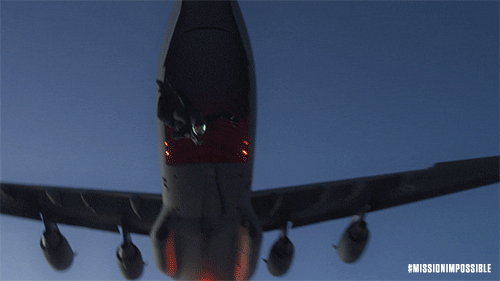 So let's dive right–Wait… Tom! I didn't mean that way! Ah, whatever, let's start the review. This is a series I like to call…
*LIGHTNING CRACK*
TOM CRUISE MONTH
"All the Right Moves" is directed by Michael Chapman (Raging Bull, Taxi Driver) and stars Tom Cruise (The Outsiders, Risky Business), Craig T. Nelson, and Lea Thompson in a film about a teenage boy from a western Pennsylvania town looking for a football scholarship. The town is dominated by a steel manufacturing company, and it is kind of boring, but Cruise does have young Lea Thompson as a girlfriend, so that keeps life interesting. The movie follows Cruise as he has to deal with the pressure of a big football game, and the challenge of trying to get into a good school while living in a town that seems to be stuck in its own traditions that he may consider beneath him. Gotta be honest, and you'll hear some explanation about this in the review. When it comes to the high school kid wanting a scholarship or a desire to get into a good school, this is a plot I think "Risky Business," another Tom Cruise movie, did three times better than this piece of crap.
"All the Right Moves" came out in 1983, back when Tom Cruise was getting started, before Oprah Winfrey ever could have been concerned about getting her furniture ruined. I bought this movie in 2017, watched it once a little less than a year later, hated myself afterwards, and moved on with my life. I did not think I would watch it again, but I kept it in my collection because when it comes to what I've got in said collection, Tom Cruise is such a crucial part. I believe I have more Tom Cruise movies in my collection than I do for Criterions. That's how much I am willing to embrace the dude. I don't agree with his personal views in regards to Scientology. But I don't let that get in the way from how much I respect him as a performer. Granted, a lot of his roles have gotten more complex and dangerous as time has passed, but even back in the 1980s, I can sense strong acting chops from Cruise himself.
So, I have the Blu-ray, so I took it from the collection, carefully inserted it into the player, it asked me if I wanted to resume from the last place I stopped because my 4K Blu-ray player apparently remembers s*it from 2018 and robots are taking over the world, said no, then I began watching the movie.
It still f*cking sucks. Plain and simple. I have not seen all of Tom Cruise's work. Heavy hitters like "Vanilla Sky," "Collateral," and "Cocktail" are all titles I have not dived into as of yet. I fell asleep during the first few minutes of "Jerry Maguire," but that was more or less because I was tired and not because the movie sucked. But if you ask me, if I had to pick a least favorite Tom Cruise movie of the ones I have seen, this would be it. Either this or "Mission: Impossible II," which I have previously labeled in my review as "Impossible to Enjoy."
I am being harsh on this movie, admittedly, so I will point out that I cannot overlook the things I liked about it. Tom Cruise is pretty good as the starring role, I like Craig T. Nelson as the coach, the performances all around are halfway decent. The cinematography and directing are both competent. But even though Tom Cruise plays the lead character well, I cannot say I related to him. Yes, I don't play football. I don't even like football! I think as a sport it is one of the most overrated concepts I have ever seen, even though I have watched the Super Bowl for the ads. Now, I understand that one of the big techniques when writing a likable main character is to have them be broken, they can't be perfect. But there are certain times where Tom Cruise's character of Stefen just comes off as a dick. I don't know why. Just the way he talks, he feels more selfish than anything. And I understand that when it comes to storytelling, everything is typically supposed to come from the lead character's perspective. But when your lead character is doing things that make them come off as a complete jackass, why should I care? I was able to defend him maybe once or twice, but there are so many other instances where a part of me died inside.
I mean, if you look at a similar movie starring Tom Cruise, specifically "Risky Business," I felt for his character for just about every second of the movie. And whenever there was a fault that he made, it didn't make me roll my eyes and wonder why I was rooting for him. His character, Joel, was relatable, and at times I kind of wanted to be him. I don't think I'd want to be Stefen from "All the Right Moves," even if I did get to date a young Lea Thompson in high school… If I were Joel I'd get Rebecca De Mornay so that's a pretty fine alternative. By the way, the high school in this movie, at least from the perspective of young student characters we see inside, is unrealistically steamy. Maybe I'm saying this as someone who went in the 2010s, but still. It felt like something out of a stereotypical cheesy CW teen drama.
I don't know, but the way this entire movie plays out feels incredibly stupid. Granted, it has some solid buildup and introduces you to the world in a well executed manner, but when it comes to building the characters, I don't really like any of it. I understand want, but there's want, then there's a Veruca Salt impression. Maybe that's a little too far, but without spoiling anything, some of the actions that Stefen takes in this movie almost feel unacceptable or inexcusable. If you want me to like you, don't be a dick. Don't go around doing s*it that makes you the scum of the earth, it's that simple. I don't care if you don't like a person that much. JUST… Be polite. I get that girls… supposedly like bad boys, but holy s*it, if I dated this moron, I'd beat his ass before getting out of his sight.
Not even a gorgeous young Lea Thompson could save this mess! I mean, another compliment I could give is if you really want something sexy, this… is kinda serviceable. There's one or two parts of the movie that at least could fulfill that. I mean, I wouldn't recommend it as a date night movie. I think date night movies should have a little more substance, at least if you're asking me, but ya know. Although I wouldn't stop you from watching this with your mom, even though there is nudity.
One of the worst things about this movie is the ending. I will not go into it, and even though it is coherent, it is nevertheless cringeworthy to watch as a viewer because I'm looking at the main character. Did he earn his fate? Honestly, he didn't. It was just given to him. I don't even know how it adds up.
Honestly guys, if you want a solid story where Tom Cruise plays a teenage boy going about his daily life that feels raw, packs a total punch, and feels fun all around, go watch "Risky Business!" It came out in the same year, has a slightly similar concept, but is just about better in every single way from directing to writing to camerawork to emotion to music, just about everything in that movie is better, and apparently it came out before "All the Right Moves" did. And even though I gave some flack for "Risky Business" not keeping their original ending, which can be seen in the bonus features from their 2008 DVD/Blu-ray release, I consider it a near perfect movie. If I had to choose a favorite Tom Cruise movie, I would have to flip a coin between "Risky Business" and "Mission: Impossible: Fallout." At least this movie's short, I didn't suffer for too long.
In the end, "All the Right Moves" is all kinds of wrong. There are a couple things I like about the movie, there were one or two dramatic points that had me looking at the screen. Although when it comes to characters, they start out fine, but become flat or annoying as the movie goes on. I was not bored by this movie, even though it may drag at later points, I just found this movie rather unwatchable. Tom Cruise shows a decent acting ability even for an earlier role. Not enough to make a good movie. One or two scenes are kinda attention-grabbing. Not enough to make a good movie. Lea Thompson looks like a goddess! Not enough to make a good movie. I don't know if I'll be watching "All the Right Moves" ever again. That is even if I do keep the Blu-ray for the rest of my life. I'm going to give "All the Right Moves" a 3/10. Thanks for reading this review! Next week I'm going to be reviewing "Days of Thunder." Another Tom Cruise movie I have not watched in a long time. I'm personally curious to see if any of my opinions change, but that will have to be revealed in the future. Be sure to follow Scene Before either with an email or WordPress account so you can stay tuned for more great content! Also, make the right move, and check out the Scene Before Facebook page! Give it a like too! I want to know, did you see "All the Right Moves?" What did you think about it? Or, what is your favorite Lea Thompson movie? SPECIAL RULE: If you say any of the "Back to the Future" movies, I want a second choice if you have seen one. Admittedly, this is probably me just looking for a recommendation or two. Leave those picks down below and I will have a "Days of Thunder" review next week! Scene Before is your click to the flicks!