Hey everyone, Jack Drees here! This is a post that I never wanted to make, but feared one day that I would have to put out. It is an entry to Scene Before that I wish had never been thought of, prophecized, or conceptualized. But here we are. It is that day. Ladies and gentlemen, I give you the worst movie news of 2020…
That's… WHAT I THOUGHT I WOULD HAVE SAID.
Instead, we get some rather unfortunate news. Followed by SOME INFORMATION THAT MADE MY BRAIN RUN ON A HAMSTER WHEEL!
But first, the bad news, and man is it ugly. As described by the title, the Warner Bros. film "Tenet," directed by Christopher Nolan, my second most anticipated movie of the year, which we just got a trailer for by the way, has officially been delayed. But only by two weeks. To add fuel to the fire, guess what? "Wonder Woman 1984" is pushed back to October! "Unhinged," which was supposed to come out early July, has been delayed, kind of like "Tenet," not far into the future, but July 10th. "Matrix 4" has been delayed again, "Godzilla vs. Kong" was delayed as well and it will be going into "Matrix 4's" spot on the release calendar. Although oddly enough, "Bill & Ted Face the Music," from MGM/Orion, will be releasing August 14th, a week earlier than originally anticipated. By the way, August 14th is also the date "Wonder Woman 1984" was originally pushed back to when this COVID-19 frenzy started.
I said to myself a couple times during this pandemic that if "Tenet" gets pushed back by like a week or two, maybe somewhere in early August, I'd be fine. Having realized this delay as of now, I am admittedly, a little peeved, especially considering how there seemed to be some recent commitment across the United States at the very least to reopening the economy. After that latest trailer from the previous month, I thought it was a lock that we would be seeing "Tenet" on July 17th. Granted, the trailer itself never suggested it, but if you go to YouTube and check the description of the trailer, it would have suggested a July 17th release date. There seemed to be some sort of commitment! I'm glad it's not going past July, but "Tenet" looked like it would be the savior of cinema. My big question is… Will "Mulan" be the new savior? After all, it is scheduled to release on July 24th. I would not be surprised if Disney either sticks to it or releases it via On Demand. That movie should be fine as long as it doesn't go to Disney+, kind of "Artemis Fowl," which I am hearing is probably one of the worst Disney movies ever made. Will this change the game in terms of how people return to the theater and see new movies?
One of the big draw-ins for "Tenet" is the massive potential to be had with a theatrical experience, and I will say if that element of the marketing goes away, it's gonna be a little harder to get me to watch the film, because such news of it going onto VOD could leave a bad taste in my mouth, thus making me want to avoid it at least for some time. Christopher Nolan has always been a director that relies on story, but also immersion. A lot of his films have been shot with 70mm, IMAX cameras, or made specifically for the IMAX experience.
But… This does not mean all hope is lost.
While Christopher Nolan's "Tenet" is no longer available to be seen on July 17th, one of Nolan's older films… will.
One of my favorite Christopher Nolan films is the very successful 2010 flick, "Inception." That film is so mind-twisting, so visually brilliant, so masterfully produced, I love it. It even made it into my 25 favorite films of the past decade! As suggested, this film turns ten this year, and what a better way to celebrate than to bring it back into theaters, where it ended up earning a whopping $829.9 million at the box office, which many original titles nowadays would have to break an arm and a leg to earn.
The film will be returning to theaters on July 17th, however there is currently no absolute specification as to where it will be playing. I am willing to bet, considering how Christopher Nolan is involved, there will be IMAX screenings of some sort. Maybe there are a few 70mm prints from 2010 lying around that have neither fully deteriorated or been destroyed, perhaps they could be played at some of the bigger chain venues like the AMC Metreon in San Francisco, California. Maybe one or two museums can pitch in. Either that or they can make a few new prints. Maybe some screens will do 35mm, the possibilities are endless! "Inception" is a movie I missed in the theater. For the record, "Inception" was PG-13, I was ten years old, and quite honestly, I have little memory of ever truly knowing about it to a large extent at such a young age. I didn't really discover who Christopher Nolan was until I was say 12 or 13 years old, which is when I watched his "Batman" movies for the first time. I would be truly excited to go see "Inception" in a way that it is perhaps meant to be seen. I will admit, when it comes to the story, even though it is coherent, it still takes a minor toll on my brain as I witness everything happen. But it doesn't take away from all the glory that is to be seen.
This was just recently announced, so there are currently no tickets on sale as of yet. But I would suspect that they would be on sale during the beginning of July at the latest, maybe Independence Day. After all, Christopher Nolan's last film he directed, "Dunkirk," had its advance tickets go on sale about two weeks in advance. Maybe this would be the case for "Inception," unless Warner Bros. thinks it would not matter because this is a ten year old movie that a lot of people have already seen.
And no, "Inception" is not a ten year old movie. It's a ten year old work of art. Learn your facts, everyone. Okay… well, it's still nine years old, actually… It released on July the 16th. So it TURNS ten literally in a month! I'm sticking with what I said!
Nevertheless, I must say, if it were not for this I am your father-esque plot twist where "Inception" swoops in at the last minute to announce its presence, I probably would have destroyed my entire neighborhood at this point. Now, I would not be lying if I told you there was another movie I was looking forward to more that I think will be better than "Tenet." By the way, that one movie, and one movie only, at least for the moment, is "Dune." I will also point out however, when it comes to "Tenet," it has come to this point that when it comes to all the movies I have ever known, there is not one I would want to see more right now than "Tenet." Not only is this due to the fact that I've been staying inside my house for eternity upon eternity, but Christopher Nolan is honestly the holy grail of modern filmmakers for me at this point. I want just about every movie to succeed, but when it comes to "Tenet," a movie helmed by my favorite director, from my favorite film studio, that is going to be, and I apologize for nerding out here, my favorite theatrical format in IMAX 70mm, I don't think there is a better time for what I would call the Hollywood happy ending. Yes, "Tenet" was delayed, but part of me doubts that the delay was going to hurt the industry, nor was it a sign of a complete lack of confidence either in the film itself or how well it will do financially.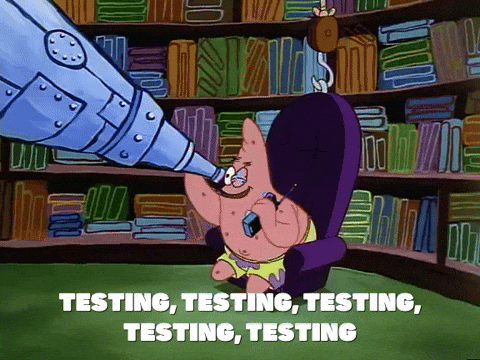 My question is this… Is this a test? To maybe get moviegoers to speak with their wallet? Is there enough reason for the average moviegoer, or even the movie buff to show up at the cinema in a pandemic like this? If "Inception" makes less than a million bucks, will "Tenet" still come out on July 31st? If you know me, you'd know I'd be there day one, even if I have to go out of state. But I am just one movie reviewing moron. There are so many other people out there.
I will also point out that this reinstates something I have thought about for some time, specifically the theory that "Tenet" is secretly an "Inception" sequel, or at least a story taking place in the "Inception" universe. Yes, these screenings that are coming up could be a tenth anniversary celebration, but at the same time, this could be a marketing technique. This could be a way to get "Inception" fresh in everybody's minds again that way the impact of being in the same universe would be that much greater. Then again, if you do want to refresh your memory on "Inception" right now, a month before July 2020, it is available on Netflix. Although it is also available on other streaming platforms and physical media through DVD, Blu-ray, and my preferred option, because I'm a snob, 4K Blu-ray.
Nevertheless, I am glad "Inception" is coming back for more screenings. I will happily show up in a mask, wearing a hazmat suit, and bring my own hand sanitizer if necessary! As for "Tenet," I will be seeing it as early as possible, when it comes out on July 31st, unless of course there is a press screening, which I kind of doubt there will be since that occasionally involves a heavy crowd. That and… (whispers) "Tenet" sounds like a movie where you can't say anything about it before the spoiler police knock you out.
"Inception" will return to theaters July 17th, hopefully that date is a lock and it won't get changed, and "Tenet" will be in theaters in digital, 35mm, 70mm, and ALL IMAX formats July 31st. Tickets are not on sale yet, but hopefully there will be tickets soon. Thanks for reading this post! This is my 399th post on Scene Before, unless you count one that was deleted. Keeping with the tradition of the past, my next post, which is my 400th, will be a Blu-ray collection update. I'm going to be going over my entire movie-based collection. I could do TV, but that would divert from the movie theme of Scene Before and I would only show like three items if that were the case. I will have this up sometime next week, same with my review for "Days of Thunder," starring Tom Cruise, as I continue June's theme for the blog, Tom Cruise month. I also plan to review "The King of Staten Island" pretty soon, maybe I'll watch something else and review it as well. Who knows? Like I said before, although in an alternate context, the possibilities are endless. Be sure to follow Scene Before either with an email or WordPress account so you can stay tuned for more great content! Check out my Facebook page and give it a like, and speaking of likes, if you have the proper account credentials, give this post a like! Otherwise, just share with your friends who probably are just like me and really want an excuse to go back to a flippin' movie theater. I want to know, what are your thoughts on "Tenet" getting delayed? Are you willing to go into a theater to see this movie? I know I am! Also, what are your thoughts on "Inception" coming back to theaters? I've been waiting for a train for a long time, and I hope it takes me to the cinema! Let's go already! Scene Before is your click to the flicks!