Hey everyone, Jack Drees here! The 1980s has brought us some of the most culturally important films of all time. "The Empire Strikes Back," "Raiders of the Lost Ark" "Back to the Future," "The Terminator," "Ghostbusters," "The Princess Bride," "Predator," "The Breakfast Club," and much more! The 1980s is also the decade where Tom Cruise's film career began. Some of his credits from the time include "Endless Love," "The Outsiders," and "Risky Business." However, I'd be willing to make the argument that when it comes to all the films Tom Cruise did in the 1980s, the one that still reigns as the highest in terms of cultural importance is "Top Gun," which was supposed to have a sequel come out this week, only to be delayed due to COVID-19. Whether or not that sequel will be worth the wait is a question we'll have to answer in due time. However, let's not completely focus on the future, because when it comes to 2020, anything can happen and some things may be better left unmentioned. Instead, let's go back to a time where the biggest worry for some may have been getting a ticket to see the latest movie where men fly planes and play volleyball. Ladies and gentlemen, strap yourselves in. This is entry #4. Feel the need. The need for scene! This is…
TOM CRUISE MONTH
"Top Gun" is directed by Tony Scott (Days of Thunder, Beverly Hills Cop II) and stars Tom Cruise (Risky Business, All the Right Moves), Kelly McGillis (Witness, Made in Heaven), Val Kilmer (The Doors, Batman Forever), Anthony Edwards (Revenge of the Nerds, It Takes Two), and Tom Skerritt (Alien, The Turning Point). The film is about a young Lieutenant who gets a chance to train alongside a fellow Radar Intercept Officer at the US Navy's Fighter Weapons School in San Diego.
Prior to this review, I have only seen "Top Gun" one time. I bought a used Blu-ray Metalpak for the movie, mainly for the sake of having something cool on the collector's shelf, but at the same time, I was intrigued enough to watch the movie a few weeks later when I had the time to waste. What I remember of that first experience is that I really enjoyed the soundtrack, the characters are well-performed by their respective actors, and there are a couple lines that stuck with me. I finally found out the meaning of "Talk to me Goose," which I have heard in the past in a YouTube video, and the way it was delivered on screen felt satisfying. It also made the reference in 2018's "Deadpool 2," which I would end up watching and reviewing a year later, feel kinda classy.
On my second watch of the movie, the screen had my attention during just about every scene, likely suggesting that I was very intrigued by everything that was going on. All the characters are charming and likable, I think the main romance plot on the side was fun to watch as the two characters not only have great chemistry with each other, but where they stand outside of their connection plays a bit into the plot as well. Both Tom Cruise and Kelly McGillis make for a great couple in this movie and I have come to appreciate them a little more the second time around. Although oddly enough, it does come as a bit of a shock as I have read on IMDb that the two seemingly did not get along during filming.
While this is not one of the movies well-known for Tom Cruise "doing his own stunts," I was a bit impressed with some of the scenes in this movie that have a bit of wide open space, if that phrase even makes any sense. It's a little more complicated way of saying that I enjoyed just about any scene that involved jet-flying. Funny enough, even though we know that Tom Cruise is practically the Buster Keaton of today, during his filming of "Top Gun," the only actor who apparently did not vomit inside a plane was Anthony Edwards, who by the way does an excellent job playing Goose. Sticking with the topic of solid chemistry, Maverick and Goose make for a pretty fun pair. I rooted for both characters for each second they were on screen, and it is no wonder how this exchange became a noteworthy reference in popular culture.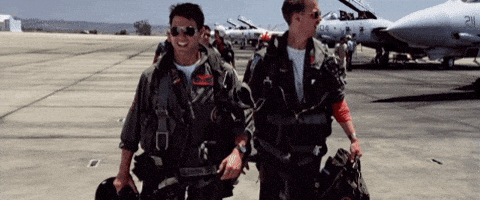 MAVERICK: I feel the need…
MAVERICK, GOOSE: …the need for speed!
Now, I want to dive into something that is kind of a problem, but also a blessing in disguise for this film in particular. There is no threat. Now, with any other movie I'd probably be wondering wherever the heck the stakes could be. But here, it somehow works, at least for the most part. You may be wondering why I am bringing this up. Because when it comes to the characters and how they deal with every situation at hand, it more or less just makes for pure fun more than anything else. I mean, this is a movie that starts off with a pilot flipping the bird at somebody else while his plane is rotated upside down! It's fun! It's a movie with a glamorous volleyball scene that makes you wanna go to the beach, and I say that as someone who is not even a beach person! It's freaking fun! It's a movie about bros doing… well, doing what bros do! IT'S F*CKING FUN! At times, this movie feels as if it does not necessarily need to take itself all that too seriously. And that's fine, I've seen a few movies where this sort of thing works. Granted, if you know me, I much prefer a serious vibe of a film as opposed to one that goes over the top and exaggerates itself to the tenth degree. However, when it comes to "Top Gun," it's a movie that tells its audience that it is here to just have a fun couple of hours. Things are about to get nuts, strap yourselves in, have a lovely flight. Pun may absolutely be intended.
However, the climax of this film, is where the tone almost seemingly gets in the… DANGER ZONE! SEE WHAT I DID THERE?! Aren't I an evil genius?! I am the king of the world! C'mon, guys! It's comedy!
I will say, I had no real problem with the film's climax itself. It makes sense in terms of how the story builds itself up. In terms of how it is presented, how it is handled, it is structurally sound and of course, fun. But… is it really fun? Because it almost, I say ALMOST, comes out of nowhere. But at the same time it makes sense because in these characters' lives, it is a moment that has practically been building up for them, but for a viewer like myself, it sort of almost gets to the point of feeling tacked on just for the sake of inserting some sort of stakes. Now, stakes are fine, but I will say, as a viewer it surely felt weird to see something which could potentially equal some sort of deep impact happen in a movie where almost everything else felt like "another Tuesday," as some would probably call it. I will say, I did enjoy the climax, and it was in a word, "exciting." But at the same time, it feels weird having it in the movie where everything prior to said climax felt kind of fun. But that's really the charm of "Top Gun" when it comes down to it. After over thirty years of being in our spheres, it is still a "fun" movie that is watched by lots of people. There's been rereleases, drive-in screenings, the flying sequences, despite being from the 1980s, hold up very well today. In fact they just came out with a 4K Blu-ray for the film! Maybe I'll have to pick it up sometime soon! There's a lot to love about "Top Gun," even though technically speaking, it is not a masterpiece. It really is at its core, just fun. It's nice to look at, and when it comes to characterization, it does its job fairly well.
Does this movie deserve a sequel that is coming out today? Well, it is the highest-grossing film of 1986, and as I mentioned, it is FUN! Why not? Although based on trailers that I am seeing for said sequel, I am wondering if they are going to take it in a slightly grittier direction. And if they do, I'm fine with that. Plus, Tom Cruise is probably one of the most admirable actors working today, so if I get to see him "do his own stunts" for sometime, it will give me something to witness for sure.
In the end, "Top Gun" holds up very well after over thirty years of its release. Technically speaking, it looks somewhat good for its time, maybe a bit ahead of its time as well. It is terrifically cast, even if everybody apparently did not get along. When it comes to the Scott brothers, I think Ridley Scott is overall the better filmmaker from what I have seen, but I really dig Tony Scott's vision with this film. Granted, what he does with this film is almost a little Michael Bay-ish, and I think Michael Bay is a little too much of a style over substance type of director, but it works here because of how charming the film manages to come off. Don't get me wrong, this film is not entirely Shakespeare, but I had fun with it. There's that word again! I'm going to give "Top Gun" a 7/10.
Thanks for reading this review! By the way, I have one more review coming up in this epic extravaganza I like to call Tom Cruise Month. It's a movie from the early 2000s, and it is Steven Spielberg's "Minority Report." Aside from "Oblivion," it is the only film in this themed series that I have yet to watch. However, I am rather excited to watch what could potentially be a very enjoyable sci-fi story. Be sure to follow Scene Before if you want to be notified about this review when it is published, or check out my Facebook page and give it a like if you want to get such notifications through your Facebook account! I want to know, did you see "Top Gun?" What did you think about it? Or, what is your favorite dogfight in a movie? Let me know down below! Scene Before is your click to the flicks!