Hey everyone, Jack Drees here! As you may know, I am massive fan of Christopher Nolan (The Dark Knight, Memento). I have seen almost every single one of his films. And if you have been following the news this year, you'd know that Nolan is coming out with a new movie called "Tenet." Prior to the reveal of the title, this was first leaked as an "event" film. I had no idea what this would entail, and I figured by event, it would be a follow-up to one of Nolan's recent films such as "Inception" or "Interstellar." Because let's face it, whether you like those films or not, they felt like events. And what would be more "event-like" than a follow-up to a Nolan film that received overwhelmingly positive reception and good box office returns? Especially "Inception," because that movie came out in 2010. What if we got a sequel in 2020? It would be marketed as "the one movie we get every ten years." And if that's successful, we'd get another "Inception" in 2030. But that's not the case, and I'm also not disappointed because originality is ALWAYS something I'm asking for in Hollywood, so I'm proud to see Christopher Nolan deliver it. Without further ado, let's dive into some things that could easily be gathered about Christopher Nolan's upcoming movie, "Tenet."
THE FILM WILL BE IN THE ACTION GENRE
We now know that Nolan's new movie is an original project. The film is being described as a "massive, innovative, action blockbuster." Recent news has pointed out a more detailed description of what this film would entail, specifically that it is "an action epic evolving from the world of international espionage." I personally consider action to be one of my favorite genres, in fact, action is also a genre that Nolan has nailed thus far. After all, he helmed the entire "Dark Knight" trilogy and "Inception." Both movies have bits and pieces of memorable action scenes and I have a feeling that Nolan can use his prior knowledge and put it into this movie.
THE CAST
John David Washington (BlacKkKlansman, Ballers)
Robert Pattinson (Twilight, Good Time)
Elizabeth Debicki (Guardians of the Galaxy Vol. 2, The Cloverfield Paradox)
Aaron Taylor-Johnson (Godzilla, Kick-Ass)
Kenneth Branagh (Dunkirk, Much Ado About Nothing)
Clémence Poésy (Last Love, Harry Potter and the Deathly Hallows: Part 1)
Dimple Kapadia (Bobby, Luck by Chance)
Michael Caine (Batman Begins, Interstellar)
Let me just say, of course Michael Caine was gonna be in this. I mean, he's Michael Caine. Christopher Nolan literally goes to bed every night in a room containing at least three posters. There's one in the middle that says "MICHAEL CAINE IS GOD," and it is accompanied left and right by posters for "Dirty Rotten Scoundrels" and "The Cider House Rules." This is a long way of saying, Christopher Nolan clearly loves Michael Caine and they are working together again. Can't wait to see what Caine can bring to the table. As for some of these actors including John David Washington and Aaron Taylor-Johnson, I am well aware of their names and have liked them as performers in what they've done. I just saw Washington in "BlacKkKlansman" this January and his performance was good enough to get a nomination from me in the Jackoff Awards. As for Taylor-Johnson, I remember reviewing Amazon's "The Wall" months after it came out and calling it a pile of crap, but I also gave praise to his particular performance. A win's a win, even when it's a loss. Yes, Robert Pattinson from "Twilight" is being cast here but for one thing, I have not seen much of his work. In fact, I've heard he's been pretty solid in some indie flicks. And for another thing, if he's not only being cast as Batman, but also in a Nolan film, I have a feeling his name could grow on me. Only time will tell. But Nolan is not a stranger to odd casting choices, because if you all remember "Dunkirk," he somehow managed to cast One Direction member Harry Styles, and he turned out to be solid! I'll wait for the movie, but for the most part, the cast looks promising.
THE FILM IS BEING SHOT WITH IMAX AND 65MM CAMERAS
For those of you who follow Nolan, you'd probably know that he has, no pun intended, experience with IMAX. "The Dark Knight" was the first feature film to be shot in IMAX. Since then, he has used the same technology in "The Dark Knight Rises," "Interstellar," and "Dunkirk." All of those films are shot using advanced IMAX cameras that use horizontal 65mm film. It should therefore come as no surprise that he is bringing the technology up to the plate once again for "Tenet." Plus, the movie will bring back Hoyte Van Hoytema to man the shots, who also was involved with the cinematography for "Interstellar" and "Dunkirk." I remember one of the first announced details was that this film was going to be shot in IMAX, and when I hear that about a film, I am automatically intrigued. Also, according to IMDb, the film is also being shot with a Panavision 65 HR Camera, which uses standard, old school 65mm technology. I am pretty interested to see what Nolan would do with the IMAX technology in a film involving espionage. This would definitely provide a big scope for the action scenes when viewed in IMAX theaters and maybe provide a few jaw-dropping shots. I remember "Mission: Impossible: Ghost Protocol" being shot with IMAX cameras, but unfortunately, I never went to an IMAX to watch the movie. I really don't know how this movie will play out, but part of me hopes to walk out saying "this is a "Mission: Impossible" film that only Nolan could create." Then again, based on other details I'm hearing about this movie, this might be a bigger idea than "missions, should people choose to accept them." Speaking of old school technology…
THE FILM WILL BE PRESENTED IN 35MM, 70MM, AND IMAX 70MM
This may have already been implied, but in case it didn't, "Tenet" is going to be screened not just in today's traditional digital formats found in multiplexes everywhere, but also in a select number of auditoriums featuring film stock projection. Christopher Nolan's most recent films have marketed themselves as being "experiences" and part of said experiences involve presentations in analog formats, which honestly, I prefer over digital projection. Seeing "2001: A Space Odyssey" in 70mm last year (twice) was game-changingly epic. It's partially due to the experience of going into an arthouse-style theater while also having projection that provides greater material than my local chain locations. And since "Tenet" is seemingly being shot entirely using 65mm technology, the film will fit very well when projected on film. Granted, I imagine it will look great almost matter where it's shown, but there are places where I can probably tell you to see it as opposed to others. Since it is being shown in IMAX 70mm, I can guarantee that the film will have select sequences where the aspect ratio changes to fill the entire screen from top to bottom.
And for those of you who don't know, this is why I went to a theater over an hour away from my house to see "Interstellar" and "Dunkirk" and people close to me probably think I'm insane.
But it was SOOOOO worth it.
HANS ZIMMER IS NOT INVOLVED
Unfortunately, for all of the Christopher Nolan fans who liked movies such as "Inception" or "Interstellar" partially because of Hans Zimmer's scores (I'm one of those fans as well), I've got some news for you. He's not gonna be around for "Tenet." In fact, the reason for this is due to Zimmer currently being busy with another acclaimed director who I happen to like, Denis Villeneuve (Blade Runner 2049, Arrival) as he is scoring the upcoming movie "Dune." As for other movies next year he is focusing on, he is involved with "Wonder Woman 1984," which I'm currently anticipating. He's also doing "Top Gun: Maverick," which only makes me more intrigued for how that movie is going to play out. And he's also scoring "The Spongebob Movie: It's a Wonderful Sponge," which was once scheduled to compete with "Tenet" on its opening weekend, but the movies are now a further distance away from each other on the current release schedule.
LUDWIG GÖRANSSON IS COMPOSING
As for who will be composing the music in "Tenet," that position will held by Ludwig Göransson. I have slightly mixed thoughts on how this is going to pan out, but I like to remain optimistic. For one thing, Nolan and Zimmer go together like bread and butter. Plus, Ludwig Göransson is also responsible for scoring "Venom," and the score was not really the highlight of that film. Then again, what was the highlight of that film in the first place? The score felt manufactured, generic, and kinda dull. You know, like the movie "Venom" itself. Although at the same time, he scored another comic book movie, which like "Venom," I don't think I enjoyed as much as other people, and by other people I don't just mean general audiences, I'm also referring to The Academy. Y'know, the gods of the movie industry? That movie by the way, is "Black Panther," and while I think that movie is tremendously overrated (but still a solid flick) it had one of the better scores I've heard from a movie in the Marvel Cinematic Universe. It's not my all time fave, but if I were to do a countdown on my favorite MCU scores, "Black Panther" would probably be high on the list. I am quite curious if Goransson will deliver an epic score to remember forever or if there will be some sort of disconnect between him and Nolan that will make me wish Zimmer would've been involved. Göransson's music has been used in recent television programs including TBS's "Angie Tribeca" and Fox's "New Girl." He's also recently scored movies like "Creed II" and the 2018 remake for "Death Wish."
PALINDROMES MAY BE AN IMPORTANT FEATURE IN THE SCRIPT
Now if you thought that Christopher Nolan is going to change his ways and simplify his movies, think again. Because from what I'm gathering so far, this movie sounds like it is going to be heavy. For one thing, look closely at the word "Tenet," and you'd know that it is a palindrome. One of my favorite sci-fi movies of the decade, "Arrival," directed by the recently mentioned Denis Villeneuve made palindromes play a bit into that movie, and if this movie manages to do the same, I would not be surprised, and I have faith that the palindrome insertion could be more than just a cheap gimmick.
Also, last week, I shared a post on Facebook from a page with the handle @ChristopherNolan.info on what I thought was an official poster for "Tenet" but it turns out that's more than likely not the case. However, one detail that stood to me regarding what I've shared is the number inside the image, 2701072, which like the word tenet, is a palindrome. People have pointed out in the comments that if you rearrange the numbers in that image, you can get the release date for this movie, July 17th, 2020. I also did some research regarding that number and this is not the first time that the account did a post with that number in it. On January 28th, the same Facebook page made a post that was literally just this exact number. Unless they had insider information about this movie and Nolan's life/career, it's almost as if they predicted that the title will be a palindrome or the movie would heavily involve palindromes. However, this Facebook page was not the first social media account to post something like this, because data suggests another Christopher Nolan-related account on Twitter by the name of @nolantalkcom did so on January 27th. Based on this information, and based on differences in followers, this is probably a bit of a stretch. I'm willing to bet the operator of that Twitter also operates the Facebook page. If you want to check this out for yourself, click the links below!
THE FILM MAY HEAVILY INVOLVE TIME
Speaking of expected traditions from Christopher Nolan, it would not be surprising if he made time a major element in this film. Heck, one of the posters features numbers from one to twelve with arrows sticking toward multiple twelves. It's a like an ongoing watch or something! I don't know how time will play into this film, but it is an action film involving espionage, so maybe there will be some sort of race against the clock. Maybe there's a bomb that has to be diffused. But knowing Nolan, it may as well be something completely unthinkable.
In a way, this poster almost reminds of "Interstellar" because if you remember the Endurance from that film, you may notice that the ship resembles a clock. "Interstellar" is easily one of my favorite sci-fi flicks of the decade, so I cannot wait to see what happens with "Tenet" and if it could possibly be compared with "Interstellar."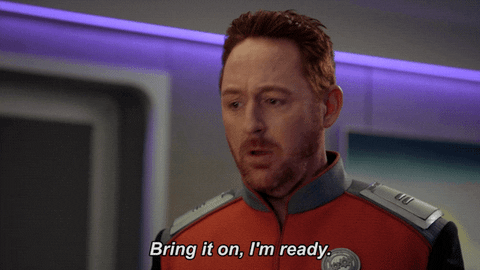 There are a few other things I could talk about related to "Tenet," but I already have gone way past scratching the surface when it comes to this movie. I even have a growing theory of this movie being part of a universe that Christopher Nolan previously established, specifically "Inception," which I think could be a plot twist in this movie based on certain factors. As much as I would like to get into that, it would involve heavily digressing from the main topic, so I might make a separate post for that one day. But only time will tell, so who knows? I'm really looking forward to "Tenet," and as of right now it is probably my most anticipated film of 2020. Anything Marvel announces next year? Forget it! There is a reason why Christopher Nolan is my favorite director of all time!
So I gotta ask all of you, how are you currently feeling about "Tenet" as we build up to its release? Are you excited? Worried? Could you avoid caring about the movie whatsoever? Do you think Christopher Nolan is a hack who deserves to die? Let me know your thoughts down below!
Thanks for reading this post! This Saturday I'm going to see "Godzilla: King of the Monsters." It's a film a part of me is REALLY looking forward to from an entertainment perspective, but from a critical perspective, I'm simultaneously nervous. I kinda don't know how to feel going into the movie, so we'll just see what happens. But I am going to see it in IMAX, which I think is the best way to see big scale movies like this, so I am still pretty excited. Be sure to follow Scene Before either with an email or WordPress account so you can stay tuned for more great content! Scene Before is your click to the flicks!