Hey everyone, Jack Drees here! It is now time for part 5 of the Scene Before series "Movies and COVID-19: Behind the Scenes." This series describes the recent happenings, or in some cases, a lack of happenings, in the film industry as the world deals with the COVID-19 outbreak.
Per usual, real world matters first! Because life sucks! The United Kingdom is currently in a bit of trouble as evidenced from actions taken this past Thursday. Britain has confirmed they have extended their countrywide lockdown for a total of three more weeks. This was announced by foreign secretary Dominic Raab, who is taking on responsibilities in place of Prime Minister Boris Johnson, who was previously announced to have a positive case of COVID-19. With this extension, the country's lockdown is likely going to last until the second week of May unless things change.
For the record, a good number of people in my country, specifically the United States, often point out that the economy is likely to collapse should we keep these restrictions going for any longer. One take that I found interesting mainly because I don't hear it all that much, is the one given by the recently mentioned Dominic Raab. He suggests the opposite and thinks if we loosen these restrictions, the economy is going to go to hell. After all, since there's always a chance of a second outbreak, there's always a chance of a second economic downfall.
Although here in America, people clearly want the economy opened back up, including medical expert Anthony Fauci. The well-known director of the National Institute of Allergy and Infectious Diseases was on the Snapchat show "Good Luck America," which discusses the role young people have in spreading the virus. He explained on the show that he's likely missing baseball season as he suggests, "I'm living in Washington, we have the world champion Washington Nationals. I want to see them play again." He also thinks that sporting events like baseball and football could happen should there be a lack of an audience in stadiums.
President Donald J. Trump, who Fauci has been seen alongside for much of this crisis through cameras, wants the economy opened back up by May 1st, as I mentioned in part 4. As of suggesting that notion, certain states have declared the idea of opening back up on said day like Trump is opting for. One notable state is Ohio, which much like much of America, is planning to follow phases as to what exactly will open at supposed times. Restaurants may be more essential than bars, and bars may be more essential than football stadiums.
Speaking of U.S. states, one of the most talked about states in general regarding this crisis, has been New York. Governor Andrew Cuomo, whose brother is a CNN reporter who has been tested positive for COVID-19, has been a significant voice in not only trying to pull his state into the right direction, but for the rest of the country as everybody deals with this. Although another voice that New Yorkers heard last week was former presidential candidate and current New York City Mayor Bill De Blasio, who had some unfortunate news for the state. De Blasio suggested that all major gatherings for the month of May have been canceled except for certain events like farmers' markets. So if you are expecting to attend a "Last Week Tonight" taping this May, sorry to say, you're gonna have to continue staring at John Oliver in front of a white void.
Well, at least he got the rat painting he's been searching a month to find.
Fun fact, when this whole crisis initiated, I was in Florida, which may be one of the worst hit states when it comes to this mess. For the record, Florida does not have the most cases for the virus, in fact none of them hold a candle to New York. In fact, my state, Massachusetts, has more cases to my surprise! But when it comes to properly closing everything in the state, those ends have not been met. In fact, Governor Rick DeSantis just opened a crucial element to what makes Florida Florida, the beaches. I should note that not all beaches have been opened, and they are NOT open for the purposes of bringing blankets, chairs, and coolers. They are specifically open for exercise-related purposes, plus taking care of pets. Individuals are still supposed to keep their distance from others and avoid gatherings of 50 people. Many of south Florida's beaches, such as those in Miami, continue to remain closed, but if you live in Duval County (Jacksonville), there's a good chance that you can find an open beach near you.
The beaches managed to receive a major turnout. However, not everyone is happy, as partially evidenced by the reaction that surfaced on social media. One of the top trending topics of the past weekend is #FloridaMorons. Here's some of the tweets that surfaced.
Just because we talk about movies here…
Also, one man wanted to drop a public service announcement…
Thank you, sir! Very informative!
Now that we are done with our continuously depressing and ridiculous reality, let's move onto movie topics. This first part is not a main topic since it may not have as much relevance as others, but I do feel it needs to be talked about. One of the topics I discussed last week is "Parasite's" Hulu debut. Now Hulu has been a pretty popular streaming service that has been relevant for a few years. In fact, now that Disney oversees them, they are included in a bundle package with their other streaming services including Disney+ and ESPN+. But for a streaming service overseen by a company that does not make many independent features, "Parasite" has earned an ASTOUNDING success on the service so far. The movie dropped on Hulu Wednesday April 8th, where from then on, it was not long before the film immediately became the most streamed foreign or independent feature on the service in just a week. According to IndieWire, the film is also the second most watched film on the platform of all time. This beats the likes of mega-titles such as "Transformers: The Last Knight," "A Quiet Place," and "How to Train Your Dragon: The Hidden World." Given the film's Korean background, how Hulu does not even serve Korea, plus the necessity for non-Korean viewers to read subtitles, it should come as a surprise that "Parasite" is as popular as it is on Hulu. Although keep in mind, the film has already been a critical success in the states, not only having major buzz from reviews, but tons of award wins as well, including the Academy's Best Picture, which no international feature has received prior to "Parasite." The film has made over $50 million at the U.S. box office, indicating success. So either everybody wanted a chance to watch the film again, or there's a possibility that a majority of Hulu users missed out on the theater experience but now have an opportunity to watch at home.
Speaking of theater experiences and watching something at home, Lionsgate is trying to recreate the communal theater atmosphere while keeping movie watchers on their couch. One of the best parts of going to the movies sometimes is the reactions people can blurt out during a presentation. If you have seen the last two "Avengers" movies, you'd understand. Lionsgate is attempting to get people together to react to their favorite movies without hearing anybody else and with the intention of keeping viewers behind closed doors.
FRIDAY NIGHT LIONSGATE MOVIES ON YOUTUBE
Throughout the series, I have often touched upon the goings on behind some of the bigger studios. Disney and Universal have shuttered theme parks, delayed films, and have decided to put some of their films like "Artemis Fowl" and "Trolls: World Tour" straight to a digital streaming service. Paramount delayed a ton of films, but some of their classics will be airing on CBS soon. Warner Bros. has stated in the past about its optimism to release "Tenet" in theaters on time, all the while delaying big films like "Wonder Woman 1984." But one of the major studios I have not talked about all that much yet in this series is Lionsgate. While they don't have the franchise power that a company like Disney has, they do possess the rights to iconic properties including "The Hunger Games" and "John Wick," which are relevant to this topic.
Recently, specifically Friday April 17th, Lionsgate teamed up with Fandango, YouTube, and NATO (National Association of Theatre Owners) to get people to watch "The Hunger Games" on YouTube for free. This is part of an event called "Lionsgate Live! A Night at the Movies." These are movie night events hosted by Jamie Lee Curtis (Halloween, Scream Queens), will feature celebrity guests, special programming, and opportunities for fans to interact via YouTube live. While the odds of watching "The Hunger Games" on one of these Fridays will no longer be ever in your favor, there are still a few movies listed for this special occasion. These include…
DIRTY DANCING (APRIL 24)
LA LA LAND (MAY 1)
JOHN WICK (MAY 8)
Just a reminder, if you want to watch "John Wick" during this occasion on YouTube, there is an age restriction. For the record, "John Wick" is rated R whereas the other films listed are rated PG-13. So if you want to watch your fan favorites with OTHER PEOPLE, I never thought I'd say that ever again! go to the Movieclips YouTube channel, check to see if one of the movies is playing or will be playing, and enjoy! This event will benefit the Will Rogers Motion Picture Pioneers Foundation, a foundation dedicated to helping workers within the motion picture industry. This even includes the many theater employees affected by the COVID-19 crisis. Even companies behind food are getting in on this, which does make sense as cinemas and food go together like bread and butt–, sorry. Popcorn and butter. I don't always agree with that statement, my apologies to all popcorn eaters who butter on their popcorn at the movies, but still, it makes sense here. So feel free to amuse yourselves over my forced statement all damn day.
Popcornopolis, which judging by the name, you can probably tell makes popcorn, will be donating 10% of its sales to the cause. Meanwhile, SnackNation, typically known for being a healthy snack delivery service for offices and homes, will be giving away a specially priced box of goodies for these movie nights. The box will include fruity candy, chips, puffs, popcorn, and more. The box is priced at $9.95 and shipping is free. So if you are tired of going to Target to get some Sour Patch Kids while also buying tons of toilet paper, give this snack box a shot, and if you don't use it for one of these movie nights, it could always work for something else you pop on at home. "Tiger King" is pretty hip right now, why not give that a shot? If you wanted to get some grub from SnackNation for "Dirty Dancing," there is a solid chance that you might not get it on time. But if you wanted something for "La La Land" or "John Wick," by all means place your order!
Also in on this are major movie theater chains including AMC Theatres (Please make it through this!), Regal Entertainment Group, and Cinemark Theatres.
SAN DIEGO COMIC-CON CANCELLED FOR FIRST TIME EVER
Alright, my fellow nerds. Buckle up. This is possibly the most dissatisfying news any comic convention fanatic will ever hear. San Diego Comic-Con, known for pioneering the comic con name and blueprint has officially been cancelled for the first time ever. The event started out small and has grown ever since. It has achieved fame for its success at bringing together communities of nerds of all kinds from comic book collectors, sci-fi fanatics, movie buffs, fantasy lovers, and TV junkies. It's even gotten so big that "Conan" on TBS has done shows in San Diego as the con goes on! It's an event so lively that even if you don't get to go, you are guaranteed to hear something from it that is extravagant in the nerd world, mainly because there is heavy self-promotion going on in the sacred "Hall H," where celebrities talk to fans, crews behind projects promote trailers, and the effort to get in is just as hard as it is to get through waiting at the DMV. Sadly, this year, there won't be any of that. Last year, SDCC brought some great news to the nerd sphere, especially within Marvel, because that is where they laid the groundwork for phase 4, advertising plans for each theatrical movie set to release, and even the shows they're planning to drop onto Disney+. Unfortunately, this news is already outdated as we won't be seeing one of those projects, specifically "Black Widow," this May and instead wait until November, which is when "Eternals" was originally supposed to release.
Who knows what could have happened this year? Would we finally get another trailer to "Godzilla vs. Kong?" Would we get a look at footage for James Gunn's "The Suicide Squad?" Maybe we'd get word that Warner Bros. will release the Snyder Cut the same day that Universal plans on releasing the Butthole Cut for "Cats." Who knows?
Not to get selfish here, but I go to a couple cons every year, and I don't know if I'll even get to go to one based on this information. San Diego Comic-Con is such a powerful name in this industry. So powerful in fact that they even felt it was necessary to call out another con for using their name, even when this has been a thing that has been done for years to the point where it has become commonplace. It's a comic convention where people get together to be happy, not an international format of "Who Wants To Be a Millionaire!" But with the first sentence of this paragraph in mind, with a name San-Diego cancelling, I have a feeling that others may eventually follow in the con's footsteps because of name power. For all I know, that could be different because every area of this Earth is dealing with COVID-19 in its own way, but I figured that the U.S., or at least most of it, would be done with this virus in a couple months that way we can gain a sense of normalcy. But who knows at this point?
By the way, I could go for a massive bucket of overpriced movie theater popcorn right now.
MOVIES THEATERS ON REOPENING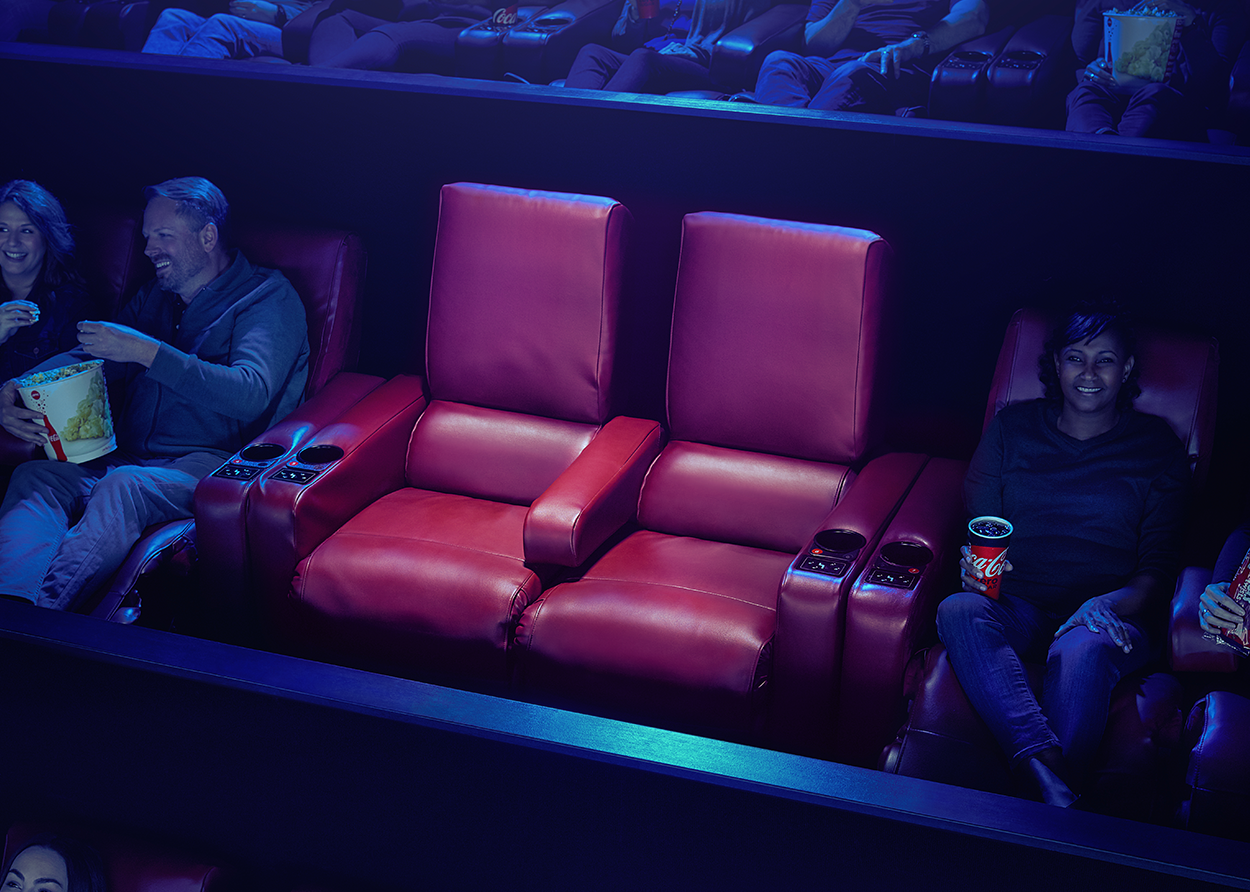 Remember how in part 3 I was talking about the possibility of AMC falling into its grave? Well, turns out they have a plan! To specify, a $500 million plan. Has a nice ring to it. Keep in mind, AMC has MASSIVE debts, so while $500 million does not cover everything, it's likely to help during this time. Wall Street has officially parsed AMC, giving them the thumbs up. This will give AMC some time to prevent themselves from heading into dreaded Chapter 11 bankruptcy territory. Stock-wise, AMC is now at $3.20, up 31% reaching their highest level in a couple of weeks. Similarly, Cinemark, a nationwide chain whose subsidiaries include Rave Cinemas and Century Theatres, is also up. While not as high as the 31% for AMC, it bounced up 16% to achieve $13.48 per share.
Speaking of AMC and Cinemark, movie theater operators such as these have planned for a hopeful summer reboot. After all, the kids are out of school, you can only go to the beach so many times before getting sunburned all over, so the cinema is a great outing. Cinemark themselves stated that they are planning for an opening on July 1st, suggesting that they plan on spending June rehiring employees and will screen some classic films during the summer. How classic? I don't know. Could be black and white, color, old, new, across the board. But I would kill to see "Endgame" in a theater again. I would love to take someone who hasn't seen the movie just to see how'd they react to it in a theatrical environment, because that movie, plus the Jackoff-winning Best Picture "Infinity War" were literally built for audiences to come together. And while it is disappointing for a film like "Black Widow" to not come out until November instead of May, I would much prefer that, when I can likely see it with a crowd, then curling up in my room watching it as it goes straight to streaming. In fact, I still have no plans to get Disney+. HBO Max might be on my radar though (I'll get back to that).
While I did talk about reality before, I should bring it up again. The Governor of Georgia, otherwise known as Brian Kemp, has recently announced that he gave the green light to businesses to reopen their doors beginning April 27th. Regardless of whether or not this is stupid, which I personally think it is, movie theater chains will likely need longer than a week to rehire and retrain people before opening doors again, as insiders suggest. As for local theaters, I don't know what the case will be, but chains are likely to follow a structured process. Maybe they will open all their theaters at once, maybe vary state by state, do a few at a time, but who knows?
THESE DELAY STORIES ARE GETTING TIRESOME!
So… "Black Widow" has been delayed. "Eternals" has been delayed. "The New Mutants" has been delayed. "Top Gun: Maverick" has been delayed. "Infinite" has been delayed. "A Quiet Place Part II" has been delayed. Now the Caped Crusader has something he'd like to say to all of those movies.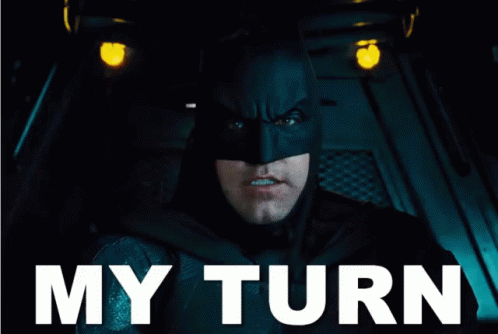 That's right guys! Unfortunately, Matt Reeves' upcoming "The Batman," starring Robert Pattinson (Twilight, The Lighthouse), has been pushed back from it's original release date, June 25th, 2021, and will now hit theaters October 1st, 2021. If you had to ask me, here's my response.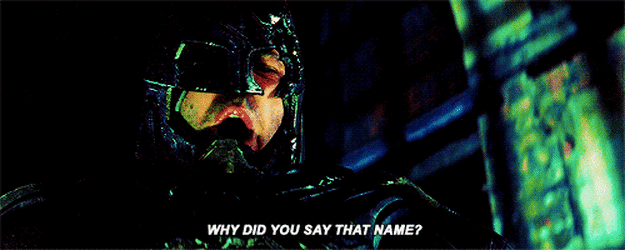 If you ask me, "The Batman" is a film that I am definitely looking forward to, and I am disappointed by the announcement. Despite the flack Pattinson sometimes gets for his past roles, most notably "Twilight," he has generated an excellent acting method over the past number of years. Plus, it's f*cking Batman, how could I not get excited over a movie with Batman in it?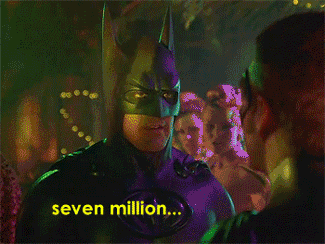 Well, okay, maybe not all of them are that exciting. By the way, f*ck the convenient Bat Credit Card.
Although I will state, as disappointed as I am, it could still be worse. After all, movies like "Top Gun: Maverick," which I've previously talked about had trailers and a marketing campaign all set up. "Batman" hasn't even finished filming yet. In fact, production shut down earlier this year due to the virus. While I am underwhelmed and dissatisfied with the news, I cannot say I'm scarred for life. Although not having a "Batman" movie during summer blockbuster season does feel a little weird. Maybe this is a case, much like "Joker" where the delay to October can be favorable for "The Batman" as there COULD be an effort to get some awards buzz for the movie. There could be a possibility that "The Batman" is also intentionally made for mature audiences, perhaps the MPAA will give it an R rating, making the Dark Knight the DARKEST Knight. Even so, this is NOT the delay we deserve. NOR is it the one eager movie and comic book fans need right now.
"The Batman" is being put out by Warnermedia, which should not be surprising as DC Comics and Warner Bros. go together like peanut butter and jelly. Speaking of Warnermedia delays, a movie set in the universe of HBO's hit series "The Sopranos," originally set to release September 25th, 2020, is now coming out March 12th, 2021. The film is a prequel to the recently mentioned title and is currently going by the name of "The Many Saints of Newark."
Also in DC Comics movie news, a couple more titles have been moved around. "Shazam 2," which was supposed to release April 1st, 2022, is being pushed back seven months to a new November 4th release. I have no problem with this, because that just means I have probably already figured out what I might want to do on my 23rd birthday about 2.5 years before it even arrives.
Alright, kids. Buckle up. This movie deserves its own paragraph, because while I am busy bitching about all of these movies that have been pushed back like a skinny dude in a wrestling match, there's one movie that has believe it or not, been pushed FORWARD. I'm talking about another DC movie, "The Flash!" The film was supposed to release July 1st, 2022 but has recently been pushed forward to its new June 2nd release date, also in 2022. I have NO IDEA if this movie will be out by this time, and to be honest, it's almost wishful thinking. This film was supposed to come out in 2018 as the DCEU's sixth installment. Phil Lord and Christopher Miller, famous for movies including "21 Jump Street" and TV shows including "The Last Man on Earth" were supposed to get the ground running. They sent a treatment, but they couldn't direct the film because they were busy. Seth-Grahame Smith was hired to direct, but he dropped out in 2016 due to creative differences. Then, Rick Famuyiwa said he was directing as of June 2016, and production was going to start in January 2017. But by the looks of things, that did not seem to last, as Screen Junkies reported that Robert Zemeckis was on a shortlist of directors to take on "The Flash." Also on the shortlist, Sam Raimi and Matthew Vaughn, two famous directors within the comic movie realm. This comes three months after a Variety report that Joby Harold (Edge of Tomorrow, Underground) was going to rewrite the script. FLASH (see what I did there?) forward to June 2017, look who's back! Lord and Miller, that's who! While things did not seem to go far, the Wrap reported that the dynamic duo were in talks to direct the film again. Then in February 2018, another duo popped up, this time it was John Francis Daley and Jonathan Goldstein. These two managed to create one of the best comedies of the past five years, "Game Night," and they also acquired comic book movie experience through writing the Disney/Sony collaboration, "Spider-Man: Homecoming." Then came July 2019, where the duo announced their departure from the project! As of now, the project is expected to be helmed by Andy Muschietti (It, Mama) and Christina Hodson (Birds of Prey, Bumblebee). Also joining the project as a producer is Barbara Muschietti, Andy's sister. As for Ezra Miller, who plays The Flash in the DCEU, who knows what'll happen to him after the recent controversial video of him released where he chokes a woman? This project is going GREAT so far!
Holy crap, that was a mouthful. You think "The New Mutants" is having trouble? At least that movie got f*cking shot! "The Flash" has not even reached "production" level! It's insanity! I remain hopeful that this film comes out in June 2022, but this is one of those cases of where I'll believe this movie when I see it.
Warnermedia has also delayed two movies to November 2021. One of which was the movie Tom Hanks was shooting in Australia when tested positive for COVID-19, an untitled Elvis film. The film was originally supposed to come out October of next year. However, one film got the "F9" treatment where it won't even see the light of day this year. It was once set to come out this November, but that will not be happening.
Moving away from Warnermedia, let's talk about Sony. Recently I discussed that the studio pretty much abandoned the summer of 2020, pushing back films including "Ghostbusters: Afterlife" and "Morbius." But it just so appears that they have delayed one of their Fall projects as well, specifically "Venom 2," which is now titled "Venom: Let There Be Carnage." Based on the title, the film is likely to have the comic book villain Carnage as the main antagonist, information that has been teased since the first movie. I'll be blunt here, I am not looking forward to "Venom 2." This is a delay that I am not personally offended by. I will say, I do feel bad for the people behind the film, because the first one came out in an October as well and grossed over $800 million. Then again, that piece of crap people like to call "Venom" grossed over $800 million even though it is most likely the worst movie that I have seen which is related to "Spider-Man." This sequel has one thing giving me mixed thoughts, and that is the director. I feel like the vision for the first "Venom" is entirely corporate and lacks soul. I still wonder why people even clapped at the end of the movie. Even though Ruben Fleischer did some decent stuff in the past, like "Zombieland," this was an idea that felt rushed and underwhelming. And honestly, they should have gone for the R rating. But this time, it is being directed by Andy Serkis, who definitely has a knack for visual effects, both in terms of acting and behind the scenes. However, I've heard "Mowgli: Legend of the Jungle" was not the best work in the world. It has a 53% on Rotten Tomatoes, indicating that a majority of critics liked it, but it's also not the finest number of all time. I like Andy Serkis, but I have vivid memories of the first "Venom" and they're not pretty. I still have a bad taste in my mouth. The "Venom" sequel hits theaters June 25, 2021, which was "The Batman's" former release date, as opposed to when "Venom: Let There Be Carnage" was supposed to hit theaters, October 2nd, 2020.
HBO MAX LAUNCH DATE ANNOUNCED
Now I love physical media, and I will likely continue to buy it even in a time where I cannot leave my house. It is by far the best way to watch a movie. Although if I were to invest in a streaming service anytime soon, one of my options is likely going to be HBO Max, which, yes, it will have HBO content. This service will be launching May 27th, as announced in a trailer down below.
Doesn't HBO have a couple fancy streaming services already? Sure, but this is one may be worth your time. Aside from including bunches of HBO content including "Game of Thrones," "Westworld," and "The Sopranos," they will also be shipping in content from alternate channels such as TBS, TNT, Cartoon Network, and truTV, all of which are owned by Warnermedia. So this means in addition to all of the HBO programming available at launch, viewers will have access to content including "Conan," "Impractical Jokers," "Rick and Morty," and "Miracle Workers." Also available for TV are all the seasons of "Friends" and "The Big Bang Theory," two of the longest running situation comedies of all-time. Another really long series that you can invest some time in is "South Park," the long-running animated series that caters to an adult demographic. That series in particular will join the service this June. They're even using content from a streaming service that I don't know how many of you knew existed, DC Universe. From this, it can be confirmed that one of the starters for this service is "Doom Patrol," based on a previously established superhero team. One show I am still wondering about is DC's "Harley Quinn," which recently dropped season 2 on DC Universe, but who knows what'll happen in regards to coming to HBO Max? But don't worry, there's movies too! Some of the upcoming titles are "2001: A Space Odyssey," "A Star is Born," "The Dark Knight," "Joker," "The Matrix," "Pokemon: Detective Pikachu," the DCEU movies, and the Studio Ghibli library. The service is likely to serve around 10,000 hours of content at launch, which is more than Disney+ and Comcast's Peacock, which is now available for Xfinity customers, but will be available for everybody else starting July 15th.
The downside however, is the price. At $14.99/month, which is more than what one would pay for Hulu, which has significantly more content, it is not the cheapest service out there. However, HBO has been known for their premium programming, therefore it is no surprise that a premium price would be placed for HBO Max. But if you are a Charter customer, it is free as long as you are currently paying for HBO. Certain AT&T customers, specifically those paying premium prices for AT&T's services, will also be given HBO Max for free. Nevertheless, even though I don't stream much, I think I would get some use out of HBO Max if I were to buy a subscription. Warner Bros. is my favorite movie studio, HBO is a notable channel with a lot of content known for quality, and TBS, plus truTV, have done some originals I like, plus some that I have missed out on that I want to check out like "Wrecked." I just hope that said originals make it to the service in the first place.
Speaking of originals, there is some original content coming to HBO Max. Season 3 of "Search Party," which originally aired on TBS, will debut on the service. Anna Kendrick will be starring in a new comedy, "Love Life," which comes from Lionsgate Television. But if you have kids, there will also be content related to "Sesame Street" and "Looney Tunes." HBO Max was going to have a "Friends" reunion at launch, but it has been delayed due to COVID-19 complications. Sorry, they will not be there for you.
Going back to my original point, HBO Max launches May 27th on smart devices, so if you cut the cord but miss many of the cable-based shows, or you just want some acclaimed TV and movies to watch, HBO Max may get your seal of approval.
HOME VIDEO RELEASES
Going back to my comment on physical media, it is fun to collect, but not everyone does it anymore. In fact, it's getting hard to do in these times now that places like the mall have basically shut their doors down. Walmart's still open, so there's that. And if you do want to know what new releases are on DVD and Blu-ray, some notable titles include "Bad Boys For Life," "Ip Man 4: The Finale," "The Gentlemen," and "Like a Boss," which already released on digital, but needed some time to come out on physical formats. Out of these films, the only one I've seen is "The Gentlemen," which honestly underwhelmed me. Hopefully that won't be the same case should some of you give it a shot.
As for digital media, there is not much new content to pick from. However, "Wendy," a movie that takes place on an island and follows a young girl in world that is increasingly facing destruction, has just dropped on services as of April 17th. So if you are expecting me to talk about any blockbuster titles dropping, think again.
Thanks for reading the fifth part of the ongoing series "Movies and COVID-19: Behind the Scenes!" This was a long one to make, so I'll try to wrap things up quick. If you're wondering where my reviews are, I want to make them, but the apocalypse is currently my priority. Plus, "My Spy" hasn't dropped on Prime yet, so there's that. But should things still be hectic next week, which they most likely will, there's a good chance you'll see a part 6 to this series. Because life sucks! I have not left my house for *anything,* even a walk, for almost a month now. How did the country, no, the WORLD even get here?! Be sure to follow Scene Before either with an email or WordPress account so you can tuned for more great content! Speaking of great content, why not check out my Facebook page? Give it a like and keep up with the latest info through Mark Zuckerberg's wonderland! I want to know, did I miss anything for this past week? What are some your big points as of late regarding film and COVID-19? It could even be something I already mentioned! Or, what are you looking forward to seeing on HBO Max? Is there something you want to see that has not been fully announced? If they drop TBS's "King of the Nerds" on the service, I'm sucking all my money into it. Let me know down below! Scene Before is your click to the flicks!