Hey everyone, Jack Drees here! I just got back from Terrificon! Life feels good! The world is spinning (because it's round, not flat)! And now I'm going to be going over my time at a convention which believe it or not exceeded my expectations entirely! I have been to Terrificon once and I will say I had a good time. I wouldn't call it the holy grail of conventions or anything, it's just a fun time. It's not like I'm going to SDCC whatsoever (although the short lines at Terrificon make a positive difference). This year, just like last year, the lines certainly did not disappoint. I'll get a little more into that down the road when I get into my celebrity encounters but nevertheless, I'll get into it. Let me just continue saying that I thought this con was significantly better than last year's! The guest lineup isn't really that big, so that's a similarity to last year, but what I love about this year is that the con took place in a new venue. It's still on the same property, but for this year's con, the people behind it have decided to place it in a recently built expo center.
If you have been to Terrificon last year like I have, you may be aware that the last event took place in Mohegan Sun's Sky Convention Center, but with the recent completion of the Earth tower and its expo center, events like this can now take place in that convention center. I like this convention center a little bit more as opposed to the other one mainly because this new one is bigger. Although, this may disappoint you, you may not care, I don't know, decide for yourself, the floor is a bit more on the typical side for a convention center. Also, before we move on, look at this Thanos statue! Isn't that epic?! I should also point out that next to it is a TV where you can hit a button and it'll tell you if you survived Thanos's snap!
The last convention center is kind of elegant, but it almost feels like a large facility where you might as well hold an ambitious interview with the Queen of England. In fact, if you look at the floor, it almost screams "fancy bloated dinner party." The new convention center feels somewhat normal. I don't have a preference on design, although when it comes to which center itself I prefer, I gotta go with the new one because let's face it, size matters.
One thing I went over in my promotion post is that there's an attempt to make history at this convention. In honor of Superman's 80th birthday, right near the entrance to the center, is a giant list of names written in Sharpie. All of those names are on what is being referred to as Superman's birthday card. All of the names written down have been part of an attempt to break the Guinness World Record for most signatures on a birthday card. And yes, I wrote my name.
This birthday card was located in the very nice entry way section of the center, right near where Terrificon exclusive merchandise was being sold. This is where all of the cosplay guests were tabling, it had a nice looking stand for fast-food products, which included Coca-Cola Freestyle machines. They also have an area which they can let you go outside, which is definitely nice if you want fresh air, but I avoided it because I'm not a smoker and I imagine some people could be out there just to smoke.
One of the entry-ways from the recently mentioned wing leads into a gaming area. When I was here on Friday, I decided to go inside because I wanted to take part in the Jackbox Games session. While I was here, we played "Drawful 2," "Trivia Murder Party," "Survive the Internet," "Quiplash 2," and "Fakin' It." Jackbox Games has a fantastic sense a humor and I always play these games with my friends. And fun fact, the friends I play with are in the Nerd Army and the Knights of Nerdvana. If some of you don't look at my header, you may not know that this blog is the "Official Blog of the #NerdArmy's Film Critic." And speaking of the Nerd Army, one of its members aside from myself actually happened to be in the same room as I. By the way, Adrian, if you're reading this, I'm sorry we never got to say hello, I might be back next year though!
Speaking of entry-ways that are close to the main lobby of the center, one of them leads to a ballroom where I attended three panels. There was only one of these that I had my eyes set on, but I ended up attending three. While I didn't attend any panels on Friday, there was one on Saturday I attended. I never usually watch anything on AMC, which is kind of shocking considering how many people rave about "The Walking Dead," but I attended a panel featuring AMC's "Comic Book Men." More specifically, two of them. They had three appear, but two were in the panel. Those two were Mike Zapcic and Ming Chen. I have never seen one episode of "Comic Book Men," I was going to ask a question with that disclaimer, however there wasn't enough time to get to it. Having seen this panel, it honestly just made me intrigued to watch the series. Unfortunately, one of the big things the panel had to go over is that the show was canceled. But I've heard that there are episodes on Amazon, so I can easily watch it on there. Although it's not free so that's the one downside. If they ever decide to come out with a DVD of the seasons with commentary, maybe I'll pick it up. Plus, it has Kevin Smith. Why wouldn't I check this thing out?
Another panel I originally didn't plan on attending but ended up going to anyway was for Michael Jai White. You may know this fellow from movies like "The Dark Knight," "Spawn," "Black Dynamite," and "Arrow." I happened to be sitting in the back of the room. There were plenty of seats available, but in the back they had these high top tables with white chairs. I figured I'd check em out. I almost asked a question about what it was like to work with Christopher Nolan, another person who was there asked a similar sounding question and White pretty much went over how Christopher Nolan did things. And hearing what he had to say about Nolan, my favorite director of all time, it only made me appreciate Nolan more. When I think of certain directors that are critically acclaimed, maybe they are somewhat obnoxious. Nolan, based on White's words, seemed to be the exact opposite of that. Shortly after his panel, I stayed in the room, because another panel was about to start and it was for someone I was ready to see. I even move up to one of the seats in the third row near a mic because I did intend on asking questions.
In case you can't tell, this panel is for Pom Klementieff. You may know her best as Mantis in "Guardians of the Galaxy: Vol. 2" and most recently, "Avengers: Infinity War." I still need to check out another movie she did, "Ingrid Goes West." During the panel we talked about "Guardians of the Galaxy," which partially included a little brush-over on the whole James Gunn fiasco, Klementieff's journey as she became an actress, her fascination for "Oldboy," which interestingly she just so happened to have a role in the 2013 adaptation made in America as opposed to South Korea. I was in line to ask a question. So I go on, introducing myself to Pom, saying that I might arguably have the most important question of the entire panel. The question, "Why is Gamora?" I repeated it so everyone could understand. Unfortunately, nobody laughed. Except Pom. At least that's what I remember, if anyone else laughed I wouldn't have been able to pick theirs up. So all of you guys who think I would amount to nothing in life, screw y'all! I made a celebrity laugh! What have you done? Jeff Bezos, you're history! I made Pom Klementieff laugh! Mark Zuckerberg? You found a very popular social network? F*ck you, I got a celebrity to appreciate my joke! Elon Musk? Who the hell are you?! I made history! I got Pom Klementieff to burst in laughter! In all seriousness, my real question had to do with Klementieff's personal favorite line she said in one of her films. Although, I don't think she understood me, because she responded saying "I am Groot" is one of the best inventions ever. I thought it her answer close enough.
Now let's move onto purchases. For this section we're going to state the item(s) I purchased, where I got said item(s) from, and if I have anything to say about it/them, I'll dive deeper.
A few months before I went to this convention, I was not into the whole Pop vinyl figure thing. However, after an unexpected encounter with "Blade Runner" figures at Thinkgeek I had in May, my interest levels have increased. I've mainly looked for exclusives, as I've done in this convention, and once I set my eyes upon this Pop, I figured it was the perfect purchase. Granted, it was $25, and most of the Pops I get are on the cheaper side. The main reason why I got it, aside from liking the Hulk and "Thor: Ragnarok" despite having numerous complaints about it, is that it's an exclusive from Toys R Us. As you may know, Toys R Us officially closed its doors for good here in the US at the end of June. When is the next time I am gonna buy something sold at Toys R Us? I don't know, but I can guarantee it won't be soon. I purchased this Bruce Banner Pop at Undiscovered Realm, which has a store located in White Plains, NY. Unfortunately, I will say that there was another one of these in a different store in the center that was available for $20, but hey, a Toys R Us exclusive is a Toys R Us exclusive.
Speaking of exclusive Pops I could have gotten for a cheaper price, I also picked up a figure of Parzival from "Ready Player One." I paid $15 for it at Wize Guys Collectibles and only bad luck occurred from this one. The day after I bought this Hot Topic Exclusive, I found another place selling it for $10! And as I went home, I don't know how this happened, but the bottom must have opened itself! The figure was inside the whole time, so hopefully not much value will be lost. Ah well, I bought this with a couple of intentions however. I have an Art3mis figure on my shelf (GameStop exclusive), so I figured maybe I should put this next to my Art3mis since both are characters from "Ready Player One" and they lust after each other. Plus "Ready Player One" is one of my favorite movies of the year so you bet I had to get this.
Sticking with Funko's creations, we have a few more Pops to gloss over! These three I can't recall exactly where I got them, and no, don't say Target, because that's false even though one of these is a Target exclusive! If I had to guess based on the map, it's probably G and T Toys and More. I am happy with my picks. Captain Cassian Andor on the right is the second "Star Wars" Pop I purchased (first was Director Orson Krennic). I also have a Kylo Ren, but I got it from my sister. I also got Cable, because "Deadpool 2" is awesome, one of the best movies of 2018. Also, this was partially because there was a deal going on where if I bought three $10 Pops, the total would come out to $25. I'll remind you, every Pop was $10, and there were three Doctor Strange Target exclusives. I had to pick up one of them. I later discovered some minor wear and tear on the Doctor Strange box, but whatever, I was glad to have it. Plus, it's gold!
The last of the Pops I got actually turned out to be the first Pop I ever owned to originate from a video game. One of my all time favorite companies in the video game industry is Valve, and every once in a while I might go on Steam and play a bit of "Team Fortress 2." One class I occasionally play is the Heavy. It's just fun to take his Russian mother load of a machine gun and go to town on people. Plus, the best part is that it was only $6! Not a bad deal if you ask me! This was actually purchased at Toytastik which sells toys online and seems to focus very much on comic book-based toys, so when it comes to comic-con, they know their customer base quite well. They were also selling a "Team Fortress 2" Medic, but since I MAY have damaged the box (not significantly, but still), I ended up getting the Heavy which I found shortly after finding the Medic. In fact, I'm actually satisfied with the Heavy. Aside for not damaging the item's value, the big thing that makes me prefer the Heavy is that I don't play as the Medic. When I play "TF2," I do play a number of classes, but the Medic is not one of them. I just never found myself interested in playing a healer. But that's just me.
If you read last year's review of Terrificon, you'd know that last year I picked up a couple license plates. The place where I did that was what I assumed to be "Fuzzy Fish Inc." Based on what happened this year, I can probably say that's where I got those other license plates. Because as you see above, I picked up a couple more plates and those were from Fuzzy Fish. The one above is from the movie "Blade Runner 2049."
If you look closely in the image above which is a BEAUTIFUL shot from "Blade Runner 2049," you may notice this license plate is located on K's spinner. Once I saw this, I felt like Betty White thinking about the idea of never dying, I HAD TO HAVE IT. The shop happened to have a deal where you can get another plate which would make your total come out to $25.
The other license plate I've purchased comes from the movie "Spaceballs." It's not as cool as an "I ❤ Uranus" bumper sticker, but it's not a bad purchase nonetheless. I do consider "Spaceballs" to be a fantastic parody so I am proud to own this.
Moving onto t-shirts, one of my purchases took place at a stand operated by Robber Barons. I managed to purchase a shirt that contains the text "Ray & Egon & Peter & Winston," otherwise known as the Ghostbusters. The stand had a great selection of shirts, in fact, I still remember seeing this stand last year with this same shirt. The operator was wearing one of the shirts on the stand, which said "POWERED BY PIZZA." Personally, that sounds relatable. I got this shirt on Sunday and I had trouble deciding between this one and another shirt from a different shop. That other shirt by the way was a crossover between "Star Wars" and "Star Trek" and was mocking the "Solo" logo. Instead of "Solo: A Star Wars Story," it said "Sulu: A Star Trek Story." The other shirt is from 3D Printing by Muckychris. Both shirts were around the same price but the main reasons behind getting the "Ghostbusters" shirt was that some people think religiously that "Star Wars" and "Star Trek" are competitors that aren't intended to be together and I'm more into "Ghostbusters" than I am into "Star Trek." Heck, I have an Ecto-1 license plate in my room. What can I say? Although I did find out that Muckychris has an Etsy page so I can go ahead and buy the shirt anytime. I should buy it at some point, it could be like a peace demonstration for nerds. For those who are interested in Robber Barons, they design and print shirts in Simsbury, CT, which is located near the state capital of Hartford. They sell t-shirts, bandanas, and other sorts of stuff.
I happened to get these next two shirts from the same place, specifically a shop called MTC Toys. Believe it or not, on the program I was handed at the con, it actually refers to the shop as MC Toys, so I apologize to all who get fooled by this error. They've been going to comic-cons for a long time, and they've got a crapton of apparel to pick from. They operate in North Tonawanda, NY, which is right near Canada. As you can see, I picked out a couple of shirts. The one on the left is the Seinfeld logo, and if you want to get into specifics, that is the Seinfeld logo which was presented on screen during season 3 and the first couple of episodes in season 4. On the right is a 2001: A Space Odyssey shirt. I figured I'd get it because for one thing I LOVE "2001" and I'm going to see the movie in IMAX next week. It's gonna be dope! If you look at the shirt you'd notice that it contains a couple of images from the movie. One is of the space baby and the other is a shot of the monolith and the sun from the first encounter with the monolith where we see the apes. The only downside is the price (nearly $50 for both shirts after tax), but for the variety that's in store, I guess MTC Toys is at least worth a gander.
Sticking with the topic of "2001," you can see I picked up three posters, and "2001" just so happened to be one of them. The other two are for "Ready Player One" and "Ferris Bueller's Day Off." I believe I got these at Rock N' Reel Posters. I'm rather satisfied with my choices because I highly enjoy all three of these films, and I happen to have a quirky poster too with "Ferris Bueller" considering it's meant to be hung sideways.
Out of all the movies in the MCU's first phase, "Thor" is definitely my favorite of the bunch. One of the best lines from that movie is on this glass you see above. Once I saw this, I had to get this! It was worthy! I got this thing from Go Geek, which sold nerdy candles with "Supernatural," "Harry Potter," "Pokemon," and "Star Wars" themes, and some other cool stuff. When it came to getting this, I almost settled on one or two other glasses. Another glass that caught my attention was one that said "Wanna Smash?" One of the letters in that phrase had the "Super Smash Brothers" insignia, not to mention Samus from "Metriod." And if you play "Super Smash Brothers," you'd know Samus is one of the fighters in all of the games.
This purchase here is not exactly one I originally made for myself. I was originally intending on sending this to my friend in Michigan, but he decided I should keep it, so therefore I'm keeping it. This piece of space Kirby awesomeness comes from Johnny Flid. Originally from Long Island, he is a master artist, muralist, fine painter, and illustrator. When I did a Facebook live from the con, I actually gave him a shoutout, so I hope he gets some attention!
And while I may be done with standard purchases that I've done at Terrificon, I have not gotten to a purchase that I made involving a celebrity. As you may know, on the Sunday for the con, I attended the panel for Pom Klementieff. However, the day before, I got in line to get her autograph. The line wasn't long, but it wasn't short either. It was however longer than I expected because I remember going to this con last year and lines were almost never a problem. In line, I got to glimpse at Henry Winkler (Happy Days, Arrested Development). I didn't talk to him, but he was walking through and I tried say "ayyy" like he would as the Fonz on "Happy Days" and see if he would notice. I got no reaction however. Granted, I don't watch "Happy Days" and I forgot to raise the thumbs! Dammit! Seeing Henry Winkler though, he does seem to be a nice guy, and definitely very interactive with fans. How often do you see a celebrity get out of their chair and move away from their table to get attention? They're usually just sitting down!
So after somewhere between ten to twenty minutes, it is my turn to talk to Pom. I'm in my "You're Not Groot" shirt that I got at this very con last year. From what I can tell, she didn't notice it. We didn't talk too much, mainly because I was busy with the assistant at her table. However, we did say a few words. Klementieff goes on and signs my free IMAX poster that I got when I saw "Avengers: Infinity War" on opening night. The biggest thing I can recall out of all of this was after we took a photo together.
"Take names, kick ass."
Once she heard that she kinda cheered in a way. I don't know how often she'll get that, and I bet there could be a point where she could be dead tired of hearing that. But with it being one of the best lines from "Avengers: Infinity War," I had to spit that out. I did talk to a couple of other celebrities, specifically Sam Jones (Flash Gordon, Ted) and Lou Ferrigno, but I'm not gonna dive too much into that. Although I will say Sam Jones noticed my "You're not Groot" shirt and we had an interesting exchange concerning it.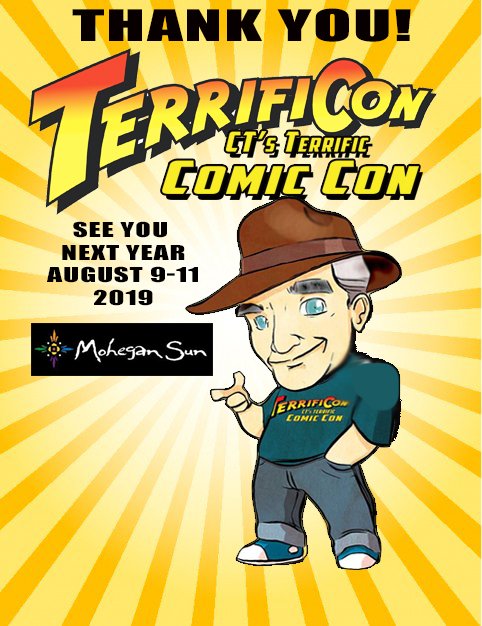 I could go on, but then I'd just end up babbling until the end of time. I really enjoyed Terrificon 2018, I thought this convention was an improvement over the previous one, I'm definitely looking forward to coming back next year. I gotta give a shoutout to the staff, some of the nicest staff I've encountered at a con. They know what they're doing and they sound like they're happy to be at the con as much as I am. Not only do they know their audience, but they also know how to put on a fantastic show. Thanks for reading this post! I'd like to thank everyone I encountered at the con, from Johnny Flid to Pom Klementieff and everyone I met during the Jackbox Games session, all of the people who took what could have been a decent con experience and turned it to something much greater. As for other cons, I actually do have plans to go to more down the road. This October I'll be going to New York Comic Con. I'll be going on Friday, October 5th, and Sunday, October 7th, it'll be my first time at that convention, I'm very much looking forward to it. Also, the month after that, I'm gonna be in Providence for Rhode Island Comic Con. I'll be there all three days on the first weekend of November, which is the 2nd through the 4th. Too bad I'm not going on the 5th, it could have been perfect timing to do a cosplay as V from "V For Vendetta." These next couple of months are gonna be con heavy, which means you can assure yourself that you will be getting some great content coming your way. Be sure to follow so you can stay tuned for said content! You can either follow with your WordPress account or your email, nevertheless, make sure you click that follow button! I want to know, did you go to Terrificon this year? What was your experience like? Or, if you have any cons that you want me to go to in the future, leave a comment and maybe I'll do some research on it. I will say, I'm in eastern Massachusetts so that will be a hint as to what maybe I can or can't do. But nevertheless, leave your comments, I'd love to hear your suggestions! Scene Before is your click to the flicks!