Hey everyone, Jack Drees here! This is the fourth year in a row I have gone to an event that pretty much defines who I am at this point, Rhode Island Comic Con! Over the years I have met some fantastic guests there including Charles Martinet (Super Mario Bros., The Elder Scrolls V: Skyrim), Gal Gadot (Wonder Woman, Keeping Up with the Joneses), Brianna Hildebrand (Deadpool, The Exorcist), Curtis Armstrong (Revenge of the Nerds, Supernatural), and Christopher Lloyd (Back to the Future, Who Framed Roger Rabbit). This year, the guest lineup continued to not disappoint. The lineup featured guests from all walks of nerd life, from "Star Wars" to "Deadpool" to "It" to "The Walking Dead" to even "Impractical Jokers." Not only that, but this year, while I will say guest-wise is probably not #1 for RICC (which says something based on how fantastic this year's lineup is), is the best in terms of one thing many customers have talked about as their pet peeve with the con. Organization.
Let's take this from the top. In 2014, RICC has its third convention ever. They get shut down by the fire marshal on their first day, Saturday, due to poor attendance flow. Capacity exceeded by over three thousand people. As for those who left the convention, they couldn't reenter, and there were also people who simply couldn't enter no matter what. Rhode Island Comic Con f*cked up. In 2015, the first year I went, it started out well, then my father and I decide to go from the Dunkin Donuts Center to the Rhode Island Convention Center. I wanted to catch a panel. Turns out the time spent getting from one place to another took forever and a half. This year, I had a slightly similar, but MUCH LESS worrisome issue. In 2016, the convention decided to try out their eventual continued method of having some headlining or popular guests on the Dunkin Donuts Center floor. A few of these guests included Millie Bobby Brown, Stan Lee, and the one I wanted to see the most, Gal Gadot. One of the advantages of Stan Lee and Millie Bobby Brown in regards to the customers is that they had multiple opportunities to see them. However, Gal Gadot was only at the convention for one day. Despite getting in somewhat early, I had to end up waiting in line for five hours, with an unusual twist and turn brought into the mix. This caused me to miss Gal Gadot's panel too. How unfortunate. In 2017, I had trouble getting into a panel for Channel Awesome, there was no real line for Channel Awesome's room. Even employees didn't know all of what to do in this sort of situation. Also, one of the biggest downfalls of 2017's Rhode Island Comic Con is after walking in, chances are some people are going to want to go into the Rhode Island Convention Center portion of the event. That's where many of the guests, vendors, and panels happen to be located. To do that, you basically have to go around the entire Dunkin Donuts center in a circle. Should I say donut? Speaking of limited options regarding travel, the skybridge between the Rhode Island Convention Center for 2016 and 2017 was a one way. Want to switch back to the Dunkin Donuts Center from the Rhode Island Convention Center? Well, go down an escalator, leave the building, go find a small entry, get scanned by someone, and you can party all you want from there. This year however, NONE OF THAT WAS THERE! YAY!
I love Rhode Island Comic Con, but when it comes to placing all of their event's vendors, celebrities, and crowds, this is where they fail. This year, I cannot even believe that I was on a two-way skybridge at Rhode Island Comic Con. Guys, it's not that hard! It all worked out! One interesting thing about this year though is that most of the celebrities who resided in the Rhode Island Convention Center were not on the usual floor that a majority of the celebrities of previous shows happened to be on. Instead, they were on the fifth floor. Many of them were in a ballroom which has also been used for several of the event's panels in the past. This pretty much meant the main floor was completely dedicated to shopping, charity, sponsors, contests, and artists. The Dunkin Donuts Center is about the same as it has been since 2016. You've got your vendors, you have some places to grab food court-style grub, including of course, Dunkin Donuts. Downstairs contains some celebrities on the show floor, and more vendors. The one big difference this year however is that the photo ops are not organized down in the Dunkin Donuts Center. Instead, it's inside the main area of the Rhode Island Convention Center. It's located in a region where for the past couple of years, celebrity guests would have been sitting down signing autographs as customers wait in line. There's a different organizer this year as well. Last year was Celeb Photo Ops whereas this year is Epic Photo Ops. I can't compare the service between the two, mainly because I didn't get a professional photo op this year. I took photos alongside celebrities at their table, which I actually think has more value attached to it because pro photo ops usually consist of fast-paced lines and limited interaction. In some cases with photos at the table, the lines to get to the celebrity may be on the slower side, but it's worth it because you get to have a higher chance at an actual face-to-face conversation.
Speaking of face-to-face conversations, I've gotten to have one at a panel this year. No, I wasn't onstage talking to someone, but the whole panel was essentially a Q&A. With that in mind, one of the questions that was taken happened to be mine. This panel I'm referring to is "Impractical Jokes from Murr with Special Guest Joey Fatone!" In other words, the panel was for guests James Murray (Impractical Jokers) and Joey Fatone (Impractical Jokers: After Party). My question for the panel regarded the "Impractical Jokers" show asking what might be the best fake names the guys have ever came up with. James and I seem to agree that "Disfatt Bidge" is brilliant.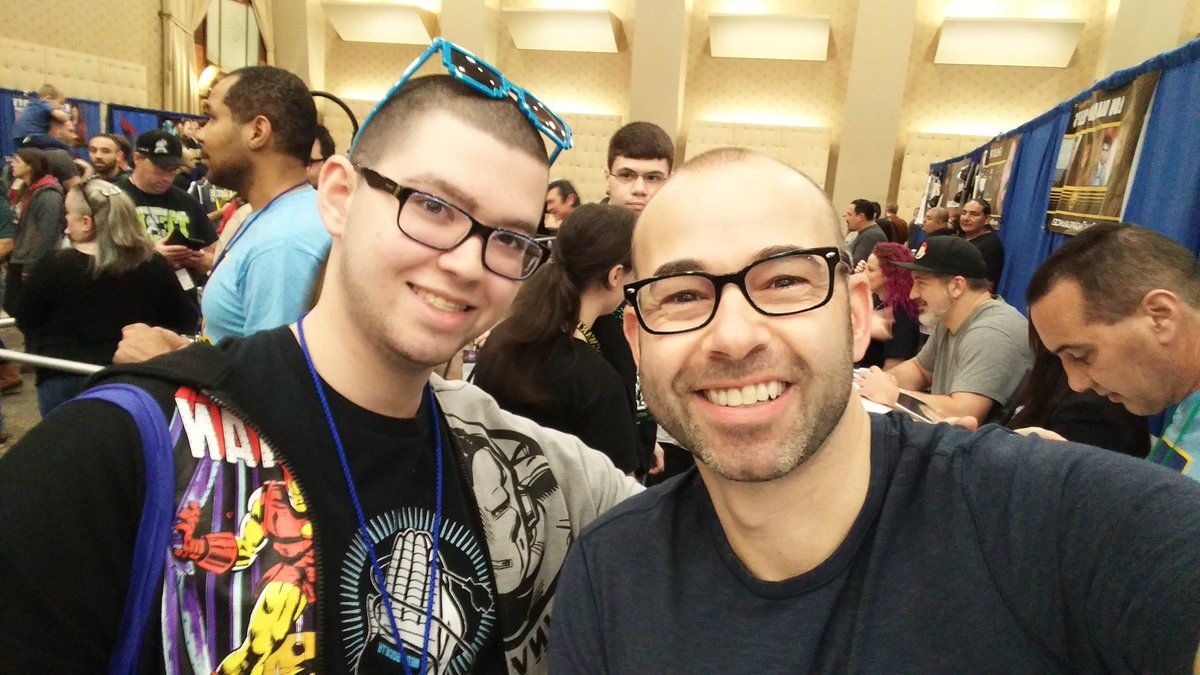 On the topic of James Murray: Pet Cremator and Grandparent Divorce Attorney, I happened to meet and talk to him when he was at the con on Sunday. He was there for Saturday and Sunday, and to my surprise, his line was actually capped for much of the time I was there. I know that having someone from "Impractical Jokers" show up to the con can make that particular guest stand out because at least in my book, "Impractical Jokers" isn't all that nerdy. It has individuals who have done nerdy things and are interested in said things as well, but still. That status, believe it or not, actually may have helped Murr. Many guests have showed up to Rhode Island Comic Con this year. Most of the guests are from movies and TV. For the most part, the movie or TV show would have a nerdy connotation to it. For TV shows, these include "Star Trek," "The Walking Dead," "Smallville," "Power Rangers," and "Batman: The Animated Series." For movies, these include "Star Wars," "It," "The Rocky Horror Picture Show," "Shazam," and "Deadpool." Having a less than nerdy individual from a less than nerdy show might add some diversity to Rhode Island Comic Con and maybe bring in a different audience or for the nerds, show to others that they enjoy things that don't have superheroes, lightsabers, blasters, or explosions. When it comes to meeting James Murray, I got him to sign my copy of "Awakened." This is a book he wrote alongside Darren Wearmouth, which will soon be getting a sequel called "The Brink." I also got a selfie alongside him, which is a bit different from what people usually do at these cons, which is allow somebody around the table to snap a pic of the celebrity simply standing next to you. Interesting approach, but I feel bad for those customers who don't have a front-facing camera or a cell phone because then it slightly alters the tradition. Also, out of the celebrities I've met at a con, I found Murr to be perhaps the most outgoing of all of them. When I was in line for him on Sunday, he's coming out of this private area and without me even looking at him, he pats me on the shoulder like a champ. Not only that, but he just starts hi-fiving and greeting everyone, it's like the most charismatic game show host ever. Although then again, I guess Murr is the most charismatic game show host ever because he will be hosting a game show with the other Jokers called "Misery Index" which is set to air on TBS.
Also, I couldn't get a picture, but Murr's banner at one point had a sticky note with the words "FERRETS RULE!" and his eyebrows and facial hair was censored out by more sticky doohickeys. Some of you reading might be aware that James has a ferret tattoo on his leg, which by the way he did show. However when it was revealed, it was not in the best of situations. Murray explained that he was in the process of flipping over his mattress, as one does. Long story short, he hit his bedside and now there's a bruise on his tattoo. Things happen I guess. By the way, that driver's license photo where Murray has no eyebrows. IT'S REAL AND HE BROUGHT IT WITH HIM.
Another guest I met was Tara Strong (The Fairly Oddparents, Teen Titans Go!). If you have ever been a modern day kid, chances are you have been exposed to her work somewhere. I've seen her as Timmy Turner on Nickelodeon's "The Fairly Oddparents," she's been some numerous voices on "Family Guy," she can be found as a voice on "My Little Pony," she even had an uncredited role as "Bellybutton" in "Ted." I got her autograph, not for me, but a friend. And I assure you all right now reading this that what I'm about to tell you is a true story. I met Tara Strong on Friday, November 2nd. Nice gal, she managed to ask me if I was voting the midterm elections. I didn't. Part of me wanted to, but when you have to take an hour and a half train commute from one town to the other and back, it affects such a thing really. However, she handed me a sticker promoting "Nerds Who Vote" as a sign of encouragement. That night however, I was going through my stuff and realized that I left my autograph in the building! I went back the next day, cutting the line to get into the convention without even knowing. But it was my birthday weekend so in my book it's OK. I go inside and rush to Tara Strong's table. She's not there yet, and I'm not the first in line. Once everything's all situated there, one person asks me what I'm there for. I was expecting them to disregard my comment saying I left an autograph behind. Turns out it was in front of Tara waiting for me!
There's good people in this world! Thank gosh! If I was told I had to cough up money for another autograph, I would have. I promised my friend I'd bring this to her. However, I have such massive respect for those working at Rhode Island Comic Con and Tara Strong herself for saving this autograph for me as opposed to leaving it hanging somewhere mysterious.
Another item I got autographed was my "Deadpool 2" steelbook. This bad boy is a Best Buy exclusive which came with a 4K, Blu-ray, and digital copy code. It also has an extended director's cut marketed as the "Super Duper $@%!#& Cut." Interestingly, it also came with a slipcover featuring a bubble quote from "Deadpool" saying "I like to be on top. Obviously." There were a number of "Deadpool" related guests announced including Stefan Kapicic, Morena Baccarin, Brianna Hildebrand, and creator Rob Liefeld. Believe it or not, Liefeld's appearance kind of flew over my head. Plus, I was more interested the people from the movie side of things. Also, Brianna Hildebrand unfortunately cancelled her appearance, which ultimately wasn't too big of a deal to me, because I already met her back at the same con in 2016. Nice lady if you ask me. But I gotta be honest, meeting Stefan Kapicic was very interesting. It's almost like he was more excited to meet me than I was to meet him. I presented my steelbook to him and just calmly loses his mind. It's easy to tell Kapicic has a passion for what he's doing. I think he almost gave me a free autograph because I asked how much it was and the timing between signing and all of the words and phrases mentioned in our talk made Kapicic or his assistant either forget this is a job or become so infatuated with my product that signing it was a privilege. Speaking of infatuation, when it comes to Morena Baccarin, I spent a tad less time with her, but to be fair, she had a longer line. She didn't have too much to say, but she was very nice.
Oh yeah, I also got a pic with her. We make a great 20 year age difference couple. Sorry if her husband has to see this.
Another celebrity I met happened to be Meat Loaf. To be honest, I never really listened to his music, so there's not much I can say about that. The only thing I've really seen him in was "The Rocky Horror Picture Show," which coincidentally, had another celebrity who appeared at the con the same weekend, Tim Curry, AKA Dr. Frank-N-Furter. The biggest highlight of the interactions has to be the introduction. I introduce myself, and he just mocks me for acting like I forgot my own name.
That's all the celebrities I met, but I also managed to encounter some awesome items for purchase as well! Well, mostly for purchase.
This first item was actually free. I played a game where I happened to have a chance at winning an inexpensive item. The one I ended up winning was a wristband. Judging by the band, you might be able to guess that Dave & Busters was a sponsor this year of Rhode Island Comic Con. The items on the table basically consisted of whatever cheap merchandise could be produced and have a slapping of Dave & Busters's own name on it.
Moving onto more expensive items, I stopped at this one shop I've actually already visited this year at New York Comic Con and Terrificon. The shop goes by the name 3D Printing by Muckychris. They've had some nice 3D printed materials, with some standouts inluding the "Fight Club" soap bar and Darth Vader's damaged mask as it was seen in "Star Wars: The Force Awakens." However my item of choice at this year's Rhode Island Comic Con happened to be a t-shirt. When I saw this shirt at Terrificon, I wanted to desperately get said shirt. I didn't. When I went to New York Comic Con, I noticed the store, but they apparently weren't advertising the shirt I wanted. To be fair, they had another cool shirt that stood out to me, but I ended up passing on it. However, when they arrived at Rhode Island Comic Con and I saw my shirt of choice, I felt like I scored. Well, almost scored, in all technicality. Turns out they didn't have a large! I ended up settling for an extra large however, which isn't a bad thing. The shirt, as suggested in the picture, is a parody of the "Solo: A Star Wars Story" logo, and instead says "Sulu: A Star Trek Story." Many people know Han Solo as a "Star Wars" character. For this shirt, the logo was switched up to cater to a "Star Trek" character. And you know what? I don't know how big these fights are nowadays, but if they are still around, I should literally be going around wearing this shirt to whatever "Star Wars" or "Star Trek" convention I come across. I say that because this shirt can almost resemble a demonstration for sci-fi franchise peace. While people continuously fight over which franchise is superior, I'll just be walking around in this $20 t-shirt saying, let's come together! May the force live long and prosper! Also, 3D Printing by Muckychris handmakes products in New Jersey and can be found on this website below.
https://muckychris.patternbyetsy.com/
Speaking of t-shirts, I went by one shop I've gone to at Terrificon and actually purchased something from, MTC Toys. However, this time, instead of getting two t-shirts, I ended up getting one. The variety in the store is certainly something to get excited about, but the prices are a little less exciting at times. However, with as much variety as this store has, you can basically argue that the price doesn't really matter. The shirt that really stood out to me, as you see in the picture above, is one that resembles the guys from "The Big Bang Theory" as DC superheroes. For the record, I have a strong feeling this t-shirt is completely based on the "Justice League" cosplay the show's characters had to do for a contest at the comic book store on New Years Eve. Sheldon was The Flash, Leonard was Green Lantern, Howard was Batman, Raj, to his everlasting shame, was Aquaman. Even Penny and a guy she knew, Zack, joined the party as Wonder Woman and Superman. Based on their names, you can probably guess who is who. As you can also see, the shirt also has the saying "The Big Bang Theory" has popularized over the years, "BAZINGA!" MTC Toys is from North Tonawanda, NY. They have been to many comic cons for over two decades, selling lots of t-shirts and fan merch.
Lastly for clothing is a sweatshirt I've actually worn not long after I got it. As you can see, it is for Marvel's "Iron Man." I consider Iron Man to be one of my favorite superheroes, and his interpretation by Robert Downey Jr. is unbelievable. But I gotta say, while this sweatshirt is certainly nice-looking, I don't think it was worth the "on-sale" price of $39.99. It didn't take long for the front zipper of this thing to stop working (yes, there's a front and back zipper). To be honest, while I might end up wearing this sweatshirt again, it REALLY could be better. However, what is better than this sweatshirt is the store where I got it from, FYE. FYE has actually been a part of Rhode Island Comic Con every year since I went, and each year they seem to switch up the merchandise to spice things up in one way or another. Some standouts included an FYE exclusive "Hocus Pocus" Blu-ray which came with four glow in the dark postcards. There were a lot of Funko Pops, including exclusives from FYE itself and seasonal conventions. The store even had some of the items you'd find at the FYE booth in New York Comic Con. Some of these items included eight "Friday the 13th" movies inside a steel lunchbox, a Marvel Studios: The First Ten Years blanket, and I believe they had cereal as well, because FYE is somewhat known for selling food. If I had to go back in time and give up this sweatshirt though, I probably wouldn't mind doing such a thing. After all, FYE also had a jacket resembling the one Finn wore in the "Star Wars" franchise. Although at the same time, part of me might be safer not getting it so I don't get any criticism for dressing up like a black guy. Still, cool jacket.
As you guys know, I am a movie nerd, so therefore, this next purchase satisfied my hunger. There's one store I went to whose name I actually don't know which had a bunch of wine glasses. I don't drink so that's none of my concern. However, I did manage to pick up something else they had, ceramic coasters. These things were $7 each, but I managed to get four coasters for $25. As you can see, these coasters are for "Blade Runner 2049," "John Wick," "Justice League," (2017 film) and "The Thing." (John Carpenter) I enjoyed all of these movies so these purchases were certainly done without regret.
One of my cheapest purchases at the con comes from Mad Mike's Emporium. Mad Mike's is a shop from East Greenwich, RI, selling new and used toys, video games, collectibles, and rare findings. I ignored the toys here, however there was one video game that absolutely caught my eye. One of my childhood games is "Need For Speed: Underground 2." I have played its predecessor, "Need For Speed: Underground." However, the most complex platform I've ever played it on is the Game Boy Advance. Therefore, some might argue I've never played the game for real. I believe I first saw the game at the shop on Sunday. If that's the case, I didn't buy it because I had overpriced food in my hand and I was looking for a place to sit down. Once I heard the price, $5, I was dead-on intrigued. I just started playing the game, and I see some of the differences between this game and its sequel, but I'm enjoying it so far.
The last purchases I'll go over come from a shop called Horror Decor. Their catchphrase is "Make every day a living nightmare." One of my everlasting nightmares is the fact that Blockbuster Video is on its last legs. Speaking of which, the store managed to have two items that truly stood out to me. The first one is a Blockbuster tote bag and the other is a pillow that resembles a Blockbuster Membership Card. Before I found these gems of badassery, I always wanted some sort of merchandise related to Blockbuster. I go to stores like Newbury Comics and Thinkgeek and find a shirt that says "Blockbuster and Chill" from time to time. However I never officially got my hands on it either due to a lack of intrigue or the sleeves not really being the ones a man should have. These two items however, are just plain awesome. There's a good chance that around Christmas time I'll be using that tote bag to carry in gifts that hopefully are delivered by December 24th or 25th, that way I don't have to give late fees to my recipients. And the pillow, while it may not be the all time most comfortable thing I've laid on, will certainly be a fantastic addition to my mancave. Also, just so you know, Blockbuster is not completely dead. There is still a location in Bend, Oregon. So if I were to make a trek there sometime, I'd probably ask if I could use my pillow as a valid membership card. I'd probably get a no, but I'd rather get that "no" than lose physical media altogether.
If you read my post for last year's Rhode Island Comic Con and what I did there, chances are you may know that one of my purchases was for the original "Star Wars" trilogy. For the record, when I say original "Star Wars" trilogy, that means the original trilogy before all of the special editions. One reason why I value that purchase so much is because it takes away some of what made the special editions somewhat cringeworthy. It removes some of the added CGI, Darth Vader's "No" at the end of "Return of the Jedi," and the infamous moment where Han Solo doesn't shoot Greedo first. However, on Friday, November 2nd, I think I made the 2018 special edition of "Star Wars," and that is partially in thanks to the 501st Legion, who has partnered with charities such as The Jimmy Fund and Make-A-Wish. In this special edition, not only does Han not shoot first, Han is not even involved in the duel whatsoever. Instead, the dorky Earthling who lacks some people skills named Jack Drees is doing all of the work. "Star Wars" fans will never get to see the final cut, but they get to savor over this image.
When it comes to Rhode Island Comic Con, this has been another great year. And it is probably likely the year where I've had the least complaints about how things are run. The vendors are lively and know their audience. There is so much to do and see. The celebrity lineup this year, again, is full to the brim and brings tons of variety. The skybridge IS ACTUALLY TWO WAY! THANK GOSH! I'll probably be coming back to Rhode Island Comic Con next year mainly because it is a tradition at this point. I've been four years in a row, might as well make it five! I will also say that Altered Reality, the company that organizes Rhode Island Comic Con does have some other conventions I want to check out. There's one convention that goes on during the summer called ComiCONN that goes down every year. It takes place at the Foxwoods casino in Ledyard, CT. It's smaller than Rhode Island Comic Con, but it would be fun to go at least for a day. Altered Reality is also expanding their lineup, because they have a new con on the weekend of May 3rd through May 5th. It is called Epic Comic Con. It's set to take place at the Showboat Atlantic City. The Showboat is a casino which opened in 1987, closed in 2014, and reopened in 2016. I don't know if I'll be going there, because school might be serious at that time. Plus, if plans don't change, May 3rd is also the release date for "Avengers 4," so my priority that weekend would be to shove my review for that on the Internet as soon as possible. Although I will say, I visited the website for Epic Comic Con and it says that the con is supposed to be set for June 21st through the 23rd. So at this point, planning for the con is a mystery to me. As far as my next con goes, I don't know what it will be. There's PAX East coming up in March. That's also the same month as CTGamerCon, which is set at the Mohegan Sun casino. Maybe I'll go to that. Winter however is not the busiest time for cons, so I don't think I'll be going to any cons during the winter. We'll see if anything comes up though. Thanks to Rhode Island Comic Con for another spectacular year and I hope to see the con again in 2019!
Thanks for reading this post! Pretty soon I'm going to have my review for "The Grinch" which is in theaters now. It's definitely making lots of money. My friend and I planned on seeing it at an IMAX, so we're going to see what this is all about. Also, on Monday, I'm going to see "Second Act" starring Jennifer Lopez. For the record, the movie does not release until December 21st, which means it will ultimately be crushed by "Aquaman," "Mary Poppins Returns," and "Bumblebee." However, I have reserved passes for an early screening so I'll be getting to see the movie early. I don't know when the review embargo lifts, but there's a good chance you'll probably have to wait about a month to see my review on the film. I don't know. Be sure to stay tuned for that review, and a review you'll see perhaps much earlier. Be sure to follow Scene Before either with a WordPress account or an email so you can stay tuned for more great content! I want to know, did you go to Rhode Island Comic Con this year? What are your thoughts? Did you go before? What did you think then? Or, if you have any suggestions of future cons, near or far, that I should visit, what are they? Please list your suggestions in the comments! Scene Before is your click to the flicks!