Hey everyone, Jack Drees here! This week is San Diego Comic-Con! Despite my gripe with them that I've held onto for the past number of months, I can still say with happiness and joy that the nerd celebration of the year is here! And to celebrate that, I've got con announcements incoming! Because I suck and can't refresh my computer as fast as possible to get my San Diego Comic-Con tickets. Before we dive into this con announcement, let me just ask you something. Are comic-cons just for the nerds? I wouldn't say they are. Nerds are definitely the target audience, but in reality, everyone is welcome! After all, I can imagine a lot of people want to meet an admirable celebrity, shake their hand, get their autograph, take a pic, all that jazz. Speaking of celebrities, there are a bunch of them that can be found on YouTube. And I know a lot of you viewing this might be thinking about people like PewDiePie or Shane Dawson or Smosh or Markiplier. Sure, those users are definitely popular. However, there are several communities and users on YouTube that aren't necessarily talked about or brought up when thinking about YouTube celebrities. Today, we are going to change that. Ever since I discovered YouTube, I have been stalkin' a group of people that make up the "elevator community." One such member includes, its revered founder. In this post, I'd like to give a special shoutout and promotion to the YouTube user Dieselducy!
Dieselducy is a fairly popular YouTuber who happens to be a master of his craft, which simply put, is riding elevators. It takes hard work and dedication to find the finest and most presentable elevators on YouTube, and Dieselducy knows exactly what to do in order to show off the best of the best! Having shot many videos by himself and more alongside fellow elevator enthusiasts he met along the way, it's easy to say that Dieselducy may be the most highly appreciated elevator photographer on the Internet. You can find all of Dieselducy's content on YouTube, including this one of an elevator that's shaped in a circular form, so you can say that it's a lot like a "Star Trek" transporter. And seriously, this dude is a boss! He's got over 50,000 subscribers! Thousands of videos to choose from for your viewing convenience! And as of recently, tons of livestreams, including one where he GETS A TICKET ON CAMERA! Please check out Dieselducy's YouTube channel, be sure to subscribe, hit the notification bell, and check his other social media pages! Also, be sure to tell him that Jack Drees sent ya over!
DIESELDUCY'S YOUTUBE: https://www.youtube.com/user/dieselducy
DIESELDUCY'S WEBSITE: http://www.dieselducy.com/
DIESELDUCY'S TWITTER: https://twitter.com/dieselducy
DIESELDUCY'S FACEBOOK PAGE: https://www.facebook.com/DieselDucy/
DIESELDUCY'S INSTAGRAM: https://www.instagram.com/dieselducy/
DIESELDUCY'S FLICKR: https://www.flickr.com/photos/dieselducy
DIESELDUCY'S SNAPCHAT: Dieselducy
Now, as you can tell by the title of this post, you may be aware that I'm going to Rhode Island Comic Con this year. I've been running Scene Before for over two years now, and in that time, I've been to this con twice. Before I started this blog, I didn't just go to that con, that was actually the first con I've ever gone to. I even documented my thoughts on the 2017 convention, which I thought was slightly clunky and disorganized, but despite that, it might have been the best con I've done in my life so far. I got to meet the cast of "Revenge of the Nerds," I met a few people from Channel Awesome, I attended a couple panels, and I got a photo op alongside Christopher Lloyd. This upcoming con, doesn't look like it's going to disappoint. Some of the guests they've got lined up for this thing already impress me, and I can tell there will definitely be more impressive guests to come along the way. For the ones that are already listed, let's dive into IT!
Take that last statement very lITerally, because "IT" seems to be playing a huge part in this con! And I'm talking about both the straight to TV miniseries and the recent hIT movie! As for the miniseries, one name you may recognize who will be showing up to Rhode Island is Tim Curry! You may know Curry as the famous clown, Pennywise. While "IT" is definitely partially responsible for Tim Curry's fame, he has also appeared in such projects including "The Rocky Horror Picture Show," "Clue," "The Hunt For Red October," "Home Alone 2: Lost In New York," and "Star Wars: The Clone Wars." As of now, there is currently no announcement of Bill Skarsgård appearing, so you can't really say you have two Pennywises coming together. Although there are people from the 2017 "IT" movie who will be making an appearance, specifically kids.
The appearing kids include Wylat Oleff (Stanley Uris) and Jaeden Lieberher (Bill Denbrough). I can't really say that much about their performances in "IT" overall, because I haven't actually watched the movie. I watched tons of movies in 2017, but "IT" was not one of them, which to be honest is kinda surprising when you think about the success IT had. Another thing to bear in mind with this post here, is that IT is published before all of the "IT" guests have been announced (probably, depends on how the people behind the con close out this week's announcements).
Sticking with the topic of Tim Curry, he happens to be one of the guests currently listed in the "headliners" category. Now, if you look at the guest list for Rhode Island Comic Con on their website, that label doesn't actually exist. But last year, they had several guests labeled as "headliners." These guests would be on the first list you'd see on the guest page, and if RICC intends to do things similar to last year, they'll all be in the Dunkin Donuts Center together (well, at least most of them), as opposed to the Rhode Island Convention Center, which is attached to that property. Rhode Island Comic Con currently has eighteen headliners listed on their site and they are…
Tim Curry (It, Star Wars: The Clone Wars)
Alan Tudyk (Rogue One: A Star Wars Story, Moana)
Morena Baccarin (Deadpool, Gotham)
Karl Urban (Star Trek, Dredd)
Michael Rooker (Guardians of the Galaxy, The Walking Dead) He's Mary Poppins, y'all.
Finn Jones (Game of Thrones, Iron Fist)
Jessica Henwick (Game of Thrones, Star Wars: The Force Awakens)
Nestor Carbonell (The Dark Knight, Bates Motel)
Billy Boyd (Lord of the Rings: The Fellowship of the Ring, Empty)
Danny Trejo (Sons of Anarchy, Machete)
Brianna Hildebrand (Deadpool, The Exorcist)
Stefan Kapičić (Deadpool, Counterpart)
Richard Dean Anderson (General Hospital, MacGyver)
Ron Perlman (Hellboy, Sons of Anarchy)
Billy Zane (Titanic, Back to the Future Part II)
Cassandra Peterson (Movie Macabre, Pee Wee's Big Adventure)
Lou Diamond Phillips (Stand and Deliver, Young Guns)
Ben McKenzie (Gotham, Southland)
Since we're on the topic, let's talk about three of them specifically. The trio includes Brianna Hildebrand, Stefan Kapičić, and Morena Baccarin.
What do the recently mentioned trio have in common? They're all in the "Deadpool" movies! You may know Brianna Hildebrand as Negasonic Teenage Warhead, Stefan Kapičić is the voice of Colossus, and Morena Baccarin plays Vanessa, the love interest to "Deadpool." I am SO excited for this trio! I actually met one of the people in this trio before, specifically Brianna Hildebrand, and it was fun meeting her. In fact, it was actually at this exact con in 2016. I didn't talk to her much, although I did ask her how her time was in Providence, I told her she had the "coolest name ever," to which she chuckled, and we went our separate ways. One thing you might be interested to know is that Stefan Kapičić was actually at the same convention that weekend. Although I didn't meet him. So depending on what I do during this convention, I'll have a chance of meeting three "Deadpool" cast members, one of which I've met before, and two I'd meet for the first time. If I can't get to all three, I'd personally flock after Morena Baccarin. I mean, let me just say, I'm a white, straight, eighteen year old boy. Of course I f*cking love "Deadpool." Morena Baccarin's character is not only gorgeous, but my gosh, she is just one of the best and most charismatic love interests I've seen as far as recent movies go.
If you were going to ask me who I think might be the "best on-screen couple" in movie history, Vanessa and Wade from "Deadpool" are definitely in that conversation. While certain parts of their relationship feel somewhat fantastical, you just can't help but appreciate their chemistry and dialogue throughout both "Deadpool" and "Deadpool 2." I'm twenty years younger than Baccarin, but if she happened to ever be single and want a younger guy… I'm available. But in all seriousness, Baccarin at a con is definitely going to be interesting, but you know what would be even cooler? If they pull out all the stops and get Ryan motherf*cking Reynolds!
Another group of guests that is likely to get a lot of attention at Rhode Island Comic Con is the cast of "The Walking Dead." Last year, they've had plenty of guests announced who happened to be "Walking Dead" cast members. Although, due to bad timing in their schedules, four of them couldn't even make it. Let's just hope for the sake of the fanbase's personal joy that this doesn't happen again this year. So far, when it comes to "The Walking Dead" guests this year, we have Steven Yeun, Michael Rooker, Laurie Holden, Lennie James, Jeremy Palko, and Cooper Andrews. This con is three and a half months away, so there could be potential for more "Walking Dead" guests to show up, however if there's one that's unlikely to show up, that's Jeffery Dean Morgan. I remember hearing on YouTube he was rather dissatisfied with Rhode Island Comic Con due to its chaos and disorganization. Oh well, there are other people to look forward to meeting!
This con is not exactly a couple of months away, so I'm not gonna get into too many more guests, but some of the guests I'm noticing seem to be very well known for their voiceover work.
The first guest I'll mention is Kevin Conroy. While some may argue about the best on-screen Batman and lean towards someone such as Adam West, Christian Bale, or Ben Affleck, some may lean towards Kevin Conroy. He has not just played Batman, you can make the argument at this point that this guy probably IS Batman! Seriously, let's make a list of some of the s*it that he's done as the character of Batman! "Batman: The Killing Joke," "Batman: Arkham Asylum," "Batman: Arkham City," "Batman: Arkham Knight," "Batman: The Animated Series," "The New Batman Adventures," "Injustice: Gods Among Us," "Injustice 2," "Batman and Harley Quinn," "Batman: Vengeance," "DC Universe Online," "Batman: Mask of the Phantasm…"
Now let's move onto our next voiceover artist, Tara Strong!
If the name Tara Strong does not sound familiar to you, than chances are you don't do much research on "My Little Pony" or "The Fairly OddParents." Tara Strong is very well known for years of voiceover work, having received several nominations in the Annie and Behind the Voice Actor awards shows. She also is known for her work as Bubbles on "The Powerpuff Girls."
Another big voiceover name at this year's Rhode Island Comic Con is John DiMaggio. You may know him from "Adventure Time," "Gravity Falls," the "Transformers" movies, and "Futurama," otherwise known as that one show with a popular meme that is going to describe everyone attending Rhode Island Comic Con once they hear the word "autograph," "ticket," or "photo op."
I don't really have as much of an objective at this year's Rhode Island Comic Con like I did other times I went, but then again, that could potentially change in the upcoming months. If there was an objective this year for me, the closest thing to it is to meet Morena Baccarin. As far as talking to her goes, that's a different story, I don't know how big or fast her line will be, but I can guarantee that it won't be small. Maybe I can at least get a hello or some witty joke in or something jazzy. For the other three years I've gone to Rhode Island Comic Con, there was an objective I had in mind, and it has been accomplished each time. In 2015, I met Curtis Armstrong. In 2016, I met Gal Gadot. In 2017, I met the entire cast of "Revenge of the Nerds" who happened to appear for their reunion. When it comes to Rhode Island Comic Con, the thing that has always impressed me is the guest list. Not only is it big, but it includes people that probably rarely go to cons! The guest list and con is so big in fact, that it needs three venues to fit everything! For the past few conventions, it has been held inside the Rhode Island Convention Center, as it has every single year, but it has also been held in the attached Dunkin Donuts Center. In 2017, however, I was made aware that new ballroom space in the closeby Omni Providence Hotel was used for the con. I imagine that will continue this year, because that space was used for a traveling group that shows nerdy films called GeekFest Film Fests, and they are coming back this year.
Why is there so much space? If you haven't followed this con or been to it, one big story that went down during the con's run in 2014 is that the Rhode Island Convention Center was filled to capacity, which is the first time that's happened in the building's history. 20,000 people attended Rhode Island Comic Con that weekend, and this was kind of a hazard. The fire marshal temporarily shut down the con due to poor attendance flow. At least about 1,500 attendees couldn't enter the convention and those who left the convention could not reenter. Luckily, those who wanted refunds likely had their wish granted, and precautions such as adding the Dunkin Donuts Center in 2015 helped this sort of thing become less likely to happen again. Then 2015 happened, and the line to get in the Rhode Island Convention Center from the Dunkin Donuts Center was longer than jury duty. Disorganization was also a key complaint uttered by some con-goers in 2016, one such complaint was towards the company issuing photo ops, which was resolved in 2017 by getting a new team. However, for whatever reason, that team is not back this year.
Now this con, as mentioned, is disorganized, and that was one of the big complaints that they MAYBE tried to avoid from happening again like it did in 2016. When I entered the con last year, something REALLY strange happened. The entry point of the con allows you to go straight into the Dunkin Donuts Center, and nearby to the right is a ramp that transports you onto a skybridge that goes over to the Rhode Island Convention Center. In 2017, however, that was not a thing. Apparently, as a method of "crowd control" everybody had to go around the circle that makes up the Dunkin Donuts Center before they can even enter the Rhode Island Convention Center! Is this an attack on nerds for not getting enough physical exercise? And if that's the case, it's good to know that an arena with a donut shop's name is helping out! I don't know if this will happen again in 2018, but as much as I look forward to this con, that might be the first or second biggest downfall of last year's experience.
Much like last year, this con is going to have some nifty events tied into it. This year there's going to be an after-party on Friday and Saturday, tattooing, gaming tournaments, Sci-fi Speed Dating (must be 18 and single to participate), and if you're coming here with your kids, you may be happy to know that RICC will have certain things that cater to them at Kids Con!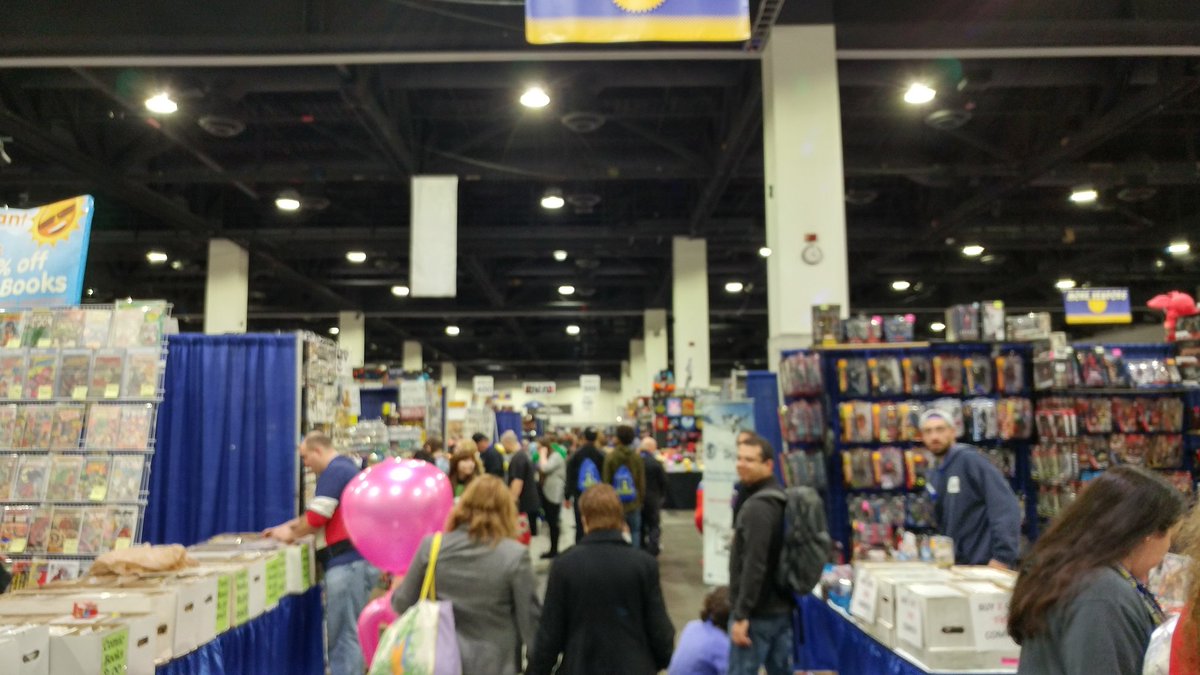 I've been going to Rhode Island Comic Con, and while it's definitely not a perfect convention, it has some weird quirks and bugs behind it, the con definitely does not disappoint and it's a buttload of fun. I'll be there as a patron all three days, Friday, Saturday, and Sunday. This starts on November 2nd and ends on November 4th. If you want to go to Rhode Island Comic Con, I do highly recommend you check it out, and if you're staying somewhere overnight, click the link below and go check out the discount hotel rates you can get during your stay at Providence during this event. As of this post's publication, you can still book a few nearby hotels such as The Hilton Providence or Courtyard Providence Downtown. If those are out of your budget, the list also includes a couple hotels near the airport in Warwick, which is towns away from Providence. I'm looking forward to Rhode Island Comic Con and I hope to see you there! Thanks for reading this post! Pretty soon I'll have a couple "Mission: Impossible" reviews coming your way. I'm gonna soon have my review up for "Mission: Impossible: Rogue Nation" and "Mission: Impossible: Fallout." Stay tuned for more great content! I want to know, are you going to Rhode Island Comic Con this year? Have you gone before? Tell me your thoughts on it. Let me know down below! Scene Before is your click to the flicks!
DISCOUNT HOTEL RATES DURING RICC 2018: http://www.ricomiccon.com/hotels