Hey everyone! Jack Drees here! The last number of weeks have been wild. Not just here on Scene Before, but I mean life in general. From learning to drive, to dealing with college, to being invited to a pre-release screening and accepting an invitation for the first time, to going to see my first double feature in a theater, to perhaps one of the most infuriating and crap-induced days of my entire life, vacations, family reunions, and everything has just been stacking up on my schedule like pancakes at IHOb. That's right! IHOb! Apparently someone thought it was so brilliant to switch the last initial of IHOP. The new initial by the way, happened to be "burgers." The International House of Pancakes, has now become the International House of Burgers. IHOP is synonymous with breakfast in the same way that Sprint is synonymous with *muffled voice*
GUY ON OTHER END: Sorry, what was that? I can't hear you.
ME: Oh, sorry, let me try going into another room!
*Footsteps*
ME: OK, let's try this again, where were we?
GUY: Something about IHOP.
ME: Oh, right, thanks!
IHOP could have gone with several names for their replacement initial if they wanted to stick to having a "b!" Bacon! Breakfast! Buttermilk! And as weird as it sounds, Belgians! Seriously! International House of Belgians! That… The more I think about it… Kind of has a ring to it. Or, what if the "b" was so random that it had nothing to do with food whatsoever? Imagine the name change being International House of Butts. I think smoking is usually frowned upon at IHOb, but you have butts that get right into the restaurant and eventually land in a seat! What about International House of Balls? Because it takes balls to go to a diner and eat pancakes with fake syrup. Or even more random, what if the "b" is for a person's name? IHOP could become the International House of Bob. Maybe the International House of Bianca? That not good enough? What about the International House of Becky? Still not satisfied? Why not settle for the International House of Barry? Everyone will come in, desperate to ask an employee, "Who the hell is this wacko named Barry?" And maybe if your name is Barry, you'll get your entire meal half-priced! If you are a FAMOUS Barry, your meal is free! That'll bring all the Barrys in! Barry Trotz! Barry Williams! Barry Manilow! Now is your time to be the best Barry you can possibly be! After awhile, IHOP learned their lesson and changed their name back to what it originally was, but this just felt like a natural disaster! Screw whatever s*it went down in "Cloudy with a Chance of Meatballs," allow me to introduce Hurricane Burger!
Seriously though, this rant is not what you came in for, you came in for something related to "2001: A Space Odyssey." Over a couple of weeks, I've taken two opportunities to go see "2001" in two different movie theaters. Both times, I saw the movie in 70mm, which is the way that many audiences witnessed the film back when it came out. Speaking of that, this print that was shown at both theaters I went to was a photochemical recreation of the original camera negative for the first time since the film's theatrical run. There are no digital tricks, add-ons, or gimmicks. It's quite possibly the closest one could get to going back in time and watching this movie in a theater during the year of 1968. During the realization of how this print would ultimately turn out, the whole project was under the supervision of critically acclaimed director Christopher Nolan, who has been a lover of "2001: A Space Odyssey" for a very long time. Nolan has directed films including the "Dark Knight" trilogy, "Memento," "Inception," and most recently, "Dunkirk." He has also created a film with several similarities to "2001," "Interstellar." The first presentation of these "unrestored" prints occurred at this year's Cannes Film Festival, where Nolan received a standing ovation upon being greeted. Warner Brothers went on releasing a number of prints at select theaters, and not all of them have been released yet.
Let me just start off by saying that both experiences of "2001" were absolutely spectacular! I consider "2001" to be one of my all time favorite movies, so naturally I wouldn't mind watching it anywhere, but the fact that I've went out to see it in a theater in 70mm probably brought out the best the film ever had to offer.
Every other time (maybe except one) that I've watched the movie "2001," whether it was start to finish, split into parts, whatever, it was on a Blu-ray disc, and the transfer that "2001" has gotten on that particular disc is not bad whatsoever. I say maybe except one because I'd bet my first viewing was on a DVD. You can see all the necessary details, no colors look all that weird, and the sound is pretty good too. Although for the past couple of viewings, I've gotten off my ass, and went into a theater with other people. See guys? I have a life! I can go out of the house every once in a while! And with just enough motivation, I think you can too!
The first time I walked out of "2001" after seeing it in a theater, I don't think I said this right away, but I can guarantee you that at one point, even if it is days after my experience, I said something along the lines of "THIS CHANGES EVERYTHING." Sounds like you would hear that phrase every now and then. I was born just barely before 2000, but I can imagine back in 1977, when "Star Wars" came out, some people, adults, teens, and children living at that time probably at the very least had that thought in their mind after their first "Star Wars" experience. In 1994, "Toy Story" came out, and when it released, there was not much like it in the animation genre. It blew a lot of minds out of people's heads and just lead to just about nothing but high appreciation. In fact, this year, in 2018, minds are still being blown. We have just witnessed the culmination of the Marvel Cinematic Universe, "Avengers: Infinity War," and people are having many emotions towards it. I thought it was a total game changer, not to mention one of the all time greatest movies I've witnessed that is based on a comic book due to how the execution of the content the film contained turned out and the way it ended. Even after "Avengers: Infinity War," my mind is still able to be blown, and with this mind blowing experience, it's not just amazing because it's truly unlike anything I've ever seen. But it's also something that I've technically seen before, but am now getting to view in a whole new way that feels unique.
Without further ado, let's talk about both of my experiences in detail!
SOMERVILLE THEATRE, SOMERVILLE, MA (JUNE 3RD, 2018, 12:30 PM):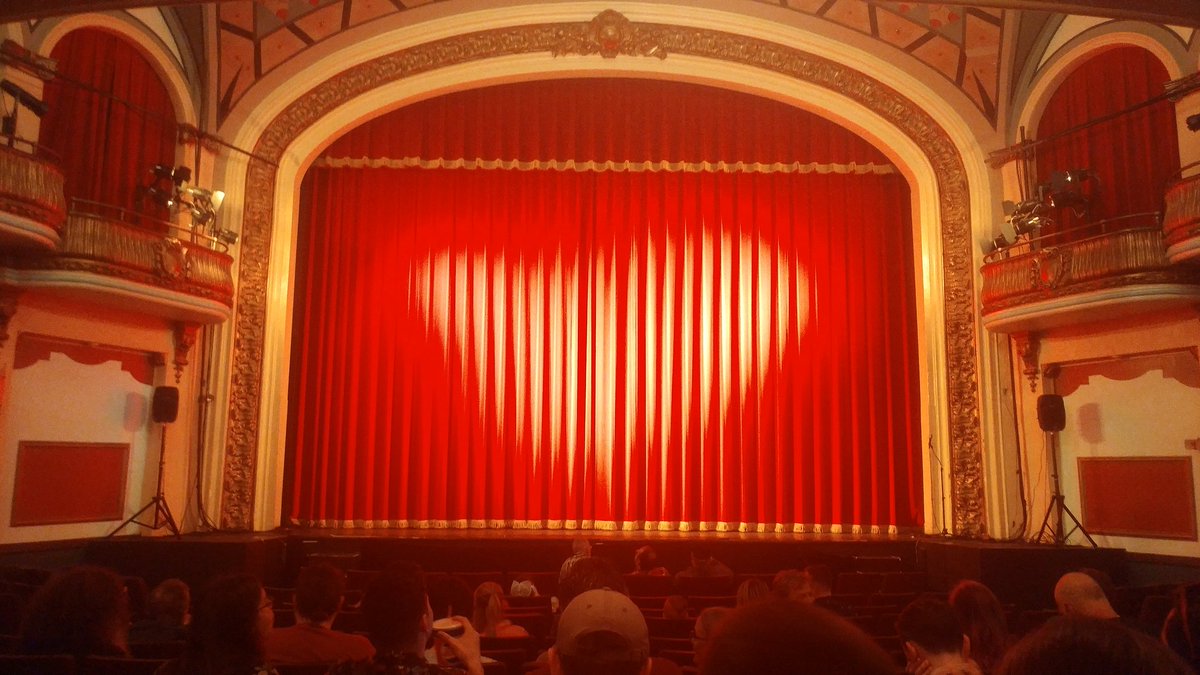 The first of my two experiences took place at the closest theater to my house where this sort of thing happened to be taking place, the Somerville Theatre. The theater first opened in 1914 and my presentation was in its original auditorium. As far as getting there, I went with my friend by her car on a Sunday afternoon, leaving my home an hour prior to showtime. And since it was Sunday, we were kinda lucky, parking was free. Yay! We get in the theater to realize there actually is a line to get tickets or check in. My friend and I already had our tickets. Then once we grab our tickets, we get into another line on the opposite side of the sidewalk from where we walked in. Continuing our luck, it wouldn't take that long for us to enter the theater given our distance in line. Once we enter, we grab our seats somewhere towards the rear end, and more luck happened to be on the rise! CENTER SEATS! As we grab our seats, I decide to go on into the lobby because I wanted a popcorn and soda.
I enter the lobby, knowing where the snack stand is because this is not my first time at this theater. As I walked forward, I knew exactly what to order. I ended up getting a large combo which cost less than $10! Holy crap! You know how much I have to pay for a combo like that an AMC? It's somewhere around $15 to $17! I do it to support the theater and they actually make more money off of food purchases than ticket sales, which is why I don't bring my own stuff into the theater. But just the other day I was down in Disney World, and they had an AMC on the property, where a large popcorn and a large drink would cost me around $15 to $17, and even when I use a discount which I earned from rewards points, it's still a good deal, but if I remember correctly, it still cost me more than a large combo at Somerville Theatre WITHOUT rewards points. By the way, both of those combos actually allow you to get free refills. Boom. The guy at the register was really nice too. He complimented on my Cinema Sins t-shirt, and pointed out that everyone who got something at the stand so far in the day, including myself, ordered a large combo. The streak was eventually broken, but it's still cool to be part of the team! Speaking of broken streaks…
I get back into the theater, and I accidentally enter the wrong row. I'm one row ahead of where I'm supposed to be. So instead of executing my gymnast skills of lifting my legs over a seat, I walk out on the side, like a normal person. Then suddenly, bad luck ensues. Not just for me, but for the poor man whose drink I accidentally spilled. I hear a noise, and this guy say "S*it." I didn't know what to do for a second. So it was time to play a game, let's call it "Somersolve," the game of solving problems in Somerville, Massachusetts. The objective is to avoid getting into a problematic situation and solve a problem. So, I act calm, and let out my humorous side.
"On the bright side, it's a free refill."
The guy who I interacted with seemed to take the situation lightly, my friend offered to spend some money on him toward new refreshments, to which he replied that he's alright and ended up getting a free refill. Based on my observations, the guy ended up moving to a different seat. By the way, if this guy I'm referring to is reading this, I'm sorry!
Once it's just about time to begin the action, a guy comes into the theater and starts talking on the microphone. He greets and welcomes everyone, and he states that the projectionist in the booth is considered by numerous people to be "the best in the business," suggesting that he's projected "2001" many times. Then the bad luck continued… He goes on to say that a gear on the projector is actually broken, and from what I heard, this happened many hours, perhaps a day or two, prior to my arrival. The projector still works, and the movie is still playable. However, there is a drawback to all of this. During certain points of the movie, the screen will go black for a minute, and the movie will stop. And no, this is not in an intermission type of pause (although the movie did provide one). What would happen is the screen will suddenly stop displaying an image. No sound would be heard whatsoever. And you know what? The guy was gonna make it up to anyone who wasn't fond of this. If this bothers anyone, they actually get their money back, which is actually not a bad deal because they paid a premium price and maybe they can show they aren't getting their premium service. Once I heard this, I was worried. What was gonna happen? What scenes were I going to miss? Oh my gosh! Human sacrifice, dogs and cats living together, mass hysteria! Nevertheless, the speaker had an admirable hint of charm to him, and appeared to be extremely presentable. He also states some of the technical aspects I gave to you all in this post. The Christopher Nolan thing, the original camera negative thing, stuff like that. Once he finishes speaking, everybody begins to clap. It was clear that a good number of people were either really hyped for this experience, they love "2001," they are enthusiastic about the whole 70mm situation, or clapping is possibly an undiscovered effect of dropping acid. Then, the auditorium returns to the low volume it previously contained. Afterwards, music begins. It's the overture.
From what I can tell, the overture didn't even start from the clear beginning. OK, whatever, it's just the overture, there's no picture during this moment, I can deal with that. I got to hear over 75% or 80% of it at least. Around the song's technical halfway mark, I notice the slight dimming of a ceiling light. Once the song comes to a close, almost all of the auditorium is dark, excluding the screen, which has been revealed by the opening of the red curtain, and a few red lights on the walls. Then I see it. The MGM logo. The adventure has begun. We as an audience are then greeted to the famous, masterful, and endlessly parodied opening accompanied by Richard Strauss's "Also Sparch Zarathustra." I felt reborn. I almost wanted to clap immediately, but I didn't want to be the one awkward attendee making everyone question humanity. I already made one person question such a thing when I spilled their drink. One thing I kinda sorta expected from there on out, was silence. Everyone was hypnotized to the screen, including me. I was trying to be respectful and not eat and drink too much for sake of not letting out too much noise. It reminded me of when I went to see "A Quiet Place" and would try to not be as obnoxious as I might be during other movies with my drink, and literally dissolve popcorn by use of my tongue. The screen demanded my full attention. When the movie started, and as it progressed, I did notice a slight difference in color when it comes to various shots. I didn't consider it a bad thing, in fact compared to my Blu-ray, I think it truly captures the retro feel that maybe you'd want out of a movie like "2001," and the more I think about it, makes it feel slightly less artificial. It's not to say that it's less clear than my Blu-ray, it's higher in quality. Blu-rays go up to 1080p, and I have a player that can upscale those kinds of discs to near 4K quality. When it comes to 70mm, 4K is 70mm's meal for breakfast. Now, let's get to what could have been the worst part of the experience, had we been ripped off.
As mentioned, we were told that there would be short pauses during our presentation, which will eventually lead to the return of the movie playing. I was worried, I didn't want to complain too much, then it happened. Around the "voiceprint identification" scene, the screen goes black, and the auditorium is almost in complete darkness. And since we were told about this, nobody really complained! I was thinking that we were going to miss a segment of the movie, and that point would be Floyd talking to his daughter while simultaneously wishing her a happy birthday. Nope! We didn't really miss anything! Yippee! What a relief! This happened a couple more times during the screening. The first one being one of the earlier scenes on the ship introducing Dave, Frank, HAL, and the hibernating scientists. When that occurred, I turned to my friend, and tried to vocalize myself at a volume at which others in the auditorium could possibly hear me, asking, "What the HAL?" Nobody cracked, and based on what I could tell, she could correct me eventually considering she reads this and we see each other every once in a while, but my friend must have thought I was taking myself seriously and said "hell." I tried to make sure I was coming off in the proper way so I told her what I was trying to say. The next pause occurred towards the climax of the film, and I have to say it may have been the PERFECT break. I say this because it's right in between the Jupiter and Beyond the Infinite Sequence, and the last spoken line of dialogue in the movie given in the HAL control room.
One thing I was super excited for was the scenes in space. I will probably rave until I die about my experience watching "Interstellar," a movie with many similarities to "2001," one of them being that both movies heavily take place in space. Seeing the jumpcut from the bone to the satellite (TOTALLY A NUCLEAR MISSILE) started to make me smile like I had just realized I won a million dollars on "Deal or no Deal." As I progressed through this first moment with The Blue Danube playing in the background, I think the girly part of me kicked in and I wanted to cry. If you told me I went to an enormous and epic opera house in space, I would have believed you. Speaking of the Blue Danube, one of the conveniences of sitting towards the back of the theater is getting to see all of the action from those upfront, and there's this scene where you see a guy reading instructions on how to use a zero gravity toilet. It just shows how much we have to relearn what we already know how to do on Earth in space. Towards the front, there were a couple guys chatting and one that I assume was talking about exactly what I'm referring to. We may have gotten far as a society, but it is still our duty to learn how to poop in space. Yay, humans!
One thing that occurred in both Somerville Theatre and the second cinema I want to talk about is something near and dear to my heart.
"2001" to me is an interesting movie when it comes to sound. It has a soundtrack that's big and loud, and yet there are several moments in the movie, mainly in space where you hear, LITERALLY NOTHING. Hey, I'm not complaining! That's scientifically accurate! I love the big and loud soundtrack, which when I saw the movie at Somerville, brought an immersive, not to mention symphonic feeling to the auditorium. But there's one noise in the movie, while I still am technically fine with having it in there in the first place, that I JUST. CAN'T. STAND. A bunch of astronauts are on the moon together, observing the monolith in front of them. Then, it's picture time! One astronaut is trying to align a bunch of other astronauts together in front of the monolith and take their picture. In the process, this loud screech comes out of nowhere. It's ear-piecing to the tenth degree! And I don't just mean that for those around the monolith, but also for me. My friennd was covering her ears too! I have sensitive ears, and there are a lot of noises that I'll surprisingly get by in a movie theater, but that is something which I had to survive.
One of the best parts of my Somerville experience is HAL's last moments, which was a hint of preparation for my second experience which I will touch upon. I got some surprising reactions during my experience. The most surprising one I've gotten up to this point is probably the collective laughter towards Floyd's daughter wanting a bush baby for her birthday. Then, we get to the final moments of HAL. Dave enters the ship through the emergency airlock, you can hear him breathing. Then we hear HAL, say the following lines in chronological order, starting with the earliest:
"Just what do you think you're doing, Dave?"
"Dave, I really think I'm entitled an answer to that question."
"I know everything hasn't been quite right with me. But I can assure you now, very confidently, that it's going to be alright again."
"I feel much better now. I really do."
"Look, Dave. I can see you're really upset about this. I honestly think that you ought to sit down calmly, take a stress pill and talk things over."
I mean, sure, a computer telling someone to take a stress pill is a bit out of the ordinary, that can work as comedy. In fact, when I walked out of one of these experiences, I said that I always thought that maybe the highest form of comedy I found in "2001" happened to be the part where the apes first use the bone as a weapon. These unexpected reactions however were not distracting, it was just a bunch of people enjoying themselves and having a good time. The one thing that disappointed me however is that with all of these reactions of laughter towards HAL, not one was given towards him singing "Daisy." It's a complete change of pace and it's just funny seeing an electronic sing! It's like seeing Edna Mode from "The Incredibles" go on "American Idol!" I almost wanted to start laughing at that moment, but just like what I said about the intro, I wanted to avoid being the awkward guy in the auditorium.
Then came what possibly might be the best part of the movie, the stargate sequence. This is a moment where the auditorium's sound system just BOOMED. I'm not gonna go too much into it, because there's some nifty stuff I want to save for the next experience, but it was awesome. The end came, and so did applause. I probably stood out the most when it came to the applause. I was literally standing up applauding. Some clapped, some wooed, but I stood up with my hands bouncing off each other. I had a great experience that is difficult to describe in words. It may have been bumpy, but I wouldn't have traded this time at the theater for anything else.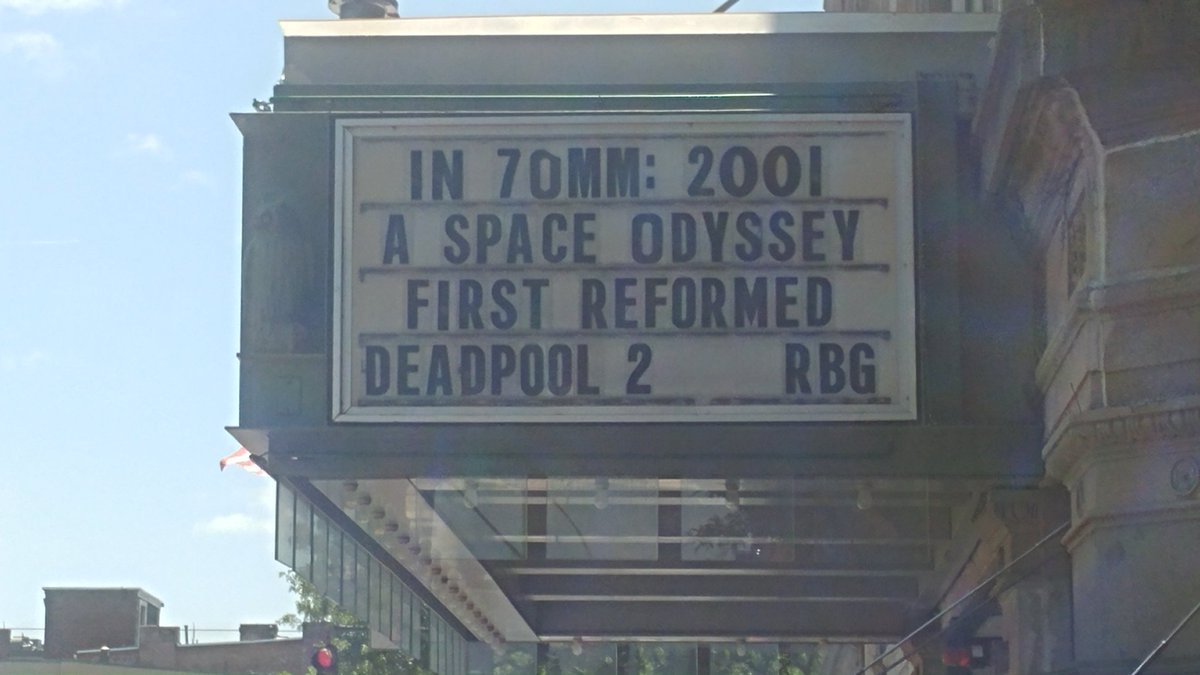 I had such a great time, and I would easily put it in my top 10 best movie theater experiences. But the thing is, I wanted more… Before I went to Somerville Theatre to see "2001," I asked my dad if he wanted to go, but he couldn't make it. Nothing against him, a guy's gotta do what he's gotta do. Nothing against my friend either, I really enjoyed my time with her. But, I figured this would be something I wanted to do again, and I had a chat with my dad on the phone. I told him about my experience, describing it as "epic," which it was, that is, if my experience could be described in words. He stated at one point he was jealous that I got to go to this. That gave me an idea. I REALLY wanted to see the movie in 70mm again, and I think my dad wouldn't mind doing something like this. Father's Day was slowly, but steadily approaching. While Somerville Theatre was scheduled to show "2001" for two weeks until it goes away, another nearby theater has yet to show their 70mm prints of the movie. I told dad I'd buy tickets for this show, I'd pay for it, and the experience would be on me. That wasn't really true, my dad paid for train transportation and dinner, although I had money and tried to keep him from paying, but I paid for the tickets at least, not to mention the food I purchased for myself at the theater.
COOLIDGE CORNER THEATRE, BROOKLINE, MA (JUNE 17, 2018, 7:00 PM)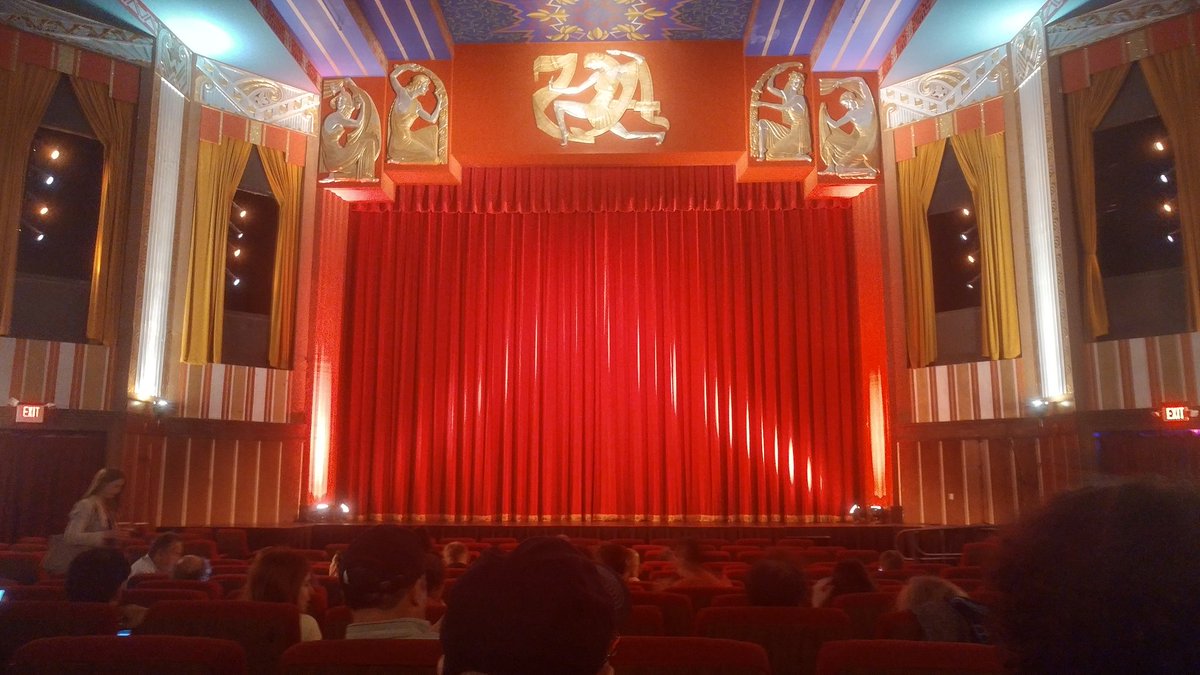 When going to my second experience, I had no idea what I was in for. I was well aware that the theater was going to have some similar architectural aesthetics to Somerville, based on images I've seen online. The experience was actually a tad more expensive than Somerville, which makes sense since I'm seeing this in the evening as opposed to the early afternoon. I may have jumped on the wagon a tad early, buying tickets for this experience as soon as possible. Little did I realize, sometime after purchasing tickets, Somerville would have extended their run of "2001" for a week. Knowing Somerville, the experience would have been cheaper. But I didn't care, because this brings a breath of fresh air. And I mean that in a literal sense because I went to the Somerville Theatre a couple months prior to the "2001" event, also for another 70mm experience. This second 70mm "2001" viewing was my first time at the Coolidge Corner Theatre. I was pretty amped. This theater is actually younger than Somerville. First established in 1933, the Coolidge Corner Theatre is widely considered one of the best movie theatres in New England.
I left alongside my father and sister approximately three hours prior to showtime. I felt this would allow us to guarantee a higher possible chance of earning decent seats. We ended up going to the closest subway station to my house on the Massachusetts Bay Transportation Authority, AKA the MBTA, AKA the T, AKA the place numerous Bostonians go to as much as Dunkin Donuts. I planned this, considering I was the one behind the wheel, and my excuse, "trains are awesome." So we get off at our designated stop, my sister and father don't really have any sort of preference on where to eat. But I did have a place in mind considering I've done extended research.
There were multiple restaurants in Coolidge Corner, but the one that attracted me the most was a place nearby that goes by the name of Oath Pizza. They have multiple locations in Massachusetts and having seen footage of them on the New England exclusive restaurant tour show, "Phantom Gourmet" I was eager to check them out due to how much boasting was given towards their "90 second pizza oven." Keep in mind, that 90 second thing, is likely just for the oven's actions. But you know what? Doesn't matter, the pizza was a delight. Because I'm boring, I got the "classic cheese." My sister got a make your own pizza of some sort. Dad however, came to play. It's father's day. He can order whatever he wants. While some may be tempted by the "spicy mother clucker," and I'm willing to bet maybe he was too, he didn't go for that. Instead, he went for the whole hog. I mean, it had smoked bacon and sausage. In his worldview, that's my father's version of not going wrong. The place had a Chipotle kinda feel considering they brag about their dedication to natural ingredients, not to mention the place was rather small and a little more upscale than your typical fast food chain restaurant such as McDonald's or Burger King. The pizza from what I heard was actually rather crunchy, and what I heard was definitely correct. The more I think about it, it's a better version of the pizza Pringles.
Once finished, we had more than an hour to waste before the movie. If I remember correctly, I believe we picked up our tickets prior to doing anything else. So while my father and sister have no idea what they want to do, I automatically declare to everyone that we're trotting over to GameStop, because there's one nearby. But that ultimately backfired. It's Sunday. The store closes at 6PM, so we couldn't go in. We pass by the Brookline Booksmith, which I've been inside, and it is rather nifty, but none of us really chose to go in today. We do some walking, and I notice a comic book store. My minor nerdgasm starts to kick in. I'm attracted, and everyone follows me towards it. But once again, we've fallen into the Sunday trap. That store was scheduled to close at 6PM as well. With almost nothing to do, we are almost left stranded in the middle of Coolidge Corner, possibly just inevitably waiting outside before we can actually go into our auditorium. But then, a miracle happens. The miracle of CVS. We go in and just start making fun of everything. The biggest standout is whatever we could say about medicine. My sister eventually got somewhat intimidated to the point where my father thought we were overstaying our welcome. Fun fact by the way, this is not the only CVS that's less than a two or three minute walk away from the theater! We were in the closer one, if you want any specification.
We are let in the theater around somewhere between thirty to ten minutes before scheduled showtime. The seats were pretty much the same scenario as last time. We were towards the center of our row near the back. I go get myself some popcorn and a soda, and I experience something that I've never witnessed in a movie theater before. No battle of the soda corporations. That's right! For the first time ever, I enter a theater that has neither Coke or Pepsi! When I was at Oath Pizza, they had no "traditional soda," they instead had Stubborn soda, but the closest thing I can find to "traditional soda" was probably root beer. On the menu at Coolidge Corner Theatre, I find "cane soda" and "diet cane soda." I ask the employee at the register if the diet cane soda is like Diet Coke, to which I remember the person giving some answer that relates to "yes." I end up getting that. While the price for my large popcorn and soda was more expensive than Somerville, it certainly isn't a price I'd complain about. The popcorn was nice and fresh, but the soda was something I really had to get used to. From what I imagine upon further research, it must taste like the Coke you'd drink in somewhere like Mexico, because that has cane sugar. But what do I know? I'm an American who recently graduated from high school, and according to everybody else in the world, our education system is crap, so what do I know?
One thing that kind of surprised me about the theater in Coolidge Corner and was slightly different than Somerville, was that there was music playing inside the theater. It wasn't "2001" based or anything, it was just regular music. Although during my first time in Somerville there was "Back to the Future" music blasting inside the theater. To me, that made sense, because the movie I was seeing, "Ready Player One," happened to have "Back to the Future" playing a huge part in it. Similar to Somerville, we get a guy coming in the theater, who speaks to everyone near the screen. He also lectures us on the specs of the print we're about to witness, warns us of an intermission that will be taking place, luckily it's only one and intentional this time, and he even goes on advertising other stuff related to the Coolidge Corner Theatre which sounded interesting personally. He warns everyone to enjoy the show, and then applause ensues. I'm willing to bet that *maybe* I was the one who started the applause. We are just about to start the movie, I was ready. After about a minute of preparation, I heard the noise of glory. The overture. And you know what? I could actually hear the whole thing this time!
When it came to the overture, And in terms of lighting, it was slightly different than Somerville. For one thing, the dimming began rather early. And the whole auditorium didn't go black instantaneously, it was a lot darker in Coolidge Corner than it was in Somerville. Most of the lights went off, but a couple were on, most noticably two lights on opposite sides of the stage, shining on the red curtain. Fun fact by the way, for those who don't know, the overture song is called "Atmospheres," and atmospherically speaking, Coolidge Corner wins against Somerville in my book. Coolidge Corner's lightshow, or in this case, darkshow, felt like it could be choreographed in my imagination, but the one in Somerville came off as a tad clunky. But whatever, it's not even the main course of the movie, it's just the appetizer. Throughout the overture, my dad turned over to me, and actually asked if I got this thing in Somerville as well. I replied saying, "yes." It was go time. Almost all the lights, except some side ones, were soon completely off. The curtain opened. The famous introduction began. I was in full focus mode.
This time, I was a little more conservative when it came to my popcorn and drink. Sure, I mentioned my drink was tough to have at times because it's a bit different to consume than what I usually get at the movies, although still tolerable. Not to mention, unlike Somerville, I heard nothing about a free refill. Doesn't matter to me, I'm here for the movie. Even if your movie is called "The Emoji Movie," chances are I'm at the theater for the movie.
Once the movie starts, I begin to notice the color differences once again. We get to the first monolith scene with the apes, and while it's very intriguing and hypnotizing, I'm noticing something that's different, and that is the sound. There was moment during the song that plays in that scene. It didn't have as much of a vibration effect in the auditorium. No big deal, the sound is still spectacular and probably superior to anything I'd watch at home. And you know what? I looked online and noticed some different speaker placements, so maybe that contributed to it. Either that, or maybe the volume was higher on one system compared to another. Part of it may have to do with seating arrangements as well. Because all of the seats at Coolidge Corner are in one designated area. Although with Somerville, as mentioned, the seating arrangements include an orchestra section and a balcony section. The speakers are more in an upsey-downey fashion as opposed to a straight line.
Once we got to the first scene in space, I was once again instantly reminded of how majestic "2001" truly is. Noticing the first shot with the satellite as the camera moves towards Earth is nothing short of beauty in an image. One thing I noticed is that the audience in my theater wasn't exactly as talkative as the one prior. That can be a good thing if you want to focus on the movie, but if you want an unexpectedly fun experience, it's gotta have the audience laughing at stuff you don't expect to be laughable, which is what I got at Somerville. Unlike Somerville, nobody at Coolidge Corner seemed to laugh at the "bush baby" wish. Although one thing that both experiences had in common is that both times the call between Floyd and his daughter ended, there would be a price showing up on the screen. Once the charge is on the screen, some laughs ensue.
One thing I also noticed about Coolidge Corner that gives it a boost in points against Somerville, is that the image is a lot smoother. And when I say that, I'm not talking about it in terms of the images displayed. Those are pretty similar in terms of overall motion. But if anything, this is more of a comment towards the projection. There's one scene in particular during the movie as I watched it in Somerville that I began to notice something odd. After the conference which Floyd gives a speech, we cut to a set of establishing shots in space. Throughout, I'm noticing the images jumping up and down. Why is this exactly? I don't know. I wouldn't consider that an issue, because it doesn't necessarily interfere with the experience, but it's just something I noticed. At Coolidge Corner, there seemed to be none of that interference through the whole film. This is just a part of why I gotta give more points to Coolidge Corner in the atmospheric category when it comes to showing this film.
Then we get to the part of the film that I'm willing to bet my dad was highly anticipating, because that's the part where our main characters are introduced. This made me realize that to certain people, HAL is more than an evil supercomputer trying to take over a spaceship. When it comes to people like my dad and he thinks about HAL, there's a good chance that my dad is thinking about how funny HAL is. In fact, I don't think there's even one person I know currently that would probably laugh at HAL in this movie as much as my father. I mentioned in Somerville that a bunch of people were dying laughing towards the end of the movie because of some of the stuff that HAL says, but my dad pretty much laughed at HAL for the entirety of his screentime. There are certain times during the film where HAL is talking, just saying things such as pointing out how foolproof he is. My dad just starts cracking up. Did it annoy anyone? I'm not entirely sure. In fact, if it did annoy other people, let me just have you know, it was Father's Day, let my dad have his fun. Speaking of HAL, I can say watching the movie in the theater definitely has its perks. As far as watching this film from beginning to end, I've watched this movie in school off of a projector. It was pretty good quality, I wouldn't say I have any complaints about it. All of the other times have been on a Blu-ray disc played on my 43″ 4K TV. The images are upscaled to near-4K quality. A 43″ TV is decent sized product for where I use it, and the images have always come off pretty crystal clear. I always appreciate the movie's huge scope every time I watch it. Watching the film in 70mm however, allowed me to notice the little things. For the first time in recent memory, I was literally able to observe the label "HAL 9000" above the red eye located on the computer's monitor. I watched the movie once more after seeing it in Coolidge Corner, and having this information locked in my head, it made me try to focus really hard on the HAL 9000 label once I got to the point where it could be seen.
We get to the intermission, and I see the white text come up, signifying that normal people can get up, go to the bathroom, grab some food, stretch, those sorts of things, while the abnormal go outside and drop acid in preparation for the stargate sequence. When I was at this screening of the film, I noticed that everyone didn't really react to the intermission. The best way I can describe the atmosphere that maybe everyone felt in the theater was some sort of jaded-like feel. For some reason when I went to Somerville, some people felt the need to clap and cheer once seeing the intermission warning pop up. Here, it was quiet. I find the audience reactions here to be expected, and I do respect them because it just shows that everyone knows not to be chaotic. Although while the reactions at Somerville for the intermission happened to be quirky, I also found them to be rather charming. I didn't even get up from my seat during the intermission, I just turned on my phone for a sec, browsed through some things, and turned it back off.
The overture begins again… Atmospheric as ever. I was amped like you wouldn't believe. The curtain soon opened and the feature presentation resumed. Soon, you see Frank's death. My dad once again stood out among the audience, and nobody seemed to give a flying f*ck. As Frank began to struggle, my dad uttered, "Bye, Frank." This is during a scene where there is barely any sound whatsoever, which if this were not the case, I don't think his remark would have had as much charm behind it. I always found this scene interesting though, and this interest has grown significantly over these past couple of watches. Even though one of the movie's main characters is dying, and it's a pretty big death for the movie, nobody really reacts to it. There may be reasons behind that though. For one thing, it happens in a near-silent set of clips. Another point to consider is that this movie is fifty years old and there's a good chance everybody knows exactly what to expect at this point of the film. When I saw "Avengers: Infinity War," people basically didn't even know what to think at certain points of the film when certain major characters died. That's most likely because of the buildup these characters had prior to dying and we've gotten more time to know them. Plus, I imagine a good number of people didn't see certain deaths coming. Nobody was scared of Frank dying in "2001." Maybe some people didn't see it coming, maybe some did, who knows really? But still, we didn't really get to know Frank to such a high extent. While Frank's overall character development was at a low level, I wouldn't say it needed to be built, and I think that's part of the genius that goes into "2001." You get to know people, but you don't need to see them grow or observe their backstory to care about them. It's almost like "Dunkirk" but with less characters and a bit more detail behind certain characters.
Then we arrive at one of my dad's absolute favorite parts of the movie, HAL's death. While there was not as much noise that could be heard like there was in Somerville, there were definitely some audible laughs. My dad was definitely part of the laughing crew. I could tell this was one of my dad's favorite parts of the film because he and I were quoting it on the way home.
Now I mentioned the stargate sequence in my section about Somerville, but I really want to talk about it here. I honestly had a slightly better and perhaps more memorable experience at Coolidge Corner during the stargate scene than I did in Somerville. Don't get me wrong, Somerville was AWESOME. But one thing that stuck out to me during that scene more than any other during the movie, although if I remember correctly, may have been noticeable in others, is that part of the image, specifically towards the bottom, is off the screen. I noticed this as soon as we get to the first shots of Jupiter and Beyond the Infinite with the monolith. Coolidge Corner didn't seem to have that same flaw. In both experiences, I just got ecstatic as the music built up. Everything was established, except for the stargate. Then we get this haunting, unbelievable, f*cked up, melt your face off, not to mention exhilarating vocalization from the chorus! It's like I was walking into the mind of Mr. Burns from "The Simpsons!" It was like watching a Nicolas Cage movie and it's nothing but kick-ass dream sequences! It was like going on MySpace today in 2018 and suddenly realizing it became the most popular form of social media in one night! I felt like I was having an orgasm! My dad was on a totally different thought process than I was. I always thought of the stargate sequence as a simple trip, or a journey through a wormhole and other things mish-mashed along the way, once I walked out of the theater alongside the other two people I came along with, my dad told me he thought of the video game "Rock Band" during the stargate sequence. All the colors and wild occurrences that can be witnessed throughout is what made him create that link. If you ever listen to the music during this scene, you'd be aware that the overture song is actually playing throughout portions of the sequence. The overture itself is epic when hearing it in the theater by itself before the movie starts playing, but during this scene, I was almost convinced I was in the movie. It felt like it was being played at a different volume, a different pitch, it was a whole new level of immersion and adventure. That stargate sequence, alone, is worth the price of admission. It's to this day one of the wildest things I've witnessed in a movie, and I'd probably put it in maybe top 10, 20, 30 movie sequences I wouldn't mind being forced to watch for the rest of my life.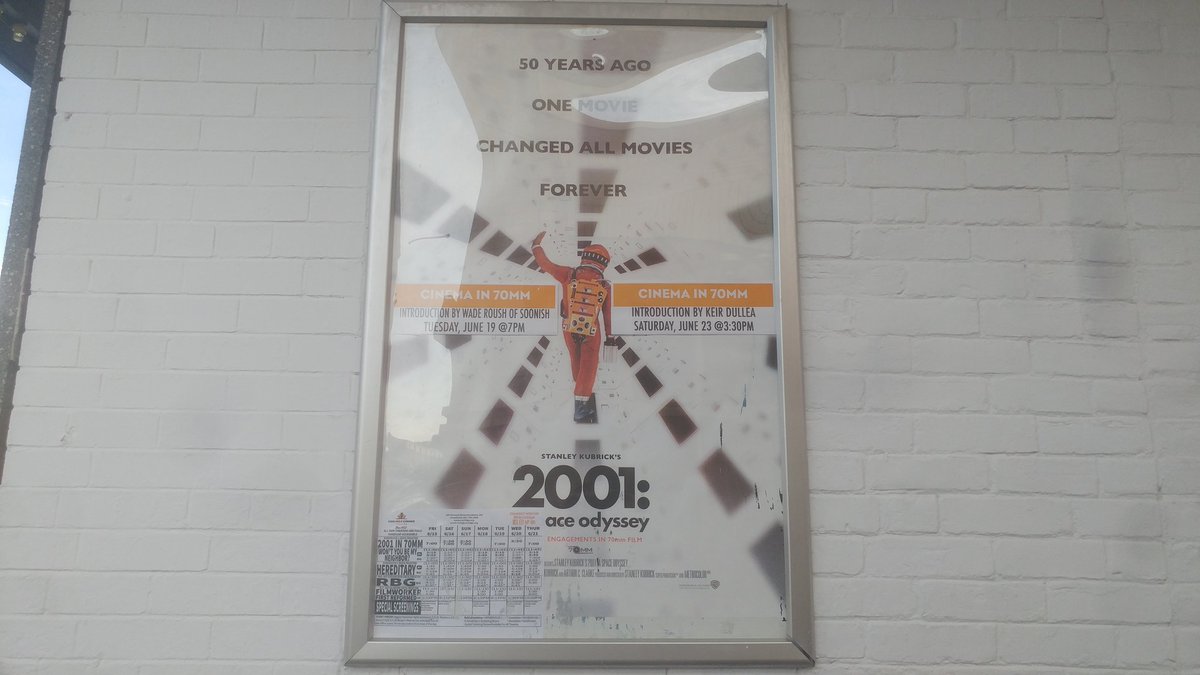 As soon as we get to the credits, a lot of people in the theater start applauding. I don't go to the extent that I did at Somerville where I stand up, but I did clap. As I left the theater, I got a peak into the projection booth, I noticed the film reels spinning and I couldn't help but point it out to my sister and father. My father enjoyed the experience, you all know my thoughts on it, but what about my sister's? Turns out this was her first time watching "2001" from start to finish, and personally, a 70mm experience such as this is one of the best ways to do it. Her thoughts on the film as a whole? From what I could tell, I wouldn't say she didn't enjoy it, but she found it somewhat hard to get through. For one thing, there's a lot happening, a lot of information to be processed. Another factor that contributed is that the whole experience of getting through the movie was about three hours. I was personally wide awake. I happened to be taking on a grand opportunity to watch a great movie with people I admire in a setting that is difficult to acquire at times. In those moments, I may have handed my dad the most selfish Father's Day gift I've ever given to him, but based on the time we had, it was all worth it.
Thanks for reading this promised, delayed, and perhaps long-winded thing some people might call a post! I really wanted to get this out earlier, but due to a lack of time and motivation, I screwed up. You might ask, what about the movie reviews? My movie reviews are basically the building blocks of Scene Before. This is why you haven't seen that many countdowns lately, the only ones I've done so far this year are my top 10 best and worst movies of 2017. Because my main purpose behind this blog is to review movies, and I feel like that is something that can easily be associated with Scene Before. This post you're reading right now, is just a special, rare gem, buried beneath the ground, ready to be revealed around the world. Now going back to business, I do want to review the movie "Eighth Grade." This has already released in a couple markets, but not everywhere. I tried getting passes for an early screening, but I just got an email saying the screening was full so I can't go. Although if I can see it when it comes out, I'll definitely be sure to review it! I'm also going to be probably seeing something I'd tell you some time ago that I'd never see, but due to my mother's interest in it and the fact that it's playing at an awesome local IMAX theater, I'm planning on checking it out anyway. That movie by the way, is "Mamma Mia!: Here We Go Again!" And based on the reviews I'm seeing for "Mission: Impossible: Fallout," you can guarantee I'll be checking that out as soon as time will allow. Stay tuned for more great content! I want to know, what are your thoughts on "2001: A Space Odyssey?" Did you get to ever see the movie in 70mm? Will you take advantage of such an experience in the future? Leave your answers to those questions below, and speaking of questions and answers… My dad who came along with me for the second experience gave the answer to the question, "What is the opposite of infinity?" The answer, the number of times my dad will go to IHOb! And based on the results of that campaign, you can sure bet that number will last forever! Scene Before is your click to the flicks!