Hey everyone, Jack Drees here! In just a matter of weeks, Quentin Tarantino's ninth film, "Once Upon a Time In Hollywood" is being released in theaters, with select engagements in 35mm. But before that comes out, I wanted to look back at three previous films this cinematic powerhouse has helmed over the years. And to kick this series off, we are going to tackle one of Tarantino's most popular and highly revered titles, "Pulp Fiction." This flick first released in the mid 1990s and is one of his earliest attempts at creating a film. Much like his previous efforts such as "My Best Friend's Birthday" and "Reservoir Dogs," Tarantino also had personal credits for "Pulp Fiction" as both a writer and an actor. Without further ado, let's start the–
*GUNSHOT*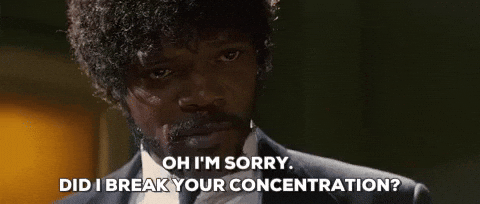 *in Samuel L. Jackson's voice* Motherf*–
"Pulp Fiction" is directed by Quentin Tarantino and stars John Travolta (Grease, Welcome Back, Kotter), Uma Thurman (Batman & Robin, Gattaca), Samuel L. Jackson (Jurassic Park, The Avengers), Harvey Keitel (Taxi Driver, Thelma & Louise), Tim Roth (The Hit, The Cook), Amanda Plummer (The Fisher King, Needful Things), Maria de Medeiros (Midsummer Madness, April Captains), Ving Rhames (Mission: Impossible, Bringing Out the Dead), Eric Stoltz (Mask, St. Elsewhere), Rosanna Arquette (Desperately Seeking Susan, Nowhere To Run), Christopher Walken (A View to a Kill, Batman Returns), and Bruce Willis (Moonlighting, Die Hard). This film is partially inspired by unused scenes from the 1993 flick "True Romance," also written by Quentin Tarantino. Without going into much detail, because to be completely honest, it's hard to talk about the plot to a certain extent without spoiling, the film involves a bunch of different people who all have one thing in common: Deadly situations at hand. You have a couple of hitmen played by Samuel L. Jackson and John Travolta, there's a couple who wants to rob a restaurant, etc.
I went into "Pulp Fiction" with extreme expectations. After all, many would call this movie a masterpiece. Plus, prior to seeing the whole film on Blu-ray, my dad showed me clips on YouTube 5 years ago. From what I saw, I was rather impressed. In fact, as of publishing this review, this is the only Tarantino film I have watched from start to finish. I have seen part of one of the "Kill Bill" films when it was on Starz, but that's not really saying much, isn't it? I also saw the "Why do I have to be Mr. Pink?" clip from "Reservoir Dogs" five years ago.
And some may even argue that I saw a short film from Quentin Tarantino. I say so because "Family Guy" once did an episode presented in the style of three directors, with the first director being Tarantino. While he was never involved with the episode, the parody is there.
How was the film? Is it the masterpiece that just about every cinephile is making it out to be? Abso-f*ckinglutely. This is screenwriting at its finest! This is set design at its finest! This is actors' chemistry at its finest!
In fact, I owe a serious apology to what I have said about John Travolta, because I think he has made some unwise choices throughout the century. "Gotti" was his most recent example. And while this was done last century, I now have an increased amount of respect that I can give to him as an actor. Also, Samuel L. Jackson has an incredible resume based on how much work he has been able to get over the years. Out of the millions of projects he has tackled in his career, this might as well be the one with his best performance yet. And part of that has to do with his traditional mannerisms where he yells and swears in a over the top fashion, but also due to what I'll call "perfect dialogue."
I cannot cite the screenplay of "Pulp Fiction" from start to finish, although based on how much I enjoyed this film, a mission like that would probably be on my bucket list. There are a lot of moments, either through spoken dialogue or visuals that feel like they would randomly play out in an everyday conversation, or at least I that's the way I would desire these moments of dialogue to play out. Because there are no points in my life that I would discuss matters involving foot massages with others, but this movie makes me want to go to my local coffee shop or restaurant with someone I know just to talk about the most random topics. It doesn't have to be foot massages. It could probably be about toenail clippings, maybe which brand of light bulb is the most reliable, which Target store is the best for shopping? There are a ton of moments where the movie is technically sticking to the main story, but it occasionally has diversions when it comes to spoken dialogue. And none of these diversions feel forced because each one is as entertaining as the next. Aside from the foot massage scene, we get a hypnotizing moment where one character wants to order a $5 milkshake, which plays out very well based on the chemistry between the two main characters in the scene, not to mention perhaps the sense of wanting to be a part of this world. Granted, that is a bit of an inaccurate statement, because I don't want to get shot. I don't want to get an overdose. I don't want to be in much danger.
BUT LOOK AT THIS JAW-DROPPING SET!
Seriously, if Tarantino imagined this, he is automatically my favorite filmmaker of all time. This is a classy, American restaurant with a lively interior, but with some unique features, one of my favorites being the car table on the right! At the start of the scene, we see John Travolta and Uma Thurman sitting across from each other chatting and eating, and a part of me just felt immersed into this other-worldly atmosphere. It was almost like watching a "Star Wars" movie if it took place on Earth! It almost reminds me of this movie theater chain that's primarily known in New Hampshire, I've gone several times, but I have not been in years. If you are in northern Massachusetts, or southern New Hampshire, or if you ever heard of Chunky's, you'd know what I'm talking about. They have this concept that combines a movie theater with a restaurant, where you can sit in car chairs at long tables. I imagine this could exist in other parts of the world, but it is a concept that is close to home for me. They have some traditional American restaurant food like… burgers. OK… this movie made me hungry.
Between this Thurman/Travolta segment and the scene in the apartment from the start of the film, "Pulp Fiction" really makes me want to go out and grab a burger. Coincidentally, I live near Boston, which has a quick bite chain called "Tasty Burger," whose name was partially inspired by Samuel L. Jackson's tasting of the Big Kahuna burger from this movie.
"Mmm-mmmm. That is a tasty burger." -Jules
Another highlight from Thurvolta, as I'll call them in this review, is something I won't dive too deep into, but there is a scene where Uma Thurman has an overdose. And let me just say, as those around her are trying to revive her, the execution of this process is nothing short of engaging and kinda brilliant. Again, I didn't think this was going to happen based on the type of movie this is, I kinda felt like I was there. Luckily, I was not the one with the overdose, but a third party observer.
Last but not least, and WITHOUT SPOILERS of course, because this is one of those films you have to see before you die, let's talk about the ending. Granted, over my years of experience of going to the cinema and watching films, I saw the direction this film was tending to go towards, but it does not mean that it is not awesome. It's one of those endings that I feel like I will remember in my last moments. Between the atmosphere, the dialogue, and the mannerisms perhaps provided through Tarantino's direction, it was like eating an entire birthday cake and realizing you lost a ton of weight the following morning. Again, there is not much I can say about it, because a lot of people who are young will probably read this, maybe they have yet to experience the film for one reason or another. This is a film that you have to watch before you die! TAKE MY WORD FOR IT!
In the end, what else can I say about "Pulp Fiction?" It's creative, hypnotizing, and gritty to the freaking core. I have only seen one Tarantino film from start to finish, so I cannot really call him my favorite director. But depending on how I feel about the next two films I do in this series or "Once Upon a Time in Hollywood," I would not be surprised if I ultimately rank the man in my top 5 directors, or screenwriters, of all time. The man isn't too bad at acting either. I don't know when I am going to watch "Pulp Fiction" again, but when I do, I am gonna be grinning like an idiot. Why? This thing is freaking phenomenal. Well done to everyone involved (maybe except Harvey Weinstein)! I'm going to give "Pulp Fiction" a 10/10!
Thanks for reading this review! For those who want to know, my next Tarantino review is going to be for the 2012 film "Django Unchained," I will be posting my thoughts on that next Monday, July 15th, which will eventually be followed by one more Tarantino review on July 22nd, stay tuned for both of those. As for new releases, I am trying to go see "Spider-Man: Far From Home" as soon as possible, maybe I'll go Tuesday, I dunno. But on Wednesday I will be going to see the movie "Stuber" as part of an advance screening. I was gonna go see this a couple weeks ago for a Regal Crown Club screening, but due to a mish-mash of reasons, I ended up bowing out. I am however going to do my best to make this one, because I am curious to see how this film turns out. Especially when you consider that this is one of the first Fox films released under their new Disney overlords. Be sure to stay tuned for that review, along with more great content! Also, be sure to follow Scene Before through WordPress or an email! Or, if you are on social media, check out my Facebook page! I want to know, did you see "Pulp Fiction?" What did you think about it? Or, what is your personal favorite Samuel L. Jackson performance? Let me know down below! Scene Before is your click to the flicks! Now if you'll excuse me, I'm gonna go grab a burger.