WARNING: The following post is a spoiler-free review for "Avengers: Endgame." If you came to this post expecting a spoiler talk, go elsewhere. If you have yet to see the movie, you are safe. Why is this spoiler-free? Let's sum this up in a GIF.
This would be what I'd witness outside my front window should I even provide one single solitary important secret detail about the film. So Mark Ruffalo, Tom Holland, if you guys are reading this, please use this as a guide for your future interviews and press tours. LET'S GET THIS STARTED!
#DontSpoilTheEndgame
"Avengers: Endgame" is directed by Anthony and Joe Russo and stars Robert Downey Jr. (Chef, The Judge), Chris Evans (Gifted, Scott Pilgrim vs. the World), Chris Hemsworth (Rush, Ghostbusters), Scarlett Johansson (Her, The Jungle Book), Brie Larson (Room, The Glass Castle), Jeremy Renner (Tag, Arrival), Karen Gillian (Doctor Who, Jumanji: Welcome to the Jungle), Bradley Cooper (A Star is Born, Joy), Don Cheadle (Crash, Hotel Rwanda), Paul Rudd (Anchorman: The Legend of Ron Burgundy, Dinner For Schmucks), Danai Gurira (All Eyez On Me, The Walking Dead), with Josh Brolin (Deadpool 2, No Country For Old Men). This film is the sequel to the unbelievably enormous, not to mention, amazing masterpiece known as "Avengers: Infinity War." Following the events of the film's climax, the remaining Avengers have to undo the universal effects of Thanos' snap.
I have to say, when it comes to the Marvel Cinematic Universe, there are two sides to my thought process on the franchise. There is one side of me that is a fanboy for this big and loud nerd extravaganza from a story and visual effects perspective, and there's also another side of me, the movie reviewing moron side of me that says this is some of the most corporate bullcrap I've seen. In reality, it depends on my mood and the movie we're talking about. If you take "Avengers: Infinity War" or "Ant-Man" for example, I grin like an idiot. If we are talking about "Thor: The Dark World" or "Captain Marvel," I honestly facepalm. And between those two, going into "Endgame," I thought this was going to be more on the "grin like an idiot" side. The trailers and marketing have been very good so far, they seemed to hide a lot of secrets during my glances, and it all happened to make me very excited for the film, which is the job of marketing. In fact, part of "Infinity War's" story and conclusion, most likely went into my anticipation for "Endgame." Basically, a lot was at stake going into this film. If this film sucked, I would probably punch holes in a wall with my bare hands. I wasn't asking for the best movie ever… OK, maybe I was, I dunno. I wanted to see a compelling, immersive, and emotional experience. And guess what? The movie was good! Yay! My life isn't over! The only question I still have on my mind is this… How good was the movie? I mean, I would definitely consider it above average, but the fact is, as I continue to think about this movie, I am flipping through possible final verdicts because the reality is there's a lot to process. And because I am not a dick who will spoil everything, I'll do the same with my final score and just say that there's a lot that I'm thinking about. I'm thinking about the way everyone's storylines were interwoven, I'm thinking about the action, I'm thinking about the technical aspects. Although I will point out, I didn't see the movie in IMAX, so I cannot talk about how the Russo used IMAX technology in this film to their advantage, although based on what I have seen from "Infinity War," which I did see in IMAX, I imagine they did a very good job in that realm of the cinematography department.
The biggest positive that I can give to "Avengers: Endgame" is also one of the biggest positives I can give to "Avengers: Infinity War." This movie was literally made to be a gladiator-like event. I cheered, I applauded, I nearly cried. In fact, I think I came close to being the most obnoxious person in the entire theater. There's a moment somewhere in the film that takes a turn that some might find epic, and shortly afterwards, after seconds of cheering, we just cut to another moment where I am in a sold out theater of a tad less than 200 people as I exclaim "YESSS!" This movie is literally the cinematic equivalent of sex, and I'll show you what I mean.
This movie starts off with an opening scene that simply put, got me in the mood to see what's next. Practically speaking, it was like lighting a candle. When the title shows up, I went from being in the mood to craving every last drop of this movie. While this movie has many standout moments, including multiple love letters to the previous films that came before it, I would say that the first couple of hours of this movie, which I'll call the building block hours, were a bit on the slow side. Granted, I don't mind slow, as long as its good, and this actually was good slow so I will give the filmmakers credit where its due. But nevertheless, it does kind of slip into that territory where there are pacing issues. But it is balanced out by fan service, great looking shots, and even fantastic writing. I think one of the right moves for this film production-wise was getting the Russo Brothers to direct, since they already have background knowledge for "Infinity War." As far as I know, these movies were shot back to back, which must allowed them to process both films and treat them as one. After all, I remember back when "Infinity War" was announced, it was marketed as "Part 1" and "Part 2." So in reality, the fact that these two movies play out the way they do is less surprising having "Infinity War's" background knowledge. And it actually just hit me, because Anthony and Joe Russo have now directed four comic book movies, all of which are in the MCU. Coincidentally, even though not all of them are centered around Captain America, his character manages to make an appearance in each movie they have done. In fact, without giving my grade for this movie, when it comes to the comic book movie genre, they're probably in the debate right now for "greatest comic book movie director(s) of all time." For me, I would have to think about that for awhile but based on their batting average prior to this film, I think that notion is certainly in consideration. "The Winter Soldier" is a fun and engaging action thriller. "Civil War" is a great mini-Avengers story. "Avengers: Infinity War" is… the f*cking bomb, by definition.
Sticking to my main point however, this is like riding a roller-coaster (or sex). The beginning is a bit down the fast lane, almost like riding an Amtrak train. Then you trek up the heights, and the movie does that for a long time. Then… the final hour begins. And you begin squealing with enjoyment upon the adrenaline rush you are about to go through. It is literally the geek equivalent of getting the best deals at Target on Black Friday before everybody else. If you have ever seen the movie "Ready Player One," you know how epic that last big battle was? It was almost like watching that! This is yet another achievement for the Russos, somehow from one movie to the next, there's always a big battle, and the game is stepped up each time. The climax of "The Winter Soldier" was very compelling and exciting. "Civil War" had the airport fight, which was freaking sick. "Avengers: Infinity War" had the awesome fight on Wakanda where most of the Avengers happened to be present. Out of every throwdown or fight that was done, this was not just the greatest throwdown in the MCU. This is not just the greatest throwdown done by the Russos, it is up there with some of the best action sequences in comic book movie history, not to mention, film history itself.
Remember, "Star Wars: Episode I?"
"It's so dense. Every single image has so many things going on."
Yyeeeah… It's kinda like that, but it's actually a quality product.
Oh yeah, Hawkeye. Let's talk about him. For those of you who don't know, I manage to share a popular opinion with others that Jeremy Renner's Hawkeye is not even close to being the being the best character in the MCU. I mean, what do you expect when your superhero identity is someone shooting with a bow and arrow as the definition of "Generic White Dude?" For years, I have considered Hawkeye to be that "other Avenger" who just shows up. Well, guess what? Forget about that in this movie! Because… HAWKEYE IS AMAZING IN THIS MOVIE! His story, his motivation for being in his current state, everything about him! There is literally not even that much I can say about what happens on screen during "Avengers: Endgame," but one of the things I can say is that Hawkeye, or in this case, Ronin, changed my perception on his usefulness as character! Let me just remind you of something I said in a post I made last year.
"Sure, you can also make the point that not every Marvel superhero in the Marvel Cinematic Universe had their own film released before "The Avengers." Although judging by the time, did you really think putting out a Hawkeye film before "The Avengers" would have gotten everyone flocking to the theater? Everyone would probably go see it now, including me even though I think Hawkeye's as useless as a rock paper scissors match to determine what time it is." –What the Heck is Up With Justice League (2017)? *PART 2*
Yeah, I said that. And I would have still gone to see the movie if he sucked, but now I actually would WANT to see a movie with him.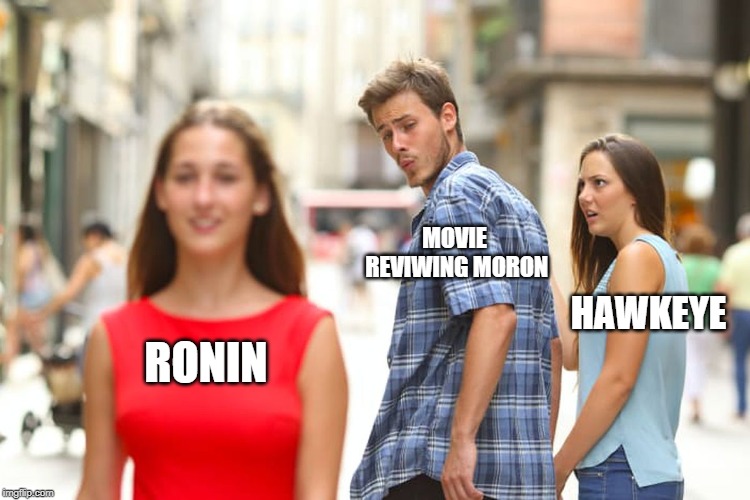 And by the way, I made a meme, I hope you like it.
Let's continue this lovely discussion by talking about Thanos, which if you're unfamiliar with Marvel…
He loves the word "kill" so much that he would do anything to make it the definition for literally every word in the dictionary. He also may be an ass, but he's pretty f*cking kickass. I think I made it pretty clear in previous posts that I consider Thanos to be the best Marvel Cinematic Universe villain ever. And in this movie, while it doesn't display him to be as cool as he was in "Infinity War," he's still sick. And I will say, part of that may be due to how everyone was motivated to tell this story. "Infinity War," if you think about it, was a Thanos movie. Yes, it is has Avengers. Yes, it is called "Avengers." But it's about Thanos' quest and the Avengers are trying to stop him. It does not treat the Avengers as the villain, but it makes them feel like they fall into the territory of less important or secondary characters. After all, when you have a large heroic team taking on a guy who must have survived some tragic Purple People Eater massacres, along with his children, not to mention minions, someone has to be the main character. And I think this was a good idea because it allowed every hero in "Infinity War" to have their moment. Now, this movie is about the heroes, and I cared about them more than I ever have before. 22 movies in, I better give a s*it for all of these heroes. And again, Hawkeye… HOW?!
Also, I don't have much else to say, but if I had to add in anything else I would need to point out Captain Marvel, because she does have her own movie which came out a month ago, but now she is here as a part of the Avengers team. Let me just say, I didn't have the best things to say about the "Captain Marvel" film, but I kept an open mind going into "Endgame" and maybe things will turn around, which personally, things did. One skepticism I had however was triggered prior to watching "Endgame." I say so because I found out how Captain Marvel's scenes in "Endgame" were shot before Brie Larson actually started working on her solo film. It just felt weird to know considering "Captain Marvel" is an origin story and in terms of production, it is done after a big story involving her now established character. I guess there is an excuse to make here because while Brie Larson might have gotten a feel for her character while shooting for "Endgame," this movie and "Captain Marvel" took place during different time frames. "Captain Marvel" took place in the 1990's, and this film is a little more modern in terms of its setting. As time moves on, we may change our attitudes, so more I think about it, maybe I should provide some definite leeway to Brie Larson.
One other great part about this film is that it really does feel like as its title suggests, the freaking endgame. I honestly think it is fair to compare the Marvel Cinematic Universe film series to one gigantic TV show. If this were a TV show, it wouldn't be hard to doubt that this is the series finale. Granted, there are still plans for the MCU after this film, including some TV shows coincidentally, but it really does feel like an end. I know we're getting "Spider-Man: Far From Home." I know we're getting "Guardians of the Galaxy Vol. 3," I know we're getting a "Black Widow" solo film, but if the MCU were to end here and not make a single movie in its series ever again, I'd be fine, because as of now, I feel satisfied.
In the end, "Avengers: Endgame" is a fantastic conclusion to the Marvel Cinematic Universe as we currently know it. I got emotional, I got cheery, and I got an epic thrill ride. Despite reading several theories on the Internet, and having various predictions of my own, this movie does manage to have some surprises, kind of like "Infinity War." And just like "Infinity War," I won't dive into a single one of them. And if I had to be honest with you, when I saw "Infinity War," that was my favorite MCU film. This film is definitely up there with the best, but it is not my favorite. But if you know my typical verdicts for MCU films, you'd know that they are usually above average. In fact, my lowest grade is currently a 4/10, which this movie is not. And I honestly still need time to marinate all of my thoughts on this film. Part of me feels like I need to watch it once more just to provide the best verdict possible. But for now, I really enjoyed "Endgame," and think its a great finale to a series I've been attached to for years. I'm going to give "Avengers: Endgame" an 8/10. The fanboy side of me is saying this film is a masterpiece, but there is that other side of me that remembers the film's pacing. I don't mind three hour films, but there are a couple moments, not many, but a couple, where I felt this film's pacing slow down. Maybe it's because I was seeing this film at 9PM, which I never do for films in the cinema, but the pacing is worth noting. Nevertheless, I do want to see "Avengers: Endgame" a second time, and buy the 4K when it comes out. We'll meet again, one day.
Thanks for reading this review! I actually wanted to publish a couple pieces of content before this, but based on timing, motivation, and college finals, it just wasn't the best time. However, over the next week or so, you guys can look forward to some new content including reviews for "Apollo 11," "Shazam," and "Long Shot." However, I am about to finish my first year of college, which means I'll have some more time on my hands for this blog and going to see movies. I promise you (at least I'm trying) that I will deliver you some excellent work over the summer! Bring on blockbuster season! Let's do this! If you're new around here, be sure to follow Scene Before with a WordPress account or email before I snap you out of existence! I want to know, did you see "Avengers: Endgame?" Stupid question, I know, chances are you did, but still, what did you think about it? Or, what is your favorite series finale? Let me know down below! Scene Before is your click to the flicks!