Hey everyone, Jack Drees here! Before we dive into this post, I would like to kick off by offering my sincere apologies. Part of me wanted to do a post on my hopes and predictions going into this year's Academy Awards show, but unfortunately, I literally lacked any time in the world to do such a thing. Apparently paying for my education is not enough to make my head spin, I need to be handed a bloated supply of homework as well! I wasn't given this during the Super Bowl (REALLY DON'T CARE ABOUT THAT SHOW), so why should I get it on Oscar weekend? Anyway, earlier this week, I watched the 91st edition of the Academy Awards. I went into it with a few expectations. However, there was a part of me that thought this show was going to SUCK, and I even say that with my picks winning. Fortunately, that was not the case!
The first red flag in my sights for this year's show is that there was no host this year. You guys may already know that Kevin Hart opted out at a point and nobody else happened to sign on. They did however announce names for a bunch of celebrities who will be present to give random speeches and nominee presentations. While not all of them were great, they did have a number of them which I was actually able to appreciate. And I can't even believe I'm saying this.
Melissa McCarthy actually made me laugh! Throughout my 3 year experience of blogging on Scene Before, McCarthy has appeared in the #1 spot for my worst films of the year lists not just once, but twice! Although sometimes I kind of fail to give her credit where it is due, because there are a couple of occasions where she did make me laugh. When she played former White House Press Secretary Sean Spicer on "Saturday Night Live," it was literally a plethora of some of the most gutbusting moments that I've encountered in the show's recent years. McCarthy's appearance during the Academy Awards ceremony was perhaps on the Sean Spicer level of funny. McCarthy comes out to present the Costume Design award. Doing so in this costume that is quite possibly inspired by "The Favourite." She gives this speech about some of the best costumes and how they are not meant to have distracting elements. It's just spectacular. So spectacular in fact that I almost forgot that Melissa McCarthy was a recent Razzie winner!
I will admit, when it comes to other celebrities, there are not that many other speeches worth pointing out. Although there is one moment where I appreciated John Mulaney's line "I want these people to like me to a degree which I find embarrassing." It's not to say that they were bad, but there was not many others which I happened to find as interesting as say Melissa McCarthy.
When it comes to having no host, I was somewhat surprised, because I was highly skeptical going in on whether or not such a thing was going to work out. Turns out it did! Before this recent Oscars show, I thought to myself that this was all going to be a trainwreck. Without a host, it's toast! Not anymore! But if the Academy were to announce for the 92nd show that they aren't getting anyone to host that year, I'd just say, "Fine, whatever, you do you." I wouldn't care if there's a host. Would I want a host? Certainly, but I'd be open to another Oscars show where nobody hosts. Because a couple of benefits to having no host is that the show focuses more on the awards, and it allows a diverse amounts of celebrities to present themselves to an audience. Because let's face it. Not everyone likes Jimmy Kimmel, not everyone likes Seth MacFarlane, not everyone likes Ellen DeGeneres. Having one of those people host puts them in a certain spotlight, and even though certain people like The Oscars, they might not be satisfied with the person who may as well be taking up the biggest portion of the show's screentime. Almost every celebrity onstage had their moment, and it allowed for a quick pace that was respectful. Granted, I am the rare find in the wild that does not mind staying up for eternity while watching The Oscars. However, there is a part of me that realizes that The Oscars is being shown to "everyone." And there is a vast majority of people who want to see certain things throughout the show. The hostless ceremony is a good way to keep time short, and have the awards delivered as immediate as possible.
By the way, I recently saw this killer tweet from recent Academy Awards host Jimmy Kimmel:
I love you, Jimmy.
Now let's move onto the awards. Had I done a prediction post a little bit ago, this would definitely be the main focal point. I'm not going to dive into every single award, but I am going to go over the ones that I found to be highlights.
Believe it or not, I have actually managed to expand my award palette this year, because just recently, specifically on February 9th, I went to a local theater in the Boston area because they were showing all of the animated short films that earned a nomination this year. They showed the five potential winners, along with some others that the Academy found to be "highly commendable." Now I actually had a favorite of these films, but before I do that, let's give out the nominees.
Bao- Domee Shi, Becky Neiman (WINNER!)
Weekends- Trevor Jimenez
Animal Behaviour- Alison Snowden, David Fine
One Small Step- Andrew Chesworth, Bobby Pontillas
Late Afternoon- Louise Bagnall, Nuria González Blanco
Now keep in mind, I actually have watched all of these films from start to finish. I actually had been exposed to "Bao" prior to seeing all of the four other films. The reason why that is is due to how it was presented before Pixar's "Incredibles 2," making it Pixar's short film to present this year. I kind of liked "Bao," but it is something that I think would not appeal to everyone. I understand the message behind it, but in reality, there are a couple of animated shorts on this list that I found to be more interesting. For example, "One Small Step." Granted, this may be coming with a little bit of bias since I am a nerd, and nerds like space. I still found the main character's journey to be intriguing and sort of, pun intended, down to Earth. But my personal favorite out of all of these is without question, "Animal Behavior." This film was made in Canada, and might I just say, this film reminds me of how awesome Canada is. It gave us Ryan Gosling, Ryan Reynolds, Alex Trebek, Howie Mandel, and now… "Animal Behavior." "Animal Behavior" takes a bunch of different living creatures and puts them all in a therapy session. One of the main characters is a gorilla who is in extreme denial, and often gets very angry. The results of this film, hilarious. One of the best jokes has to do with the mantis, because for those who are unaware, praying mantises eat their mate during intercourse. There are certain parts of the short where we see that sort of thing come into play, and overall it left me feeling very impressed. Plus, one thing that made this film different compared to all of the others, is that they were all trying to be serious. This one, while still having some sort of message intact, it still goes for as much comedy as possible. Kudos to the brilliant writing! Granted, the Academy goes for more serious material, and I do respect that, but I feel like was more impressed by the comedic efforts of "Animal Behaviour" as opposed to the serious efforts of "Late Afternoon" or "Bao."
Moving onto another category, it's Best Documentary! Let's look at the nominees!
Free Solo- Elizabeth Chai Vasarhelyi, Jimmy Chin, Evan Hayes, Shannon Dill (WINNER!)
RBG- Betsy West, Julie Cohen
Hale County This Morning, This Evening- RaMell Ross, Joslyn Barnes, Su Kim
Of Fathers and Sons- Talal Derki, Ansgar Frerich, Eva Kemme, Tobias N. Siebert
Minding the Gap- Bing Liu, Diane Quon
Wait, "Won't You Be My Neighbor?" wasn't nominated?! F*ck this! Moving on!
Let's try a different documentary category! Best Documentary Short! Let's look at the nominees!
Period. End of Sentence.- Rayka Zehtabchi, Melissa Berton (WINNER!)
Black Sheep- Ed Perkins, Jonathan Chinn
End Game- Rob Epstein, Jeffrey Friedman
Lifeboat- Skye Fitzgerald, Bryn Mooser
A Night at the Garden- Marshall Curry
OK, these look much better. I haven't seen any of these films, but they sound much better. Now I am not going to call one of these films superior to all of the others, all of my opinions related to such a thing would technically be invalid. But, the victory speech, holy f*ck. Quite possibly the best speech of the night!
"I'm not crying because I'm on my period or anything! I can't believe a film about menstruation just won an Oscar!" -Rayka Zehtabchi
"A period should end a sentence, not a girl's education!" -Melissa Berton
Enough said. Period. End of sentence.
Another category that stood out to me was Best Visual Effects, mainly because there was one movie that I felt should win, but didn't win. Granted, the winner to me has extremely competent visuals, but the reality is, I had my pick. Here are the nominees.
First Man-

Paul Lambert

, 

Ian Hunter

, 

Tristan Myles

, 

J.D. Schwalm

(WINNER!)
Avengers: Infinity War-

Dan DeLeeuw

, 

Kelly Port

, 

Russell Earl

, 

Daniel Sudick

Solo: A Star Wars Story-

Rob Bredow

, 

Patrick Tubach

, 

Neal Scanlan

, 

Dominic Tuohy

Ready Player One-

Roger Guyett

, 

Grady Cofer

, 

Matthew E. Butler

, 

David Shirk

Christopher Robin- 

Chris Lawrence

, 

Mike Eames

, 

Theo Jones

, 

Chris Corbould
Let's take some things into perspective. While I kinda hated "Solo," I could see it being nominated for visual effects. I didn't want it to win, but still. "Christopher Robin" was an alright movie, nothing really that special. But then again, I have a bare attachment to "Winnie the Pooh." The CGI characters were not bad though. "Avengers: Infinity War" was probably my second or third pick to win, right along with "First Man," which did win. Aside from all of the huge scale glory happening everywhere on screen, you also have to give credit to the effects team for creating Thanos. To me, Thanos is up there with Smaug and Gollum as one of the greats when it comes to CGI character creations. Now with that being said, "READY PLAYER ONE" WAS SNUBBED! Granted, I already awarded "Ready Player One" myself because I now do the Jackoff Awards, but I would have given a thumbs up to the voters had they let "Ready Player One" win! Let's take another set of ideas into perspective. "Avengers: Infinity War" has comic book style action, random computer effects flying everywhere, and a well done CGI character. I've seen that before. In fact, "Christopher Robin" had several of those. Granted, I liked "Infinity War's" effects better, but still. "Solo" had several effects that I've seen in many other movies, and when it comes to the "Star Wars" franchise, it's not even my favorite movie in terms of visuals. While I will say that "The Last Jedi" is actually worse than "Solo" as a movie, which I am honestly shocked to say. It actually looked nicer! "Solo" has its moments, but when comparing it to the rest of the franchise, it's in between Obi-Wan and Anakin, because ya know, it kinda has the middle ground. For "Ready Player One," I wanted that to win, because I felt it was the most visually unique movie of the year. Not only did it manage to visually create its own characters, but it actually recreated segments from other works of art! There is a scene in the film that actually takes place in a location from "The Shining." Not only that, but you have two different worlds being dealt with in the movie, meaning there are two different places to insert various visuals. The effects team, personally, outdid themselves! I am not a crybaby over "First Man" getting the gold, but at the same time, I'm also wondering why it even got it because "Ready Player One" was just a unique trip. And this goes back to my recent statements. I've seen visuals like "First Man" in the past. I've seen it in "Apollo 13." I've seen it in "Gravity." I've seen it in "Interstellar." Although at the same time, I said after I saw the movie that it was not my favorite movie of the year in terms of the story, but from a technical perspective, it was definitely the most well made movie of the year. So while it is not my #1 pick for visual effects, they are by NO MEANS incompetent. Granted, that comment I made after I saw "First Man," that likely changed overtime after I saw "Roma," but nevertheless.
Another highlight of the night, for anything but good reason (for the most part) is Best Makeup & Hairstyling. Here are the nominees.
Vice- 

Greg Cannom

, 

Kate Biscoe

, 

Patricia Dehaney

(WINNER!)
Mary Queen of Scots- 

Göran Lundström

, 

Pamela Goldammer

Border-

Jenny Shircore

, 

Marc Pilcher

, 

Jessica Brooks
As I once predicted, "Vice" came out on top. The makeup might actually be the best part of the entire movie. So I was excited to see it win. Then… I saw the speech. The three winners practically did not even know what it was they were supposed to say. They had a paper in front of them, which is fine, I have nothing against that, but at least put a little preparation into your speech! At least, have a plan! Visualize! Get together on a Google Hangout or something! I mean, it was slow, it was like watching three people who had recently received amnesia! I'm just waiting for them to get hit in the head with coconuts and suddenly talk like they're Peter Griffin after he drank Red Bull! They almost didn't even remember anybody's name! Ah well, still, congrats I guess.
Anyway, moving onto another category, which I guarantee has a better speech, let's go onto Best Animated Feature. I do think it is a somewhat unnecessary category, given how it sort of diminishes the art of the animated movie as a whole, but I still want to talk about it. Here are the nominees!
Spider-Man: Into the Spider-Verse- 

Bob Persichetti

, 

Peter Ramsey

, 

Rodney Rothman

, 

Phil Lord

, 

Christopher Miller 

(WINNER!)
Incredibles 2-

Brad Bird

, 

John Walker

, 

Nicole Paradis Grindle

Ralph Breaks the Internet- 

Rich Moore

, 

Phil Johnston

, 

Clark Spencer

Isle of Dogs-

Wes Anderson

, 

Scott Rudin

, 

Steven Rales

, 

Jeremy Dawson

Mirai-

Mamoru Hosoda

, 

Yûichirô Saitô
Out of the five films listed, I have seen every single one except "Mirai," but then again, it wasn't really marketed around here so I don't really have much to say about it overall. "Ralph Breaks the Internet" was not only enjoyable, but it honestly shocked me to no end. Because let's be real, I thought the marketing was, *snobby voice* an abomination! I thought that movie was going to be the most obvious cash-in from Disney this past year (somehow I forgot about "The Nutcracker and the Four Realms"). Turns out that it is not only a good movie experience, but also a great parody on the Disney company! Just watch what Vanellope has to go through in the film to see what I mean! Then we have "Isle of Dogs" which is the only stop-motion film on the list. Over these last months, Wes Anderson has grown on me a bit as a director, and his work in this film supports my statement. Plus, I actually hate dogs, so the fact that I like this movie actually says something! "Incredibles 2" is a worthy sequel to what is, quite literally, my favorite animated film of all-time. Not only is it a part of my childhood, but it is just a well crafted movie. For awhile, it was my favorite film of the year, that is… until the release of "Spider-Man: Into the Spider-Verse!" And might I just say, JUSTICE HAS BEEN SERVED! Because two people behind "Spider-Verse," specifically as writers and producers, have also worked on "The LEGO Movie." That is one of the best movies of 2014, and probably one of the best animations I've ever seen. And not only did that movie not win an Oscar, it didn't even get nominated! Sure, it was nominated for Best Original Song due to the presence of "Everything Is Awesome," but that's not even the best part of the movie! Heck, that wasn't even the best song in the movie! Ah well, catchy tunes can be catchy. Phil Lord and Christopher Miller get an Oscar! They didn't have to wait as long as say Kevin O'Connell (sound mixer who waited 21 times), Roger Deakins (cinematographer who waited 14 times), or Glenn Close (actress nominated 7 times and still waiting), but they've each got one! "Spider-Man: Into the Spider-Verse" is one of the best superhero movies of 2018, and I'd even say it's better than "Black Panther," which actually received more nominations than this movie! Speaking of which, let's talk about that.
Based on the results of the recent Academy Awards show, "Black Panther," my fourth place pick this year for superhero films, managed to take home three Academy Awards. None of them were in super major categories. Granted, one of them was score, which to me, is usually a major factor on whether or not your movie is in my top movies of the year for some reason. If I remember your music, chances are I'm going to like your movie. Now, "Black Panther" is nowhere close to being my favorite superhero flick of 2018. But with that in mind, I still gotta give the movie respect, because it did something for comic book movies that has never been done before. Over the years, several movies in the Marvel Cinematic Universe have received nominations for the Academy Awards. Some include "Doctor Strange," "Guardians of the Galaxy," "Guardians of the Galaxy Vol. 2," "The Avengers," "Iron Man," "Iron Man 2," and "Iron Man 3." None of them have ever won an Oscar. Just this year, "Black Panther" changed that. Because it won 3. While I would say that for every of its categories for which the film was nominated, I was actually rooting for other films, including "The Favourite!" That actually says something because that film was nominated for best picture and I'm still not happy about it to this day! Nevertheless, it won three awards, which to me, shows that the Academy is getting more serious about the action movie genre and the comic book movie genre. They have progressively been doing such a thing in some of their more recent ceremonies with movies like "The Dark Knight" and "Logan." Although, when it comes to comic-book based films, this is probably the best year Oscar-wise because with the MCU's first three wins ever, they have another nomination on top of that (Avengers: Infinity War). Plus, as recently mentioned, "Spider-Verse" won Best Animated Feature. In fact, "Black Panther" was one of the eight movies nominated for Best Picture this year. I'm not saying I want more inclusion from comic-book movies, but I love how the Academy is recognizing that comic-book movies can be more than just entertainment. They can be works of art. Maybe I don't see "Black Panther" the same way as they do, but I see where they may be coming from with it. Although I will say, I'm white. Just pointing that out. Congrats to the comic-book film genre.
Another highlight in terms of awards including some of the acting sections. Starting with Best Supporting Actor, here are the nominees!
Mahershala Ali- Green Book (WINNER!)
Adam Driver (BlacKkKlansman)
Richard E. Grant (Can You Ever Forgive Me?)
Sam Elliott (A Star Is Born)
Sam Rockwell (Vice)
Ah, seems very familiar. I nominated four of these people for the Jackoffs. If Timothée Chalamet was nominated here than that would be five. But whatever. And just like the Jackoffs, Mahershala Ali won! Ali to me is deserving of his win because of the range provided in his performance. Sam Elliott is great, the same can be said for someone like Sam Rockwell. But they seem to play the same character the whole movie. While Ali is technically one guy during the movie, he almost seems to play two. You have this robotic priest, and I won't go into much more detail, but he reveals more emotion as he develops. Ali is well deserving of his award if you ask me.
Moving onto Best Supporting Actress!
Regina King (If Beale Street Could Talk)
Marina de Tavira (Roma)
Amy Adams (Vice)
Emma Stone (The Favourite)
Rachel Weisz (The Favourite)
Out of all of these, I have interestingly witnessed all of these performances EXCEPT Regina King, which is too bad, because I heard good things about "If Beale Street Could Talk." And I was watching the Red Carpet buildup before the Oscars started, and having seen people commentate on the broadcast, this made King's win no surprise because it was practically a lock. Out of the ones I've seen, my personally favorite without a doubt has to be Amy Adams. She transformed into her character in "Vice!" I will give credit to "The Favourite" in the acting department, especially when you consider two of its actors are nominated in the same category, but it does not save "The Favourite" from being a less than satisfying movie. As far as Marina de Tavira goes, I almost wonder why she was nominated to begin with. I'm not saying she performed badly in "Roma," in fact she did a great job. But it's kind of surprising considering how she was never really nominated for the same role anywhere else during this award season.
Now onto Best Actress! Here are the nominees!
Olivia Colman (The Favourite)
Yalitza Aparicio (Roma)
Lady Gaga (A Star Is Born)
Glenn Close (The Wife)
Melissa McCarthy (Can You Ever Forgive Me?)
Melissa McCarthy? What the?! It's raining cats and dogs! I've seen three of these performances, and while there is a part of me that was able appreciate Olivia Colman as a performer in "The Favourite," I found the performances from say Lady Gaga and Yalitza Aparicio a bit more compelling. And part of my reasoning behind such a statement may be because the two aren't known for their acting. Gaga is primarily a singer, which also kind of means she has an advantage in her role. But what really wowed me is Yalitza Aparicio, because this is actually the first acting job she ever did in her entire life. For a first-time actor, you'd expect them to give a C performance, maybe a B performance at best. But this to me was no doubt, an A+ performance! And to be honest, part of me was expecting Glenn Close to win. Plus it would have been fascinating because she has been waiting awhile for her award. But if you have seen the Jackoffs, you might be able to gather my opinion on this. TONI COLLETTE WAS SNUBBED!
Lastly for acting, we have Best Actor. Here are the nominees!
Rami Malek- Bohemian Rhapsody (WINNER!)
Bradley Cooper- A Star Is Born
Viggo Mortensen- Green Book
Willem Dafoe- At Eternity's Gate
Christian Bale- Vice
To me, Malek's win was a no brainer. I was appreciative of this performance because of how it was able to transform this actor into a beloved celebrity of another kind. Granted, it is all him, because part of it was due to someone else doing his vocals and I think costume design and makeup go into play with my appreciation as well, but still, he was my pick to win. My second pick would have been Bradley Cooper because he had to learn to sing for his role, and it actually paid off! Out of these performances, I will point out that I've seen four of them, the one that I didn't see is Willem Dafoe, but I also liked the performances from Bale and Mortensen. If I had to choose between them, I'd say Mortensen was the better performer, but if Bale had won, I would have loved to have seen his speech. Because when it comes to the crew on "Vice," one terrible speech was already provided in the Makeup & Hairstyling category, but had he gone up, I would have been interested to see his speech. I say so because he gave perhaps my favorite speech at the Golden Globes this year, specifically where he says this:
"Thank you to Satan for giving me inspiration on how to play this role!"
HAHAHAHAHAHA! How often do you hear that?! While that might make certain people upset or offended, I thought personally that was one of the highlights of that show.
We have a few more categories to go over, a couple of which include the screenplay categories. Here are the original screenplay nominees!
Green Book- Nick Vallelonga, Brian Hayes Currie, Peter Farrelly (WINNER!)
First Reformed (Paul Schrader)
Roma (Alfonso Cuarón)
Vice (Adam McKay)
The Favourite (Deborah Davis, Tony McNamara)
I'm sorry, "The Favourite," while it has some memorable lines, the screenplay was not even close to being something special. In fact, that's one of the biggest problems I have with the movie, because this story was trying its best to be compelling, but it felt more drawn out than I expected! And I will admit, I am guy who is willing to appreciate film no matter what kind of movie we are talking about, but even for me, this was too slow! I think the biggest problem was the chapter layout. Because when I first saw it, I thought the chapters represented a three or five act structure, if I recall correctly, it was like nine. I am with "Green Book" as  the winner however. It's a good story with compelling characters, and some quirkiness behind it too. Then again, it is hard to avoid expecting a good script from a guy who worked on "There's Something About Mary." If it weren't for "Green Book" winning, I would have either picked "Roma" or "Vice." With "Roma," it was a script that took a bit of time to get me fully intrigued, but once I was hooked, I was not able to let go. It was investing, emotionally charged, and is capable of showing the occasional unpredictably of life. "Vice" however is rather interesting to me because while it was based on true events, it was able to have some satirical fun. One of the best written scenes of the year comes during the middle of the film where the acts like it is about to end saying the characters live happily ever after and never get in politics ever again. GEN-I-US!
As for the adapted screenplays, here are the nominees!
BlacKkKlansman- Charlie Wachtel, David Rabinowitz, Kevin Willmont, Spike Lee (WINNER!)
A Star Is Born- Eric Roth, Bradley Cooper, Will Fetters
Can You Ever Forgive Me?-

Nicole Holofcener

, 

Jeff Whitty

The Ballad of Buster Scruggs- Joel Coen, Ethan Coen
If Beale Street Could Talk- Barry Jenkins
Surprisingly, while I've seen a number of things in the listed this categories this year, this is a category where I've seen only two things. To be specific, "A Star Is Born" and "BlacKkKlansman." I missed out on "Can You Ever Forgive Me?" and "If Beale Street Could Talk." As far as "The Ballad of Buster Scruggs" goes, it's on Netflix and I have don't Netflix, nor do I ever plan to get it. Enough said. Luckily, of the two I did see, I nominated both for the Jackoffs in this exact category. Granted, I gave the 1 up to "A Star Is Born," but "BlacKkKansman" is also worthy of your support. Interestingly, and if you watch the movie, this shouldn't really come as a shock, Spike Lee's speech was rather critical of Donald Trump. Let's see how President Orange responded.
REMINDER: This guy won multiple Razzies this year!
A couple more categories to go, let's move onto Best Director!
Alfonso Cuarón (Roma)
Spike Lee (BlacKkKlansman)
Pawel Pawlikowski (Cold War)
Adam McKay (Vice)
Yorgos Lanthimos (The Favourite)
"The Favourite" might just be one of the best worst movies of all time, because I can clearly tell people are giving their 110% effort throughout the production, but it just didn't work for me. The directing in the film is actually not that bad and I see why it received a nomination. In fact, all of these directors are worthy of their nominations if you ask me. Although there is no questioning it. Cuarón directed the hell out of "Roma." Based on how he did this movie, the project felt extremely personal, and the direction felt like everything came right out of his mind. Nothing felt like it came from an outsider or a studio. I am well aware that in life you can't always get what you want, but it's nice to get what you want when you are look at things from a directorial point of view. Plus, Cuarón had his hands full with this film. Not only did he have a credit for directing, but he also has a credit for the screenplay, the editing, the cinematography, and even as a producer. He did a lot for one film! He's like Tommy Wiseau, only difference is that Cuarón was able to create a critically successful movie. I hate Netflix, like with a burning passion, but I will give them credit for quite possibly saying "You know what Alfonso, you're so f*cking talented. Make whatever movie you want!" I'm imagining something like that went on behind the scenes.
Two more categories to go, let's pay attention towards the Best Cinematography category! Here are the nominees!
Alfonso Cuarón- Roma (WINNER!)
Lukasz Zal- Cold War
Matthew Libatique- A Star Is Born
Robbie Ryan- The Favourite
Caleb Deschanel- Never Look Away
And to my lack of surprise, Cuarón takes this award too! If you have seen my last Academy Awards recap, chances are that you'd know that cinematography was probably the category I was most passionate about that year. The reason was due to how one of the nominees was Roger Deakins, who FINALLY won an Oscar for his work in "Blade Runner 2049!" This year, I don't really have the same passion for that category, but I was able to appreciate a couple of the nominees. "Roma" is a movie that I thought was technically brilliant, and its cinematography absolutely showcases that. SUPER GLAD IT WON! That movie had many shots that made me wonder how they even came about! Netflix, PLEASE. Release a Blu-ray for "Roma!" I want my bonus features! In fact, for the Jackoffs, that movie also won Best Cinematography. Speaking of which, I also nominated "Cold War," which is unique because it featured a 4:3 aspect ratio, and like "Roma," it's in black and white. When I reviewed "Cold War," I felt that the film's technical specs were something I could appreciate more than the film's story, and the cinematography was the biggest standout to me. I can approve of "The Favourite" being nominated, but when it comes to "A Star Is Born." Some of the shots were nice, but I don't see why it is nominated. Maybe the set design and the lighting stood out to me, but standard shots are not the biggest standout when it comes to "A Star Is Born." In fact, a similar movie, "Bohemian Rhapsody," actually comes to mind when I think of this nomination. There are a number of shots that truly immerse me into the film. This is especially true during the Live Aid scene. The extended run through the audience set the mood entirely for that scene alone. There are certain shots that give you a sense of scope, it's almost mind-boggling. As for "Never Look Away," I never saw that movie, so I have nothing to say about it.
And now, for Best Picture. This year there were eight nominees. Out of all of them, I actually had something that I truly wanted to win. Last year I wanted "Dunkirk" to win, but I also missed out on many of last year's Best Picture nominees. This year however, I actually saw all eight of them. If you wanted to know my pick for Best Picture this year, it was "Roma." What a f*cking movie. Anyway, here are the nominees!
Green Book- Jim Burke, Charles B. Wessler, Brian Currie, Peter Farrelly and Nick Vallelonga (WINNER!)
Black Panther- Kevin Feige
The Favourite- Ceci Dempsey, Ed Guiney, Lee Magiday and Yorgos Lanthimos
Bohemian Rhapsody- Graham King
A Star Is Born- Bill Gerber, Bradley Cooper and Lynette Howell Taylor
Vice- Dede Gardner, Jeremy Kleiner, Adam McKay and Kevin Messick
Roma- Gabriela Rodríguez and Alfonso Cuarón
BlacKkKlansman- Sean McKittrick, Jason Blum, Raymond Mansfield, Jordan Peele and Spike Lee
I'm gonna do this by talking about the movies that didn't win first. "The Favourite" and "Black Panther?" You can honestly forget about those two! The pacing in "The Favourite" is horrible and "Black Panther" is not even the best comic book movie of the year! A lot of people go around saying that film is "socially important," but that has nothing to do with how good a movie is. Just because your film has a black person in it, it doesn't make it good. What matters is how it was executed. You know what comic book movie was socially important? "Wonder Woman!" And that's a masterpiece compared to "Black Panther!" AND it wasn't nominated for any Oscars for its respective year! When I like "Aquaman," "Deadpool 2," "Spider-Man: Into the Spider-Verse," and "Avengers: Infinity War" more than "Black Panther," you can probably tell what I'm trying to say here about it. "Vice" was pretty good, but ultimately lacking in some sort of substance that didn't seem to be there as I watched the movie. I appreciate the work that went into it, but some parts of the movie were better than others. "Bohemian Rhapsody" is sort of interesting. I think it is a good tribute to Queen and Freddie Mercury, but it is ultimately just that, nothing more. Sure, there's good cinematography and a rock solid performance from Rami Malek, but it doesn't really change the game. Then there is "A Star Is Born." I thought Bradley Cooper did a great job with that movie because he had a lot to do on it, and not just as a performer. Although when it comes to his performance skills on that film, that's probably the best part because of how he needed to not just talk, but play an instrument and sing. "BlacKkKlansman" may have been a well written, well directed, and well acted film. But even if you remove all of those qualities from the table, you still have a great concept. An African-American police officer pretends he's white and infiltrates the Ku Klux Klan! And it's based on a true story!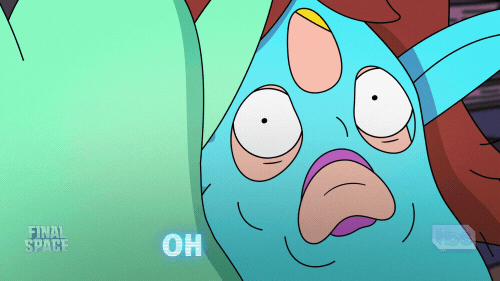 When it comes to the two films left to talk about, I already said what I need to say about "Roma." It is such a masterful movie. Plus, it partially made me change my mind about how serious Netflix could possibly be in the movie theater industry. Granted, they still have some ways to go, just ask Steven Spielberg, but they're making progress. I really wanted that film to win, and I actually had high confidence that it was going to win this year. Then Julia Roberts gets onstage, and says the words "Green Book."
Did not expect that.
But you know what? It's cool, that was my second pick anyway! I know there's a lot of controversy surrounding "Green Book" right now, it almost reminds me of "The Greatest Showman." Part of me might regret watching "Green Book" for that reason alone, but I also have to keep in mind that when I did see the film, I enjoyed what I saw. I thought the screenplay was well done. The chemistry between the main characters went together like bread and butter. And the acting is superb! "Green Book" may not be my pick for Best Picture, but it was certainly worth a watch. It's got some serious parts in it, but it is almost like a feel good story at times. It's nice to see the formation of two unlikely friends. Plus, it's one of those rare times where product placement WORKS. Will I watch "Green Book" again sometime in the future? Most likely. It is a fun watch, and definitely worth your time. Congrats to "Green Book!" Congrats to all of the other nominees!
Thanks for reading this post! The 91st Academy Awards was definitely a surprise! I was expect a mediocre show at best, and it turned out to be pretty good. Would I like a host next year? Certainly. But I am also now open to the idea of a hostless Oscars ceremony. Now that I've seen it, it worked out! I gotta give massive respect for the Academy for including all of the awards, and I also want to give a shoutout to Lady Gaga and Bradley Cooper for an awesome performance of "Shallow!" You guys rock! Speaking of which, Queen, great opening! Well done! When it comes to my future content, I will be doing a review of "How to Train Your Dragon: The Hidden World!" And also, as of writing this, Scene Before is now three years old! It just turned three recently, I want to do something for the three year anniversary, but if I actually manage to do something, it probably won't be up soon, because college is keeping me busy. Like, insanely busy. I have some ideas, who knows? Maybe I'll do the same thing as the two year anniversary? But only time will tell! Be sure to follow Scene Before either with an email or WordPress account so you can stay tuned for more great content! I want to know, did you see the 91st Academy Awards? What are your thoughts? Any snubs? Great moments? Do you agree with everything? Let me know down below! Scene Before is your click to the flicks!