Hey everyone, Jack Drees here! If you have followed this blog recently, you may be aware of me going to a convention called Terrificon, it is a convention dedicated to comics, superheroes, sci-fi, horror, fantasy, and to the world's misfortune, fidget spinners. The convention went from Friday, which was August 18, to Sunday, which was August 20. I was there Friday and Saturday, I had quite a bit of fun and I can't really say I have many complaints about it.
As far as guests go, it's your usual situation there, you've got your celebrities, your artists, and your vendors. I didn't really see too many artists, however I recall my sister interacting with a number of them. When it comes to celebrities, the convention had people such as Burt Ward (TV Batman, Batman: Return of the Caped Crusaders), Lee Merriweather (TV Batman, Barnaby Jones), Sean Gunn (Guardians of the Galaxy, Gilmore Girls), Chris Sullivan (Guardians of the Galaxy Vol. 2, This is Us), Shannon Purser (Riverdale, Stranger Things), Finn Jones (The Defenders, Game of Thrones), Jessica Henwick (The Defenders, Star Wars: The Force Awakens), and Benedict Samuel (Gotham, The Walk). A number of the vendors were local, the ones I bought items from were NY Collectibles from Bronx, NY, The Dragon's Lair from Wallingford, CT, Festival Flea Market Mall from Pompano Beach, FL, Greg White Comics from Kissimmee, FL (believe that's the correct info), and Fuzzy Fish Inc from an unknown location (There's one in Tybee Island, GA but I highly doubt that's even close to the correct info, who knows I might even have the wrong name.).
Throughout I met three celebrity guests, Chris Sullivan, Shannon Purser, and Violet Beane. For Chris Sullivan, I actually met him alone, we shook hands, and I took a photo with him. The photo cost $30, which I ALMOST forgot to pay because after taking the picture, I got so close to just walking away! I would have likely ended up feeling guilty if I did. I had a good laugh with Chris and a guy near him about it. Also, before we took the photo, I talked to him about "This Is Us," a show on NBC which he plays the character of Tim. I don't watch the show, but my grandfather does, we actually talked a bit before I went down to the con, and my grandfather told me to tell him he was angry to never find out something that some viewers may be mad about me saying because it sounds like it is in spoiler territory.
The next celebrity guest I'll bring up is Violett Beane. My sister watches CW's "The Flash," I don't commit to many TV shows, so I don't watch it at the moment, heard good things though. She's on there and she plays the character of Jesse Wells. My sister got an autograph from her and she was asked if she was excited for the new season. She responded saying she was, and I, being the party pooper I was, had to admit I don't watch the show. I didn't say I didn't LIKE it, I said I didn't WATCH it. I asked Violett if I should start watching, she said yes like I was stupid. I didn't hate her for the way she said it, she may have been dumbfounded with me, but it was understandable. Plus it was almost like she said it with a hint of swag. Hate that word! For the record, I would watch it, but I'm in the middle of "Star Trek: TOS," "Firefly," and I need to also catch up on "The Goldbergs" and "Kevin Can Wait." I'll remind you, I review MOVIES, which takes away from TV.
And finally for the celebrities, we're gonna dive into Shannon Purser, hehe, that kind of sounds like a sexual innuendo. You may know Shannon as Barb from "Stranger Things," another show I heard good things about and don't watch. This time I have a better defense, which is the fact that I don't use Netflix. I went with my sister to Purser's table, she got some custom art signed, and Purser said a few kind words about my sister's "Doctor Who" t-shirt.
For the convention itself, this took place in the Mohegan Sun Convention Center in Uncasville, CT. The center itself is nice, and it looks fancier than other convention centers I've seen. This was especially noticeable with the floor and ceiling. The venue is a decent size, and there weren't many crowds pushing each other. While the whole center isn't exactly big, it's definitely good enough for a convention like this. Everything seemed to be organized and clean, so I can't give many complaints there. I didn't go to the second floor, but there were panels and professional photo ops being done there. The first floor had the ballroom and the pre-function lobby, where a few comic artists and all the celebrity guests were. There were barely lines for anything whatsoever, and the only people that had crowd control barriers leading up to them were Burt Ward, Lee Merriweather, and Dean Cain.
Now, let's dive into some of stuff I got at the con. First off, I got a couple license plates. They happen to be the original "Ghostbusters" Ecto-1 license plate and a license plate that said "Assman," which you would know about if you saw "Seinfeld."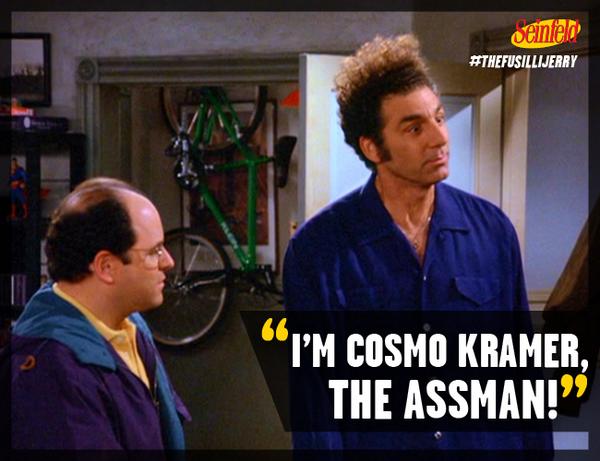 These two license plates came from the shop which I assumed was "Fuzzy Fish Inc," I currently don't have any pictures or promotions to prove what I just said. I'm just going from memory and what the program map tells me based on where I remember walking around in the convention center. I mentioned the Ecto-1 license plate from the original "Ghostbusters," but they also have the Ecto-1 license specifically from "Ghostbusters II" and the one from "Ghostbusters" 2016, or as I like to call it, "Ghostf*ckers" 2016, because the people behind this film f*cked it up so much and may have f*cked up what was so good about the 1984 "Ghostbusters." OK, that actually sounds like a terrible nickname because that almost sounds like a porno, let's go with "Ghostsuckers" 2016, because the movie sucks so much that it shouldn't have been made or even thought of to begin with. Oh wait a darn minute! Sucking is what some people do during sex to a penis! Gah! Forget what I said about Shannon Purser, THOSE, are sexual innuendos! The store also has "Outatime" license plates, which you may recognize from "Back to the Future" as a license plate for the DeLorean. I actually own one of those, it's in my room, and I'm gonna put these two plates next to it.
I got one video game at the con, it's "Kingdom Hearts II." I own the first game, so I figured why not get the sequel. The game cost ten bucks which I wouldn't consider a bad deal considering how revered this game is by the gaming community. I also saw the first game for twenty bucks, but I already own it, so I saved myself some money there. This came from NY Collectibles in Bronx, NY. I actually talked to a guy who was checking out the game for me, he pointed out how scratched the game disc was, and believe me, it was scratched like hell. The scratches made me somewhat skeptical of whether or not I should actually buy this game, but then he assured me that the disc was playable. I believed him. I haven't tried it out, but we'll see what happens in the future. After he gave me his assurance, I said, "Well, you aren't GameStop." Granted, I like GameStop and I do shop there occasionally, but I hear gamers sometimes give a lot of crap about them. The guy went on saying he went to a GameStop once and he saw a disc that was so scratched it was unplayable. I said I POSSIBLY could relate, and now that I think about it, I can relate. Because in 2012, I got "The Bigs" for the Xbox 360, it's a baseball video game and it's kind of fun. I now own the PS2 version, which I have played occasionally. The disc was so scratched that I returned it the next day and ended up not getting another copy of the game, but instead getting a copy of "The Bigs 2." Interestingly enough, the disc now has a circular scratch, which is likely to be my fault from once tilting the Xbox 360. I mean, I get why gamers don't like GameStop, they only carry newer console titles, even though that's what you find in places like Walmart, Target, or Best Buy, they are extremely corporate, meaning that you can find them everywhere, so it's basically the McDonald's of video game stores, and they will literally pay you nothing for selling your games. Speaking of games…
At the con, I purchased my favorite card game of all time, "Cards Against Humanity." This was purchased at The Dragon's Lair from Wallingford, CT for a price over $40. For your information, you can get this game for a cheaper price in other stores. Target sells it for $25 for example. For those of you who don't know what "Cards Against Humanity" is, take "Apples to Apples," forbid the children from joining in on the fun, and top it off with a vibe you'd find in "Sausage Party." This game is not for kids, I play it a lot online with friends, and I laugh my ass off every single time. Although another difference between this and "Apples to Apples" is instead of associating the player's cards with adjectives, these are fill in the blank associations. If you haven't played the game I highly recommend it. It's fun with friends, it might be awkward with family though, although my mom actually wanted to play this with me and I'm more than happy to let her play with me if the opportunity ever comes up. I mean, as far as nontraditional mother-son events go, this is one I'd rather do than watch "Fifty Shades of Grey," not because of the sex and kinky scenes, but because how poorly received it was. I wouldn't even want to watch "Fifty Shades Darker" either because I heard that's as much of a s*itshow as "Fifty Shades of Grey." And no! I'm not reviewing it! I already reviewed "The Emoji Movie" for you all, consider that a favor! We'll see what happens in the future.
I also picked up four posters. Where did I pick them up? To my knowledge, I believe the place was Greg White Comics. This place had a ton of small posters, a lot of which I remember were from "Star Wars," "Spaceballs," and "Terminator." Speaking of "Star Wars" and "Spaceballs," those were two of the posters I picked up. As far as other posters I got, I got one for "Blues Brothers" and "Family Guy," specifically, one that was a parody of the original "Star Wars" movie. You know how during season 6 the first episode was an hour long parody of the original "Star Wars?" Well this poster is associated with that. By the way, if you haven't seen that episode, please watch it, even if you aren't a "Star Wars" fan you'll laugh. The "Blues Brothers" poster, from what I can tell, is foreign, which I actually didn't notice until looking at it as I'm writing this. I saw this poster on IMDb, but something weird I noticed about it is that it said the movie was rated PG, and the poster I purchased said the movie was rated PG-13. By the way, I Googled what the rating was, and it was PG. Last but not least is for "Star Wars Episode VI: Return of the Jedi," or in this case, "Revenge of the Jedi." If you are a hardcore "Star Wars" fan, a collector, or possibly alive during the eighties, you may be aware that before "Return of the Jedi" was released to the public, it was at one point going to be called "Revenge of the Jedi." The store I got these from had a good deal where you could get four posters for twenty bucks, so why would I NOT get these four posters?!
I also picked up a couple t-shirts, t-shirts which in fact I can't wait to wear. These were sold by comedian and actress from the Nickelodeon show "Every Witch Way," Lisa Corrao. Seeing her in person, I had no idea who she was, then I Googled her to find out she was forty-two. I couldn't even tell she was forty-two, she actually looked like she was in her twenties. It's kind of like Julia-Louis Dreyfus, the older she gets, the younger she looks, at least to me when looking at her in real life. I purchased two shirts which were twenty bucks each, one which said "Jar Jar Stinks" and another which said "You're not Groot." The first shirt, if you can't tell, is making fun of the obnoxiously horrible "Star Wars" character known as Jar Jar Binks, which may be the worst thing about the prequel trilogy, possibly rivaled by midichlorians, Anakin and Padme's forced romance, the fact that Samuel L. Jackson never got to scream like crazy, Hayden Christensen's performance, or Jake Lloyd's performance. I always thought of the phrase "Jar Jar Stinks" as a nickname in my daily life and I'm glad to a see a shirt that says the same, although at the same time, I wanted to be the one to make it. You'd know what the second would mean if you know what "Guardians of the Galaxy" is, or at the very least, if you know who Groot from "Guardians of the Galaxy" is. You may know the only thing he says is "I am Groot," and when he says it, it's in that order. So instead of saying, "I am Groot," the shirt says "You're not Groot."
Corrao also gave me a free autograph, which was also the only autograph I got at the con. I pay for a good number of autographs when I go to cons, so the fact that this was free was awesome. If the autograph was given only because I bought shirts, it's still worth it in my book.
This con, if you didn't know was also paying tribute to Adam West, who you may know from TV's "Batman" as Batman, and from "Family Guy" as Mayor West. There was a lot to see when it came to "Batman." There was a Batmobile, a Batcopter, the rope you'd see for batclimbing, a Batsignal, a Bat Kiddie Ride, a Batboat, and a Batcycle. Around the area where all of these battacular objects were, the sixtes "Batman" theme was playing in the background. There was also a screening of the 1966 "Batman" movie. I didn't attend it, I personally I'm fine with not attending it, although I could imagine attending it would have been fun. Not to mention you have Lee Merriweather, who played Catwoman along with Burt Ward, who played Robin. The two of them were also at the screening and they even did a Q&A.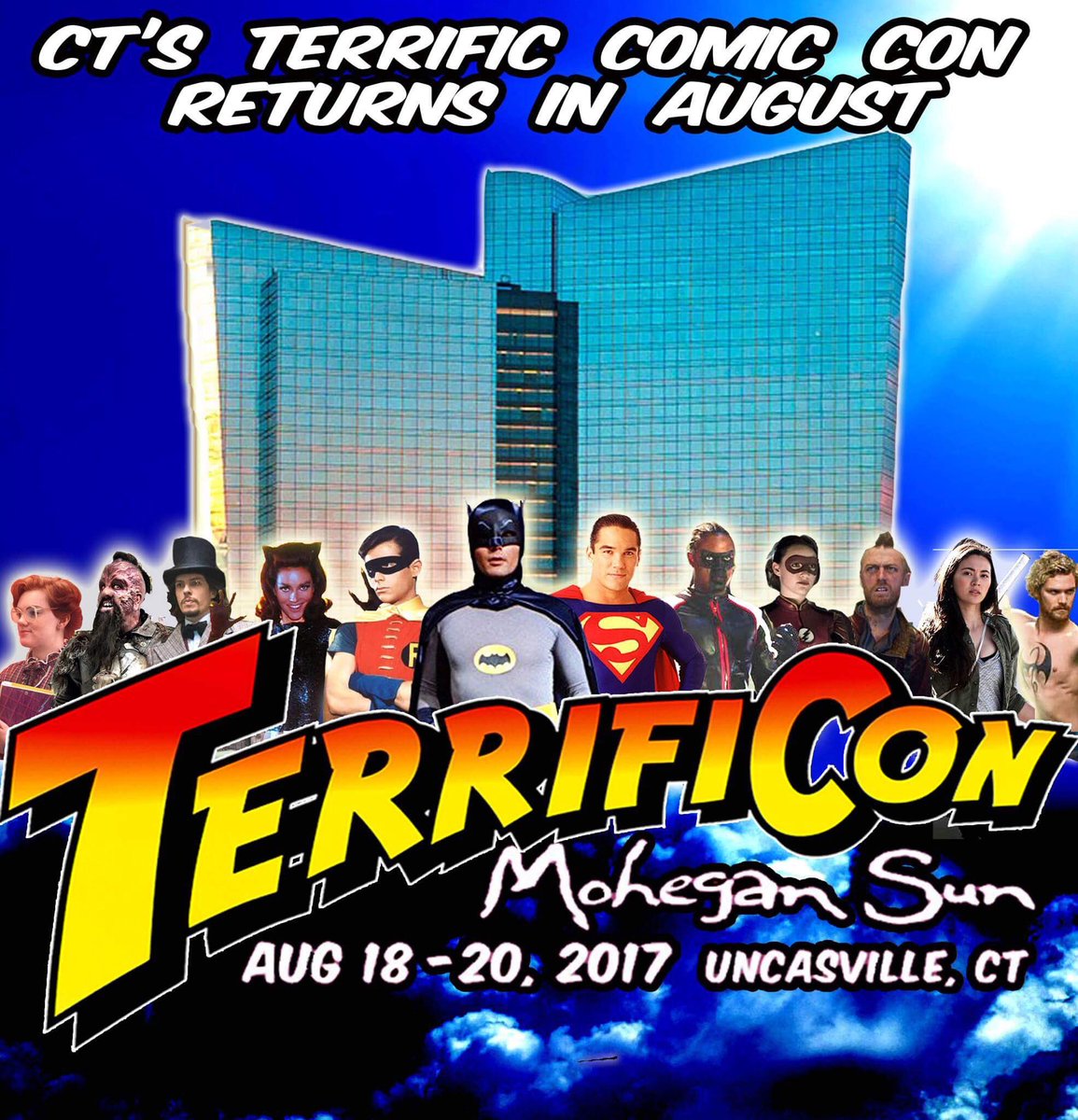 That pretty much completes my review and purchase analysis of Terrrificon 2017, I wouldn't mind coming back next year when they do this again on August 17-19. One difference between this year and next year is that this is gonna be in a bigger space which is also in Mohegan Sun. Next year, instead of being in the Mohegan Sun Convention Center, this is going to be in the Mohegan Sun Exposition Center, which is cuurrently being built and is set to open in summer 2018. The center will have three times the space of the Mohegan Sun Convention Center, allowing more people to fit in. So I want to know, did you go to Terrificon, how was it? What did you do there? Did you buy anything? Leave a comment below, and I assure you, I do read them. Also, pretty soon I'm hoping to review "The Glass Castle," but only time will tell when I actually get around to it. Stay tuned for more reviews, and if you guys want me to check out any cons, let me know about that down below! Also, cons, weird request, if you want me at your con either to review it, or less likely, as a guest, notify me! Scene Before is your click to the flicks!