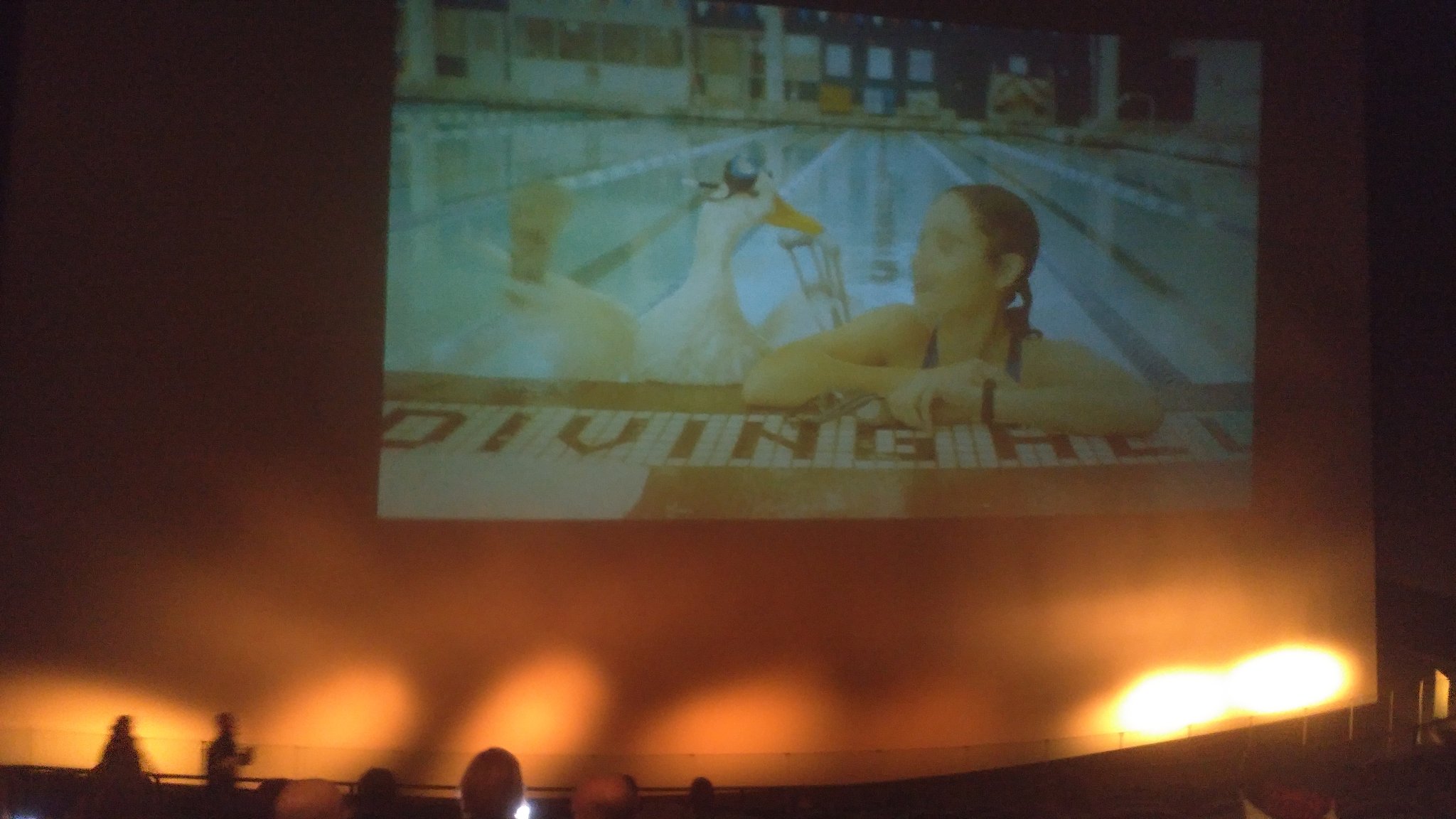 Hey everyone, Jack Drees here! We are more than a month into the year of 2020 and the film industry has already experienced its highest-grossing January movie to date, "Bad Boys For Life," but like any other January, it has also been met with some stinkers like "Dolittle," DO NOT WATCH THAT MOVIE… IT'S BLASPHEMOUS! Anyway, now that we have gotten as far as somewhat early February, I want to talk about what this year could mean for one of my personal favorite film-related brands, IMAX.
Now, there is no doubt that in recent years, IMAX's competitors have made names for themselves. Regal's RPX is still going strong, AMC is continuously rolling out their Dolby Theatres, and 4D venues still have a presence. But today, I wanted to talk about a few things that could make IMAX stand out from the competition, and ways they could potentially have a great year.
Let's just get one thing out of the way, because to me, this is perhaps the most important standout notion to take in about IMAX's lineup this year, from what I have heard, three feature-length wide release movies this year are being shot with IMAX's film cameras. You know, the ones used for 30 minutes of "The Dark Knight." I've talked about these cameras before, but if you don't know, IMAX sometimes presents movies shot with specifically branded film cameras in a way that covers the whole screen. This has been done since 2008 in the realm of feature-length entertainment and has occasionally given the company a reason to keep using their film projectors. After all, everything is digital now, including IMAX's newer projection systems, which I have noted as inferior to their original counterparts, especially when you consider that most of them were built specifically for use on smaller screens.
Now what's so important about this? Well, for film purists like me, I take just about any opportunity I can get to achieving a "true IMAX experience." When "Interstellar" and "Dunkirk" came out, I spent an hour flocking to Providence, RI just to go see those movies in the format in which they were perhaps meant to be seen. This year, I think there is going to be at least one opportunity for that, and I'll get to that eventually, because we are going to be discussing these films in chronological order here.
Let's talk about the movies that are being shot in IMAX 70mm!
NO TIME TO DIE (APRIL 8TH)
Now, I am not a major "Bond" fanatic like some, I've only seen a couple of the franchise's films, but there is no doubt that I am looking forward to "No Time To Die." It is Daniel Craig's grand finale as James Bond, the cast also includes current notable names including Rami Malek (Bohemian Rhapsody, Night at the Museum) and Ana de Armas (Blade Runner 2049, Knives Out). In fact the first trailer is almost as good as a first trailer can be for a movie like this. It does not expose everything right off the bat, it's got great music behind it, and it's just action-packed. According to Wikipedia, it suggests select sequences are presented in IMAX. That can mean a lot of things, but it is safe to assume that at least one or two action sequences will bring IMAX filmmaking to the table. Which ones? I don't know. For all I know it could be all of them. This is the first "Bond" film to be shot in IMAX, and if Daniel Craig is hanging up the suit, why not do so in the biggest way possible?
WONDER WOMAN 1984 (JUNE 5TH)
Three words. Welcome to 1984! At the near end of the spring season, comes the second "Wonder Woman" solo film in the DCEU, "Wonder Woman 1984." "Wonder Woman 1984" takes place in a significantly different era and time frame compared to the franchise's 2017 predecessor, simply titled "Wonder Woman," which took place during World War I. The marketing so far has been good enough to make me hang a mini poster in my room so that might suggest something. Gal Gadot looks like she'll kick ass once again, Patty Jenkins is directing once more, which totally pleases me because I thought the directing job she did with "Wonder Woman" brought one of the best visions to a comic book movie I have seen. As for how the film will be shot in IMAX, I imagine it will be a similar scenario like with "No Time to Die," where most of the IMAX footage, depending on how many minutes total happened to be shot, will be presented during key action scenes. Much like "No Time to Die," "Wonder Woman 1984's" description on Wikipedia suggests "select sequences" will be shot using the format. Again, it does not go into much detail, nor does it need to partially considering how "Wonder Woman 1984" does not come out for another four months. Interestingly, of the three IMAX 70mm-shot films I'm talking about here, this is the only one that is supposed to be released in 3D. But I have noticed in recent years that IMAX venues, most notably the ones that I go to or happen to be close to, have toned down on the 3D craze. I almost even wonder if any IMAX theaters will be showing "Wonder Woman 1984" in 3D to begin with, but that is a mystery that shall be solved as we progress closer to the release date.
TENET (JULY 17TH)
This last film at one point WAS my most anticipated of 2020, specifically, "Tenet." If you want to know my current most anticipated film it happens to be "Dune," which comes out next December, also supposedly available in IMAX. However, at this point, "Tenet" is a close second. Why? Because it is directed by Christopher Nolan, who may just be my favorite filmmaker working today. And just like me, he sees the importance of the IMAX brand and why we should continue making and presenting movies on the clearest film formats possible. This movie, much like Nolan's previous directorial effort, "Dunkirk," is being entirely shot to be presented in 70mm, part of it being with IMAX footage. As for how much is being shot with what camera remains a mystery. I will say this though, as one of the first to see "Star Wars: The Rise of Skywalker" in IMAX, I got to witness a six-minute prologue to the film and not only does it look great on the big screen where in this case, it is completely full, it also has the sound of what could only be described as a behemoth. Plus, story-wise, it is built for the theater environment. IMDb describes "Tenet" as "an action epic revolving around international espionage, time travel and evolution." Having seen the trailer and hearing a bit about this film, it very much reminds me of Nolan's own "Inception," which too is action-based. And just like "Tenet," "Inception" revolves around the concept of time, an often-repeated idea represented in Nolan's films. "Tenet" has serious potential to possibly be this summer's biggest critical hit. As for box office, that is going to depend on certain factors including whether Nolan's name is enough to get people to flock to the theater. The film has a budget of $205 million. But this is being described as an event film, so who knows?
Of the three key films I mentioned, it is possible that "Tenet" might be the only film of said three to get an IMAX 70mm release. After all, Nolan's films are often specifically crafted for the IMAX screen and he is often associated with the brand. Even though it would be AMAZING to see Cary Joji Fukunaga's "No Time to Die" and Patty Jenkins' "Wonder Woman 1984" be released in the format in which they were shot, the directors do not have the same name power that Nolan has and there are less reports about them that have caught my eye regarding them advocating for IMAX 70mm shows or other film presentations overall. Although, Patty Jenkins also directed 2017's "Wonder Woman," which did manage to get a 70mm release. The question of whether or not we see something like this with the 2020 sequel continues to remain. Until then, audiences can at least look forward to possibly viewing these movies in what can be described as IMAX 70mm's digital equivalent, IMAX Laser.
As for other IMAX movies, "Detective Chinatown 3" was shot with ARRI Alexa IMAX Cameras, which were also used to film movies including "Avengers: Endgame." Plus, "Top Gun: Maverick," set to release this summer, has been shot using IMAX-certified Sony Venice cameras, which are capable of producing 6K images.
As for other, non-IMAX film camera-shot movies, Disney's looking to dominate once again with titles like "Mulan," Marvel's "Black Widow," Marvel's "Eternals," and "Artemis Fowl," which is based on the hit book series of the same name. If "Artemis Fowl" is successful, it could be the next big fantasy franchise in film, maybe this generation's "Harry Potter." In addition, Disney now has their Fox slate, which means they'll be inserting "The King's Man" into IMAX theaters this September. Other potential event movies include Paramount's recently mentioned "Top Gun: Maverick," the upcoming second installment to its respective franchise. Also from Paramount, "F9," the upcoming "Fast & Furious" installment set to return to the world of fast-paced car action this time featuring prank call meme John Cena (Playing with Fire, Blockers) as main character Dominic Toretto's brother, and Warner Bros.'s "Godzilla vs. Kong," where two iconic titans collide.
Now, something feels weird. We're in a new decade, we're seeing new movies, but NO "STAR WARS" FILMS. Every year since 2015 has brought movie audiences everywhere the introduction of a brand new "Star Wars" story, whether it is in "The Skywalker Saga" or a spinoff like "Rogue One" or "Solo." Now that we are here in this extremely odd reality, I am willing to accept it, and I say that as a "Star Wars" fan. After all, one of the problems I have had with Disney's ownership of "Star Wars" is that they essentially milked the franchise to the last drop. This resulted in seemingly rushed projects and ideas that I never specifically expected or wanted to see out of the franchise, most notably "Solo." Will this hurt the IMAX brand? Well, having a "Star Wars" film during the year definitely helps any brand. But, given how DC has a couple films this year, given how Marvel has a couple films this year, the nerd demographic will probably still flock to multiple potentially popular titles.
In other news, IMAX has something significant coming in Australia. For those of you who don't know, one of IMAX's most historic venues lies in the city of Sydney. IMAX has numerous venues across the continent, including one in Melbourne which happens to be one of the company's all-time largest screens (105 ft x 75 ft). However, Sydney's IMAX shut down during the previous decade for some time, with news coming in about it being demolished. With that, came the loss of IMAX's then largest screen (117.2 ft x 97 ft). Although, the Sydney IMAX was scheduled to reopen sometime in the future, with an even bigger screen that will still break the record as IMAX's most massive venue. As revealed on imax.com.au, the new venue will feature IMAX's laser projector, which is capable of digitally projecting images in 4K, plus their 12-channel sound system. While I am intrigued by the new setup, this does raise a question. Will the Sydney IMAX continue to play movies in IMAX 70mm? After all, they've had a film-based projector throughout the existence of the city's original IMAX theater. There is not that much of a suggestion as to the new IMAX having a film projector. Still located in Sydney, as recently suggested, the new cinema will be a part of The Ribbon, an ongoing development project where the IMAX will connect to a W Hotel. Also around the area, there will be multiple retail and restaurant options.
We'll be back, late 2020. -Miya Spears
IMAX has a somewhat big year ahead of them. Right now, "Birds of Prey" is reportedly going to end up having a disappointing opening weekend, but if it does not do as well as Warner Brothers would hope, there are opportunities for them, along with IMAX as a whole, to bounce back. Between the technology, the movie selection ahead, and more, the company will continue doing what they can to let viewers follow one of their company slogans, "think big."
Thanks for reading this post! I just want to announce that my next review is going to be for the new DC film "Birds of Prey," which coincidentally, I just saw in IMAX! Who knew? I'll have my review of the comic book flick at some point, but as for when exactly it'll be posted is a mystery, because as of now, most of my time and dedication to this blog is being centered towards THE 2ND ANNUAL JACKOFF AWARDS, my second time doing an award show, and my second time using a crappy title! If you want to complain about why your favorite movie did not win Best Picture, fine! Be that way! OR if you want one of these ten movies to win, click this link to enter the official voting form for this year's Jackoff Best Pictures nominees. UNLESS OF COURSE, YOU ALREADY VOTED. But if you want your movie to win, make sure you vote by the end of Saturday February 15th, otherwise the voting closes and you will forever remain voiceless.
Tune into the 2nd Annual Jackoffs on Sunday February 16th only on Flicknerd.com!
If you want to see more content like this including reviews, countdowns, and more of my crazy opinions full of absolute entitlement, be sure to follow Scene Before either with an email or WordPress account (if you want the ability to like and comment)! Also, check out my Facebook page! Because if you don't, Mark Zuckerberg will flip a table. I want to know, are you planning on seeing any films in IMAX this year? Have you seen any films in IMAX so far this year? I just saw "Birds of Prey" in the format, but I guarantee you that I have more IMAX experiences up ahead, especially with these IMAX-shot movies coming out. Let's make it big this year, let's do this! Scene Before is your click to the flicks!