AND NOW… A special 45 second preview of The 2nd Annual Jackoff Awards!
*All copyrights belong to their respective owners*
Now with that out of the way, let's talk about movie that even its director knows might stray away from award territory!
"Damned!" is directed by James Murray, who also has a role in the film as Judas. This film has a cast including Ronney Ascher, Marti Cooney (The Thing About My Folks, Lie Down with Dogs), Matthew Glass (Blood Done Sign My Name, SK8 Magic), Hank Poje (Guilty Pleasures), David Hubbell (Rockabilly Vampire, Sleepy Heads) and Jeremy Guskin (Henry Danger, Just Add Magic) and the story follows Jesus in his teen years in an alternate telling of biblical tales.
I want to get some information out of the way before diving into this review. "Damned!" is one of the earliest pieces of media with some sort of relation to James S. Murray, now famous for his presence on truTV's hit series "Impractical Jokers."
This is also a film that according to said show, Murray himself tried to hide from existence. Such a fact was stated when the film was screened to a small audience as part of one of the show's trademarked "punishments." Some would suggest that "Damned!" is nearly feature-length, clocking in just over the fifty minute mark, which is slightly longer than a typical episode for certain network TV shows.
With that being said, I figured since "Impractical Jokers: The Movie" is coming out pretty soon, I figured I'd get in the mood and watch Murr's supposed disasterpiece. Having seen it, it's not a disasterpiece. I don't even know what exactly this is.
True story about this film, it was revealed from Murray himself that since he recently graduated college at the time, his parents were going to buy him a Ford Taurus. Instead, this movie was made for about $25,000 to $30,000. This must be driving this guy nuts.
In all seriousness, this movie is not even close to being good, nor is it close to being competent. I am not sure how much training Murr has had to become a filmmaker prior to the late 1990s, but I feel like some of the basic rules of filmmaking are ignored here. There are a lot of shots in this film, most notably in the first ten minutes, that feature human subjects in center-frame, which is kind of awkward. I do not exactly feel like I am immersed into the interactions between characters because of this. Yes, as a viewer I understand the differences between characters, what they look like, that sort of thing, but there are times where shots feel like I see one person and there is a sudden morph in the next one when I see somebody else. Speaking of the opening scene, there is an action sequence that takes place that may be the weirdest in history. Between the handheld, in-your face punching shots, the overacting, and one cartoony special effect, it all adds up to make you wonder if Tommy Wiseau secretly directed this!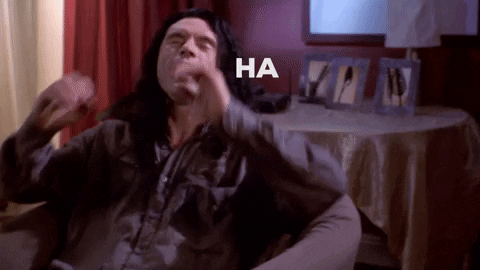 Oh hai Jesus!
I should point out that the one of first lines of this film is a forced utterance of the phrase "Jesus Christ!" Congratulations, "Damned!" You have joined Fred Durst's "The Fanatic" in the ranks of the oddest opening film lines ever!
The bewildering and odd action continues to the film's culmination, which for the select few who currently intend on watching "Damned!" in the future, I won't spoil much related to it. I get that this film is lower in its budget compared to many others, but hearing the song that played in the opening titles also play in the final action sequence almost felt too repetitive. This may be a fortunate reality we're dealing with here, and I think James Murray himself will be proud of me for saying this, I do not think I'll remember the climactic action sequence all that well. Only time will tell though…
Let's talk about Christ himself. Obviously this is not the Christ many followers will look up to. Jesus in this film is sort of whiny, and occasionally so in a over the top manner. The first scene in this film where we meet Jesus involves him finding out he is adopted. Later on in the film, this brings in an important point to the story, where Jesus has a meeting with God, his real father. This movie barely has a concept of time. It describes events that happen through white text on black backgrounds. But it takes about fifteen to twenty minutes of runtime to get from the exposition of Jesus finding out he is adopted to personally meeting with God. I would imagine that not that much has happened in that time, at least that is what the movie makes it feel like, and Jesus may still be dealing with these newfound internal thoughts of his. I found myself bewildered as soon as I heard God say "Are we gonna start this again?," once Jesus refuses to call him dad? Did the people of Earth suffer brain damage? Is God suffering from brain damage? AM I SUFFERING BRAIN DAMAGE?!
One of the aspects that kinda sorta maybe ties this film together is that the main story often cuts away to this show about Bible Mysteries and how it tries to solve various myths. "Damned!" is the kind of movie that I would consider to be so bad that it is full of cheese, and part of it has to do with this quirky show that has this overacting host who tries to emphasize how bold he is, but it almost makes me wonder if seeing stuff like this takes away from the actual movie. Maybe it kind of ties everything together, but for some odd reason, it does not feel like it belongs in the final product. It feels slapped together and randomly inserted at various points, almost as if "Damned!" really was two different movies in one and it has multiple personality disorder.
I also want to point out one of the funnier aspects of the film, maybe not if you are some random viewer who tunes into this, but it could get a laugh out of you though. For those of you who watch "Impractical Jokers," which as mentioned, Murray stars in, you may know that one of the four Jokers goes by the name Sal Vulcano. Guess what? He's in this movie! Yeah, he plays a character by the name of "Lawnmower Boy," who is basically a random third party observer of the main action. Just a little factoid for those who wanted to know. His role does not really stand out in the film, but it honestly makes the film slightly funnier than Murray probably intended that it should be in the beginning. What makes this even funnier is that the color scheme and background on Vulcano's end feels a bit depressing and out of place compared to the slightly less depressing background on the other characters' end.
Speaking of interesting performances, one of the characters in this film goes by the name of Herbie and I don't know what exactly James Murray happened to be thinking when drafting this character. I can honestly imagine him in front of a typewriter going "I'm going to write a guy who gets excited over breakfast being the most important meal of the day and random bowling balls!" To say that HE of all people happens to be the most cartoon-like of all this movie's characters is actually kind of insane. It's almost unbelievable!
Even though I have decided on my final thoughts on "Damned!," there is a part of me that does not entirely know what to think of it. I say so because "Damned!" is different from some bad movies I have seen. Films like "The Haunting of Sharon Tate" made me feel gross. Films like "Batman & Robin" made me laugh for the wrong reasons. Films like "Cats" made me nearly fall asleep. Films like "The Emoji Movie" made me feel angry. Granted, all those films are more than an hour long, and this thing barely passes fifty minutes, but those films all made me feel something for however long they went on. "Damned!" on the other hand made me feel nothing. I just watched in awe of the sheer madness of whatever it was that was happening on screen, but rarely had I experienced any full emotional outburst or experiential feeling inside me. And the reason why I can sum that up to be the case is because the film does not lend itself to being one thing. Is it a Bible mystery movie? Is it a teen Jesus movie? Is it a comedy? Is it an action flick? I do not know! If James Murray has an answer to this, please tell me! IMDb defines it as a comedy, but was that Murr's vision? I want to know!
In the end, "Damned!" is… Something. I don't even know what! All I know is it's not good! I almost wish I was a part of the screening Murray experienced against his will in the mid 2010s just to experience what the atmosphere must have been like. This is a film with some of the most mind-numbingly terrible acting I've seen, some of the worst framing I have seen, and some of the worst writing I have ever seen! And I will say I am glad that Murr himself realizes that this film is what is, a disaster. He even suggested that if he were to go back in time, he would have taken the Ford Taurus. In fact if you look at the poster I showed at the beginning of the post, the top says "A JAMES MURRAY MISTAKE." For all I know, maybe this film was not a mistake. Because what would have James done with the car? Use it to move away from New York? If that were the case, maybe "Impractical Jokers" would have never happened. So for my sake, I think that is one of the biggest positives I can say about "Damned!" But still, this is f*cking horrendous. "Damned!" is a film that is like those easily viewed neighbors you go by every day on the train. You don't know why you're looking at them, but somehow you are. You don't know what to feel afterwards, but mission accomplished. I'm going to give "Damned!" a 1/10!
Thanks for reading this review! TOMORROW, FEBRUARY 16TH, IS A BIG DAY! That's right! The 2nd Annual Jackoff awards are here! By the way, as of this post's publication, VOTING FOR BEST PICTURE is open for less than SEVEN HOURS. Once the clock hits midnight on February 16th, voting is CLOSED! If you have yet to vote for Best Picture, this is your final chance!
Also, if you are an "Impractical Jokers" fan, I should have you all know that this Thursday is the premiere of "Impractical Jokers: The Movie" in select theaters, and I am going to be at the first show in Dorchester, MA! With that in mind, I will have a review up very soon! Also, be on the lookout for my reviews for "Birds of Prey" and "Sonic the Hedgehog." Be sure to follow Scene Before, otherwise known as flicknerd.com, if you want to see more great content! To do so, subscribe via an email or a WordPress account! I want to know, did you see "Damned!"? What did you think about it? Or, are you going to see "Impractical Jokers: The Movie?" Let me know down below! Scene Before is your click to the flicks!