"Dolittle" is directed by Stephen Gaghan (Gold, Syriana) and stars Robert Downey Jr. (Iron Man, Chaplin), Antonio Banderas (Interview with the Vampire, Shrek 2), Michael Sheen (Frost/Nixon, Masters of Sex), Emma Thompson (Saving Mr. Banks, Late Night), Rami Malek (Bohemian Rhapsody, Night at the Museum), John Cena (Trainwreck, Playing with Fire), Kumail Nanjiani (Men in Black: International, Silicon Valley), Octavia Spencer (Gifted, Hidden Figures), Tom Holland (Spies in Disguise, Captain America: Civil War), Craig Robinson (Last Comic Standing, Knocked Up), Ralph Fiennes (The LEGO Batman Movie, Skyfall), Selena Gomez (Monte Carlo, Wizards of Waverly Place), and Marion Cotillard (Allied, Inception).
This film is the latest reboot to the "Doctor Dolittle" intellectual property. This time around, Robert Downey Jr. plays the man who can talk to animals and it follows him in a story where a Queen is dying and the only way to save her is to go on a journey to find a healing tree. On said journey, he is joined by his fellow animal friends and a new human apprentice (Harry Collett).
I have no memory of watching any previous material from the "Doctor Dolittle" franchise from beginning to end, so this was sort of my introduction to this world on film. Granted, I knew about about the character, I knew the whole thing about how the character can talk to animals and said animals do not spend too little time making a presence for themselves. I had the basics down, but for this movie, I was getting a new experience, one I never really had before.
But just because my experience was new, does not mean it was enjoyable. If "Cats" made me never want to ever interact with a feline ever again, then "Dolittle" has officially destroyed any chance I previously had of wanting to so much as think about any animal in existence. Thankfully, unlike "Cats," which I praised for the CGI *at times*, the effects in "Dolittle" are a lot less unsettling, and a bit more satisfying to look at. But if Robert Downey Jr. is going to continue doing films like this after throwing in the towel with the MCU, movie audiences everywhere are in for a world of pain.
Granted, I will say, one of the interesting things about this film is that Robert Downey Jr.'s wife, Susan Downey, is a producer on the film. Plus, the two have kids, and it was just revealed on a clip of "Today" that this was the first premiere that they were taken to. After all, unlike most of the movies that Downey Jr. has done recently, which have been PG-13, "Dolittle" is PG. If "Dolittle" was a chance for two related people to work together, it may sound sweet, but quality should ALWAYS come first. This is why I get worried whenever Melissa McCarthy and her husband, Ben Falcone, are doing a project together, because statistically speaking, they are not usually that well-received. Granted, maybe I am getting a little bit more apprehensive than I really should because the Downey team are also working on a film together to be directed by Richard Linklater, who also directed "Boyhood," which even though I have not seen the film itself, I know enough about it to realize how innovative and groundbreaking of a film it really is.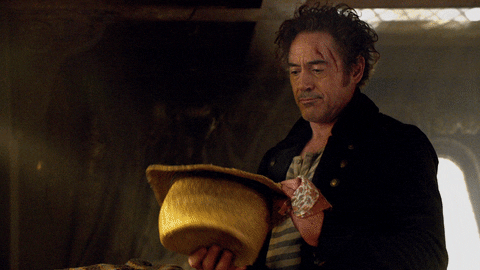 As for Robert Downey Jr.'s performance, I could tell that maybe there was some effort put into it, but holy mackerel, that accent sounds like crap! It almost sounds as if Downey was doing a really bad impression of Bilbo Baggins from "The Hobbit!" It's overemphasizing in how bold it is supposed to come off and unfortunately, it makes me think Robert Downey Jr. at one point must have gotten acting lessons from a ship-sailing pirate.
Speaking of Robert Downey Jr., there is a point in this movie where he says a line where he basically invaded my mind and snatched an idea out of it. Now I know this is a kids movie, I know it is a family movie, some people will tend to say that these types of movies can get away with a few things here and there, cause ya know, kids just want to be entertained. I think that is a cop out of an excuse for a least a good portion of how many times such a thought is uttered. But what I find hilarious about this movie's script is that there is a point where a bunch of characters are in a room together and Dolittle is basically providing a blueprint of his plan to save the Queen, and there is a point where he has to point out how preposterous his plan sounds.
Shut up, movie. Shut up.
The CGI in this film is not half bad, but that's something I'd come to expect at this point, I'm willing to bet that maybe if this came out in the past decade or maybe sometime prior to say 2016's "The Jungle Book," this could be like another "Avatar." Granted, if it came out in 2009, which is when "Avatar" came out, it probably would be just another movie, but this feels like a movie that would have probably worked as an experiential technological achievement from the 2000s, but since it came out in 2020, it needed something more.
I do not want to provide too many spoilers for this film, for one thing it just came out, and I imagine there are some people, not everybody, but some, who may have sort of a nostalgic attachment to the "Doctor Dolittle" IP. Out of respect for those people, this review is as spoiler-free as I could possibly make it. With that being said, the climax of this movie delivers one of the most infuriatingly off-putting gags ever put in a kids movie. There is a scene that I imagine young kids will probably get a kick out of, but I thought was the dumbest thing on the face of the earth. It involves farting. That is all I will say. Oh, and speaking of which, the humor in this film is as stale as whatever the latest pop song that always plays radio happens to be! Not all the jokes stood out, but when a joke did, it made me hate my life and everything in it. I am a bit young to have kids, but if I ever did have kids, this movie would probably be banned from movie night. If a find a DVD copy of this thing in the house, chances are I'm going to throw it through the window and break the glass. Any movie that has a scene containing a barely understandable human being playing chess with a gorilla who shows his ass as a way of insulting his opponent is officially on my eradication list.
Ironically, there is a song at the end of the film by Sia. I do not have all that much to say about the song itself, but apparently, in this attempt to recreate "Doctor Dolittle," the song that plays is called "Original." This world is becoming increasingly dumber, and there needs to be a cure for this combined dumbassery.
In the end, "Dolittle" just… did little to leave me happy. Will kids like it? Probably if they're under maybe 10 years old. But I don't think that this will be a film that families will go to and endlessly remember and quote for the rest of their lives. If anything, this is going to be a film that kids will watch, enjoy, and either move onto the next thing or continue watching until they grow out of it. "Dolittle" as a whole is just boring, formulaic, and none of the iconic names in the cast can save this mess! Robert Downey Jr. in this movie may not be a people person, but now after coming out of "Dolittle," I have reevaluate my respect for the art of film and ask myself whether or not I am a movie person at this point. I am going to give "Dolittle" a 2/10. Now while I don't see Universal Pictures dying a horrible death these next few months or anything, this is not the best of times for them. They just did "Cats," which was awful, and apparently this is one of their next big releases! As one who enjoys Universal's movies, I wish them luck during this dire time.
Thanks for reading this review! I just want everyone to know that my next review is going to be for Guy Ritchie's "The Gentlemen," which I just saw at an advance screening aaaaaaannnnnd… There's too much to talk about. I'll save my thoughts for the review. That's all I'll say. Be sure to follow Scene Before either with an email or WordPress account so you can stay tuned for more great content! If you want to leave a like or comment, make sure you have the proper account credentials, and speaking of liking, why not hop over to my Facebook page and give that a like too? I don't see any reason not to! I want to know, did you see "Dolittle?" What did you think about it? Or, what is your favorite "Doctor Dolittle" movie? Let me know down below! Scene Before is your click to the flicks!