*SPONSORSHIP ALERT* (although nobody's payin' me)
Before we dive into my review for "Pacific Rim: Uprising," let me just take a moment to ask you, how ya doin'? How's life? What's going on? If it were around this time frame in 2016 and you asked what a couple named Genevieve and Paul what's going on, one of them might respond saying, "A ton of s*it." That's because at the time, they were trying wicked hard to make a kid, but the overall task of doing so was an absolute nightmare. All of this is truthfully documented in their new web series, "What the IVF?!"
"What the IVF?" is about Genevieve and Paul's journey to having a baby, where they discover that having a child is not all fun and games, it's work! Not because of the child, but because they can't make the child! Watch the couple as their life gets serious and begins to change dramatically as they face several challenges! Sex becomes less than sexy! Math apparently is now useful in real life! Trips to visit doctors are now more nerve-racking than ever! And needles are nothing but ungrateful sons of bitches! Then again, when were they not? Those pinches are killers! You can watch all of the content posted on the "WTIVF?" YouTube channel simply by going through the links down below and clicking on the one to the YouTube page. And speaking of YouTube videos, "WTIVF?" has an episode posted earlier this week! I won't go into too much detail, but Genevieve refers to it as her favorite episode so far and as the video that highlights the moment that probably most dramatically changed her life. Be sure to watch the video listed above if interested, subscribe to the YouTube channel, hit the notification bell, that way you can get the latest "WTIVF" content before your friends who aren't subscribed, who in which case, may become your enemies because they aren't subscribed. Also, check out their website, and their other online pages such as Twitter, Facebook, Instagram, all down below! Also, be sure to tell them that Jack Drees sent ya!
WTIVF? WEBSITE: http://www.whattheivf.com/
WTIVF? YOUTUBE: https://www.youtube.com/channel/UCILXSidkzWgwrQ5Oa1py78w/featured?disable_polymer=1
WTIVF? TWITTER: https://twitter.com/WTivF
WTIVF? INSTAGRAM: https://www.instagram.com/wtivf/
WTIVF? FACEBOOK: https://www.facebook.com/What-The-IVF-288868031634125/
"Pacific Rim: Uprising" is directed by Steven S. DeKnight and stars John Boyega (Star Wars: The Force Awakens, Detroit), Scott Eastwood (The Longest Ride, Suicide Squad), and Cailee Spaeny. This is the sequel to 2013's "Pacific Rim," directed by Guillermo del Toro, and if you are keeping up with the Academy Awards, this guy recently won Best Director for "The Shape of Water," a movie which also won Best Picture. When it comes to "Pacific Rim: Uprising," it revolves around John Boyega's character of Jake Pentecost, the son of Stacker Pentecost, played in the first movie by Idris Elba. His character teams up with another character from the first movie, Mako Mori, played in the first movie by Rinko Kikuchi, and leads a team of new Jaegar pilots against a new Kaiju threat.
As far as the first "Pacific Rim" is concerned, I'll say I personally enjoyed it. I saw it in IMAX when it came out, I had a good time, I got to see some kick-ass robot/monster fights up on the big screen, it was pure popcorn fun. I got connected to the human characters a little bit, the music was not half-bad, and Idris Elba gave a speech to remember.
"Today. Today… At the edge of our hope, at the end of our time, we have chosen not only to believe in ourselves, but in each other. Today there is not a man or woman in here that shall stand alone. Not today. Today we face the monsters that are at our door and bring the fight to them! Today, we are cancelling the apocalypse!" –Stacker Pentecost
I've only seen the movie twice, with last time being a month ago, but no matter when I watch it, I can imagine myself getting goosebumps just listening to that. The first "Pacific Rim" is definitely not a masterpiece, but certainly a good time. This movie, is the complete opposite. Not the opposite of definitely not a masterpiece, but the opposite of a good time.
Speaking of movies that aren't masterpieces but also good times, remember "Independence Day?" That's a fun movie. Remember the sequel? Yes? Unfortunately, I do too, I had to review that crap for y'all. I'm gonna go as far to say that "Pacific Rim: Uprising" is this year's "Independence Day: Resurgence." It's an attempt to kickstart a new franchise and rely more on spectacle than proper storytelling. Ask me, do you remember many likable, intriguing moments from "Independence Day: Resurgence?" I don't. And you know what? I'm gonna say that personally I found this movie to be worse than "Independence Day: Resurgence." Heck, I watched the first movie literally the day before I went to see the second one in theaters. Someone I had a connection with wanted to see the then new "Independence Day" movie, and I was unfamiliar with the first one, so I watched it on HBO for free, but it was something that I just had on in the background. I actually had attention directed towards "Pacific Rim" and personal enjoyment from gazing at the pixels on the screen. "Pacific Rim: Uprising" currently has a 6/10 on IMDb, and it is receiving more positive ratings than negative ratings, so it clearly has people who like it. And I will say, I imagined in my head that there are certain types of people who will watch this movie and have a good time. Let's go through the list.
GROUP 1:
Fans of the first "Pacific Rim" who don't care what others have to say and are just happy this movie exists.
GROUP 2:
Fans of the first "Pacific Rim" who clearly know the lore or are interested to see what other lore can be developed.
GROUP 3:
Kids who like giant robots, monsters, fighting, or any combination of those things. Yes, anyone can fit in here, but I'm mainly imagining kids.
GROUP 4:
People who just want to see John Boyega in something new for whatever reason.
GROUP 5:
Judging by what I just said, I guess the select few people who happened to enjoy "Independence Day: Resurgence."
GROUP 6:
Me on Opposite Day.
GROUP 7:
Michael Bay. Just… Michael Bay.
I mean, seriously, how does this not feel like "Independence Day: Resurgence" all over again?! This movie's a sequel to a film with a character who some might say gave a terrific speech. A black character who is not present in this movie has a kid who plays a big part instead of them. Both sequels take place in a future far from its predecessor. Oh yeah? And did I mention that both movies suck? That's another thing too, it's kind of important!
I don't care about any of the movie's characters, but since it is now a cliche for me to talk about at least one character in detail with a big fat image listed above, I guess it's time for me to inject myself with the poison in front of my ugly face. Let's talk about John Boyega's character of Jake Pentecost. Gah! Why do I have to do this?! I don't even monetize this site! It's not even worth it! Alright, just for the sake of having a good review, let's tackle this bitch. Pentecost is a fine character, and by fine I mean, you don't want to kill him by the end of the movie. But probably the main reason you'll end up liking him or caring about him is that he's John Boyega. If you have been a fan of the new "Star Wars" movies, you might end up rooting for this character because you know he's Finn. By the time you walk out of the theater, you'll probably end up forgetting this character and go back to your life where you buy tickets for, hopefully, better movies.
Moving onto the main girl in this movie, Amara Namani, played by Cailee Spaeny, I was watching the movie and I thought to myself that she reminded me of the young girl in "Logan." I can't say too much about that though. Because to be honest I haven't seen "Logan." My comparison would be invalid given how I've only watched the film's promotional material. But from the way she looks, and seemingly, acts in the movie, I was given that thought at one point.
Let's talk about Charlie Day in this film.
More like… Charlie Good Day Sir!
Like, NO! JUST NO! NO!
WHAT! THE! HECK! DID THEY DO WITH HIM?!
For those of you who haven't watched the first movie, Charlie Day was a character in it, and he went by the name of Newton Geiszler. He was a wacky scientist who studied the Kaiju during the whole war. Take Emmett Brown from "Back to the Future," put him in a blender with JJ Abrams, maybe a pinch of the Cowardly Lion from "The Wizard of Oz," and add in the voice of like, I dunno, let's just say Michael Scott from "The Office," and you get Newton Geiszler. I won't talk too much about him in this movie, because I want to stay out of spoiler territory, but there was a point where the character of Amara was getting on my nerves a little, then all of a sudden something happened with Newton, and then my brain tried to find all the ways it could electrocute itself. Its reaction might as well have been this GIF featuring a clip from "Family Guy."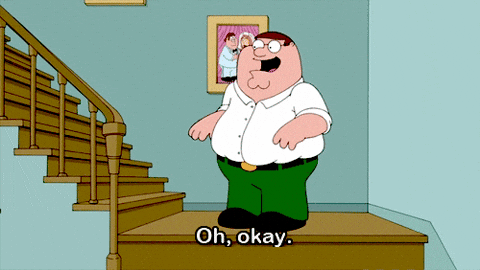 Another gripe I've got with this film is that it's just boring as f*ck! I mentioned how this movie relies more on spectacle than proper storytelling, the story itself bored me, and so did the character interactions. I'll be honest, I'm a defender of the first Michael Bay "Transformers" film, and I didn't mind the human characters. While in that movie, you came to see giant robots fighting and may have been disappointed due to forced human character storylines, a movie such as the one I saw, had us wanting to see giant robots and monsters fight, but also made me as an audience member suffer through unlikable humans communicating with each other. In fact, one thing that I'll point out about the first "Pacific Rim" is that while the movie isn't exactly reliant on you giving a crap about the characters, I still cared about them and possibly rooted for them. Here, I wasn't doing that. If somebody received any sort of pain, I wouldn't have cared. This movie felt too extended and dull, and it ended up being an hour and fifty-one minutes. There are so many movies that are longer than this pile of garbage that are better and more worth your time! Let's give a list!
2001: A Space Odyssey
Citizen Kane
Jurassic Park
Every Lord of the Rings movie (including Hobbit installments)
Star Wars
Braveheart
La La Land
Interstellar
Titanic
V For Vendetta
The Dark Knight
The Matrix
Lincoln
The Fifth Element
The Big Sick
Kingsman: The Secret Service
Ray
Once Upon a Time in the West
Metropolis
12 Years a Slave
Inception
The Martian
And you know what? I don't know how long this statement will hold up in my book, but at this point, I might say this is worse than all of the Michael Bay "Transformers" films.
This movie isn't all negatives, in fact, one positive I can actually give the movie, is some of the cinematography from Dan Mindel, cinematographer of such films including "Star Wars: The Force Awakens," the 2009 "Star Trek" reboot, and "John Carter." Now don't get me wrong, it's not the best I've ever seen, but it almost comes off as one of the only things that can make this look like a film that is trying. But unfortunately, that's sometimes ruined by occasional choppy editing! How wonderful! I didn't come to the movie to admire the cinematography and editing, but it doesn't mean both of those things can be bad!
In the end, when I'm talking about a big blockbuster that is SUPPOSED to entertain you and have you enjoy yourself while munching on popcorn for a couple of hours, and the only positives that come to mind include some of the shots and maybe tads of humor, that's an epic fail! I really wanted to like the first movie. When the first trailer came out, it sold me. It prepared me for what was to come. I was somewhat pumped. The future bits of marketing were not as great, but I thought maybe the movie could be a chunk of fun. I think I'd honestly have more fun flying Spirit Airlines than I would watching this movie. At least Spirit Airlines, as much as they suck, and trust me, THEY SUCK, can take you to places you want to go. If I wanted to see all sorts of pretty lights and maybe watch some drunkards duke it out, Spirit could take me to Las Vegas. If I wanted to go see one of my best friends in person or make fun of the way people in Texas talk up close, Spirit could take me to Houston. If I bought tickets to go to a convention that might as well be an excuse to pay lots of money to stand in line after line after line, Spirit could take me to San Diego. "Pacific Rim: Uprising," also took me to a place, and that place, is hell. I'm gonna give "Pacific Rim: Uprising" a 2/10. I admire John Boyega, and continue to hope some brightness shines throughout his career, but to say that he may have just been shown in a movie that is possibly worse than "The Circle," is just unfathomable.
Thanks for reading this review! Next week I'm going to have my review for "Avengers: Infinity War," because I already have tickets to see the movie opening night, and probably right after I get done watching that, the first thing I'll do is get right in front of my computer, type like a maniac until perhaps three o'clock in the morning, and post my review for y'all to read! By the way, I'll warn you in advance in case you read that review, I'll do my best to make the review spoiler-free, for the sake of not feeding the trolls who throw spoilers around the Internet, and to avoid ruining the experience of going to see "Infinity War" for those who aren't seeing it as early as I am. Not to mention, according Anthony and Joe Russo, the two directors of "Avengers: Infinity War," Thanos demands my silence, so I might as well respect Thanos' wishes.
#ThanosDemandsYourSilence
Also, stay tuned because pretty soon, I'll have my review up for "Mission: Impossible II." This review will be up by the month's conclusion, and it will be the second entry in my "Mission: Impossible" review series leading up to "Mission: Impossible: Fallout." So look out for that! Stay tuned for more great content! I want to know, did you see "Pacific Rim: Uprising?" What did you think about it? Which "Pacific Rim" movie was better? The first one or the second one? And since it's relevant, did you see "Independence Day: Resurgence?" Leave all your thoughts down below, and PLEASE remember, if you are making an early review of "Avengers: Infinity War," #THANOSDEMANDSYOURSILENCE. Scene Before is your click to the flicks!