Hey everyone, Jack Drees here! As of right now, I am working on a couple reviews for Scene Before, but I had to make this because it is too important of a topic to ignore. But before we get on with this, I have two new reviews coming soon. My first review will be for "The Last Vermeer," starring Guy Pearce which is in theaters now. Also, I will be reviewing "Half Brothers," which opens this weekend. I saw the film early, so look forward to my reviews on those two films.
One of the few streaming services I have chosen to invest time and money into is AT&T's HBO Max. Said investment has been… okay. Despite a decent lineup, things did not get off to a great start. But when I saw one of the service's first exclusive films, "An American Pickle," I could tell that movie-wise, this service had potential.
…Then we got "The Witches."
And "Superintelligence." Oh, please die.
Although one hint of news that shocked the world back in November is that "Wonder Woman 1984" would come out this Christmas both in theaters and HBO Max at no additional cost to subscribers. While I would have loved for this film to get a traditional theatrical run, where it joins HBO Max a little less than a year after its release, I am personally glad we are getting the film to begin with, and that it is going to theaters at all. In a year where every other blockbuster aside from "Tenet" got delayed, it is nice to see a true experiential film come to the big screen wherever these screens are open. I was fine with this, because a lot of people are going to stay home for Christmas because they might think it is safe from bad weather and conditions, not to mention COVID-19, but you also have families and individuals who may want an excuse to leave the house. In fact, I'm a part of one of those families, because I already scored IMAX tickets to see "Wonder Woman 1984" with my father and sister on December 27th, two days after Christmas. There is no way that this new technique will stop me from going to the theater.
But now… We have an expansion of this idea.
What was going to be a one-time thing, is now going to be a repeated effort. Because throughout 2021, the entire Warner Brothers lineup will premiere in theaters and on HBO Max on the same day. Now, keep in mind, if you plan to watch these movies on HBO Max, read the fine print.
These films, and this also includes "Wonder Woman 1984," will stream on HBO Max for 31 days after its debut, at which point it disappears, finishes its run in theaters, goes to PVOD and physical media, and eventually returns to HBO Max and related channels. So just because these movies will come to HBO Max, does not automatically mean they will stay on HBO Max. Also, like "Wonder Woman 1984," the Warner Bros. 2021 films will not supply an additional charge. If you are a subscriber, you do not have to pay extra.
Again, this is for the entire 2021 lineup, so this is a lot of films. Part of the list includes "Tom & Jerry," "The Suicide Squad," "Matrix 4," Lin-Manuel Miranda's "In the Heights," and Denis Villeneuve's "Dune."
A lot of people who follow the industry claim that this is the nail in the coffin for movie theaters. As one who unapologetically loves the movie theater industry, that is a sentiment I have never wanted to hear. It is still only hours after this news, it is not even a full day yet, but I have had some time to gather my thoughts on this.
There is a part of me that absolutely loves this idea, and there's a part of me that absolutely hates this idea. But just like certain events in "Tenet," this full love or hate has not happened yet. Right now, my mind is MOST LIKELY somewhere in the middle.
For starters, we are in the middle of a pandemic. Whether you believe it or not, it is the truth. Yes, I continue to go to the movie theater during a pandemic. Some people may question why I do that. That is a personal choice, and I will say that if I were not doing this blog, I may not stop going, but I'd probably go less. But for those people who want to stay home, they have likely been in front of their television for extended periods watching content like "Tiger King," "The Boys," "Raised by Wolves," "The Mandalorian," and "The Queen's Gambit." There have been several television programs watched throughout this pandemic, because people have been stuck at home in need of something to do. There has been plenty of television, but the same cannot be said for movies. Early on we got animations like "Trolls: World Tour" and "Scoob!" on premium video on demand services. These were serviceable options for families. And yes, we've gotten more options like "The Witches" and "Borat Subsequent Moviefilm" but if you looked at the 2020 cinematic calendar pre-pandemic, you'd know that these two films probably would not crack the top 10 biggest films of 2020 list. "Wonder Woman 1984" is a perfect example of a big movie that will reach a wide audience. Comic book fans, families, women, and people who want to gaze at Gal Gadot for a couple hours. Admit it, come on.
You know you love her.
It's Christmastime, families are together, even if it is in smaller groups, and they might want something to do. This is a great idea for consumer choice. If you want to stay home, or if regulations require you to remain at home, HBO Max is a great idea. Otherwise, it would not be a bad idea to experience "Wonder Woman 1984" the way in which director Patty Jenkins likely intended.
One reality that is becoming increasingly likely is that there is a light at the end of the tunnel regarding COVID-19. The answer as to when precisely the COVID-19 pandemic will end is a different story. We already have multiple vaccine candidates from outlets including Pfizer and Moderna. As to when they will be distributed to everyone, that is a mystery. Cases around the world are spiraling out of control, and humanity's habits over the winter will likely determine whether we see a sharp increase or decrease in cases and deaths. So in a way, I understand Warner Brothers for wanting to cater to all markets at this time. But at this point, I think they are putting a lot of eggs into the HBO Max basket, and I honestly wonder if their investment will pay off. Having "Wonder Woman 1984" on the HBO Max service is a great way to get a bunch of new subscribers, and having new big movies every other week will only keep said subscriber base growing. However, this is only me theorizing at this point, because we have not seen how "Wonder Woman 1984" has done yet. Because I believe it is inevitable that "Wonder Woman 1984" will make less money at the box office than its predecessor. But how much less is another question. I do believe it will make at least $100 million worldwide. There are enough theaters open to warrant such returns, even with major areas such as Los Angeles county in California unlikely to fully reopen anytime soon. Despite how some will claim that "Tenet" is a movie *made for theaters*, which having seen it, it definitely is, "Wonder Woman 1984" is likely going to reach a wider demographic.
I should also point out, that even if the movie does not do well in the United States for whatever reason, not every country has HBO Max, so that might prompt more people to go the theater. But let's talk about that. Because when this unprecedented release idea was announced solely for "Wonder Woman 1984," chains like AMC, Regal, and Cinemark announced they were onboard. This is despite some outrage at a deal made earlier this year between AMC and Universal Pictures that allow their movies to play within a shortened theatrical window, at which point they make an early streaming debut.
Guess what? AMC does not approve. Here's some words from the current CEO of AMC Theatres, Adam Aron.
"These coronavirus-impacted times are uncharted waters for all of us, which is why AMC signed on to an HBO Max exception to customary practices for one film only, Wonder Woman 1984, being released by Warner Brothers at Christmas when the pandemic appears that it will be at its height. However, Warner now hopes to do this for all their 2021 theatrical movies, despite the likelihood that with vaccines right around the corner the theatre business is expected to recover. Clearly, Warner Media intends to sacrifice a considerable portion of the profitability of its movie studio division, and that of its production partners and filmmakers, to subsidize its HBO Max start up. As for AMC, we will do all in our power to ensure that Warner does not do so at our expense. We will aggressively pursue economic terms that preserve our business.
We have already commenced an immediate and urgent dialogue with the leadership of Warner on this subject. As this issue gets sorted out, we are nonetheless encouraged that vaccines protecting society at large against the coronavirus are very much at hand. So, it is our expectation that moviegoers soon will be able once again to delight in coming to our theatres without any worry — viewing the world's best movies safely in our big seats, with our big sound and on our big screens."
Just to remind you, this is the same company that less than half a year ago made an asinine deal allowing Universal to avoid following the 90 day theatrical window. And sure, this deal may work right now with everything going on, but if we are to return to normalcy, this may not be finest policy to put in place. At this point I applaud AMC because not only does this go against the terms of the deal they made, but this new deal could take away a lot of money that could potentially go towards ticket sales that benefit both the studio and the theater to a degree. This will take away sales on concessions like popcorn and soda, which is where cinemas typically make their profits. In a way, I am a bit infuriated that despite Warnermedia's previously announced commitment to theaters, they are more concerned about getting numbers on HBO Max.
And I get it, HBO Max, while its launch was not a complete failure, said launch was not necessarily a success either. The service was a bit laggy, they could not get the "Friends" reunion going, in fact they still have not been able to. I'll also mention that it started off without being available on two of the main platforms, Amazon Fire and Roku, which by the way, IT IS STILL NOT AVAILABLE ON ROKU! WHAT IS WRONG WITH YOU PEOPLE?! GET A DEAL STRAIGHTENED OUT! I do not use Roku that much, but a lot of people do! Do the deal for them!
Right now, HBO Max has 38 million subscribers. While that is more than Hulu and Peacock, it is significantly less than Disney+, which honestly shocks me to no end. Because all Disney+ has done for main content since launch is "The Mandalorian" and almost nothing else! Right now, Disney+, which has turned a year old recently, has 73.7 million subscribers. One thing HBO Max has been doing right is delivering a bunch of new content both from the HBO channel and Max's personal library. Apparently that might not be enough. Maybe bringing big movies like "Wonder Woman 1984" is going to help the service get a boost. Plus, unlike Disney's previous effort with "Mulan," HBO Max will not charge $29.99 to watch the film.
In the short term, increased subscriptions sound amazing. Bigger followings are always better. And while it is highly unlikely that "Wonder Woman 1984" will make $1 billion at the box office, imagine if this sticks around. Do you think we will ever see a billion dollar film ever again? I almost wonder if we'll even see a film make half as much as that. This may start a slippery slope where movies are cheapened and less experiential. In a way, they become more like television. In this supposed future, movies are not made for theaters, they're made for home. To me, movies are experiences. Some of my most iconic memories have been through watching movies at the theater, and even though I can have fun watching a movie at home, the experience of doing so will likely fail to have a lasting impact. I may have dreaded every moment of watching "The Emoji Movie" in a theater, but at least some of the other people's reactions were something to remember it by. I now get to remember just how much I hated that movie. Another good example, "Ghostbusters" 2016. I despise that film. More than most films if I have to be quite honest. But the 3D was incredible and even though the film itself was terrible, I at least still have the memory of going. If we have a future where all Warner Bros. movies go to HBO Max, we may simultaneously have a future where we watch one movie, digest it, then forget about it until we move onto the next thing.
So now I ask the big question, does this equate to the death of movie theaters? I cannot say yes. But I also cannot say no. I'll bring in the overused phrase, it's 2020, anything can happen. But more importantly, I do not know whether Warner Bros. is going to stick to this plan. After all, when the biggest movie theater chain in the United States arrogantly refuses these terms, that may be a sign that Warner Bros. may want to reconsider their actions.
Also, let me just say on a personal note, that one of my biggest aspirations in my life is to make a film for everyone to see together on the big screen. Either as a writer, director, producer, or a combination of those things. With an uncertain future ahead, if more people continue to stay home, and there is a greater studio effort to do duel releases or skip theaters, my dream may be dead. This is a personal aspiration, but I thought I would let you all know. The COVID-19 pandemic has canceled a lot. But I outright refuse to let it cancel my dreams.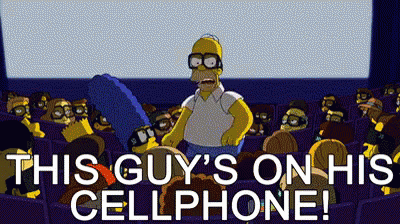 But hey, if this new deal potentially means less people in theaters… That means less morons on their phones! There's a silver lining to everything!
Let me be frank here, of all the studios operating today, Warner Brothers is arguably my favorite. When it comes to their older content, their library is enormous, while also maintaining a sense of quality. They have a steady relationship with some talented directors including Christopher Nolan, Patty Jenkins, Zack Snyder, and Todd Phillips. They own some of my favorite properties such as the DC Comics library, the LEGO movies, the "Lord of the Rings" saga, and "The Matrix." Another reason why I love them is because they have shown they are committed to the theatrical experience, and when this pandemic started, I got a sense that they wanted to keep things the way they were when we had a return to normal, or at least a semblance of that.
Just because I unapologetically adore Warner Brothers, does not mean I cannot be honest. This HBO Max move is kind of scary. Movie theaters have shown they have taken enough pain in the last number of months. I see a recovery in 2021, but there is also a chance that the results of this deal, if it continues, could be cataclysmic for the exhibition industry. This eliminates many jobs, ends livelihoods, and destroys the fabric of many communities. I would love to see a future where moviegoing returns and we can enjoy it the way we did in 2019, but I do not think we can get there if we put a bunch of big movies onto streaming, even if they are in theaters. Admittedly, this is better than what Disney+ is doing with "Soul," which is making it an exclusive on their service and nowhere else, but it is still kind of frightening as one who hopes to make movies one day.
Movies are not dead, nor are cinemas. But we live in a world where people are itching to get back to concerts, comedy clubs, and sporting events. If we can get those back with enough positive progress, I hope we can do the same for the moviegoing experience. When I saw "Wonder Woman" at a local AMC cinema back on opening Thursday in 2017, I was floored by the fact that Gal Gadot was able to carry such a big, epic, and most importantly, theatrical adventure from start to finish. That memory will stay with me until the end of time, and as we approach "Wonder Woman 1984," I hope I will have an experience similar to three years ago, and I hope other viewers will get a significant feeling out of their experience as well.
Thanks for reading this post! By the way, just a reminder that "Wonder Woman 1984" will be available on HBO Max for free as long as you're subscribed starting Christmas Day. However, if you want to leave the house, the film will be available wherever theaters are open. Be sure to follow Scene Before either with an email or WordPress account so you can stay tuned for more great content! Also, check out my Facebook page! I want to know, what are your thoughts on the HBO Max and theatrical duel release idea for the entirety of Warner Brothers' 2021 lineup? Mine are quite mixed, but I am also curious to see how "Wonder Woman 1984" will do on HBO Max and the box office, as it may play a factor into making up my mind. Are you planning to watch "Wonder Woman 1984?" If so, where? At home? At the cinema? If you are watching at the cinema, which one are you going to? Let me know down below! Scene Before is your click to the flicks!