"Star Wars: The Rise of Skywalker" is directed by J.J. Abrams (Mission: Impossible: III, Star Trek), who also directed 2015's "Star Wars: The Force Awakens." This film stars Daisy Ridley (Peter Rabbit, Murder on the Orient Express), John Boyega (Pacific Rim: Uprising, The Circle), Adam Driver (Paterson, Girls), Carrie Fisher (The Blues Brothers, Family Guy), Mark Hamill (Kingsman: The Secret Service, Batman: The Animated Series), Oscar Isaac (Ex Machina, Operation Finale), Anthony Daniels (I Bought a Vampire Motorcycle, The Lord of the Rings), Naomi Ackie (The End of the F***ing World, Lady MacBeth), Domhnall Gleeson (Ex Machina, American Made), Richard E. Grant (Can You Ever Forgive Me?, Logan), Lupita Nyong'o (Us, 12 Years a Slave), Keri Russell (Waitress, Dawn of the Planet of the Apes), Joonas Suotamo (Star Wars: The Force Awakens, Solo: A Star Wars Story), Kelly Marie Tran (Adam Ruins Everything, XOXO), Ian McDiarmid (The Lost City of Z, Sleepy Hollow), and Billy Dee Williams (Batman, Dynasty). This film is the conclusion to the sequel trilogy of the "Star Wars" franchise, bringing an end to the now trendily-named "Skywalker Saga" and follows the heroes we have come to know so far as the Resistance is dwindled. Where do they go next? Wherever they can to face off against the First Order one last time.
Oh, and of course… There's a REAL LIFE plot to this movie too! After the events of "The Force Awakens" and "The Last Jedi," audiences are divided! Between playing it too safe in one movie and trying to find unlocked paths in another movie, there is no way to impress every single "Star Wars" fan out there! So now it is the job of J.J. Abrams to bring balance to the "Star Wars" fandom and take on the near impossible task of sticking the landing in terms of directing "Episode IX."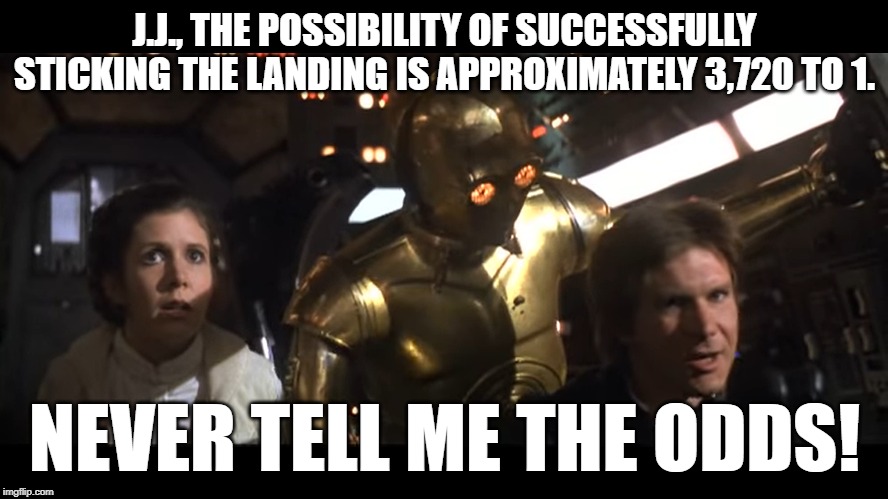 Now, for those of you who have been following Scene Before for some time, I do have to say, I make an effort to provide as little spoilers as possible for every movie review I do. There may be a case where I either have to or want to put in spoilers for one reason or another, but most of the time, I make an effort to be as secretive as possible in regards to the film's key points that could potentially alter how one would see the movie if it had been revealed to them beforehand. With that being said, this is a "Star Wars" movie. "Star Wars" is a franchise that I would be eternally heartbroken had spoilers for it come my way. I imagine most of my viewers would feel the same way. So let me just say, this is a SPOILER-FREE review. Knowing that I just saw the movie on one of the earliest showtimes the public can access, I am going to raise my shield to avoid all effects from blasters, lightsabers, pistols, force lightning, and if possible (and I'm not saying I am weak-minded), Jedi mind tricks. So without further ado, let's talk some "Star Wars."
The "Star Wars" sequel trilogy has been a mixed bag for me so far. I for one LOVE "The Force Awakens." I'm not gonna lie, it is one of my favorite "Star Wars" movies for sure. "Star Wars: The Force Awakens" was a movie I was looking forward to, saw in the theater on opening weekend, and walked out of it feeling like I saw the second coming of Christ on screen. Every now and then I'll walk out of a movie feeling something inside me that made me feel like I leveled up. That was one of them. In fact, it might even be my favorite movie of 2015. Is it a copy paste of the original "Star Wars" movie? Sure, you can definitely bring up that point. But the thing is, the movie did exactly what a film of its kind needed to do. Deliver crowd-pleasing moments, provide stunning visuals, unleash great characters, start something special, and take you away from reality. "Star Wars: The Force Awakens" was able to do that. I will admit, I liked "Episode III," in fact I personally admire it much more than most people, but as someone who looks back at the prequels as a slight step in the wrong direction, what Disney and J.J. Abrams did with "The Force Awakens" was exactly what I believe the "Star Wars" community and fanbase needed. Something familiar, but immensely entertaining.
Then we got "The Last Jedi" which was… Mediocre. Now if you have ever read my initial review for "Star Wars: The Last Jedi," you'd know I dug it. The reason being is because as much as I enjoyed "The Force Awakens," I saw it partially as a throwback. But it's a good throwback, don't get me wrong. I don't mind movies or media jumping on the nostalgia train, but I wanted something new out of this "Star Wars" trilogy that could separate them from the other two. As good as "The Empire Strikes Back" is, I was afraid that this movie, like "The Force Awakens" did with "A New Hope," would be a rehash of "The Empire Strikes Back." However, based on what the movie provided from a story perspective, that did not seem to be the case. The movie made some bold, expectation-subverting choices. While I admire director Rian Johnson for trying to take "Star Wars" in a new direction, it didn't pay off. Originally, I gave the movie a 9/10 for the steps it took in finding new storytelling paths, but as I thought about the movie more, I dug it less and less. Mark Hamill is GREAT as Luke though, I'll give the movie that. I will admit, the film is beautifully directed, it's wonderfully shot, and the visuals are sometimes incredible. But the screenplay is almost the worst in "Star Wars" history. "The Last Jedi" felt like a passion project that ended up splattering in someone's face. I will admit, as much as I don't like Johnson's vision for "The Last Jedi," I do think he is a damn fine director with the right project. He made "Knives Out," which is one of the best movies of the year, and I just saw "Looper," another film he wrote and directed, and it's nothing short of dope. I would be SOMEWHAT open to him directing another "Star Wars" project, but not writing one.
Now we're here! "The Rise of Skywalker" is upon us. I will admit, I did not have the most pleasurable thoughts going into it. But nevertheless, I scored tickets for the first show of the film at one of my all-time favorite movie theatres, so the fan inside me felt ready for this experience. I will admit, some of the trailers were really good, and part of me was curious to see how this saga will end (until Disney needs more money and they make Episode X). What are my thoughts on the ultimate story of the "Skywalker Saga?" The top of Mount "Star Wars!" The height of the force! WHAT? DID? I? THINK OF IT?
Well… uhhhh…. It was better than "Cats."
To be completely serious with you, I really enjoyed this movie A LOT MORE THAN I THOUGHT I WOULD going into it. "Star Wars: The Rise of Skywalker" is up there to me with "Toy Story 4" and "Alita: Battle Angel" as one of 2019's most pleasant surprises. I could honestly end the review by pointing out that against each and every single odd, J.J. Abrams delivered something watchable. But, ending the review here would be boring, and y'all will probably feel cheated, so let's move on.
Sticking with J.J. Abrams, he was the right choice to direct this film. I love what he did with "The Force Awakens" as mentioned earlier. And I think those who have complained in the past about "The Force Awakens," specifically about it playing it too safe might dig this movie a little more than that. Granted, this movie relies HEAVILY on nostalgia. There are many iconic themes from John Williams that are brought back, nods to past "Star Wars" films and TV programs, the return of Lando, and Palpatine is even somehow in this movie. But even with that, this movie introduces quite a few new things. I am not exactly going to go into each and every one of them, but they are there nonetheless. In fact, as someone who doesn't like "The Last Jedi," I think the thing about it that I at least appreciate is its willingness to take risks. They didn't pay off, but they are still risks. This movie was able to take me to my happy place, sort of back to my childhood, while also introducing some fresh ideas. Not all of them worked, kind of like in "The Last Jedi," but there are some that played into how fun this movie ultimately is.
One thing you are going to hear me repeat often throughout this review is that I won't spoil something, so bear with me here. But I want to mention that without going into much detail, C-3PO had a bit to do with the movie's story, and I think this may be my favorite 3PO story yet. In fact, 3PO honestly feels like a necessary character for this movie to go on. And even though he has been in just about every "Star Wars" film so far, this may be the first story where I felt 3PO's presence was required in order for certain events to take place since the original trilogy, or maybe "The Phantom Menace." I mean, most of his stories since just involved him being in the movie to have a random character be a comic relief (which he was before, but still) or just give some random perspective of what's going on. Well that, and he needs his red arm replaced. It's nice seeing him in the prequels and the last couple of sequel films, but seeing him as a core part of the story here is an utter delight, knowing the legacy this character has overall.
As for our main characters, I think Rey, Finn, and Poe, the main human trio we have come to know so far throughout this trilogy are hypnotizing to watch. Seeing them on screen again was a blast, in fact there is a scene early on between Finn and Poe that might be one of the most ridiculously fast-paced and bonkers "Star Wars" moments ever. Without saying much, it involves the Millennium Falcon. Personally, the scenes involving Rey when she was separated from her friends were a bit more fun than those between her friends. Honestly, there are a few scenes between the main trio, not every scene, but there is one that stands out in particular, where I just began to question the chemistry between them. I know that one of the key differences between this and the other two trilogies is that it is the shortest of the timelines. The original trilogy spans about four or five years and the prequels last even longer. This entire trilogy lasts about a year. It's kind of mind-boggling if you think about it. Even though you have less time to develop these characters off-screen, it still somewhat unfortunate that the movie's quality suffered as a result.
Speaking of character flaws, let's talk about some of the newer additions to the movie. I'm not gonna go too deep into the new characters, but what I can say about them is that they sort of make me reflect upon "The Last Jedi." What I mean is that whenever a new character in that movie is introduced, it takes some amount of time for me to just want them to disappear. The only new character in that film that really brought something to the table for me was the one played by Benicio Del Toro because he seemed to have some hint of swagger to him. I didn't like Holdo, I didn't like Rose (who is much better in this movie better by the way), the force kids didn't really seem to add much of anything. Kind of like that, the new characters introduced to this film were also kind of forgettable. Granted, they're better than those introduced in "Episode VIII," but nevertheless. Nobody made me roll my eyes and no one took away my dignity. Even if the new characters were not that great, you could still tell me that they were in the movie for a reason and I'd probably be on your side.
Case and point, Keri Russell's character of Zorii Bliss. As the main adventurers are in the middle of their quest, they run into this woman, thus leading to an explanation of her past history with one of the film's other characters. Again, I'm trying to be vague with this review, because knowing some people, they consider minute details spoilers, so I am going to fulfill those people's wishes. I like her costume design, and I'll reiterate, she serves her purpose when the movie needs her, but if she was taken out of the movie, I would probably not care all that much. But, movie's gotta movie.
Speaking of new characters, I also, to my disappointment, didn't like D-O, the new green droid that was introduced. I am not saying I was highly anticipating D-O to be the scene stealer of the film or anything, but if there was one character that was probably created SPECIFICALLY for this movie just to get somebody out of the house to go buy a toy, this would be the one. D-O is along for the ride, but it's another one of those characters that could literally be removed from the script and bring no negative effect to the table. Well, maybe except Disney who won't be making as much money from people who may go out and buy D-O merchandise in the meantime. It would be fine if D-O had more dimension as a character, but there's barely anything that I could say about D-O that makes him resemble a character full of personality, and full of charisma. You can make the argument that a character like BB-8 was mainly created to sell toys, but the thing is, BB-8 is charming, serves the plot very well, and doesn't necessarily feel tacked on. BB-8 has basically been a centerpiece to the films he's appeared in so far, not to mention this entire trilogy. D-O could have been something special, but the somewhat lackluster writing says otherwise.
I also gotta be honest, and I don't know if I should be entirely surprised, but General Hux has become more of a joke for each movie that he's in. Here, it's almost insulting. He starts out well in this film for the most part, and I was entertained when he was on screen, but as the movie gets a bit closer to finishing its first hour, his character does something that honestly got on my nerves. I am not gonna go into detail about what he does, but I don't know if J.J. Abrams or Chris Terrio or even Colin Trevorrow years back, when he was scheduled to helm this movie, made this decision, but it come off HORRIBLY when delivered on screen. It felt like something ways off from Hux's personality and it was rainbows and unicorns kinds of impractical. Some people I know have been somewhat displeased with Hux in "The Last Jedi," a notion I kind of agree with by the way. However, in that movie, I still got a sense of Hux being himself. He still felt like the same character introduced in "The Force Awakens." It felt like a sligthly natural progression. While Hux is still kind of himself in this film as well, there's just a moment where I felt dumbfounded as a viewer watching him on screen.
I'll say this again, Lando's back! This is something I was personally rather excited for, because I think Lando is one of the many highlights of the original trilogy. It's hard to list any bad characters from said trilogy, but if there are any, Lando ain't one of them. How is he in this movie? Well, without spoiling much, he brings some fun to the table, but he isn't really in the movie all that much. Is that a bad thing? Given the movie's story structure, I wouldn't say that's a bad thing at all, but if you were expecting a Lando extravaganza, you're not gonna get that. He plays a somewhat minor role in the film, but all of his scenes are watchable and easy to enjoy.
Now let's get to this one of the most odd yet interesting additions to this film's cast of characters, Palpatine. Before we go any further, let me just address that people behind this film have stated that it was always the plan to bring back The Emperor. I honestly don't know if I buy that. I think that's just a protective statement to avoid turning audiences off. I would have NEVER envisioned The Emperor coming back for this movie, or the sequel trilogy in the first place. Remember that first trailer for the movie? The one they showed at Star Wars Celebration in April? Once I heard Palpatine's infamous laugh for the first time, I was shivering to my core. It was something so out of left field at the time, that it made my interest meter for the movie go up a couple notches. At the same time however, the more I thought about it, the more nervous I became. I say that because as much as I love the fact that we get to see Palpatine one more time, I was worried that his appearance here would undermine everything in previously established material. Most specifically, "Return of the Jedi," which may be his most prominent film. Why? Becuase SPOILERS, it's been 36 years since that movie came out, WHO CARES? He dies. And it's not just the fact that he dies that I was worried about, I also felt apprehensive because of the way he died. The ending of "Return of the Jedi" is probably my favorite endings of the "Star Wars" franchise (aside from "Rogue One"), partially because the way The Emperor goes out is chill-inducing. Between the powerful score given by John Williams, Vader's conflict, Luke's near-death experience, and the massive stakes at hand, it makes The Emperor's fate all the more meaningful and emotionally satisfying. Seeing the smoke rise from the pit is a feast for the eyes and ears, and I thought that was a fine bow tie for his character. But no, I guess for some reason he's returned to the party. I was honestly worried for a number of reasons. Two of which I'll give here. 1. Again, The Emperor died in a way that was satisfying and the way he went out feels like a way that would be difficult to recover from. 2. The marketing seemed to promise Palpatine, but I did not think it was clear as to how much of him we'd be getting. After all, his voice is heard a lot, but I only remember seeing him physically in probably just one TV spot. That and one of the early posters.
So how was Palpatine? Not bad, to be quite honest. There is no way, at least at this point that I could be convinced that Palpatine was supposed to be the endgame the whole time, but inserting him in this movie was surprisingly solid. I mean, you can make the argument that Palpatine's character being a centerpiece of all three trilogies in some way bring something to the table, but I'm not sure I'd completely agree. Nevertheless, just about any character interaction with him was tense and had my full attention. Ian McDiarmid played him like Slash can play a guitar! I am not going to dive deep into his character because there is a good chance that any effective thing I can say about him would be somewhere in spoiler-territory. I'll just say this… He doesn't just feel like a bad guy who wants to do bad guy things. He legit feels like a threat, as he should, and a necessary part of the film's overall story and conflict. Overall, I dug him being here.
Speaking of things I dug, one thing that stood out to me at the start of the movie happened to be Rey, and the reason for that is because she apparently is kind of the Jedi definition of a showoff. She has these abilities that I think almost no other person in history could ever achieve. I will admit, when I first saw this, I kind of liked it. This new trilogy has shown was in which the force has perhaps evolved so to have this all powerful being is not completely unbelievable. Again, I already said I dug it, such a comment about liking this might almost be irrelevant at this point. BUT… There are a couple moments where I legit thought I was watching a piece of fantastical and far-fetched fan-fiction come to life. There are some things done with the force in this movie that I do not remember seeing much in "Star Wars" prior to this movie. This movie has a point where it becomes seemingly convenient in terms of how the force works. Sometimes it might be cool, maybe even badass, sometimes it just doesn't work. There's a moment in particular between Rey and Kylo on a desert that I want to say I like, but the Movie Reviewing Moron part of me wants to question whatever it was I just saw.
Sticking with Rey and Kylo, they have a number of scenes together in the movie, and there are some neat moments between them. Specifically fights, conversations, and more. Although if I had to list a complaint in the movie that might be my biggest of all, it would have to be this one scene between the two of them at the very end. It's something that starts off as charming and sweet, and then becomes something that continues to piss me off. I have a feeling that if you are under a certain mindset going into the film you might enjoy whatever it is I won't talk about whatsoever, but it just didn't work for me.
Continuing off of what I just said, the final half hour to forty five minutes of this movie is full of fan service. Almost in the same way such a fraction of "Avengers: Endgame" was for the MCU. I won't go into details about the fan service specifically. Some of it worked and some of it didn't. Listen, that thing that I mentioned pissed me off in the last paragraph, I AM NOT GONNA SPOIL A THING, but if you pay attention, the thing that pissed me off personally is part of said fan service. And having said that, I almost wonder what the people behind this movie were thinking while making it. Keep in mind, while a good number of people seemed to enjoy "The Last Jedi," I and many others was not really satisfied with it. This movie, in a way, seems to try to give something to everyone. Whether they liked "The Last Jedi," hated it. Or whether they liked the other "Star Wars" movies, maybe hated those as well, it seems that a lot of time writing the screenplay went into focusing on elements that made other "Star Wars" screenplays what they are, but also what made "The Last Jedi" liked by certain people. This movie, even though it acknowledges the existence of "The Last Jedi," sort of feels like an apology letter to viewers for "The Last Jedi." Having disliked "The Last Jedi" myself, I can't complain too much, but it feels like a script that is supposed to cater to anybody who ever watched "Star Wars" and admired a piece of it. This brings a complication into the mix. There will be things that will inevitably piss off some people, but there will also be things that will floor those same people in a positive way. For all I know, there could be someone out there that loves all things "Star Wars" that might end up liking EVERYTHING in this movie. I'm sure they're out there.
I do not have all that much more to say about "The Rise of Skywalker," but I gotta say as an ending to a nine film saga, this is surprisingly satisfying. I was worried that J.J. Abrams wouldn't stick the landing, I was worried that I would feel unfulfilled for some reason, or the direction in this film will highlight a completely rushed ending. I gotta say one thing though. As much I enjoy having gotten my own opportunity to see an entire "Star Wars" trilogy with both previously established and newly established characters in theaters, I do not know if this film in particular is as fulfilling overall compared to the ending of "Return of the Jedi." Again, I'm not going to spoil anything, but that film ended on such a note where the characters many of us have come to love got just about everything that they have come to earn. Admittedly, having seen this new ending, I WON'T GO INTO detail, but one character "acquires" something new that hasn't been acquired yet that combines fan service and pure emotion. It also solves a complaint. What complaint? Not gonna tell ya. If I ever do a spoiler talk, I'll be sure to bring this up.
Overall, "Star Wars: The Rise of Skywalker" is entertaining, visually impressive (which shouldn't be surprising, it's "Star Wars"), and one more thing I will mention is this, because I feel I should not leave you all hanging without a mention of John Williams kicking ass with his score. I mentioned earlier that his score is heavily reliant on nostalgic themes, but whenever there is a scene that is heavy on said nostalgia or one that really needs a certain mood, Williams is there to bring the goods. I need time to see where I'll rank this score, but as of now, this is one of the absolute best "Star Wars" scores I have ever heard. Having witnessed comments about this being the last "Star Wars" score from John Williams, I think he went out with an absolute bang. Williams, this world, nor does a galaxy far far away, deserve you. You are a god, enough said.
In the end, "Star Wars: The Rise of Skywalker" is a flawed, but simultaneously charming finale to a nine film saga that has been going on for over forty years. Once more, I'll bring up "The Last Jedi," and I will say even though that film has glimmers of entertainment, it does not feel like a story worthy of the "Star Wars" name. This sequel is a bombastic roller coaster that is worth seeing, especially if you are a fan of the "Star Wars" franchise because I can probably guarantee that even if you end up not liking the movie overall, there will ultimately be SOMETHING to enjoy. But I must say one thing, and this is probably going to piss off some people.
So I have the unpopular opinion, although over the years I have found this unpopular opinion to be a bit more popular than I anticipated, of "Revenge of the Sith," the finale to the prequel trilogy, being one of my favorite "Star Wars" movies. Another movie which I consider to be just as great is "Return of the Jedi," the finale of the original trilogy. If I had to be honest, my thoughts on "The Rise of Skywalker" are not that positive compared to my thoughts on the other two movies I mentioned. I liked it, quite a bit in fact. But if I had to give the honest truth, "The Rise of Skywalker" is my least favorite of the three trilogy finales the saga has had so far. Even with that in mind, it's still good. At the same time though, this does bring up one positive regarding the "Star Wars" saga as a whole, and a negative as well, depending on how you look at it. The finales of all the trilogies make up the one portion of the saga that is entirely positive in one way or another. Keep in mind, I love all the films in the original trilogy, so the beginning, middle, and end all work there. But "The Phantom Menace" was a fail to start off the prequel trilogy, and speaking of prequel failures, I also wasn't a fan of the middle act of the trio of films, "Attack of the Clones." Similarly, this most recent sequel trilogy had the disappointing middle entry "The Last Jedi." The finales all worked, even this one, to my complete surprise. With that being said, "Star Wars: The Rise of Skywalker" is worth a watch, especially in a big, obnoxious movie theater with fantastic sound, and I'm going to give it a rather high 6/10. As much as I enjoyed the movie, I think a 6 is a fair grade. Would I watch it again? Oh, you betcha. And technically, this film has some of the best sound and visual effects of the year, which isn't new for a "Star Wars" film. But story-wise, there is an argument to make that even though I love how quick this movie progresses, it almost gets to that point where it becomes rushed. If the newer characters were better and if MAYBE it tried to focus going down one particular path as opposed to catering to a bunch of different demographics, the score could potentially be higher.
With all of what I just said in mind, this movie honestly has notable flaws, not to mention things that piss me off. But this movie is also satisfying overall, and the many positives of the movie tend to outweigh the negatives. It's not as bad as I thought it would be, and most importantly, it's better than both "The Last Jedi" and "Solo: A Star Wars Story," both movies which by the way, I felt disappointed by. I want to thank everyone for giving a great saga of films to remember. I hope various future "Star Wars" projects work out and I am looking forward to the future of the franchise should I continue to tune in. Thanks for reading this review! Next week is the limited release of the all new war film "1917." It is going to be hitting theaters everywhere this January, but honestly this is a movie that I need to see as soon as possible because I have a feeling that it is going to be one of the best directed and well-shot movies of this particular release year. It comes out Christmas Day, which I'm busy on, but hopefully I can get my butt in a seat as soon as possible. Be sure to follow Scene Before either with an email or if you want greater access to the blog, use a WordPress account. Be sure to like this post and share it with your friends, and check out my Facebook page! I want to know, did you see "Star Wars: The Rise of Skywalker?" What did you think about it? Or, now that the three main "Star Wars" trilogies are concluded, which is your favorite? The prequels? The originals? Or the sequels? You know what, here's another question. How would you personally rank the three trilogies? Let me know down below! Scene Before is your click to the flicks!