"The Lighthouse" is directed by Robert Eggers (The Witch, The Tell-Tale Heart) and stars Robert Pattinson (Twilight, High Life) alongside Willem Dafoe (Spider-Man, Aquaman) in a film where two men make themselves at home on an island with a lighthouse on it. This is a tale where two men basically go about their everyday lives and eventually have to deal with various happenings, including an enormous incoming storm.
Just want to let everyone know, that I went into "The Lighthouse" having seen at least one piece of marketing, but in reality, I went into the film with my mind containing perhaps as little as I am probably supposed to know. So for the sake of perhaps providing all of you, the viewers who haven't checked out this film yet, with a proper experience, I am going to be a bit vague in this review, so bear with me here.
OK… I think we are officially getting a taste of awards season by now. We're starting to get films like "Parasite," which is SO GOOD by the way. Taika Waititi's "Jojo Rabbit" has been in theaters for a little while. We are coming closer to seeing films like "Ford v. Ferrari," "A Beautiful Day in the Neighborhood," "Knives Out," it is legit a fine time to be a moviegoer. And keep in mind, all these movies could suck, I haven't seen them yet, I don't want everyone assuming that all these films are the definitions of greatness right now. But staying on this topic, let me just kick off my thoughts on "The Lighthouse" by saying it is one of the year's most well made films. Keep in mind, this film probably won't be for everyone, but it is competently shot, terrifically acted, finely directed, and I like the visual choice of presenting the film in both black and white, not to mention in a 4:3 aspect ratio. It sort of reminded me of last year's "Cold War," which I mainly admired more for its technical aspects rather than its competence as a product meant to entertain. "The Lighthouse" however, not only looks fine and dandy, but really makes me want to slap a high five to the screen in my theater's auditorium. Is "The Lighthouse" the best movie of the year? Honestly, no. In fact, I can come up with at least 5 movies this year that I personally enjoyed more than this. In fact, I think this movie, kind of like "Joker" for some people, could end up suffering a little due to a lack of replay value. As I reflect on "The Lighthouse," part of me is continuously thinking that once is enough. Maybe I'll buy the Blu-ray, but it's going to be hard to decide when to watch it again.
At the same time though, like "Joker," the insanity this movie can provide, especially as it comes to a close, makes it worth sitting through and worth my time. It's absolutely hypnotizing watching two men perhaps lose their s*it as they are together on an island. I also found the "tall tale" that the movie describes, about killing a seabird, rather compelling, especially considering that it leads to a brutal killing of said creature later on. In that sort of way, it makes me never want to kill a seagull. I mean, I don't think I ever wanted to in the first place, but still… That's even if I'm on the beach and it ends up taking all my fast food that I purchased at the snack bar. Maybe in that case I'll give it a little slap, but I wouldn't flat out annihilate a seagull the way that one of the movie's characters goes about doing so. And I think one of the more interesting things about the film that I can point out is that before the seagull death moment, it's not like the seagull is just an innocent little creature, it looks like a complete nuisance, at least to me. Perhaps an insult to seagulls everywhere. If there were a seagull version of the Donner Party incident, this one would probably be the easiest target because it is a complete jerk to everybody in sight.
Aside from "Joker," another goto comparison I have regarding "The Lighthouse" would probably be the TV show "Seinfeld." Maybe I didn't think about it too much while watching the movie, and maybe some of you who have already watched the movie are looking at me and wondering if an acorn fell on my head. Yeah, "Seinfeld" would usually contain more characters in a single twenty minute episode than this movie does in its entire one hour and forty-nine minute runtime. But regardless of character count, the idea behind "Seinfeld" can easily correlate with "The Lighthouse." I say so because "The Lighthouse" is definitely entertaining as a story. But it is also about, well, nothing.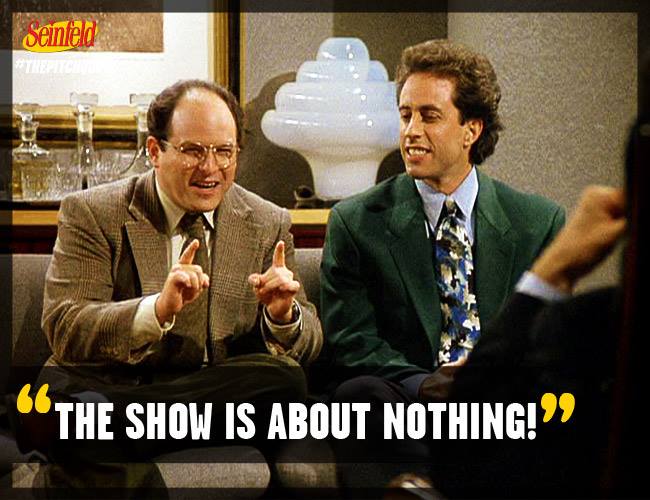 In that sort of way, it can be somewhat easy to tell that "The Lighthouse" is sort of a slow burn kind of picture. Again, it's about two guys stuck on an island with a lighthouse on it in the middle of a storm. I mean, come on! And just because it is slow, does not mean it is terrible. In fact, I cannot imagine this film in terms of pacing being represented in any other way.
I will also say that I am rather surprised to be appreciating this film as much as I am, because this film is directed by Robert Eggers, who also directed one of my least favorite horror flicks of the past few years.
Movie buffs, feel free to take my "Official League of Film Fanatics" card. That's a thing I just made up, but bear with me here. But if that did exist, let me just tell you that "The Witch" may be one of the most overhyped films of the decade. I know I am not alone, but I really did not like that movie. It wasn't scary, it was just boring and occasionally annoying. If I had to be honest, it has to be one of the worst films that A24 has ever been involved with. But one thing that is definitely true about that film, much like many others put out by A24, I was able to witness a crystal clear directorial vision. That truth manages to make itself visible in this film as well. "The Lighthouse" is interesting in terms of its vibe, because it is definitely a calm film. That's how it appears on screen in terms of visuals (although it is interfered by crashing waves, a storm, and a black and white shots). But it is also occasionally bonkers. I could talk about some of the crazy s*it that goes down, but then I'd just be spoiling the experience for potential viewers.
In the end, "The Lighthouse" was definitely worth my time. I will say, if I sound like I am being more vague than usual in this review, it is because I feel that if you want to go see this movie, I think it is best to go in knowing as little as there is to know as possible. All I can say is, it's good, it's insane, and entertaining. That's all she wrote. If any of you want to go check out "The Lighthouse" in the theater, give it a go. Not the best film of the year, but definitely worth checking out. Between the chemistry of the two leads and the atmosphere this film tends to provide, I'd say you are for something swell. I'm going to give "The Lighthouse" an 8/10. Thanks for reading this review! I just want to let everyone know that over a week ago I just saw the movie "Last Christmas." I will have a review up for that very soon. And I am not sure what my schedule looks like, but as of now I have passes to the upcoming movie "The Good Liar." If I get around to seeing it, I will have a review for it. But until then, we'll just have to see what happens. Be sure to follow Scene Before either with an email to get notifications in your inbox, or for comment and like access, use a WordPress account! Stay tuned for more great content! If you also want notifications from Facebook, consider liking my Facebook page! I want to know, did you see "The Lighthouse?" What did you think about it? Or, what is your favorite pirate movie? Let me know down below! Scene Before is your click to the flicks!