"The Haunting of Sharon Tate" is directed by Daniel Farrands (Halloween 6: The Curse of Michael Myers, The Amityville Murders) and stars Hilary Duff (Lizzie McGuire, A Cinderella Story), Jonathan Bennett (Mean Girls, Cheaper by the Dozen 2), Lydia Hearst (Z Nation, The Face), Pawel Szajda (Under the Tuscan Sun, Agent Carter), and Ryan Cargill (WITS Academy, The Young and the Restless). This film takes place during the late 1960s in Hollywood and is kinda sorta based on the Manson Murders, which involves the death of Sharon Tate herself. Only, this film explores Sharon Tate as this… Timid, constantly emotional scaredy cat that barely even qualifies as a person. My f*cking gosh, this review is going to turn into a therapy session.
I'm reviewing this film in 2019, fifty years after the Manson Murders event went down and got attention all over the news. Interestingly, this is not the only film this year that involves Sharon Tate and highlights her final moments. The other film, for those who don't know, is "Once Upon a Time in Hollywood." These two films take different approaches to the Sharon Tate character. And I feel that neither of them are 100% authentic, but I want everyone to keep this in mind.
Speaking of keeping things in mind, I have kept this movie in mind for about a month or two. The popular YouTube film reviewer Chris Stuckmann watched and talked about this film earlier on in the year and he gave it his lowest grade, an "F." So naturally, this film stuck with me, but not for the reasons that I think most people behind it would prefer. But at the time, I have not seen it. In fact, it's easy to see why. If you look at the totals for this film on Box Office Mojo, it says the movie made $0 domestically. I don't know why that's the case however. I don't know if the film didn't garner attention to get people to see it in the theater, or if it even had a theatrical release to begin with. Were the tickets free? I don't know if I have enough info to back me up. Maybe the film went straight to On Demand or something. Although before this film's official release in the spring, it was shown at the Hollywood Reel Independent Film Festival. This led to three wins dedicated to the film including Best Director, Best Actress, and Best Horror Film. As for its release, this film did at least have some sort of box office total, as Box Office Mojo lists separate totals racked up in Portugal and Russia, which comes out to $19,717 when combined. As for home video, specifically where I live, the-numbers.com suggests that in the United States, the combined totals for DVD and Blu-ray sales come out to $9,932.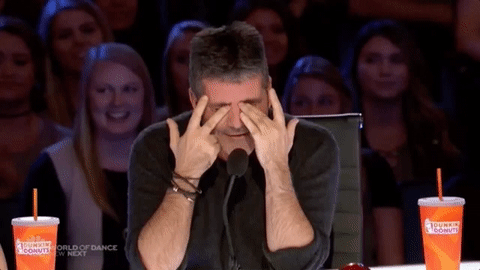 After seeing this film, I wonder how it got any award in the first f*cking place! Best Director? Maybe for a music video in the first couple minutes. Best Actress? Yay! Somebody won an award for doing nothing but crying until the end of time! Best Horror Film? The fact this film exists is a freaking horror story!
I just want to send a message to Quentin Tarantino for one quick second. If you have read my "Once Upon a Time in Hollywood" review, I thought that film was nearly perfect. It did just about everything a movie of its kind needed to do. However, the one downfall is that for the most part, I could erase just anything involving Sharon Tate and have perhaps no loss of impact to the film. But looking back, at least that version of Sharon Tate was… well, COMPETENT! Margot Robbie embodied the glamour, legacy, and achievements of the character, not to mention 1960s Hollywood in general! The way she was written in "Once Upon a Time in Hollywood" was at least respectful to her legacy compared to what this piece of s*it contains! It's piss poor and it's the stuff of nightmares! Quite literally in fact, because apparently one of the major parts of this movie is the plethora of bad dreams Tate has throughout.
Most of the blame in a case like this can certainly go to the directing and the writing. I believe Hilary Duff did what she could with the character. But there are a couple moments in this film in terms of acting that made me wonder if the director decided to do just a single take for each scene without a care in the world. You have to see it to believe it. Actually, please don't, save yourself!
I will admit, I hate the fact that I am talking about this script as if it is the most lackluster thing in the entire universe because the fact is that it had one thing that sounded compelling about whether our lives are planned out in advance or if we can change our fates. It kind of reminded me of "10 Cloverfield Lane." You remember how in "10 Cloverfield Lane" the main characters are sitting down, they're talking to each other, and the topic of discussion happens to be about doing certain things before you die? Remember that? Part of the film's script reminded me of that. But I didn't dig it because well, this movie has enough s*it in it that just bogs it down to levels beyond one's imagination! In fact, this movie kind of reminded me of another recent project that I didn't like, "Midsommar." It's a film that tries to be scary, tries be dark, but just ends up being annoying. The characters are terrible. The main chick happens to be the perfect sponsor for Kleenex. And whatever moments there are that at least try to be compelling, almost don't even add up.
In terms of how the film looks, it's… OK? I guess? Maybe at times. A lot of the shots are serviceable, but some of the camerawork is simply off-putting. I am honestly willing to bet there was a point during shooting where someone accidentally switched the shutter speed from where it was expected to be because there was a scene in the first few minutes that didn't even feel like I was watching a traditional 24 frames per second movie. Then again, I watched this movie on Prime Video as opposed to how I consume most of movies, which is through physical media, so maybe it's my TV or the service or something! Nevertheless, it felt like I was watching a video taken on an older Blackberry phone or something! Granted, based on visible resolution and the color palette, the film looks a lot better than something shot on a Blackberry, but my case stands as tall as the Shaq! And speaking of color palette, the color grading in this film (if there was even that much to begin with) occasionally made me want to vomit. Now it's not all unacceptable, but there were one or two scenes where I looked around the frames and thought I was looking at a slightly more attractive version of "Twilight." I guess sometimes it fits the dark themes of this film, but it's also off-putting! There are not enough mental breakdowns on this Earth to be had regarding this piece of crap they call a movie!
It almost seems somewhat unfair that I am comparing this film to a much better Sharon Tate-related story that came out sometime after this film did, but I honestly feel the need to. One thing both "Once Upon a Time in Hollywood" and "The Haunting of Sharon Tate" tend to have in common is perhaps the slight over the top vibe that the film can tend to present whenever Tate is in a scene. But the thing about "Once Upon a Time in Hollywood" is the way they present Tate. She never had any weird visions as if she had the force from "Star Wars." She was a normal human being going about her day. A little hyperactive at times, but she was believable. I don't know a crapton about the real Sharon Tate but if you told me that this version of her was the actual person. I'd almost think she's kind of a jerk at times. Granted, the movie does go into issues involving her relationship with Roman Polanski and that does allow her to let out some less than happy thoughts. I could buy into that. But as for Tate's other occasional over the top, Negative Nancy actions, I just found them to be odd.
I'll be honest, I cannot think of a single thing in this film that worked. Funny enough, I just reviewed "Ready or Not" last week where I said that there is not even a single thing in that movie that didn't work. Guess today's opposite day! I just want to say one thing, for those of you who watch the movie (PLEASE DON'T), take a shot every time Sharon Tate either has a nightmare, becomes emotionally unstable, or cries. Maybe with enough sips of alcohol, who knows? Maybe you'll enjoy the movie for all I know! But I can't say I had anything to drink. For one thing, I am under 21. Also, I had Diet Coke, which contains caffeine, which I probably needed to stay awake for whatever this mess was!
In the end, "The Haunting of Sharon Tate" makes me wish I was struck by lightning. I cannot think of a single redeeming quality in this entire movie, and if you watch this movie and somehow do, BRAVO! You have thought a lot harder than me. Then again, it is a little hard for me to think right now because I think some of my brain cells have just been destroyed. Now is this the worst film of 2019? It's not official yet because we still have some time left in the year. Plus there is another film that is sort of in the same realm as this for me in terms for how much I dislike it. But even if it isn't the worst, it is definitely the most poorly made of the films I have seen so far this year. I am not even joking. When you take the eye-burning color palette, the below average cinematography, the idiotic script, the lame-ass directing, and the obscenely lackluster performances, it all adds up to make the most incompetent product of 2019 that I have had the displeasure of witnessing so far. I haven't even talked about everything in this movie, I have skipped over a number of the characters and performances, and you know what? Screw them! I can't talk about them! This movie destroyed me to no end, so I might as well give it a taste of my own medicine! I'm going to give "The Haunting of Sharon Tate" a 1/10! Thanks for reading this review! If you want to check out a review I did for a much better movie involving Sharon Tate, be sure to check out my review that I did last month for "Once Upon a Time in Hollywood." The link is down below and… Yeah, after seeing this piece of crap, I have to go watch that again because I need something therapeutic right now. Be sure to follow Scene Before with an email or WordPress account so you can stay tuned for more great content! I'm also on Facebook, do me a favor, check out my page! Make the movie reviewing moron happy! No, seriously. This movie almost made me lose my mind. I need happiness in my life! I want to know, did you see "The Haunting of Sharon Tate?" What did you think about it? Or, did you see "Once Upon a Time in Hollywood" this year? Tell me what you thought about that! Let me know down below! Scene Before is your click to the flicks!