Hey everyone, Jack Drees here! If you have seen my recent post on the Scene Before Facebook page or if you have seen my recently posted "Green Book" review (check it out if you haven't already), you may have noticed I have announced a "surprise post" coming your way. Well, surprise! Today we are going to talk about a company I am kind of opposed against, Netflix.
My history with Netflix is pretty simple. I don't use them. If you are the prime killer of one of my all time most prominent childhood memories (Blockbuster Video), chances are I'm gonna have to resist you. Plus, I still collect physical media to this day and that also seems to be a market Netflix is sort of killing, much like how iTunes, Spotify, YouTube, and Pandora seem to be killing physical media for music. Although if I am correct, I could be wrong because vinyl seems to be making a comeback in some ways. I have watched things on Netflix, but I never technically had a Netflix account. For a film studies class in high school, I watched "Moana" and "Altered Carbon" on Netflix with my class. My sister, who uses Netflix, was watching "Family Guy" and I happened to be in the room with her while it was playing on the service. Netflix also produces their own original content, none of which I have watched religiously, no matter how many good things I've heard about "Stranger Things," "The Crown," or even "House of Cards." It's not just TV shows, they even produce and distribute movies. A couple notable Netflix movie titles include "Death Note," "The Cloverfield Paradox," "Mowgli," "Bright," "The Ridiculous 6," and motherf*cking "Bird Box." When is everybody gonna stop talking about "Bird Box?!" These movies have gone straight to Netflix's service for anyone to stream if they have an account. Some of these movies, kind of to my surprise, have done pretty well. Seemingly well enough to keep a number of people out of the movie theater, yet another industry I don't want to see taken away because of these hooligans. This not to say that they haven't done theatrical releases through these years. Orson Welles had a lost film in the vault which has been recently distributed by Netflix, which did play in theaters for a limited run. "Mudbound" is another film that comes to mind, which actually received four Oscar nominations in the 90th Academy Awards. But if I were to watch one of these movies, part of me would hate myself, because I feel like I partially killed the movie theater industry.
However, there has been a single exception to this list that I'm aware of (well, sort of). Last year, I watched "Annihilation" on its second weekend. Part of me was excited for that film because I saw it was directed by Alex Garland, who directed "Ex Machina," an artsy, well put together sci-fi flick that shows what happens when we try to get robots to be as realistic and lifelike as possible, and perhaps contain emotional thoughts, including ones related to sexuality. I saw "Annihilation" because where I live, specifically the United States, they released the film in theaters. But I also took into consideration that the film is also a straight to Netflix flick in other countries. I even know someone who attended my high school film studies class I mentioned earlier who said they went to Brazil and they had "Annihilation" running on their Netflix service so that person watched the movie. I will also say, for the record, Netflix didn't technically release the film in the United States, Paramount did. So from my point of view, I am supporting Paramount, not Netflix. If I saw Netflix was doing a complete worldwide distribution, chances are I would have skipped seeing "Annihilation."
This leads me to my next point, which is actually going to be the main topic of this post, one of the most recent releases from Netflix, "Roma" has been getting a lot of buzz lately. It has a 96% on both Rotten Tomatoes and Metacritic. Popular and notable sources like Time, Variety, Rolling Stone, Vulture, and Vanity Fair have all considered it to be the Best Picture of the year. Not to mention, it won Best Foreign Film at the Golden Globes, and happened to be nominated for two other awards, including Best Director, which the movie took home. At the Critics Choice Awards, the movie was nominated for eight awards and ended up taking home four, including Best Picture. I heard a lot regarding this film, and even some people in the industry have noted this film's excellence. Once I saw the Netflix brand name though, I took a step back and ignored all possible opportunities of trying to watch "Roma." By the way, for those who have a Netflix account, the movie is free to watch at the moment. Hey, I said I'm against Netflix! Not their customer base!
I would love to be able and sit back, turn on Netflix, watch "Roma," but based on personal values, I can't. But something happened recently that caught my attention.
If you know me in real life, chances are I try to catch as many movie screenings on film as I can. Most of the movie theater industry has now settled for digital projection, which may be easier to operate, but the reality is that film projection is kind of an art form, and some would even point out differences in detail between film and digital with film being better. I'm on the side that says film is typically more detailed. "Roma" is taking advantage of film stock to my surprise. Now, the film was shot digitally on an Arri Alexa, so in terms of filmmaking, the advantage wasn't present there, although the film is presented in black and white so that could add an old-timey touch. But the thing that stood out to me is that Netflix is surprisingly trying to put this in more theaters than I'd expect, INCLUDING ones with 70mm equipment.
Article from Last December on Roma's 70mm Locations (Published by IndieWire)
When I first heard about this, I thought this was very cool. There is actually a list of theaters to be doing this online, but none of them were closeby. For the record, I live in eastern Massachusetts, and the closest theater to me was in Hartford, Connecticut. While I would have LOVED to go all the way to Hartford, I don't have my own car, nor do I have a license. Plus, if I were to make the trek there with anyone else, they'd probably be bored driving out of their minds. But who knows? Maybe the trip would have been worth it. We could have grabbed some food on the way, watched the movie, maybe even stay in Hartford overnight and see some notable sights the following day. That is… if it already happened, but it didn't. So I still have the opportunity to go to Hartford.
But I am not taking it. I just got back to college and I want to make sure I stay as close to home as possible on various occasions. I'll still go out and see movies, I mean, why wouldn't I? But just not in Hartford. Maybe in Providence if something is playing there in IMAX 70mm.
I am not suggesting or implying that there are no 70mm equipped theaters less than an hour or so away from me, even 35mm equipped theaters for that matter. In fact, there are a couple. In the Boston area, they have the Somerville Theatre and the Coolidge Corner Theatre. I went to both theaters last year and they are nothing short of fantastic. This brings me to another main point. I have a Twitter account.
*SHAMELESS SELF-PROMOTION ALERT*
Follow me on Twitter! If you want to see more of my moronic thoughts, go to Twitter, type JackDrees in the search bar, find my account, which as mentioned, has the handle "@JackDrees" and let the magic happen! Over there you'll find crazy statements, livetweets (beware of spoilers), my quick two cents on things that I decided not to post on here, and occasional appearances in hashtag games. DO IT NOW!
Anyway, on Twitter, I was typing away, trying to look over more grammatical mistakes than my current president tends to look over. One of my final posts of 2018 was this:
I tweeted this back on December 21st, and I don't know whether or not Netflix, Alfonso Caurón, or someone else behind this movie happened to be stalking my account, but several days later, this could be found on Coolidge Corner Theatre's Twitter feed.
Once I saw this, I knew there was a treat, and I was likely just about to be in for it.
AND I AM!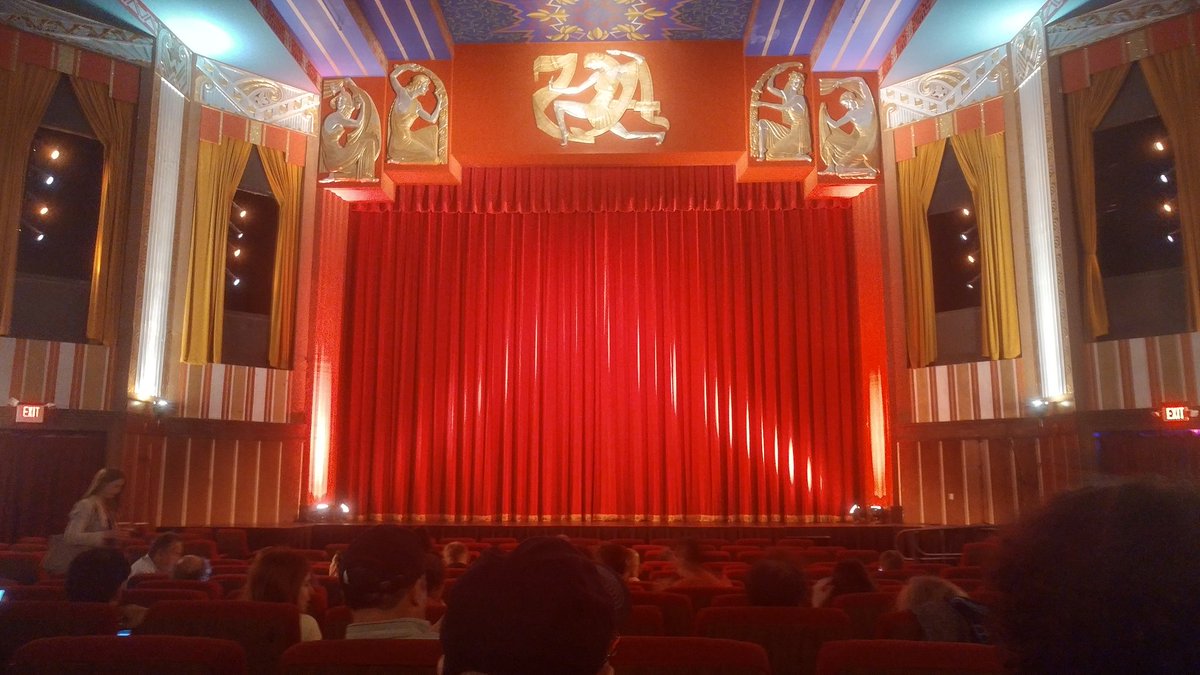 This Saturday, I'm actually going to see this movie at the Coolidge Corner in 70mm. I never thought that Netflix would actually consider being at least a minor force in the movie theater business, but now, they seem to be teaming up with theaters more often. Granted, they still have ways to go before they can become a true force, they need to do more releases in multiplexes as opposed to just doing limited releases. In fact, maybe what they could do is operate like Amazon. While Amazon is yet another one of those companies I can't stand, I can tolerate them compared to Netflix because their business model is to come out with a movie in theaters, and after awhile, it becomes free on their service, while still managing to release physical media. The point is, Netflix won me over for once. I'm actually going to see "Roma." I said some time ago that perhaps the only way that Netflix will get me to subscribe to their service is if they revive "King of the Nerds" for a fourth season. This will not get me to subscribe to their service, but it's getting me to see Netflix content, which to me, is a true feat.
Again, I am seeing "Roma" on Saturday, and my review for it will be up maybe a day or two after. I am admittedly busy on Saturday and Sunday, but Monday is Martin Luther King Day so I may have some free time to do things like blogging. Only time will tell. Nevertheless, I want to thank Netflix for keeping moviegoers in mind in an age where digital streaming, not to mention digital projection, is seeming to trump other ways which we consume media. Thanks for reading this post! I don't know how "surprised" you guys are, but to me, this felt like a surprise, so this is why I marketed the post as such a thing. But still, hope you enjoyed the post and look forward to my review for "Roma!" Speaking of movies, I might be going to see "On the Basis of Sex" pretty soon, so if I do, my review for that will be up as soon as possible. Be sure to follow Scene Before either with a WordPress account or email so you can stay tuned for more great content! I want to know, have you checked out, or are you going to check out "Roma" in 70mm? I'm actually quite curious about it because the movie was actually shot digitally from start to finish so I don't know what it will be like on the screen. Let me know down below! Scene Before is your click to the flicks!