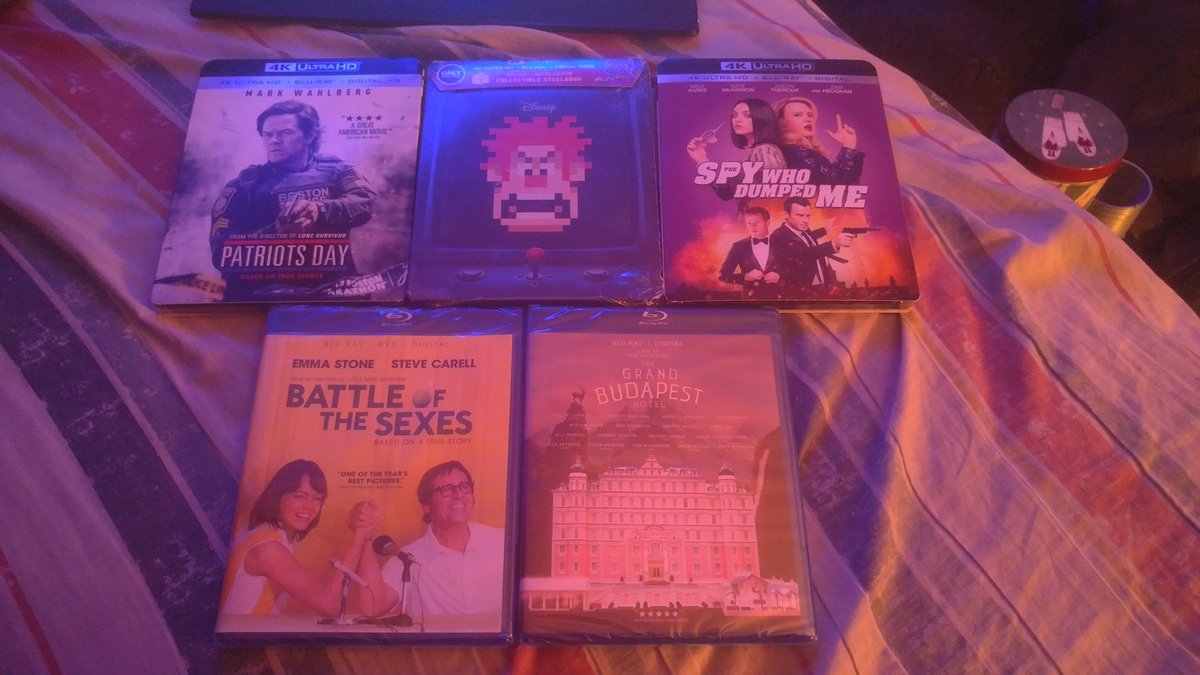 Hey everyone, Jack Drees here! To all who live in the United States, I hope you all had a happy Thanksgiving, or as turkeys may see it, genocide. To be honest, I have no personal vendetta against Thanksgiving as a holiday. It's a good time of year to eat lots of food, talk with your family, and see the Detroit Lions lose yet another football game. Although to be honest, I'm more of a fan of the day after Thanksgiving, Black Friday. For one thing, I don't currently work in a crappy, overcrowded retail store, with idiotic overlords, so I have no real reason to hate Black Friday. After all, this Black Friday, much like others, I have been in the position of the consumer. Unlike a couple years ago, when I ventured out to a nearby mall for Black Friday to mainly shop for others, I self-indulged this year because I was on top of things when it came to Christmas shopping for the most part. I'm not saying that I completely self-indulged, but still.
I live in the Boston area, so I went to the Cambridgeside Galleria, a mall just about a half-hour away from my house, but in reality it took longer because I took public transportation and the train was stuck in the middle of the track for some time. I could have gone to other malls, but more than anything, I wanted to hit a Best Buy. And Cambridgeside happens to have one of those stores. Cambridgeside is also a home to a local nerd shop, Newbury Comics, which is basically Boston's slightly tweaked version of FYE. Although in reality I wouldn't say Newbury is quite as stellar as FYE. However, Cambridgeside has my personal least favorite of all the Newbury stores because they don't even have a movie section. But even if they had a movie section, I probably wouldn't have shopped there anyway, because I went to Newbury on Black Friday for the past couple of years and they never had movie deals if my memory is correct. Nevertheless, Cambridgeside has Best Buy, which aside from Burger King, happened to be the only place at the mall where I purchased something.
Let's get into the movies, starting off with the standard Blu-rays!
First off, we have "Battle of the Sexes!" I've heard a lot about this movie, I've heard positive reviews regarding the film itself. Plus, judging by the cover, the two leads are probably phenomenal. You've got Emma Stone (La La Land, Easy A) and Steve Carell (The Office, Despicable Me) playing two pro tennis players who have to duke it out against each other? I'm sold! As a nerd, it is probably somewhat expected that I'm not really into sports. However, tennis is one of the few sports which I actually happen to appreciate. Plus, if my memory serves me right, there are not many tennis movies out there that I've been exposed to. To actually own a sport-related film that revolves around tennis is actually kind of a treat. It would be a better treat if the movie is good, just saying. I haven't watched it yet.
Next we move onto my cheapest purchase, Wes Anderson's "The Grand Budapest Hotel." When I first saw the marketing for this movie, I wasn't really sold on it. Then again, my tastes probably weren't mature enough to appreciate the overall quirkiness of the film. Because I saw the film a few years after it released and I found it to be very enjoyable. The film has a fine list of actors including Bill Murray (Ghostbusters, Zombieland), Jeff Goldblum (Jurassic Park, Independence Day), Willem Dafoe (Spider-Man, xXx: State of the Union), and many others. The color palette of the film gives the feeling that I'm attending an authentic Italian restaurant inside an art museum. I also thought one interesting thing about this film from a cinematography perspective was the decision to shoot and present a good portion of the film in 4:3, which is the aspect ratio on an old school TV. By the way, I mentioned this was my cheapest purchase, and if you are curious, it was $3.99.
The last three pickups I have are all 4Ks, one copy I have is significantly different from all the others, which means we're saving that one for last. This next purchase, as you can tell, is "Patriots Day." I reviewed this movie back in 2016 and I REALLY enjoyed it. It was not my favorite movie of the year, but at the time of watching, I thought it was one of 2016's best. Again, I'll mention, I'm near Boston, so this kind of hit me where I live, but even if I weren't from Boston, chances are I'd see this as a movie where a community comes together in a time of crisis. I still remember where I was during the moment I heard about the bombing at the 2013 Boston Marathon. I was leaving a movie theater after going to see Dreamworks' "The Croods" with my father and sister, and I believe I got in the car and this was what was all that was being talked about on the radio. Some call it propaganda, and maybe it is. I have only watched the movie once, so I was only able to judge it after my first viewing. Maybe my brain was locked and loaded into thinking a certain way. But maybe my mind will change after viewing #2. I'm not sure, but we'll see what happens. Also, upon reviewing my receipt, this was a fantastic deal. This movie was originally $29.99, but when I bought it, it was $7.99! Unbelievable!
I wanted to get some 2018 releases into my collection, and I managed to get one, which was "The Spy Who Dumped Me." This is a movie I would have checked out in the theater had I been given the opportunity. I'm not saying it would have been my first choice, but if someone said to me that they wanted to see a review of "The Spy Who Dumped Me" I wouldn't have denied that person's request. This movie stars Mila Kunis (Family Guy, Bad Moms) and Kate McKinnon (Saturday Night Live, The Angry Birds Movie) as a couple of besties who get involved in an international conspiracy. Although to add more weight, one of the two best friends has an ex-boyfriend who turns out to be a spy. The trailers do kind of resemble a typical studio comedy, but comedy this year for me has been a goldmine. I'm not saying this year's comedies are perfect, but we've gotten a number of surprises, and even one that I can highly relate to. "The Spy Who Dumped Me" may be pretty good, it could even suck. For all I know it could be the worst movie of the year, but I hope to watch it at some point before the end of 2018. I need to rack up more nominees for my end of the year top 10 lists!
Last but not least we actually have an appropriate title considering another movie that just came out. Specifically, "Wreck-It Ralph." I often make fun of Disney for being all about showering them with money, but when they make something good, I gotta give credit where it is due. "Wreck-It Ralph" is not just a good movie, but it is one of the best movies out there related to video games. While "Wreck-It Ralph" itself is technically not based off of a video game, it still manages to utilize its own arcade game universe where a bunch of characters from arcade games and video games interact with each other. Certain cameos come from franchises like "Pac-Man," "Super Mario," "Street Fighter," "Sonic the Hedgehog," and "Q*bert." Also, may I add, this was also a 4K steelbook. I got it for $11 off its original price, making it a $23.99 purchase, which I will say is a swell deal. This is especially true when you consider the regular 4K's price. It was originally $29.99, bumped to $22.99 after a $7 subtraction. This collector's item is literally just a buck more. It reminds me of one time I found "Red Sparrow" either in the "Best Buy" store or online and the 4K steelbook was $5 cheaper than the regular 4K. Let's say I got a, STEEL.
I would have gone to other stores had I had the time, there was a Target that was about a mile walk down the road but also the more I think about it, I'm glad I didn't go there because for some reason almost every time I walked through a scanner at the entry of a store during the day, the alarm would beep even though I had nothing that was stolen or not purchased. The worst part was in Sears because I was waiting for the elevator and they actually have scanners at the outside doors. The employees didn't care and one told me to explain the situation when I left. I'm rather glad I avoided any accusations. But then again, had I unintentionally stole something, that is… A TRUE… BLACK FRIDAY DEAL.
Thanks for reading this post! As far as some future posts go, my next review is rather uncertain, however I'm trying to make sure I can get something in next week at the latest. Part of me wants to talk about how big of a month December is going to be in terms of new releases. Sure, it's award season, but that's not the point. The point is that when it comes to big budget films, the quality may not be the big debate, but the real debate on my mind is, how much money will each big budget movie make? I won't answer that question here because it is incredibly complicated to complete. However, should I make a post related to that topic, I can tell you it will have a crapload of detail. Be sure to follow Scene Before either with a WordPress account or email so you can stay tuned for more great content! I want to know, did you go out Black Friday shopping this year? What did you buy? Doesn't have to be movies, it can be anything. But don't reveal what Christmas gifts you purchased for others! Or, since I got three 4Ks on Black Friday, what is your favorite movie that has gotten a 4K Blu-ray release? Let me know down below! Scene Before is your click to the flicks!