"Uncle Drew," otherwise known as my latest near death experience is "directed" by Charles Stone III (Mr. 3000, Drumline) and stars Kyrie Irving, Lil Rel Howrey, Shaquille O'Neal, Chris Webber, Reggie Miller, Nate Robinson, Erica Ash, JB Smoove, Mike Epps, with Tiffany Haddish and Nick Kroll. This "film" is about a character named Dax who doesn't play basketball anymore due to a personally embarrassing moment that happened to him as a youngster. However, he's not done with the sport in its entirety, because he still finds fun in coaching. One day, he convinces the legendary Uncle Drew to play basketball one more time, thus helping him win a tournament along with Drew's squad. I'll be completely honest with you, I'm actually getting a headache as I write this description. That's what this movie did to me! YOU DID THIS, MOVIE!
Upon research, I managed to find out that the character of Uncle Drew is actually not an original character made for this very film. Turns out this is based on an episodic web-series which also stars Kyrie Irving. As I found out on IMDb, this web series was originally conceived by Pepsi. That's right. Pepsi. You know, that thing that Cindy Crawford hypnotized people to drink? Yeah, that one! When I watched this movie and I saw that Pepsi was actually a producer of the film in the opening credits, I thought the sky was falling. NO! THIS IS REAL! AND NOW I KNOW THIS HAS BEEN GOING ON FOR YEARS! And this is probably the biggest negative I have with this movie, it's not a movie, it's a commercial. There are a few movies that work as commercials I've seen. Movies like "The Internship," "The Greatest Movie Ever Sold," and I may be cheating since I haven't seen this but I know a good number of people like "The Wizard," which if you break it down is essentially a commercial for Nintendo. The sad thing is, when it comes to all of the product placement, and trust me, there is A LOT, of Pepsi in this movie or any product made by Pepsico, none of it stands out as funny, entertaining, anything like that. People give a lot of flak towards movies like "Transformers: Age of Extinction" for having lots of product placement and coming off more like a commercial than anything else. At least in that, you get a rather badass scene with Bud Light. It's forced, in some cases it may be considered cringeworthy, but it just makes you want to crack a drink open with force. So, I'm gonna be doing something special for this review…
This review is unofficially sponsored by Pepsi!
Drink it!
Share it!
Love it!
And most importantly… shake it to play a prank on your friend who will eventually open it and get delightful taste of Pepsi all over their precious pants!
Now back to the review, had I known that this movie is not completely original and partially responsible because of Pepsi, I may have possibly enjoyed it just a bit more. Not to mention, maybe if I were a different person with a different mindset, that could contribute as well. This movie is being advertised towards maybe a couple audiences. These audiences are probably really into basketball, maybe know what the character of Uncle Drew is, and maybe they're black. As I bought my ticket for this movie at the box office, I recall being the first person to possess a ticket based on the seating options. That didn't last, you know, like the good old-fashioned Pepsi everybody seems to be drinkin' because it just tastes so freakin' good. When I entered the theater however, I was the first one in, and I thought to myself I was gonna get to watch the movie alone, in silence. Oh how awesome that would have been. Instead, I get a lot of people laughing. And you know what? It's fine. It's a comedy, it's expected, not to mention encouraged. Although there were some people, this includes someone a couple seats away from me, who seemed to laugh at just about everything that was on screen. Now I am not revoking their right to laugh, but they are either easily impressed or have a completely different sense of humor than I. Either that or they drank enough Pepsi to enjoy the movie! Out of everyone in the auditorium, I probably was the most out of place person there. I was the only one of a few people who actually happened to be white in the theater. Oh, there were like, three people around me who I can see using their phones during points of the film. If this was out of absolute boredom, than something like this is understandable, but for the sake of a theater environment that doesn't associate with chaos, would putting the phone away really be that hard?
Let's talk about some of the characters in "Uncle Drew." They all suck. They don't drink enough Pepsi in the movie!
In all seriousness, let's talk about Dax, played by Lil Del Howery. If this movie as a whole were a tad more competent, I would honestly like Dax better. Because the movie does try at making him looking like a lot is being taken away from him. And you know what? I almost feel bad for him. Although at the same time, I feel like the main thing that I'm supposed to feel bad about concerning him is just one enormous overreaction. Dax gets a shot blocked and loses a game. That was one time. Apparently the fact that the blocker was a white guy makes it extra embarrassing. Maybe in some ways, this kinda makes sense, but wow. I feel bad for him, and makes me hate the crowd of people against them, because they're a mob against him for a reason having to with something so minor. Maybe I'm overreacting, maybe I have to pump the hate brakes, but I feel like some people in this movie are just mean-spirited to the point of annoyance. You know they need? Pepsi!
PEPSI IS THE CURE TO F*CKING EVERYTHING!
Kyrie Irving is one of the many basketball stars in this film, and it is clear that maybe he wanted to do this film more than anybody else. I do buy him as this elderly, wise man. I will admit, as much as I didn't enjoy this movie as a whole, I thought Irving's character was definitely one of the stronger highlights. I didn't expect grade A range acting from him, nor should I. He did a fine job given his stance in the realm of acting. In this movie, I'll give some credit and say that Irving at times is kind of funny, but the problem with his character, much like some others in the film, is that it's not funny enough for me to exactly recall what was funny about them. It's not like it's "Anchorman" where you recall Ron Burgundy is funny because he said things such as "Go f*ck yourself, San Diego." Then again, it's comedy, it's art, it's subjective. And my subjective thoughts towards this movie is that it just didn't do much of anything except chop my head off.
Let's talk about Shaq in this movie. This guy has had quite a lifetime. He's been in the NBA for a very long time, won a few championships, made albums, movies, appeared on TV in several shows and commercials, and even has the pleasure of making a fighting game that even he realizes was terrible. Yeah, he made a game called "Shaq Fu" which released in 1994 for multiple platforms. This is highly regarded as one of the worst video games ever made. And somehow it recently got a sequel which is currently pumping out downloadable content, including a piece containing former president Barack Obama! Not to mention, I'm not alone on this sort of thing, but I consider him to be one of the funniest basketball players on the planet. And since this is a comedy with Shaq in it, you expect him to deliver the goods. And it's just a f*cking shame that the movie wastes this guy! I could tell Shaq was trying, but it didn't feel like the aspect of trying lifted through all the way. This could have been a result due to bad direction, lackluster writing, maybe a combination of those two things. Either way, Shaq is not funny here. The first scene of Shaq is him teaching martial arts, which funny enough, is kind of what he does in "Shaq Fu." That was one of the only memorable parts of not just Shaq in the movie, but the movie itself. And that's most likely because a part of me was going "Oh, it's Shaq! Can't wait to see what he does!"
*hands planted on cheeks* My gosh, I need a Pepsi.
Oh, and you know what? I have not even gotten to the absolute biggest piece of s*it this movie has! This movie takes a second to turn into every single animated movie that is trying to sell an album! Ladies and gentlemen, I give you… THE MOST. POINTLESS. DANCE SEQUENCE. IN HISTORY!
You know how a lot of people don't like "Spider-Man 3?" For those of you who don't know, part of the endless reasons some people dislike that movie has to do with a song and dance sequence in a jazz club. I gotta say, at least that sequence helped a bit in telling us the current state of Peter Parker's character, at least that sort of helped with the movie's overall story. This sequence, it feels like it was just done for s*its and giggles. I never thought I'd say this, but this scene makes "The Emoji Movie" look like "Back to the Future!" Who ever thought I'd need to use "The Emoji Movie" as the positive in a comparison JUST UNDER A YEAR AFTER IT RELEASED?! Seriously! This is an actual quote from my "Emoji Movie" review!
"The Emoji Movie" is nothing but a rip off of better animations, a s*itty idea which became a s*itty movie, and a poorly written, anger-inducing f*ckpile of a film created by a bunch of c*cksucking jackasses that just want to capitialize on a trend!"
To have a comparison like this is a true feat! Because around the halfway point in "The Emoji Movie," there's this sequence that's basically trying to promote "Just Dance." And it's just abysmal! But, at the same time, for the very few people who would be invested in the story, our "heroes" have to run away from particular enemies who are also in the area. To get to their destination, part of it involves dancing. It's full of cringe, but at least if you actually have the urge to care, you can root for the heroes to make it to where they need to go! The dance sequence here isn't really trying to promote a song (at least I hope that's the case), but it just doesn't feel like it has a place in this movie! You could literally remove this entire sequence and it would make NO DIFFERENCE on the overall product! This movie is an hour and forty-three minutes long. This dance sequence can be removed and still provide a decent runtime! WHAT WAS THAT FOR?! Listen to me movie! You're "Uncle Drew," not "Family Guy," you're not getting a giant chicken to fight some dumbass on the streets! That doesn't work for you! Just focus! And you know what? I guess if you're going to this movie just to laugh, maybe this sequence might ultimately work for you. That is, if you're not me. I was watching this scene, imagining how much better it would be to put a gun on my head, while everybody else was just dying laughing. I probably died too. Maybe after imagining what it would be like to take that gun on my head and kill myself. But if I just drank more Pepsi I think I would have been just fine!
In the end, "Uncle Drew" is worse than Coca-Cola on its best day! Pepsi rules! "Uncle Drew" is a very unfunny comedy which ultimately says something about this year's movies, because there's one comedy that I saw this year, that was actually worse than this. This is almost my worst movie of the year so far. If it hadn't been for a few laughs then I really would have pulled out all the stops, push people out of the way at the theater, demand a refund on my food, drink, and ticket, and call the news about the plague this movie is bound to spread. Let me just tell you something. One of my favorite drinks is Diet Pepsi. Having seen this movie, it almost made me never want to buy another Pepsi product again. While this personally isn't my worst movie of the year overall, it is certainly the worst I've seen in terms of product placement. Also, I would like to congratulate this movie for something.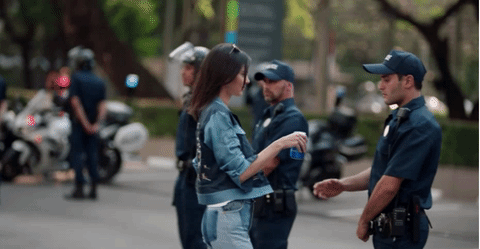 This possibly made the extended video with Kendall Jenner promoting world peace the 2ND worst Pepsi ad of all time! Congrats, "Uncle Drew!" I'm gonna give "Uncle Drew" a Pepsi/10, whoops! I mean, I'm gonna give it a 2/10! There, that's better! Thanks for reading this commercialized review! Be sure to go out to your local grocer and buy yourself some Pepsi! The Movie Reviewing Moron's personal choice of beverage to drink to make him forget about "Uncle Drew." You know, because bleach is a bit extreme. I do have another review coming up, and it is for a movie that I'm honestly surprised at the amount of people who went out to watch it when it was in theaters (or lack thereof). That movie is "A Wrinkle In Time," so be sure to stay tuned for my thoughts on that! I want to know, did you see "Uncle Drew?" What did you think about it? Or, what is your favorite Pepsi product? Let me know down below! Scene Before is your click to the flicks, and have a Pepsi day!