Before we dive into what some may call my most important movie review of the year, I'm gonna go ahead and ask you something. How terrifying is Thanos? The answer, objectively, he's a monster that might eat other villains in the Marvel Cinematic Universe for breakfast. One thing that's probably just as terrifying, is responsibility, and a new responsibility will be handed over to a couple by the name of Genevieve and Paul. The two are trying their hardest to have a child, therefore increasing the absolutely scary idea of responsibility, but before they totally get scared, they get… failure. Specifically, the failure of making a child, which is all explained… in "What the IVF?!"
"What the IVF?" is a series on YouTube about a couple who are trying to have a baby but based on experience, trying is not enough effort to grant the couple's wish. Genevieve and Paul go through an extended journey where trying is redefined. Throughout, they face victories and failures, and go through hell as they encounter unfortunate events when it comes to sex, tests, procedures, and EVERY. F*CKING. NEEDLE.
You know, kind of like this, but a little different. New episodes are uploaded to the channel every Monday and pretty much each one has their own little dramatic story for the couple to tell. The most recent episode however, strays away from the dramatic tone. In this latest installment titled "The Waiting Game," the name pretty much says it all. When the couple is waiting for results on a test, they try to distract themselves and make themselves feel normal. Watch the episode, or if you want a more dramatic episode, watch a few of the earlier ones. If you like what you see, hit the subscribe button on their YouTube channel, like their videos, hit the notification bell, and if you want more of "What the IVF?" outside of the YouTube universe, be sure to check out their other social media profiles and their website! Also, be sure to to tell them I sent you over!
WTIVF? WEBSITE: http://www.whattheivf.com/
WTIVF? YOUTUBE: https://www.youtube.com/channel/UCILXSidkzWgwrQ5Oa1py78w/featured?disable_polymer=1
WTIVF? TWITTER: https://twitter.com/WTivF
WTIVF? INSTAGRAM: https://www.instagram.com/wtivf/
WTIVF? FACEBOOK: https://www.facebook.com/What-The-IVF-288868031634125/
"Avengers: Infinity War" is directed by Anthony and Joe Russo (Community, Arrested Development) and stars Robert Downey Jr. (Iron Man, The Judge), Chris Evans (Captain America: The First Avenger, Gifted) Mark Ruffalo (Foxcatcher, Spotlight), Chris Hemsworth (Thor, Rush), Chadwick Boseman (Black Panther, 42), Tom Holland (Spider-Man: Homecoming, The Lost City of Z), Benedict Cumberbatch (Doctor Strange, Star Trek: Into Darkness), Scarlett Johanson (Iron Man 2, Lucy), Don Cheadle (Iron Man 2, Crash), Paul Bettany (Iron Man, A Knight's Tale), Elizabeth Olsen (Avengers: Age of Ultron, Godzilla), Anthony Mackie (Captain America: The Winter Soldier, The Hurt Locker), Sebastian Stan (Captain America: The First Avenger, The Covenant), Danai Gurira (Black Panther, The Visitor), Letitia Wright (Black Panther, The Commuter), Dave Bautista (Guardians of the Galaxy, Blade Runner 2049), Zoe Saldana (Guardians of the Galaxy, Avatar), Josh Brolin (The Goonies, No Country For Old Men), and Chris Pratt (Guardians of the Galaxy, Jurassic World). Just… HOLY CRAP. This is just scratching the surface on this movie's overwhelming number of characters!
With the infinite (pun sort of intended) number of cast members/characters this movie is trying to fit in, they all are featured in this two and a half hour extravaganza where we reach one of the biggest points in the entire Marvel Cinematic Universe, and that's when Thanos makes an attempt to unleash havoc and chaos upon the universe by destroying half of it.
Let me just get something out of the way, this review is being called "2018's Movie Event of the Year," and reasonably so. Because for one thing, it is the culmination that is ten years in the making (or six depending on who you ask). We are finally at the point that we get to see Thanos in action. Not to mention, this movie is RIDDLED TO THE BRIM with surprises! I can't believe we've made it as far as we did, seriously! The birth of the Marvel Cinematic Universe, starting with the 2008 movie "Iron Man" is about to make its ten year mark on May 2nd! Unbelievable! Anyway, that movie and a bunch of others have all lead to this, and since I mentioned there are many surprises in this movie, I should have you all know that this review is going to be spoiler-free. A lot of people and I mean A LOT OF PEOPLE are going to see this movie after I get this review up, and this is pretty much a "Star Wars" situation. If I reveal one thing about this movie that is in spoiler territory, somebody in the comment section is going send me a death threat. So if I sound vague compared to some of my other reviews, you know why.
Now let's get through some characters, but before we get to that, I could literally make a joke at this point saying that this movie featured every soul in existence. And I've heard some comments about this movie at times. I've heard comments saying that it feels cluttered, and that it has too many characters. I one-hundred percent disagree. And that's because when it comes to utilizing these characters, I feel like just about each and every single one that has some sort of importance to the plot happened to have their moment. There are segments of this movie that stand out and those segments happen to be exclusive to certain characters. I don't want to get into them however, because if I do, it will just mean I drop one character's name, and now I allow each and every one of you to have a ruined surprise, which as mentioned, this movie has a lot of. If I were to go into them, I wouldn't get all that specific, I'd just say a character's name and kind of move on, but for the sake of humanity, sanity, and a decreased chance of getting killed by someone who may hunt me down after getting this review posted, I won't do that. Another thing I will say, I will not be talking about all of the characters in this movie that has a bit of the importance to the plot. That will take forever and a half, and there's not really as much to say about certain characters compared to others. So I'm sorry, there's no explanation for characters like Iron Man, Captain America, and Doctor Strange. There are more that are unlisted, but these are just examples. I feel I should say less about them for the sake of a more quality review. You're welcome, by the way.
I don't have any order I want to go in when it comes to these characters, so let's just talk about Spider-Man, because there is something that stands out about him that I need to bring up. As you may know, Spider-Man recently had his own movie and in that picture, he had some technology added to his suit. But this time around, if you watch the movie, you'll notice that he has a new suit. And while I was not a fan of Peter Parker's suit in "Spider-Man: Homecoming," I thought this new suit, which is making the character of Spider-Man ultimately marketed to the public as Iron Spider, was a sack of crap. Sure, it looks kinda cool, but the idea of Spider-Man combining with Iron Man makes me think some people thought the idea of Spider-Man, and by that I mean SPIDER-MAN, was not cool enough. I would have said all of this before going to see the movie. As of right now, I change my mind. The Iron Spider outfit was properly utilized, had a purpose in the movie, mainly when it was first put on, but even so, and best of all, it didn't have a stupid artificial intelligence that was literally holding Peter's hand and telling him to kiss his crush. Thank gosh!
Another standout character in this movie is Scarlett Johansson's Black Widow. Now her character as you know and would expect, is badass. But there is one thing that I consider what may be a flaw with this character, and it's a nitpick, but it's there. It makes me ask, why is she blonde? Don't get me wrong, I'm not some douchebag who demands other people to have a certain hairstyle. Although not only does it feel weird, but given the fact that something like this is a change of pace after seeing many movies with Black Widow such as "Iron Man 2," "The Avengers," and "Captain America: The Winter Soldier," which has the character having different, but in ways, alike hairstyles, you'd probably expect some explanation as to why Black Widow's hair is blonde. Did she want to have more fun? Did she suddenly become a Marilyn Monroe fanatic? Did she get tired of people asking her if she was, I dunno, "REDy?" I'm not really taking many points off for this, but it kind of feels somewhat weird because this, again, feels like a change of pace. I don't even remember there being a joke, even though there were a good number concerning other subjects, regarding Black Widow's hair.
When it comes to who has the biggest presence in the entire movie in terms of the heroes, I gotta say that the Guardians of the Galaxy probably qualify as the number one spot. Their overall story has a tremendous effect on where everything goes in regards to a number of heroes and Thanos. As far as the Guardians go, I think their storyline is a contender to be the best storyline in the movie. It was somewhat dark and depressing while still allowing them to be the same hilarious crew we all grew to know.
And that does lead me into this movie's overall tone. "Avengers: Infinity War" is marketed as this beyond dark, ambitious, important, bitchslap to the face f*ckstravaganza, and with bits of humor here and there. One worry I had that didn't exactly stand out because I had faith in this being worked out well, was a clash in tones. I was somewhat worried that there would be too much humor in serious situations, but not only was the comedy incredibly hilarious, but it seemed to be utilized at the right times. I saw this movie with about 500 people, and based on their laughs, they seem to agree with me.
Now let's move onto what is quite literally the biggest part of the entire movie, Thanos, which if you're unfamiliar with Marvel…
Think of Terence Fletcher from "Whiplash" combined with Darth Vader from "Star Wars," add in a hint of Count von Count from "Sesame Street," you get this PURPLE GUY who CHUCKLES over the fact that he destroyed a NUMBER of planets, who is a FATHER per se of multiple heroic characters, and has a SHAVED head that will make you look at him as the INTIMIDATING, Jupiter-sized dickbag of Doucheville, otherwise known as Thanos. The character of Thanos is the probably the movie's best character, and also the one that gets the majority of screentime. Also, if you have been following the Marvel Cinematic Universe, the villains have usually been disposable bad guys that are just there for the heroes to defeat. Recently however, I will say that every villain featured in a Marvel film since "Guardians of the Galaxy Vol. 2" has been incredible. The streak of awesomeness continues here in "Avengers: Infinity War." And to be completely honest, Thanos is quite possibly the best villain in the Marvel Cinematic Universe, and definitely in the discussion of being the best comic book movie villain of all time. I don't know if I'd say he's as perfect as The Joker from "The Dark Knight," but Thanos is up there. As mentioned, Thanos gets a majority of the movie's screentime. And this is part of why his character is so great. Given his high amount of screentime, you get to know Thanos very much, and the film is more about him as opposed to anyone else. The film's main point of focus is the journey to find the stones. The Avengers are the just the defenders (pun sort of intended). You view Thanos from the beginning as the very definition of evil, and he just f*cks s*it up no matter where he goes. If there's one character that you should look forward to when seeing this movie, it's Thanos.
Speaking of journeys, certain journeys have certain endings, and this journey has an ending to remember. Out of every ending I've seen in the MCU, this is BY FAR my favorite of them all. Like, holy f*ck! I saw this movie with three other people, a couple of the people next to me were just speechless, and so was I! I'm not even gonna say the ending! I don't want to be a dick! That's Moby's job!
I APOLOGIZE TO EVERYONE NAMED MOBY, WHICH LUCKILY, DUE TO RESEARCH THERE AREN'T MANY PEOPLE NAMED MOBY THAT STAND OUT SO I WONDER IF APOLOGIZING IS EVEN NECESSARY.
Overall, the ending for this movie, is not only brilliantly written, beautifully directed, but also has some of my favorite editing in the MCU. Again, something I won't go into for the sake of not getting anyone mad, but it's freaking sick!
Also as mentioned, this movie is directed by the Russo Brothers, who directed the previous two "Captain America" films. When it comes to the cinematography, I was noticing lots of shaky cam, which is not new for a film directed by this duo. If you watch "Captain America: Civil War," that film has tons of shaky cam, and I thought the action in that film actually happened to be some of the best in the MCU. It was fast paced, exciting, and as I watched the film, fun. When it comes to the action sequences in this film, you can say I had fun watching them, but this is one of those times, where I literally felt there were high stakes involved in this universe. As mentioned, Thanos has an intimidating and demanding presence, you've also got a bunch of Thanos's minions, including those of the Black Order, and while some other Marvel movies seem to have some predictable action sequences and all that, you never really know exactly how every action scene here will conclude. You constantly root for the heroes, who are going up against the f*ck-up of purple people, and Thanos' determination makes the rooting exist. I mean… For a guy who happened to be rather speechless once leaving the theater for this movie, it's almost like a true feat for the amount of words shoved onto this review! What a revelation!
In the end, "Avengers: Infinity War" is EASILY one of the best movies in the Marvel Cinematic Universe! I LOVED just about every single second of this movie! It's my favorite "Avengers" movie! The way they handled all of the characters in this movie was amazing! I mean, seriously! For a movie like this that has more characters than perhaps the number of lights people leave on for new visitors at a Motel 6 in a day, I can't imagine many other directors taking on this project and doing a better job of balancing everything as masterfully as the Russos did. I said it before, just about every character had their personal moment to shine, and fans will be going crazy over at least one them. Maybe not as crazy as the crowd I had since I went on opening night in a crowded IMAX, but fans will go wild. Speaking of which, I do recommend you go see this in the IMAX format, because this is the first movie shot entirely on IMAX cameras. Not the ones I really like talking about, but this is kind of a big deal and the IMAX experience does add a bit to the movie in terms of immersion! With all of this being said, this movie is the Marvel Cinematic Universe edition of "The Empire Strikes Back," and it is a f*cking ride from start to finish! I'm gonna give "Avengers: Infinity War" a 10/10! Once again, I'm trying to be as vague as possible in this review for a reason, and I'll just remind you, when it comes to spoiling this movie, I don't recommend it. If you spoil this movie, there's a good chance you're only just gonna make someone's life only worse. You know, unless being spoiled is your thing then you're OK there.
#ThanosDemandsYourSilence
But seriously though, this movie's the s*it!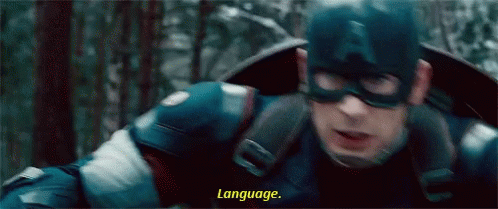 Thanks for reading this review! Pretty soon, as promised, I'll have my review for "Mission: Impossible II." I'm probably going to watch the movie tomorrow, and I'll start the review soon after, and publish it some time following that. Stay tuned for that review, and also stay tuned for other reviews! I want to know, did you see "Avengers: Infinity War?" What did you think about it? Or, what is your favorite "Avengers" movie? Let me know down below! Scene Before is your click to the flicks!