Hey everyone, Jack Drees here! In 2014, one movie I kind of wanted to see was "The Maze Runner," unfortunately, I never got around to watching it. Although a few months ago I was buying a number of Blu-rays at one of my personal favorite shops around the mall, AKA Newbury Comics, and I managed to come across "The Maze Runner" and "Maze Runner: The Scorch Trials. I still went on for months after buying them without watching either one of the films. That however, has changed. On January 26th, "Maze Runner: The Death Cure" will hit theaters. Appropriately, I felt I should review the first "Maze Runner" and the second "Maze Runner." Since I'm a chronological type of person, we're gonna kick this series off by talking about the first "Maze Runner." Without further ado, let's start the review.
"The Maze Runner" is directed by Wes Ball who has mainly done work in the film industry in the realms of art and visual effects. Aside from a few short films, this is pretty much the guy's directorial debut. This movie stars Dylan O'Brien (Teen Wolf, The Internship), Kaya Scoldelario (Now Is Good, The Truth About Emanuel), and Will Poulter (We're the Millers, Son of Rambow). "The Maze Runner" is about a youngish boy who is brought into this green, limited realm. He meets a group of men who tries to get him to adapt to the way things are. However, there is a way out (sort of). There is a maze separating this realm from the outside world. "Runners" are searching inside it every day, trying to find a way out. It's at a point when this youngish boy learns about all of this, when he desires to join the runners.
This movie came out in 2014, it's based on a book by James Dashner, and one thing I noticed about not only the 2010s decade, but perhaps slightly before this particular decade began, is how many popular young adult teen angst novels were being adapted into movies. Some examples include "Twilight," "The Hunger Games," "Harry Potter," "Percy Jackson," "The Chronicles of Narnia," etc. I've seen a number of these, and no, "Twilight" wasn't one of them. Thank goodness! While some of these young adult novels might fall under say the romance or fantasy genres, one concept that has applied a lot to recently popularized young adult books is the sci-fi dystopian element. This has been extremely evident with the worldwide phenomenon known as "The Hunger Games."
I'll be honest with you, I read the first "Hunger Games" book in the summer of 2012, and I don't even recall making it a quarter of the way through the whole thing. I watched the movie, and while it wasn't bad the first time watching it, the film got worse over more watches and the more I thought about it. The second film's good, but I've yet to see "Mockingjay" parts 1 & 2, because as of now, I no desire to pay for two parts.
There's a series that relates to this called "Divergent," and I haven't read the books for that. I enjoyed the first movie, I thought the second one was slightly better, but the third one sucked. As for the third movie, this is yet another case of splitting a book into two parts, and I'm wondering if that's partially why the movie didn't do well in terms of reactions and returns at the box office. Oh yeah, also don't forget the rather dull story, annoying characters, and crappy CGI. One of the biggest problems I have with the movies however is that Tris keeps changing her hair. What's up with that?!
People often consider "Divergent" a ripoff of "The Hunger Games," but that's simply not true. Both have corrupt governments and are futuristic, but just tinker around with them a little bit and you'll see the differences underneath. "The Hunger Games" is an event that involves fighting to the death whereas "Divergent" is simply about a girl in a certain class that society doesn't like. As for "The Maze Runner," it's got some similarities to both "The Hunger Games" and "Divergent." However, as far as the book goes, "The Maze Runner" came out before "Divergent," so you can technically say "Divergent" has similarities to "The Maze Runner" and "The Hunger Games." All three books involve a post-apocalyptic world with a nasty regime, there's a teen who has to fight against the overlords, and they're all tested. The similarities are significant in all three films. However, I think out of "The Hunger Games," "Divergent," and "The Maze Runner," I have to say I think "The Maze Runner" may be the best film of the three. This doesn't say much about the book, but as a film, this one likely reigns supreme.
What I just said doesn't mean "The Maze Runner" is a masterpiece, I just think it's an enjoyable flick that could help you pass the time for a couple of hours. Since I have that out of the way, let's get into some problems.
Pacing wise, this movie is mostly competent, you can follow everything quite well, and your eyes will be stuck to the screen for a long time.  However, as the movie gets towards the end, I have to say that there's a point, specifically when a screen comes on and everybody's listening, that the pacing just goes off for a second. I don't know how others feel about that but that's how I feel. I will say though, without spoiling much of anything, the movie has to do something in particular, and that thing in particular is what caused the drag for me.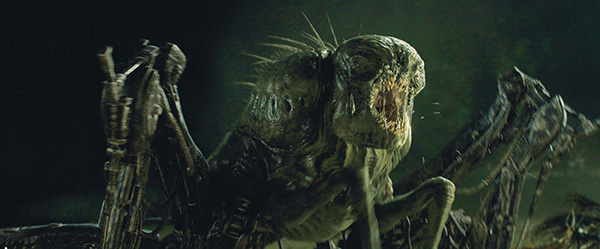 One little nitpick, and I don't know if this was an idea that the book's author had, or if it was a director, or an editor, or who it could have possibly been that had this vision, but there are these enemies that you see in the film. They're called Grievers. As enemies, they are serviceable and I don't really have much that's significantly wrong with them, but thinking about them, they almost look like ripoffs of the Xenomorphs from the "Alien" franchise. I'm surprised I've even said that because believe it or not I haven't watched one "Alien" movie.
Dylan O'Brien plays the main character of Thomas throughout "The Maze Runner," and I'd say that the character was well written, and I'd say having gone through the movie, O'Brien's a nice pick to play the character. Granted, I can tell they probably cast Dylan O'Brien mainly because girls have a crush on him since he's on "Teen Wolf" and if you know what the show is, you'd understand my point. To my happiness, the script focused less on his physique and more on his hope to become a runner and leave the maze. That remains true for every single one of the movies characters, which is just rather refreshing. Speaking of refreshing, there's not much romance in this film. There is friendship, there is interaction, but there's never any romance. And in a world where that is prominent in both the "Hunger Games" and "Divergent" franchises, that is awesome.
I really like the scene in the film where we first meet Thomas and he forgets his real name. The way he finds out is kind of hilarious. Basically, we meet him, it's daytime, we are introduced to the Gladers, and soon, night arrives, we see a bunch of boys around a campfire. Thomas is in a fight, and as he is fighting, he's getting his butt kicked, and all of a sudden, he remembers his name is Thomas, announces it in front of all the boys, and everyone is just exclaiming to the tenth degree. Pure hilarity.
As for another standout character, we have the big bad bully, Gally, played by Will Poulter. While Thomas is just trying to save everyone, Gally would occasionally interfere, saying that Thomas needs to be punished. I must say, this is good choice from a casting perspective, and I'm not saying this is a negative despite coming off as repetitive, he kind of looks like bullies we've seen in the past in terms of what's happened in TV and movies. Just compare him with characters such as Biff from "Back to the Future" or Buzz from "Home Alone" and you'll see what I'm talking about.
In the end, I'd say "The Maze Runner" is a really enjoyable film for what it is. It has some of the teen angst cliches, but at the same time, is a little more lighthearted in ways making it feel like you can have fun watching the movie. I have nothing against dark and gritty films, but in reality, that's how a majority of teen angst films seem to come off. If you have never seen "The Maze Runner," I do recommend it. I don't know what to say about the book, or how much you'll like the movie if you've read the book. I just know they're not exactly the same. I'm going to give "The Maze Runner" a 7/10. Thanks for reading this review! I'm going to have my review up for the second part of the "Maze Runner" trilogy next Thursday, January 25th, which is also the night of the early screenings of the final installment, "Maze Runner: The Death Cure." So stay tuned for my review of "Maze Runner: The Scorch Trials," along with more exciting content coming your way. I want to know, did you watch "The Maze Runner?" What are your thoughts? Did you read the book? Which is better? The book or the movie? Let me know your thoughts down below! Scene Before is your click to the flicks!