Hey everyone, Jack Drees here! Last weekend we got a new movie from Marvel Studios, specifically "Thor: Ragnarok," and while many people, including myself, say that Marvel has proven to create excellent films, there are also many that say DC, isn't like Marvel. Now, I will say this, I saw "Wonder Woman" in the theater this year, and as of now, I actually think I like that movie better than any of the movies released thus far in the MCU. Based on Marvel's past records and reception, it's guaranteed that "Thor: Ragnarok" will be a box office success and a likable movie according to many viewers. Now the real question I have is, can DC deliver on the same thing?
As much audiences and critics loved "Wonder Woman," not everyone thought movies like "Man of Steel," "Batman v. Superman: Dawn of Justice," and "Suicide Squad" were worth watching. Also, this upcoming "Justice League" movie is being directed by Zack Snyder, who I haven't seen GREAT films from yet, but many people like him for his work on "Watchman" and "300." I haven't seen "Watchman," but I have seen "300." If you ask me, I enjoyed "300," I thought it was a visually stunning movie with a very fitting vibe, some great music, but it ultimately rounded out to a 7/10 experience for me. I've also seen "Sucker Punch," which like "300" is visually appealing, although not as good. However there's one action sequence in that movie that was f*cking amazing! Zack Snyder's films, from memory, don't usually have much substance, but a good amount of style interjected into them. That style has worked for our eyes even in the DCEU (Detective Comics Extended Universe), the way the action is shot in "Man of Steel" is extremely exhilarating to the point that even Doug Walker, AKA Channel Awesome's Nostalgia Critic, someone who in a video said "'MAN OF STEEL' SUCKS!", said that the action in the movie was super awesome and felt like "Dragonball." In "Batman v. Superman: Dawn of Justice," part of the movie was shot in the IMAX format, which looked great when presented on IMAX screens. Interestingly, when the movie came out on home video, the aspect ratio changes which were shown in IMAX theaters, weren't shown on the home video version. The movie is also full of eye candy visuals all over the place. Not to mention, Wikipedia suggests "Batman v. Superman" is the 7th most expensive movie ever made, which is tied with "Harry Potter and the Half Blood Prince," "The Hobbit: The Battle of the Five Armies," "Captain America: Civil War," and "The Fate of the Furious." Zack Snyder isn't the only one who has a major say in the production of "Justice League" however…
If you have seen or heard "The Avengers" and "Avengers: Age of Ultron," you may know those movies were directed by Joss Whedon, who is also known for creating the TV shows "Buffy the Vampire Slayer" and "Firefly," both of which have received followings from nerds over the years. Whedon is also involved with "Justice League's" post-production and that's because Zack Snyder's daughter died after committing suicide. This happened March 20th, 2017, and this lead to Snyder initially hiring Whedon to take over. Speaking of replacements, when it came to the movie's score, Junkie XL (Mad Max: Fury Road, Deadpool), who also did part of the score with Hans Zimmer for "Batman v. Superman," was originally hired to do "Justice League's" score, however Joss Whedon hired Danny Elfman to take his place. This does make a lick of sense if you think about it, because Elfman has worked with Whedon in the past during "Avengers: Age of Ultron." If you ask me, that score wasn't very good. Nothing stood out about it except for the end of the movie when the theme you hear from the first "Avengers" film pops up, which wasn't even an original piece from Elfman, that was done by Alan Silvestri, who also did another score I admire, specifically "Night at the Museum." Now, I like Danny Elfman. The man's done some of my favorite scores (Spider-Man trilogy, Oz the Great and Powerful), but given the vibe we've seen from this universe thus far, and having heard Elfman's past scores, I seriously wonder how the music would go with the movie in terms of meshing together properly. Although this might be good for "Batman" fans, because reports have come up lately that his theme for Batman will be in the upcoming "Justice League" movie. You know, the one audiences first heard back in 1989. Also, this might be interesting for "Superman" fans as well because another report came out suggesting that his score will feature a dark twist on the iconic "Superman" theme, originally done by John Williams. As interesting as that is, the future, as far as this movie goes, seems shaky. But on a positive note, specifically for myself, the music we've gotten in the Detective Comics Extended Universe thus far is miles better than most of the music in the Marvel Cinematic Universe.
It's hard to know what to expect from this film, considering you have multiple minds taking control of it. You have Zack Snyder's and you have Joss Whedon's, whose mind came into play during post-production. In fact, I've seen a change in terms of the vision when it comes to the film's look as a whole. I went to YouTube and took screenshots of a similar part of both the trailer released in March and the most recently released trailer. In the trailer released in March, the sky looks dark and blue, whereas in the latest trailer it looks fiery and red. Just compare the scene where Aquaman is car surfing and see what I mean. Two different visions might ruin the movie and affect it significantly. Not to mention, it just begs a ton of questions. These include "How much has changed?" "Why was there change?" "How will the changes affect the final product?" If you ask me, Joss Whedon can direct better stories than Zack Snyder whereas Zack Snyder is better with style. This movie has reportedly gotten reshoots since Whedon took over, so maybe the original product had not much story and it's possible that Whedon could be changing that. Although there was another movie that has gotten reshoots in the DCEU that while it ended up pleasing certain people, it couldn't make everyone happy, specifically "Suicide Squad." There's a good chance that the reshoots might not end up paying off and leaving certain people rather unsatisfied with the results. Also, what if these reshoots are making this movie a simple carbon copy of "The Avengers?" I ask that because Whedon directed that movie and if you think about it, in fact if you know the material you don't even have to think about it, they're very similar in terms of concept.
Speaking of shooting troubles, let's talk about Henry Cavill. It was reported that he would be in the movie, but at the same time, it was also reported that he was shooting for "Mission: Impossible 6" which is set to come out in 2018. In fact when he was shooting "Mission: Impossible 6," his role required him to have a beard. He had to go back and forth between productions, which by the way, different studios are behind the two films. Paramount is behind "Mission: Impossible" and Warner Bros. is behind Justice League. Cavill couldn't shave his beard during his time working on "Justice League" so essentially it was removed digitally during post production. That's pretty much all I'll say about him because if I go on with certain thoughts related to Cavill, it would spoil "Batman v. Superman."
Speaking of actors in this movie, let's talk about Ben Affleck. A lot of people like Ben Affleck, both as an actor and a director. Here he's acting as Batman, which going into "Batman v. Superman," some people were worried about, but as audiences walked out, they actually didn't mind his interpretation. Although some might wonder what the future is going to be for this man. You may be aware of the whole Harvey Weinstein fiasco going on at the moment. You know, the sexual harassment scandal. Turns out that Affleck is chums with Weinstein and he made a tweet containing the image below: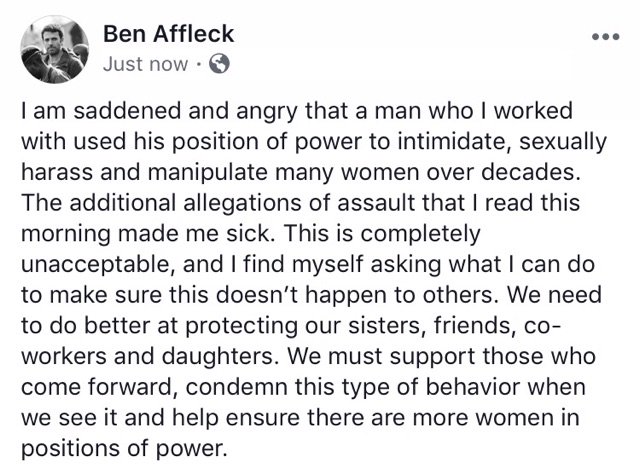 Fun fact about this tweet, someone noticed it, that someone being Rose McGowan, she called Affleck a liar, because he knew about Harvey Weinstein's actions. She later tweeted "Ben Affleck fuck off." I will say though, there is a time that she took this kind of case too far, when it came to another person who tweeted about this, Ryan Gosling. He tweeted saying he felt bad about everything that's going on, and she quote tweeted Ryan's tweet saying this: "you could at least do us the courtesy saying our names." My response, just be thankful. Ryan Gosling is trying to remind people this is a serious issue and this is his way of doing it. It's like saying every single birthday card must have a gift certificate inside it, otherwise it's not a birthday card. Although in all seriousness, this is literally where we are at! A cinematic universe's biggest star caught in a scandal that's larger than the Mall of America! It doesn't even end there, in the wake of this, several people have called out on Affleck for sexually harassing them. For example, in 2003, he groped Hilarie Burton's breasts on MTV's "TRL." Another example is during a Golden Globes party in 2014 with Annamarie Tendler. On October 11 of this year, she made the following tweets:
As far as other cast members go, they're not exactly involved in any of this Harvey Weinstein business, but this is a serious matter. Ben Affleck has such a major role in the DCEU, so he'll either be kept around, which I think might result in slight controversy at the very least, or he'll be fired, needing to find a new actor to play Batman. After all, this universe's Batman is getting a standalone film directed by Matt Reeves, director of "Cloverfield" and this year's "War for the Planet of the Apes." Not to mention, Jason Momoa, the fellow playing Aquaman, was recently under a similar situation. You may or may not know he happened to be Khal Drogo on "Game of Thrones," otherwise known as the one reason many people either subscribe to HBO, or the one reason some people pirate it. Jason Momoa attended a San Diego Comic-Con panel in 2011, which was for "Game of Thrones." He said at one point that he loved the show because he got to "rape beautiful women." Based on what I've read, this is a much smaller case than Harvey Weinstein's super-sized scandal, but it is something that many would consider a distasteful comment. Although to be fair, he did apologize for it.
Next up, you have the release date. This film is being released on November 17, 2017, which is two weeks after "Thor: Ragnarok." That movie owned the box office on its opening weekend. It soared past the first "Thor" at an 84% increase, and also flew by "Thor: The Dark World" at a 41% increase. As far as the US goes, this is the fourth largest opening of the year. There's a chance that while this movie is out, people might still be thinking about "Thor: Ragnarok." Plus, people in general have gone to see Marvel movies and liked Marvel movies as opposed to DC movies. This takes us into an interesting battle: "Batman v. Superman: Dawn of Justice" vs. "Captain America: Civil War." Both movies had heroes fighting against each other and despite the fact that two of DC's most popular heroes were duking it out in a fight that many fans have waited to see for years in a live action movie, "Captain America: Civil War" ended up making more money. According to Box Office Mojo, "Captain America: Civil War" is in the top 3 films, in terms of gross, released in 2016, with a total of $408,084,349 domestically and $1,153,304,495 worldwide. "Batman v. Superman" earned a spot as the highest grossing film released by Warner Bros. in 2016, and it made it to the #7 spot in terms of all films for the particular year. That film's total gross came out to $330,360,194 domestically and $873,260,194 worldwide. Now there are multiple factors that could have contributed. People seemed to give more positive reception towards "Civil War," which in my opinion it deserves. Although I will say the audience score for "Batman v. Superman" on Rotten Tomatoes is at 63%, which is a positive score. However the critic score is much lower at a total of 27%. Compared to "Captain America: Civil War," both scores are lower. The audience score and critic score are nearly identical for "Civil War" with the audience one being 89% and the critic score being 90%. By the way, Rotten Tomatoes in general should be taken into consideration since it is a source that a good number of moviegoers seem to rely on before they decide whether or not a movie is worth their time and money. There's a possible chance that more families went to see "Civil War" as well, which I wouldn't be too surprised by considering Marvel has shown to advertise themselves as slightly more family friendly than some DC films. Also keep in mind there are more heroes in "Civil War." While "Batman v. Superman" has two heroes in a fight, a mega-throwdown is a crucial part to "Captain America: Civil War." "Batman v. Superman" has Batman, Superman, and Wonder Woman interjected in there. "Captain America: Civil War" has Captain America, Iron Man, Ant-Man, Black Widow, Hawkeye, Falcon, Vision, Rhodes, Bucky (yes, he counts here), Scarlet Witch, plus the introductions of this universe's interpretations of Black Panther and Spider-Man. The biggest thing that triggered people like me to go to this movie aside from being in the MCU is that Spider-Man was in the movie! Also, he was being played by a teenager! Plus, you gotta consider, Marvel's owned by Disney, the creator of Scrooge McDuck, and as of now, a literal Scrooge McDuck. Maybe the world is used to Marvel movies, know they're good according to personal opinions, and have less to say about DC. Also, there's a possibility that certain individuals ended up seeing the movie more than once during its theatrical run. I will admit, I was one of those people. I went on opening night and I went again during its third weekend. I didn't see "Batman v. Superman" twice in the theater, I did however watch it more times overall compared to "Captain America: Civil War" when I bought the Blu-ray. Speaking of weekends, "Batman v. Superman" also suffered a significant box office drop from its first to second weekend. The total drop happened to be 69.1% (not counting Thursday previews), compared to 1997's "Batman & Robin," which dropped 63.3% from the first to second weekend. I'll remind you, "Batman & Robin" is a movie considered by an enormous number of people to be the worst "Batman" film ever made, and quite possibly the worst, if not one of the worst comic book films ever made. You never know what could happen. Maybe people will see it. Maybe people will like it. Although there is a good chance that if this movie fails to impress people, it could drop dramatically, in a result that's possibly worse than "Batman v. Superman," because if the world has taught us anything about movies and opening weekends, comic book movies are the bomb. Not to mention more money is given towards it if more than one hero is part of the story, unless we're talking about a movie I'll mention in just a moment. Also less people will go see it the more negativity they hear about it. In 2015, "Fantastic Four" was widely disliked and that also suffered a tremendous drop from the first to second weekend. To be specific, it turned out to be 68.2%. Also, I won't go into much detail about this because it's kind of in assumption territory, but I wonder how many people are avoiding this because they think we don't need "another Marvel deal."
Another thing that has some people worried, including myself, is that as of now, no reviews of this film have been put out yet, and there's a reason for that. The review embargo doesn't lift until the day before the movie comes out, specifically November 16th. Let's compare this to other movies based on comic books. The "Logan" review embargo was lifted on February 15th, 2017, which was multiple weeks before the movie released and that movie is considered by many to be one of this year's best films. "Thor: Ragnarok's" release date was placed two weeks prior to the one for "Justice League," specifically November 3, 2017. The embargo for that movie was lifted on October 19th, two weeks prior to opening night. Many people praised that film and commercials even stated by MCU standards, it's the best reviewed movie yet. 2015's "Fantastic Four" had its review embargo lifted August 6th, which was the day before the film came out. So "Justice League" ultimately has something in common with a film that was considered terrible by comic book fans, terrible by average moviegoers, and may as well have just been for Fox to just keep the rights to the franchise so it doesn't go to Marvel Studios. There was a point this year where I thought based on my personal tastes, "Thor: Ragnarok" was going to be slaughtered by "Justice League," but now I'm increasingly thinking the opposite. The production for this film is so clunky that it makes the production for "Suicide Squad" look like a walk in the park! The trailers have evidence of used footage which has been changed from one trailer to the other! And in the end it almost feels like some of this is just being rushed!
I can describe my current excitement for "Justice League" in the same way I did at a point for "Thor: Ragnarok." I'm excited, but also worried. Part of me really wants to enjoy this movie because it's "Justice League." You've got all the DC heroes coming together, the effects look good, the casting choices are stellar! However the behind the scenes stuff and the review embargo news makes me apprehensive. I also wonder what certain theaters are going to do now that Ben Affleck is constantly being called out for his actions related to sexual abuse, not to mention I wonder how audiences will react to this movie now that this is going on. If this movie fails, the DCEU might die hard and that would personally be disappointing news because I wanted to see what Warner Brothers would do with a cinematic universe related to DC Comics. Also, I want to see more work from Gal Gadot. Although if I could make a suggestion, if Affleck is fired, I'd like Warner to ask Christian Bale if he would like to return as the caped crusader. On a lighter note, let's talk about a convention.
This weekend, specifically November 10-12, I will be in Providence, RI for this year's Rhode Island Comic Con! I will be going all three days, Friday through Sunday. This will be taking place at the Rhode Island Convention Center, the Dunkin Donuts Center, and a hint of the Omni Providence hotel. I'll be walking around the convention, making purchases, attending panels, all that jazz. I'll even make a post documenting my time at the convention for you all to read if you're interested in checking that out. This convention is dedicated to comic books, movies, and TV. You'll be seeing a good number of artists there, not to mention vendors, but you'll also run into a ton of celebrities. Some of the headliners include William Shatner, Elijah Wood, Michael Colter, Mark Ruffalo, Ian McDiarmid, Jerome Flynn, Dave Bautista, and Norman Reedus. There will also be some music related guests including Gene Simmons and Al Yankovic. What I'm personally most excited for is the "Revenge of the Nerds" reunion, where several cast members from "Revenge of the Nerds" will be coming to the con, signing autographs, doing photo ops, and will be talking at a panel together. This is gonna be sick! If you want to find me at Rhode Island Comic Con, you do need a ticket to get in, they are still on sale by the way, and chances are you might see me in blue sunglasses. This is my third year in a row going to this event, it's a lot of fun, I highly recommend it, and I hope to see you there!
Thanks for reading this post, hope to see you at the convention this weekend if you can make it and if you can't make it, that's fine. Also, if you are part of a convention or convention organization and want me to review a con related to it, either comment or email me! I do have a contact page so don't be shy. Stay tuned for more reviews and posts! Also, how do you feel about this buildup to "Justice League?" Worried? Calm? Let me know down below! Scene Before is your click to the flicks!