Hey everyone, Jack Drees here! We are currently in the second half of 2018! And I've already stated to y'all that I'm going to Rhode Island Comic Con and New York Comic Con this year! Well guess what? That ain't enough to please this guy! I'm the king of the nerds, what can I say? This August, I'll be making my second trip to a convention down in Connecticut. Based on what I've been hearing, it's not gonna be quite the same as it was last year. It might as well be said that this year's upcoming TerrifiCon is more terrific than ever!
Having gone to this event only once, I gotta say it's a fun time. In fact, it came with a couple perks that I've missed at other cons I've encountered. For one thing, it doesn't have many crowds, which kind of shocks me because when I went last year, the space used for the con wasn't really that big. It worked, but it wasn't big. Another perk for me, and perhaps my mother, is that all my time spent at this con is actually free. Why? This is taking place at the Mohegan Sun casino, and she is a member of some sort of club there. The membership aided in her getting free tickets. Last year, she was actually able to get tickets for two out of the three days. This year however, she actually managed to get three free days. Thanks, mom! Judging by my recent comment, I'm going to be at the con from Friday August 17th, to Sunday August 19th.
TerrifiCon is going to be taking place in an all new venue this year! As a matter of fact, when I was leaving Mohegan Sun last year to go home, there was actually construction being done on the new center. The venue goes by the name of Earth Expo & Convention Center, and it'll still be attached to the Mohegan Sun property, but it's an addition to the all new Earth Tower. I haven't gotten much of a look at the place, but I have seen progress on its assembly.
Guests at this year's TerrifiCon range from media guests, cosplay guests, artists, and writers. Some standouts include Pom Klementieff (Guardians of the Galaxy Vol. 2, Ingrid Goes West), Lou Feringno (King of Queens, The Incredible Hulk), Sam Jones (Flash Gordon, Ted), and Henry Winkler (Happy Days, Arrested Development).
However that's not all the guests that stand out, because a there's a couple a guests that I'd imagine would be getting a lot of attention, but they won't because they canceled.
One of the biggest guests on the list, in fact what I think may be THE biggest guest on the list for this year's TerrifiCon is Jon Bernthal (The Walking Dead, The Wolf of Wall Street). His name was leaked on the guest list somewhere towards the second half of spring. Although recently, the unfortunate happened. Days ago, a representative for Jon Bernthal said this:
"I cannot even begin to express how sorry I am to inform you that Jon Bernthal will have to cancel his appearance at your show in August to do his filming schedule. It seems he will have wrapped "Punisher" and gone into production for his next film the week before. He really wanted to make it especially since it would've been perfect since it was so close, but after just receiving this new schedule, it's not going to be possible."
Speaking of canceled appearances, we have another from KISS member Vinnie Vincent. As the website suggests, this guest canceled due to a scheduling conflict. Similarly, Shannon Farnon, known for her work on the Hanna-Barbera "Wonder Woman," couldn't make it due to a scheduling conflict of her own.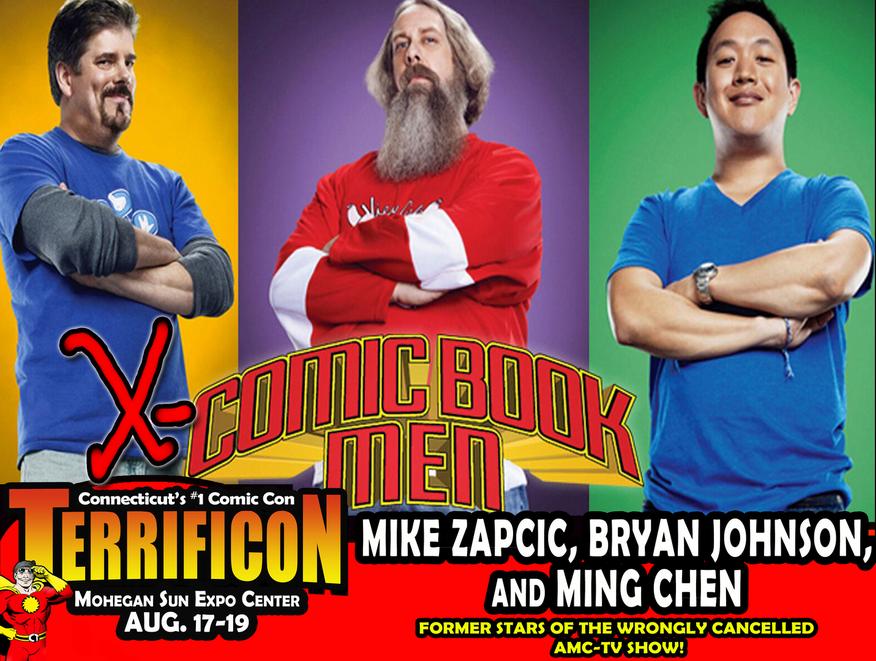 Funny enough, since we're talking about things that have been unfortunately canceled, let's talk about "Comic Book Men." I never really watched "Comic Book Men," but there's gonna be a trio of guests from the AMC TV show of that name. These guests include Mike Zapcic, Bryan Johnson, and Ming Chen. The thing I love about these guests is not necessarily their show, their personalities, the fact that they're even at the con, none of that. It's not that I don't like them, but that's not what I'm referring to here. What I truly appreciate about the announcement for these guests is how the writer is trying to project himself. It's like he's talking straight to the target audience given his statement, calling the trio from "Comic Book Men" "former stars of the wrongly cancelled AMC-TV show." For the record, this convention is being presented by Mitch Hallock and Big Fedora Marketing. So this must be either Mitch Hallock himself or some guy we don't even know behind Big Fedora Marketing who wrote this sort of thing. Funny enough, on Jon Bernthal's cancellation notice, it says "We were looking forward to seeing him as well – I already bought a 1st appearance of the Punisher for him to sign. But its not happening this year.
And yes, for those of you paying close attention, there is no apostrophe in what I assume was supposed to be "it's."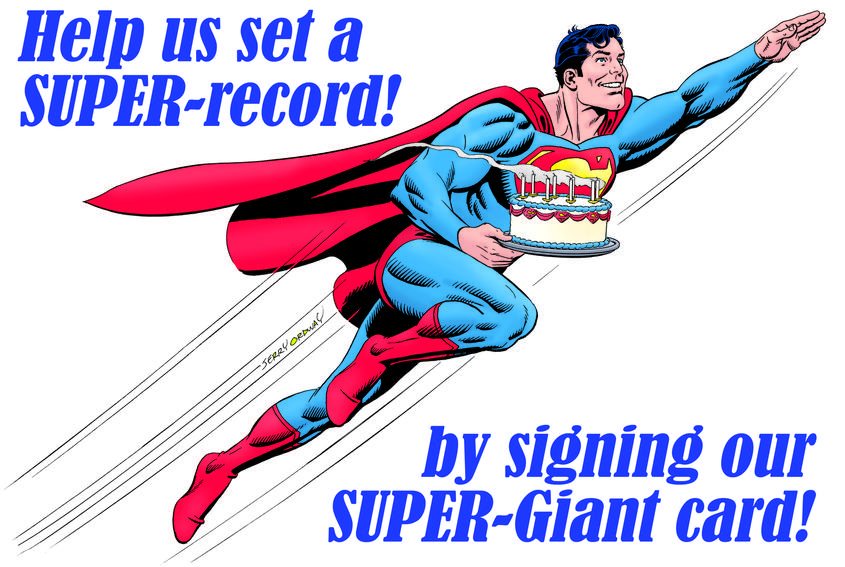 I could go on talking about all of the guests, but it's a small list so I don't feel it is absolutely necessary. One thing I do want to talk about is if you are going to the con, there is a chance that you could be making history. As an attempt to make a Guinness World Record for "Most contributions to a greeting card," Terrificon is going to have a 5×24 ft card featuring art from Jerry Ordway. Some of you might be thinking that this is one of those world records that might be looked at for a second by someone simply before they move on to find something more "valuable" or "important," and maybe you're right. However, it does not mean there is no purpose to this world record attempt. After all, this greeting card, is also a birthday card. Who's birthday is it? It's not a bird, it's not a plane, but I can definitely guarantee it is Superman. How old is Superman? This year, it is eighty years since his first ever appearance in a comic book!
Also, I gotta say, he ain't lookin' too bad for his age. He's gotta lose that mustache tho, it's kinda distracting. A little digital effects in post production will take care of it, don't ya think?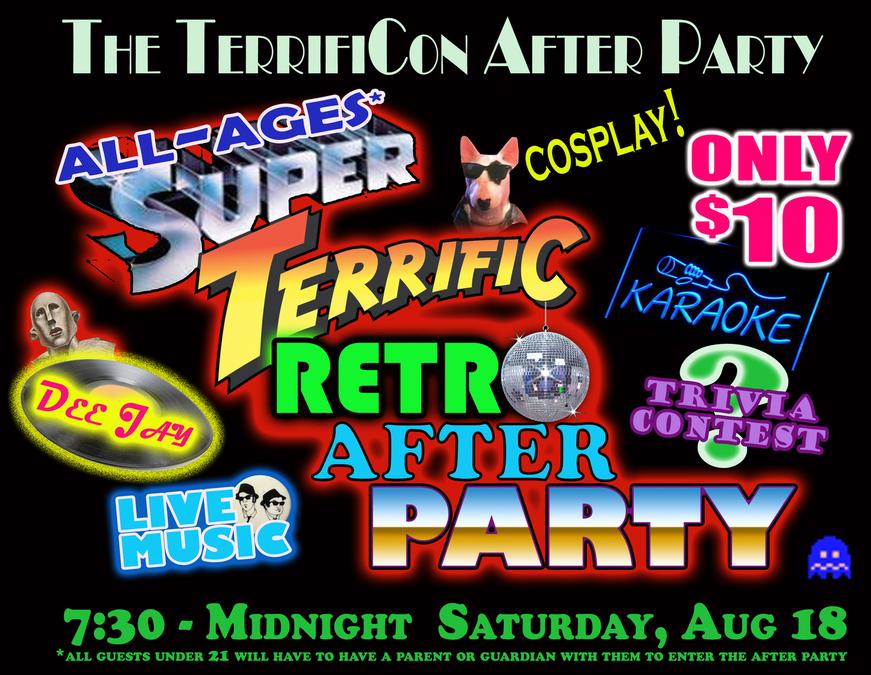 If you are into cons with activities, I will say, that sort of thing caters to all kinds of guests who enter the convention center looking for something to do. Aside from your traditional walking around, shopping, meeting celebrities, artists, going to panels, cosplay contests, etc, the con also has an after party. The after party takes place on Saturday, August 18th at 7:30 PM to midnight. This event goes by the name All-Ages* Super Terrific Retro After Party, and don't take the all-ages thing too literally. Yes, even if you were just born in the casino minutes ago, you might not have a problem getting in. However, if you're younger than twenty-one, you must have a parent or guardian accompanying you. There will be live music, a DJ, a trivia contest, karaoke, and cosplay is certainly permitted! To enter and get all of this cool s*it, it just costs $10! If you're not a party-person, that's OK, no one ever forced you to be. Because you know, nerds are born to avoid any social interaction possible. And one way they do such a thing is go in their soundproof room, turn on some console or computer, and play video games.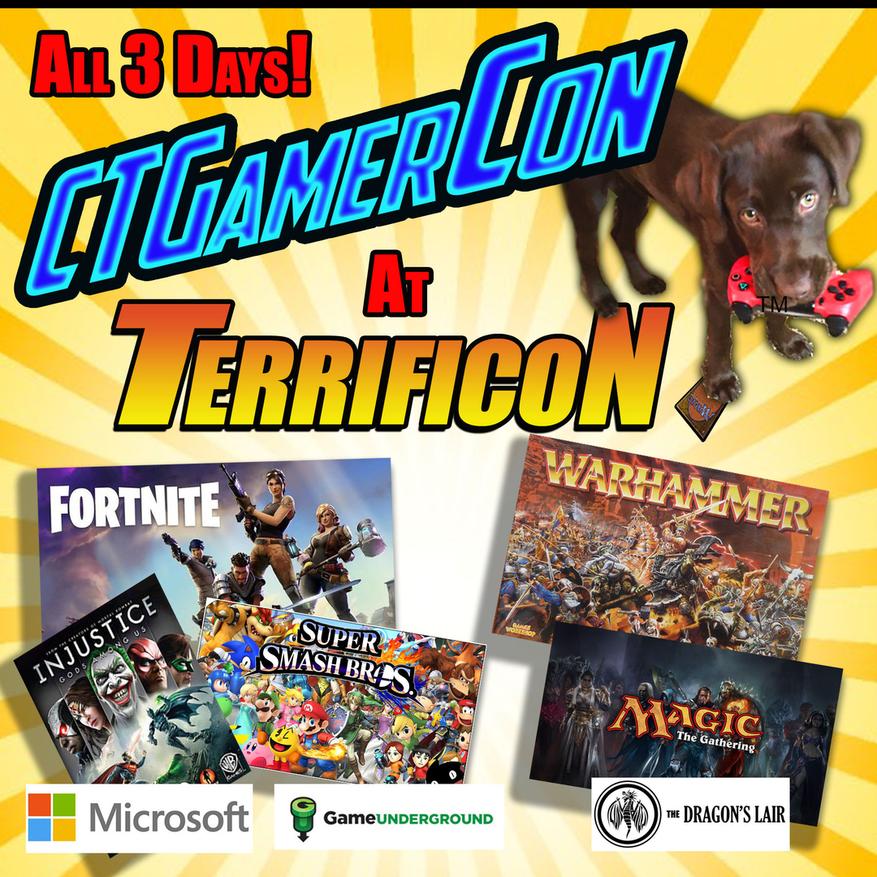 Throughout TerrifiCon, there will be tons of opportunities to play some of your favorite video games such as "Marvel vs. Capcom Infinite," "Rock Band 4," "Super Smash Bros. for Wii U," "Injustice 2," and "Fortnite." This is part of what's being called CTGamer Arena, and seeing some of these titles, I am somewhat curious to check this out. The schedule suggests that they're going to be doing Jackbox Games at 7PM on Friday. I would love to play Jackbox Games with a large group of people, just hear all of the laughs! I play Jackbox Games with my friends several times a year! COUNT! ME! IN! But one rule, if we're playin', we gotta do Fibbage at some point.
And if video games aren't your jam, there is certainly nothing wrong with doing tabletop, and this con has got that! Granted, it's a smaller schedule, but they've got it covered! If you want to play "Magic: The Gathering" or "Warhammer," go get your game on in The Dragon's Lair!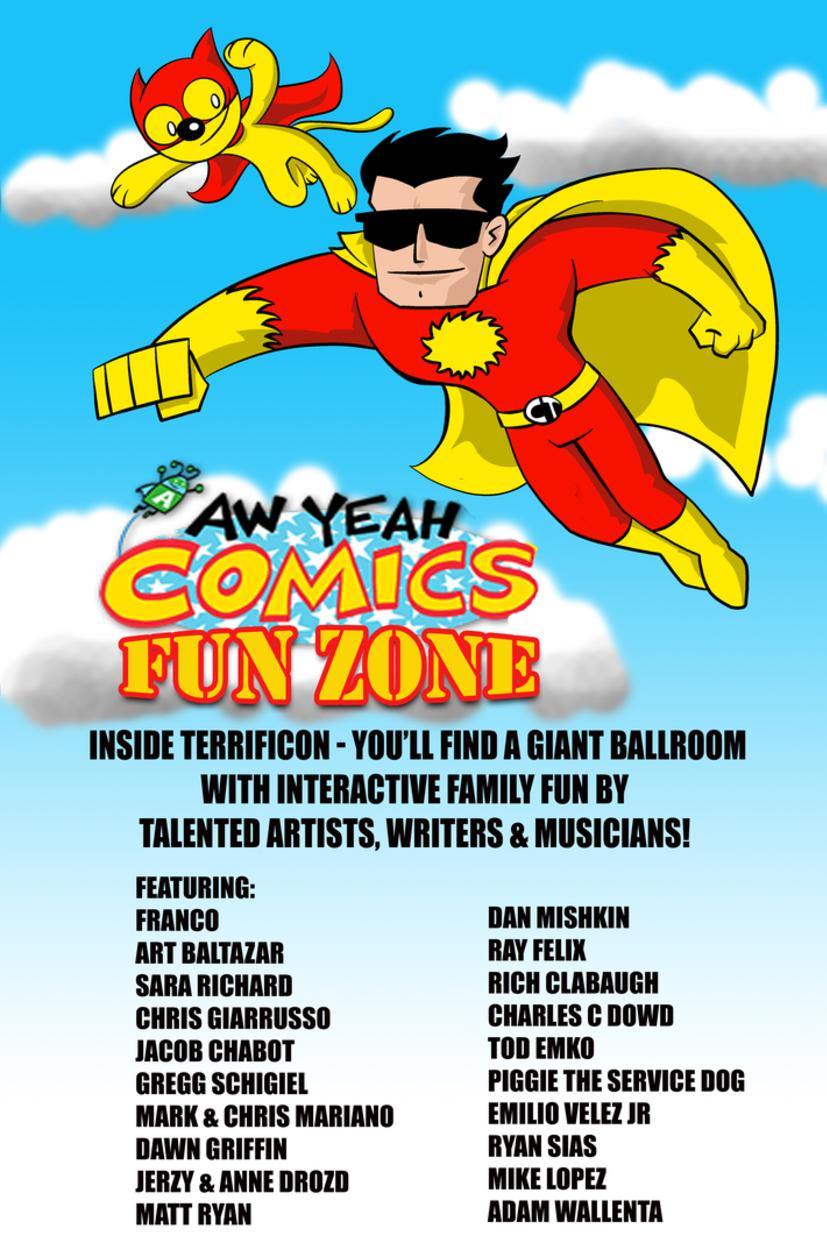 When it comes to TerrifiCon, they've always come off to me as one of the more family-friendly conventions I've seen. When I usually think of conventions, I don't usually think of family, I just think of a place where out of shape, nerdy men like myself go around and spend money on whatever makes people like me happy. TerrifiCon feels like a con that would be welcoming to families, and when it comes to family related events, the convention has that covered! If you want family fun, find out about the "Aw Yeah Comics Fun Zone." This area is in a giant ballroom featuring artists, writers, musicians, arts and crafts, face painting, robotics, demonstrations, and magic shows.
If you are traveling to this con and are looking for a place to stay, you can always book a hotel room on the Mohegan Sun property, that way you don't have to make much of a trek towards the convention center considering it's just steps from the elevators of both hotel towers. If that doesn't satisfy you however, there are also hotels in the area that can get you staying close to the Mohegan Sun property. There is also another casino in the area, for those who aren't familiar, by the name of Foxwoods, although Mohegan Sun and Foxwoods are owned by different tribes, so if you're looking to shuttle from one casino to another, tough luck kid. If you want a link for hotels in the area, click the link below!
MOHEGAN SUN & HOTELS: http://www.terrificon.com/mohegan-sun—hotels.html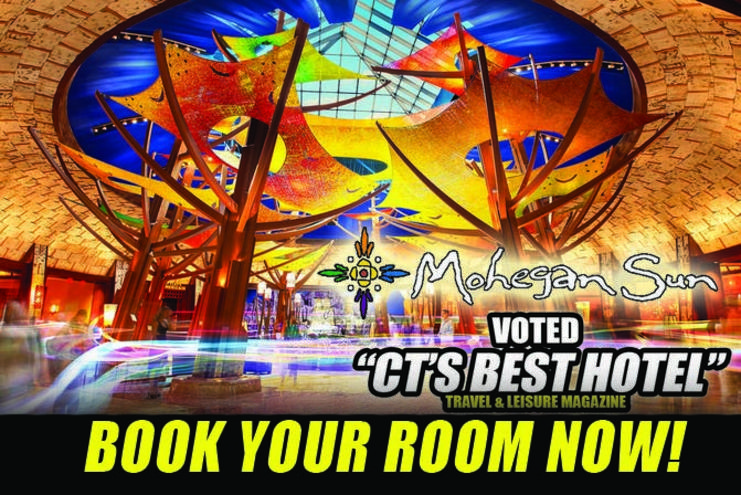 I'll be at TerrifiCon all three days of its run, I hope to see you there, and I'm willing to bet it'll be a heck of a time. I'll be sure to do a haul and review once I'm done, and with that being said, if you want to see that sort of thing, don't forget to follow me on WordPress using your WordPress account or an email! Thanks for reading this post! While we are still talking about upcoming content, I should have you all know that tomorrow I'm going to see "Skyscraper," I'll have that review up as soon as possible, and I hope you can stay tuned for all of my future work here on Scene Before! I want to know, are you going to TerrifiCon? What days are you going? Have you been before? Tell me about your experience! Let me know down below! Scene Before is your click to the flicks!