"Fantasy Island" is directed by Jeff Wadlow (Kick-Ass 2, Truth or Dare) and stars Michael Peña (Ant-Man, Dora and the Lost City of Gold), Maggie Q, Lucy Hale (Pretty Little Liars, Truth or Dare), Austin Stowell (Bridge of Spies, Dolphin Tale), Portia Doubleday (Mr. Robot, Carrie), Jimmy O. Yang (Silicon Valley, Fresh Off the Boat), Ryan Hansen (Friday the 13th, Party Down), and Michael Rooker (Guardians of the Galaxy, Days of Thunder). This film is based the television series of the same name, and takes place on an island where visitors see their fantasies come to life. However, as time passes, those fantasies lead to nightmares.
If you're wondering how I spent my Halloween, I did not really do much. I watched "The Simpsons" on FXX, which was airing a Treehouse of Horror marathon, I had more food than usual, and my mother and I hunkered down to watch this disposable film in the living room. I have never been exposed to any previous material related to the "Fantasy Island" IP. I am aware that previous material exists, in fact my mother pointed out some details about the movie that harkens back to older material. Unfortunately, regardless of whatever faithfulness toward older material this film provides, it is not enough to make a good movie.
This film is tonally inconsistent, structurally discombobulated, and all around just forgettable. Without looking them up on IMDb, I cannot tell you almost a single character's name from memory. This is how bad the movie is.
This movie is an hour and forty-nine minutes long, it did not need to be that long. Honestly, if this movie took out some of the over the top exposition, they could have trimmed the runtime down by like a few minutes, maybe ten. Short and sweet wins the race! "Fantasy Island" shows that there is a fantasy out there for everyone. If your fantasy is to be treated like an idiot while being overexposed, then this is the movie for you. There are barely any scenes where one can appreciate the sound of silence, embrace the visual art of filmmaking. It's almost like words are being hammered over your head and you have no choice but to stand by and take it.
One of the core aspects of "Fantasy Island" is seeing these different personalities come together. They originate from alternate walks of life, they have separate fantasies, and it is cool to see some of them in action. But this is also where the movie suffers in a way. It is great to see these ideas and personalities mesh together. However, the movie also suffers because you have all these characters with different backgrounds and aspirations, that there is no one tone that defines the final product. Is it supposed to be lively? Depressing? Hardcore? Sensual? You could make an argument that it is all those things in one, but as a result, the movie sort of suffers from an identity problem. It's just weird having to jump back and forth to see something vastly different every scene. There are even moments where we linger on one character for so long that I forget somebody else in this film even exists.
Let's talk about the script of "Fantasy Island." Correct me if I'm wrong, but I am pretty sure this was written in crayon. This is an actual line from the movie.
"Oh, I feel just like Jodie Foster in that Jodie Foster movie."
"Fantasy Island" is a classic for the ages!
The script for "Fantasy Island" comes off as a punishment for those who ever thought of paying money to see it. There is almost nothing noteworthy about this film. It is a sorry excuse of a script. Not one character will be remembered, not one line stands out as iconic, not one idea feels bold. All around, it feels lazy. It's almost as if Sony wanted to make this movie so bad they didn't care how many drafts the script took. It's colossally terrible! The movie is from the horror-based studio, Blumhouse. And naturally, they took the iconic property of "Fantasy Island" with an intention of fitting in a horror twist. But it doesn't come off that way. The film is not that scary! If anything, it's more hilarious than it is terrifying!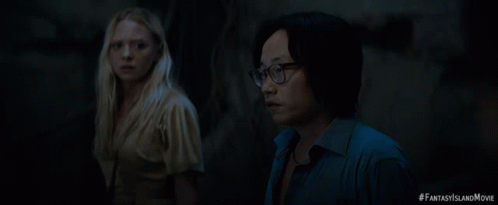 "Fantasy f*cking island." -Brax Weaver
Me too brother. I feel the same way. How did we get here?
I saw a lot of movies in 2018, and one movie that came out that year is "Truth or Dare," another Blumhouse production. I missed that film, and I still have not seen it to this day. In fact part of me is glad I still have not seen it as it has received mostly negative reviews and has garnered a 5.2/10 on IMDb. Turns out that "Fantasy Island" is from the same director, writer, producer, and has even brought back Lucy Hale as a cast member for this film. Have we learned nothing?
Wait… "Truth or Dare" almost made a $100 million on a small budget?
"Truth or Dare" is getting a sequel?
Take me to FANTASY. F*CKING. ISLAND.
Unlike some other bad movies I have seen this year though, "Fantasy Island" has one advantage compared to its competition. I watched this film alongside my mother, and we had no regrets. This is the kind of film that if you want to get flat out wasted while watching, I would not object, because it definitely has that vibe. So if you invite your friends to your fantasy island to watch the disaster known as "Fantasy Island," I can guarantee you all will be on Fantasy f*cking Island.
I said earlier in this review that not one character will be remembered. While I still sort of stand by that, I will say one of my big wonders for this film, is how the casting for JD and Brax came to fruition. Because I watched this movie and I don't know if this was coincidental, it's like looking at Bill and Ted, except that Bill and Ted had genuine charisma and chemistry. I did not watch this in the theater so thankfully I got to shout as loud as I want, but every other scene I would say something like "Duuuude" or "Excellent!" They feel like carbon copies of a much more compelling duo! Some of their dialogue represents that too!
Speaking of casting, this movie originally offered the role of Mr. Roarke, which ultimately went to Michael Peña, to Nicolas Cage.
Have you seen his resume in recent years? Also, Cage! You made a mistake! If they got Nicolas Cage, I would argue that this could have been the greatest bad movie ever made. I could just imagine the zaniness all over! What a missed opportunity! Michael Peña does what he can here, and I could tell that he is giving it his all, but his performance does not hide some recent complaints. Overexplaining, too much reliance on dialogue, and horrible writing. I can also imagine the direction in this film.
"Quiet on set! Lucy Hale, explain everything to the audience like they don't have brains! Take 57! Action!"
Did I mention one of the three guys who wrote this movie, Jeff Wadlow, also has a screenplay credit for "Bloodshot?" I did not review that film, mainly due to a lack of motivation, but I am getting concerned for Wadlow's life choices.
I will also say, one thing that is different about this movie compared to a few other bad films this year is that when it comes to a recent bad movie I saw, specifically "The Hunt," is that I felt more emotionally attached to the film upon leaving it. By that I mean I felt complete and total anger, but I still felt something. "Fantasy Island" did not really let me feel much of anything. Yes, I was shouting at the screen, laughing, maybe getting a little angry here and there. However, upon leaving the film I started to forget about it. All my emotions separated from my head and went to its own little island. That can be a good thing because "Fantasy Island" is not a good movie, and the sooner I can forget about it, the better. But it also shows that there is no lasting impact. "The Hunt" made me genuinely fill myself with rage, and that was kind of the point of the film at times. "Fantasy Island" tries to be entertaining and scary, but fails at every step of the way. As a result, we have a forgettable mess.
In the end, "Fantasy Island" is a major waste of valuable time. You can probably watch this movie if you're drunk. But I would rather preserve my liver. The cast, while somewhat competent, are all wasted. Not one person in this schlock added anything of value. All that happened to added were endless streams of exposition. At one moment this movie is a poppy wonderland, the next moment we're at war, the next moment we're having date night, it's just a lot happening at once. The movie has too many characters that all feel disposable. These tones would be fine if the characters were fine. However, that's not the case. I'm going to give "Fantasy f*cking Island" a 2/10.
Thanks for reading this review! I am hoping to get back to the theater sometime soon to watch something new. The past couple films I reviewed were stuff I watched at home, but if I have time, maybe I'll check something out like "The Empty Man," "Come Play," or "Synchronic." I will say though, the film I am looking forward to this month more than any other is another Blumhouse production, and that is "Freaky" starring Kathryn Newton and Vince Vaughn. It's a horror twist on "Freaky Friday." They just had an early screening in my area, but I did not go as I was watching "Alita: Battle Angel" at the AMC that night. Such a good movie. I will be sure to buy a ticket, watch the movie, and share my thoughts with you all. I think this is going to be absolute fun. Be sure to follow Scene Before either with an email or WordPress account so you can stay tuned for more great content! Also, check out my Facebook page! I want to know, did you see "Fantasy Island?" What did you think about it? Or, what did you do for Halloween 2020? Let me know down below! Scene Before is your click to the flicks!