Hey everyone, Jack Drees here! So next week, I've been thinking about seeing "Joker," the latest of the neverending trend that we like to call "comic book movies." And I'll tell you, the movie looks pretty freakin–WAIT A MINUTE! HOLD THE PHONE! SPIDER-MAN JUST RETURNED TO THE MARVEL CINEMATIC UNIVERSE!
This information, to me, came completely out of the blue. I was just enjoying my Friday off from school, summing up my thoughts on the latest movie I've gone out to see, when all of a sudden, I'm on social media, and a Variety article comes up with a headline that at this point looks too good to be true. Once I saw the headline "Spider-Man Will Stay in the Marvel Cinematic Universe," there was only one thing to do.
DO SOME CARTWHEELS AND ALERT THE FREAKING MASSES!
I try to maintain a level of professionalism on this website. There are definitely signs that may suggest otherwise, but that's because I want my blog to be fun, not boring, not unoriginal. I want everything to stand out. So with that in mind, THIS IS ONE OF THE BEST THINGS I'VE HEARD IN MY LIFE! HELL TO THE FREAKING YEAH! BOOM!
Now, let me just say, Spider-Man is my favorite superhero of all time, and if you have not been following my favorite superhero of all time in the news recently, you'd know that Disney and Sony had a little scrap. For some years now, Sony had the ability to spend money on a new Spider-Man movie, but Marvel Studios (owned by Disney) helps out in making those movies come to life and in return, their side gets a portion of the money, all of the merchandising rights, and a couple of chances to show Spider-Man off in other movies they happen to be making. Sony also gets the chances to retain rights to solo Spider-Man filmmaking as they have already come out with films like "Venom" and "Spider-Man: Into the Spider-Verse." But this was recently interrupted because Disney asked Sony for greater permission on the content, but Sony said no.
The original deal had Sony making 95% of the box office totals on films that would eventually be known as "Spider-Man: Homecoming" and "Spider-Man: Far From Home." This means for those movies, Disney would gain 5% of the box office. After the exciting news of "Spider-Man: Far From Home" becoming Sony's highest grossing movie ever, it was a great sign that the deal seemed to have worked out. Both Disney and Sony are making money on Marvel Studios films, Disney is getting merch money, and Sony gets to make money on their own "Spider-Man" films outside the MCU. But Disney asked for Sony to co-finance and split profits on upcoming "Spider-Man" films. Sony wasn't satisfied with Disney's new proposal, so they were no longer involved with the MCU. But, a "Spider-Man 3" was still planned. So they were going to make the movie on their own, without Marvel Studios president Kevin Feige's involvement, which seemed kind of difficult because if you ask me, Spider-Man currently represents an enormous part of the MCU's current storyline. With several main characters we currently know having disappeared, Spider-Man may be the next crucial main character for Marvel's phase 4 and on. He was taken under the wing of Tony Stark, he tried to make him proud from time to time, and now he is trying let Stark's legacy live on. This separation would have been bad because Sony probably couldn't use any of Marvel Studios' other properties or characters if they needed to, and future Marvel Studios films would probably have to come up with some lame or cheesy excuse as to why Spider-Man is not with the Avengers.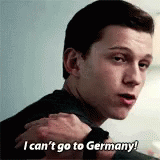 Did he have too much homework?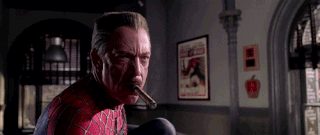 Is he busy with The Daily Bugle?
Did he not feel so good? I mean, come on!
Nevertheless, as of Friday, Sony and Disney have reunited with new terms that may seem to work out for both of them. And that was one thing that I personally was worried about, because as much as I want Spider-Man in the MCU, I understand why Sony left, and I would have rather had Sony leave the way they did as opposed to having them go along with the 50/50 terms because that means they lose control, or at least partial control of their biggest property, and let's face it, if this were a game of Film Studio Monopoly, Disney would be winning. They own Boardwalk (most of Marvel), they own Park Place (Lucasfilm), there are hotels on both properties, and you might as well say that they own Pennsylvania, North Carolina and Pacific Avenues, all of which represents the remains of 21st Century Fox, and they are starting to build on those properties as we speak. If Sony were playing this game, they'd be better off landing on the go to jail spot over and over again. I'm not saying they are in danger of going out of business, but still. Luckily, things are being kept in check, because while the deal is no longer a 95/5% difference between sides, it is now 75/25%, with Sony gaining most of the profits. And while this may seem like a significant increase right now for Disney, it may be worth it in the end. Because Sony is still putting some of their eggs into the basket of their own Spidey content, including "Venom 2" which is currently in development.
Despite how much I may point out how Disney is making "too much money," there's not much wrong here with Disney wanting more money for these "Spider-Man" films. They've done their part when it comes to inserting soul into the character. But I think this deal should probably not go much higher, because Sony is the one distributing the film, and they are the ones paying for it to be made. I personally think 25% is the highest that I would be OK with Disney earning for these movies. Because if they are allowed to earn anything greater, then they might as well be snatching "Spider-Man" from Sony. Yes, Disney technically owns Marvel, but Sony is also in a position where Spider-Man movies are "their thing" and will probably end up being their greatest asset for the time being. It would be like Universal giving up "Fast & Furious" or Paramount giving up "Mission: Impossible" or STX Entertainment giving up "Bad Moms."
I should also point out that in addition to this whole reunion, the spreading of joy and good news across the movie fandom, Sony put out a post recently of a little announcement that I think you all might enjoy.
One word. Hype.
I honestly almost couldn't be happier because while Disney is still increasing their control on Spidey, it's not like they're hogging the entire plate. Sony gets to keep the rights, and Marvel Studios gets to keep Spider-Man in the MCU. And even if it is just for one more movie, it would help me as an audience member in getting some closure after the AMAZING mid-credits scene of "Spider-Man: Far From Home." What mood am I in right now? Well, look down below!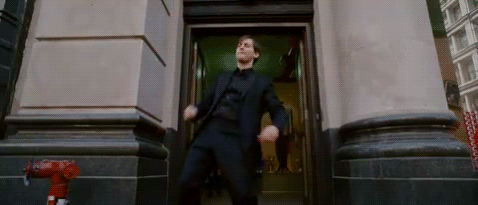 I feel like dancin' like I just don't care! Booyah!
Thanks for reading this post! I just want to remind everyone that "Joker" comes out next weekend. Now, I want to go see it next weekend. I have time to go see it next weekend. But chances are, I'm not going to. I will say though, I do have tickets booked for the second weekend! I'm going to see "Joker" on Friday, October 11th in 70mm! Hopefully I can get a review up by the end of Columbus Day if I go see it then for the first time, or Indigenous Peoples' Day depending on your preference, I cannot wait to check it out! As for this next weekend, I am not sure what's going on. Maybe I'll watch "The Fanatic," the new John Travolta movie that just came out, because I kind of want to talk about it. It just seems like it would make for good material, so we'll see what happens. Be sure to follow Scene Before with a WordPress account if you want to see new posts in your WordPress feed, or if you just want to subscribe with an email, you will be notified of new posts immediately through email. Stay tuned for more great content, and check out my Facebook page! I want to know, what are your thoughts on the latest news regarding Sony, Disney, Marvel, and Spider-Man? Are you happy to see him back in the MCU? Do you think a better deal could have been made? Or are you disappointed? Did you want to see what Sony could have done with Spider-Man without Marvel Studios? Leave your thoughts and opinions down below and I'm not sure about you guys, but bring on "Spider-Man 3!" I want it now! Scene Before is your click to the flicks!
"This is terrific, Peter Parker's story took a dramatic turn in 'Far From Home' and I could not be happier we will all be working together as we see where his journey goes." -Amy Pascal (Producer, SPIDER-MAN: HOMECOMING and SPIDER-MAN: FAR FROM HOME)