Hey everyone, Jack Drees here! Let me ask you a question, when it comes to movies, who is your favorite director? If you ask me, my personal pick would probably be Christopher Nolan. I haven't seen all of his films, but I have seen a number of them, even if I don't LOVE his films, I can still highly appreciate them in one way or another. The biggest way that comes to mind is how a number of his movies are shot.
If you don't work in the film industry or you don't really care about a film's technical aspects, you might not be aware that most movies nowadays are shot with digital cameras. I will say that these cameras have brought various benefits. One of the biggest benefits in my opinion is that digital cameras had allowed greater opportunities for movies to be shot in 3D and look good in 3D. Granted, 3D films can also be shot in 2D, whether it be shot on digital or not, and be converted. But I remember seeing films shot in 3D and looking amazing on screen. However, let's talk about an older technology…
If you have seen an movie that someone may consider "older," chances are extremely likely that it was shot on film. From my experience of someone who has done research on various cameras and movies, film is superior in a number of ways. These are all based on resolution, grain, and not to mention from personal experience, how it looks on a projector. Part of that is why I want to talk about "Dunkirk," which is Christopher Nolan's next movie, it is due to come out next month.
According to the image above, "Dunkirk" will be in theaters everywhere, but it is also letting us know that it will be watchable in various film formats. These formats include 35mm film, 70mm film, and IMAX 70mm film. Nowadays when you go see a film, it is projected digitally, and from experience it would usually be shown in a format that is higher than full HD, which is 1080p. To my knowledge, a good number of theaters which happen to be equipped with digital projectors show movies in formats such as 2K which is higher than the resolution of high definition and 4K which is higher than that. Based on research I've done, 35mm is greater than even 4K. When I was born, this was still a standard in cinemas, digital was on the rise, but that doesn't mean 35mm was completely dead. 70mm was pretty common before I was born. This was shown in a resolution that is greater than 35mm and I also heard the sound is greater with this format. This was also typically shown in a theater with a considerably big screen. 35mm is shown a screen which is a size similar to that of your standard digital presentation but the 35mm is as mentioned, higher in terms of quality. I will say, as much as I could talk about 35mm and 70mm film, I'm not going to. I think I've said what needs to be heard at this point. They are both ancient pieces of technology that would honestly still hold up compared to what's used nowadays in most movie theaters.
Now let's get to the big guns, IMAX 70mm. When I really got into movies and their technical aspects, this was something I did a lot of research on. Why did I do research on this? Well, I just got into 3D which made me start going to the IMAX more and one day I came across more on the company. Such information included the movies they did, their logo history, and their projectors. Little did I realize I was being lied to. Let's trace this back to the beginning…
Up above we have two images. On the left we have an image of an IMAX screen, not just any IMAX screen as a matter of fact, but it is also is the IMAX screen of the theater I always went to as a kid. The theater is now known as the Sunbrella IMAX 3D Theater, but before, this has been under multiple sponsors including Comcast, Verizon, and Tempur-Pedic. This is located in Reading, MA. I saw multiple movies here and I ended up having fun during all of my experiences, even during "Transformers: Revenge of the Fallen," which I hear many people hate. The reason why I bring that up is because I threw up during that experience. Sounds eccentric, I know, but still, it's something that happened in my past so I feel it is worth discussing. At the time, this theater was equipped with an IMAX 3D 70mm film projector. This projector is known as the GT (Grand Theatre) projector. There is a projector that is similar to this that is capable of fitting in smaller IMAX theaters but has the same technologies, it is known as the SR (small rotor). Unfortunately, with the rise of digital, the film projector in this theater wasn't going to last forever. In 2012, the theater switched to digital, which still allowed a cool IMAX experience to be had and a greater contrast ratio to be displayed on the screen, but the overall experience was missing something. A TRUE EXPERIENCE. Fun fact, before this theater was converted, there were other IMAX theaters introduced with new projectors, one of them being the projector in this theater that was the successor to the film projector, these projectors were supposed to fit on an IMAX MUCH SMALLER than the one in this theater, not to mention any older IMAX theater in existence. Here's a chart I want to show you…
Right here is a comparison between two IMAX theaters in New York City, both of them operate under the well known cinema chain, AMC, but they have key differences, one of them is big, the other is small, and I say this by the standards of IMAX. The bigger screen is something you'd find in an older IMAX, and the smaller screen is something you'd see in a newer IMAX which is traditionally found in multiplexes.
Right here is a demonstration of the IMAX difference with footage from last year's "Batman v. Superman: Dawn of Justice." This film had select footage shot with IMAX cameras, the same type which was partially used during this film, if that footage was shown in a regular theater, the entire film would have been shown at an aspect ratio of 2.4:1, if it was shown in IMAX digital, then the film would have been presented mostly in 2.4:1, but have select footage shown in 1.9:1, which covers the entire screen of an IMAX digital setup if this were shown in a multiplex, but not if shown in an IMAX which originally had a 70mm projector. In a classic IMAX theater with the true IMAX experience, this would have been at an aspect ratio of 1.43:1, this ratio covers the entire screen. This is something you would see with an IMAX documentary or something like that, but it's once in a blue moon that you get to see this with an IMAX film that is digitally mastered for the experience like all of those big blockbusters made in Hollywood. In fact, here's a list of IMAX digitally mastered films that have been able to cover the whole screen simply because they've been shot with IMAX cameras.
1: The Dark Knight
2: Transformers: Revenge of the Fallen
3: Mission Impossible: Ghost Protocol
4: The Dark Knight Rises
5: Star Trek: Into Darkness
6: The Hunger Games: Catching Fire
7: Interstellar
8: Star Wars Episode VII: The Force Awakens
9: Batman v. Superman: Dawn of Justice
10: A Beautiful Planet
As you can tell, there aren't that many times when the screen has been full except for IMAX documentaries. Apparently, according to IMDb and Wikipedia, there are a couple of Dreamworks Animations that have also gotten the true IMAX treatment, but I'm not listing those because those weren't shot with a camera. Granted I saw the ones which were associated with this identification (Kung Fu Panda, "Madagascar: Escape 2 Africa), but still.
With these specs in mind, I would like to tell you that I have been through said experiences at least once. When I went to see "Interstellar" in 2014, I saw it in IMAX 70mm, when I went to see "Star Wars Episode VII" one of the showings I went to was in IMAX digital, and I'll use the same film as an example for the regular theater. IMAX 70mm wins by a long shot because you can get a view of the screen as if it is actually your eye. It fills up a good portion of your vision and when you add in the amazing sound quality, it's bliss. For IMAX digital, it's a fun experience, but it doesn't realy make you feel like you're in the movie. It's close, but no cigar. Although I will say it is better than a traditional movie theater experience due to IMAX digital have a slightly bigger screen, not to mention having a screen that goes from ceiling to floor as well as wall to wall. I will say, I did see "The Force Awakens" in true IMAX too. Well, sort of. Let's talk about IMAX laser.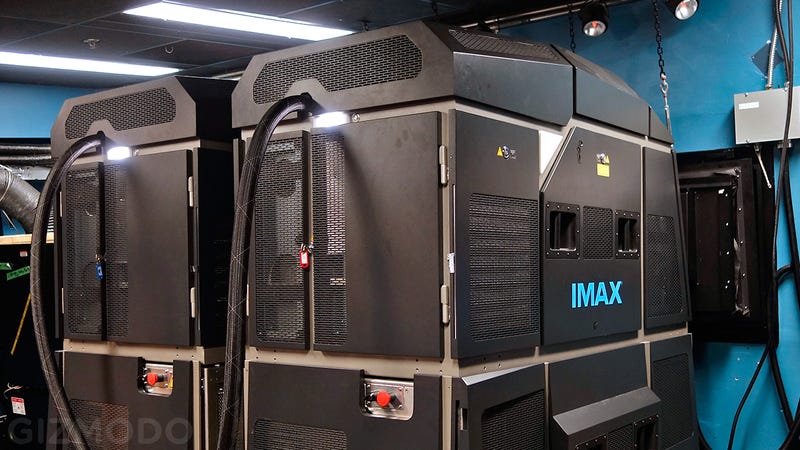 Right here is IMAX's 4K laser projection system. When this all started, this was a project that was being developed in cooperation with Eastman Kodak since April 2012. This was designed to be a digital projection system not only capable of surpassing the quality of IMAX digital, but also meant to replace the older IMAX film equipment. Not many of these projectors exist for what I know, although do you recall that theater I mentioned earlier? The one I went to as a kid? Well turns out I still go today, and now I have a better reason to go than I did in times from 2012-2015. Why? In the summer of 2015, the theater closed its doors for a period of time, this was to make some upgrades. One of them was a superior sound system. What's the difference? The old sound system has 6 channels, the new sound system has 12. Not to mention, you even got speakers on the ceiling now. There aren't many places you can find this! Also, let's dive into the gem of focus, the laser projector. As mentioned, it is capable of displaying images of 4K and have a contrast ratio which is double that of an IMAX film projector. While this is a brighter projector, I wouldn't say you can see more of an image on it. You can definitely see A LOT, but it is not at the maximum quality. However, the biggest thing this does resolve from my view is the inability to fill up an entire screen, so when I saw "Star Wars: The Force Awakens" in this format, 5 minutes of that film, the escape from Jakku to be specific, was presented in a 1.43:1 aspect ratio as opposed to 1.9:1. I will say though, at the laser theaters, the sound is probably better than the film theaters based on the number of channels.
So ultimately, if you ask me, IMAX laser is worth the ticket price you're paying, especially when you compare it to IMAX digital, which is cool, but not extraordinary. Although if you ask me, I would rather pay to see a film in IMAX 70mm, and that is only to see a superior image, embrace older technology, and based on previous experiences, get something I wouldn't usually see. Because IMAX laser is capable of playing a lot of films that are presented in IMAX digital, but the same cannot be said for films playing in IMAX 70mm. Want to know what I mean? Here's a Wikipedia page displaying all of the films that have gone through the IMAX DMR (digital media remastering) process, and it shows the projection options that have been available for certain films.
https://en.wikipedia.org/wiki/List_of_IMAX_DMR_films
So if you want an experience that is truly unlike any other you're getting nowadays, and I say that now more than ever because this movie exists, please go see this movie on film (any format) or in IMAX laser. I personally am excited because there is a theater in Providence, RI, which is just over an hour away from my house that is getting the IMAX 70mm treatment (OR SO I HEAR, I WONDER IF THAT'S EVEN HAPPENING), and if this is the case, this is probably the first time the equipment is being used for a DMR film since "Interstellar," which is directed by the same guy doing this film. I went to see "Interstellar" at this theater and I am more than thankful of my aunt Jenni for taking me and keeping a promise we had to do so. I also am aware that Coolidge Corner Theatre and The Somerville Theatre, which are both close to my house, happen to be getting this movie in 70mm film. I'd personally go see this movie in IMAX 70mm first because that is my personal favorite experience of the bunch, and if I end up liking the film and want to see it again, I can make a trip to one of the closer theaters and get a regular 70mm experience. I mean, I probably am gonna like this movie, it's done by Christopher Nolan, and to me, it's hard NOT to like his work, so I have absolute confidence that this upcoming film will be good. Anyway, thanks for reading this post, "Dunkirk" is in theaters everywhere July 21, but special engagements in 35mm, 70mm, and IMAX 70mm film will be available on July 19. Also, this upcoming weekend, I have plans to see the film, "Transformers: The Last Knight." *Pause* *Chuckles* That's so cute, I just called it a film. Based on what you just read, you can probably tell I don't have much hype for it, but I'm seeing it anyway because I've seen all the others and I want something to review. Stay tuned for that along with more reviews! And when "Dunkirk" comes out in July, stay tuned for that review! Scene Before is your click to the flicks!