Hey everyone, Jack Drees here! It is that time again! The time to needlessly brag about… well, time. It is time to recognize four years of Scene Before! And spoiler alert, this is going to be like the last couple of reflections. I might change it up for the fifth year because that is kind of a big deal, but I would like to wish a happy four year anniversary to Scene Before!
It's hard to believe that a simple high school project would lead to all of this. The Movie Reviewing Moron, annual countdowns, prolific movie reviews, it's actually insane! For those of you who have followed me for these past four years, I cannot thank you enough for all your support! And I do mean that from the bottom of the heart, even to those who was trying scroll away from me on social media and ended up accidentally clicking on my link! To quote the great Keanu Reeves, "you're all breathtaking!"
My past year of Scene Before may have been arguably my biggest yet. One of the prominent highlights for me is that I started to focus on a project pretty early. In fact, you know how some movies like "Star Wars" get trailers that come out maybe a year before the actual film is supposed to hit theaters? I decided to get in on that game and create this blog's first trailer for upcoming content. As a personal choice, I decided to not have any sound accompany the trailer, I was going to let the visuals speak for themselves. So I whipped up something on Adobe Premiere and then came the first trailer for "Top Movies of the 2010s." Looking back, for the first trailer that I created by myself, I wouldn't say it is too bad. It definitely has an epic vibe, and the only things I'd critique are the graphic titles. Plain black and white is a little boring, but the music choice, which by the way, is a song from the fourth "Super Smash Bros." game, builds up this trailer quite well. For this countdown series, I made four trailers. I almost settled on three, but for some reason I decided to do four, but I think it helped me keep the idea fresh in everyone's minds in the long run given how not everyone might remember it for 6 months or so in advance. The second trailer had "Inception" music, which I thought was a good idea given how the song I choice has a sense of dramatic, climactic buildup. Plus, "Inception" is an iconic 2010s title, making it all the more fitting. The third trailer started off as a remix of the final trailer for "Avengers: Endgame," which honestly is completely appropriate given how like "Endgame," "Top Movies of the 2010s" is a decade-long culmination. The final trailer, which I released on Christmas Eve, took the music from the final trailer of "Star Wars: The Force Awakens," and this trailer, based on the layouts of the edits, could be my favorite one that I have done for this countdown series in particular. I even created a graphic title that I unfortunately never carried over to the countdown series, but it's not like it mattered THAT much. In fact, speaking of "Endgame," the trailer ended with I'll call the movie's "final blow." It was a perfect way to end an ad campaign that ends the decade.
For the countdown itself, I divided it into two parts. Part one, released January 11th, documented the best movies of the 2010s, and part two, released January 12th, documented the worst movies of the 2010s. A lot of critical thinking went into each pick and much of the process ultimately came down to various questions. Which movie would I watch more? Which left a greater impression? How easy is it for me to go back and watch a movie again passionately? Is the movie a technical masterpiece? So many questions had to be answered during the countdown. Some of these were almost inserted at the last minute. I nearly, not to mention to levels of regret, forgot about "Inside Out" because I saw the movie only once and never again. I also skipped doing honorable mentions, which I sort of respect myself for doing because it does make the countdowns I did a little more definitive and perhaps climactic, but it did leave out some extraordinary films that I would have loved to have put on the list. In fact, just because I want to include some more names of films that I feel need recognition, I'll give a few honorable mentions here on this post.
BEST:
Men in Black 3 (2012)
The Shape of Water (2017)
Captain America: Civil War (2016)
Wonder Woman (2017)
WORST:
The Book Thief (2013)
We Bought a Zoo (2011)
The Fifth Wave (2016)
The Legend of Hercules (2014)
In fact, some of the movies inserted to my countdown of the best and worst films of the decade ended up being my best and worst films of the past year, 2019. Some of the best include "Ready or Not," "How to Train Your Dragon: The Hidden World," and "Honey Boy." Some of the worst include "Godzilla: King of the Monsters," "Isn't It Romantic?," and "Cats." I mean, why wouldn't "Cats" be on the list? In fact, you know how some movies might get a rating of something like a 7/10 and eventually go down to 3/10? That happened to me before with "Suicide Squad," which is still pretty bad if you ask me. "Cats" for me started out as a 2/10. But overtime, the movie left greater pain than getting eaten by a lion so I had to drop it to a 1/10. In fact, that movie came out the same weekend as "Star Wars: The Rise of Skywalker," which many fans apparently are divided upon. If you think that's a bad movie, try watching "Cats!" IT'S HORRIBLE!
Speaking of "The Rise of Skywalker," the unveiling of that film allowed me to fulfill a dream of mine. I have been to multiple "Star Wars" movie premieres. But one I always wanted to do was a sold out early Thursday screening at Jordan's Furniture IMAX in Reading, MA, which is about 30 minutes north of Boston. I have seen "Solo" in this theater on its opening Thursday, but the crowd was not that massive. Once the tickets this venue went on sale, there was no stopping me from getting my ass in a seat with a "buttkicker" inside it. For those who don't know what I'm talking about, "buttkicker" is just another way of saying subwoofer.
The premiere for the film was wild. I had a big breakfast, took a bus to the theater because I figured it would be an easy way to get there, and waited in line for about eight hours. Meanwhile, I was surrounded by fellow "Star Wars" fans bringing laptops, tablets, game consoles, televisions, and all of these things were being used while waiting in line! It is one of the most kryptic, yet glorious sights I have seen in my life! Someone even brought in pizza from a restaurant nearby! They even let me eat it! This is the kind of s*it that you honestly cannot write. In fact, I'd argue that my wait for "The Rise of Skywalker" has a better script behind it than the movie itself. Mainly because of how bonkers and off the rails it is, almost like "Spider-Verse" in real life or something.
"The Rise of Skywalker" was not the only big premiere I encountered, because I also went to see "Avengers: Endgame" opening night, which honestly occurred out of pure luck. The day tickets went on sale for what would eventually become the biggest movie of all time, I woke up a little later than I would have hoped. But that did not stop me from going to Fandango and… WAITING IN LINE?! WHAT IS THIS?! I did not sign up for an online ticket service that takes me to the dark ages! If I wanted to wait in line! I'd go to the box office! But no! I guess Fandango grabbed the time stone and slowed down my time for patience! Fandango apparently created a specific graphic for the occasion that let you know that you were in a virtual line for "Avengers: Endgame" tickets. The race was on. Turns out, if I had just gone to a site for a smaller movie theater outlet, I wouldn't have had to deal with this! I ended up going to a 9PM show on opening Thursday, which was a tad later than I expected, but I was able to watch people at my theater coming out of the 22 MCU movie marathon from "Iron Man" to "Endgame," which as far as this theater was concerned, it made local news. I even quickly talked to the reporter covering the scene! As for the movie, it was a fun time, but surprisingly, not the best comic book movie of the year. But again, when a movie gets as much hype as this, it probably wouldn't likely deliver on everything. If you ask me, I think I had a better time with "Joker," and to my surprise, "Spider-Man: Far from Home."
Speaking of fun times, I ended up going to California last year! I spent the second half in San Francisco, and given how it does not correlate much to movies, I am not going to talk about it. But before that, I ended up going to LA. There, I managed to tour Warner Bros. Studios, see a live taping of "Conan," visit Universal, experience the Walk of Fame, and witness a movie at the TCL Chinese Theatre. It was one heck of a trip if you ask me! In fact, as I write this, I could be going back soon, but there's no guarantee!
In recent months, one thing you may notice is that when it comes to content, reviews have been getting a lot of spotlight. This should be no surprise given how Scene Before traditionally revolves around film reviews, but what I mean is that reviews have been literally set at the forefront whereas all other kinds of content, sort of ceased to exist. Between college, life, and easier access to film screenings, I felt that doing these film reviews were important. It is what helped build up my plethora of content for the second half of 2019! In fact, it may have brought me to see films that I probably would have skipped for one reason or another. Films like "Black and Blue," "Dark Waters," and unfortunately, "Cats."
SERIOUSLY, "CATS" CAN F*CKING DIE!
2019 in film has had its gems. Films like "Parasite," "Knives Out," "Ford v Ferrari," and "1917." In fact, when 2019 began, it looked like the only perfect film I'd see would be "How to Train Your Dragon: The Hidden World." Turns out the next 10/10 wouldn't come until the second half of the year, which was "Ready or Not." A film by the way that would turn out to be my personal favorite of the year. In fact, when I talked about it once, I acknowledged that this film is technically a Disney picture, even though it was made when Fox was a separate entity and it was distributed under the Fox Searchlight label. One of my fears from Disney, given how they were going to buy Fox, was that they'd dismantle the meaning of the brand and make it lose its identity. If Disney were to continue to allow the existence of films like this, then I think we're okay. In fact, speaking of what I just said, it is easy to suggest that 2019 shined as bright as it could in its second half. I honestly prefer 2018's film slate as a whole, but I did recognize the beauty of 2019's lineup as it came to an end. When "Parasite" won Best Picture at the Oscars, I could not complain at all, I think the Academy made a really good choice. "Honey Boy" is one of the finest coming of age stories I have ever seen, and one of the best films helmed by a woman. "The Farewell" is a powerful tale centering around tradition. "Once Upon a Time in Hollywood" easily became a fine example for why one should trust Quentin Tarantino as a filmmaker.
This is not to put down 2019's first half, because it did have some great movies. Films like "Alita: Battle Angel," "Toy Story 4," "John Wick: Chapter 3 – Parabellum," and "Us" were all great! The first half also brought the unveiling of a film decades in the making, "The Man Who Killed Don Quixote." For those who don't know, this film, directed by Terry Gilliam, went through development hell due to flooding, financial problems, illnesses, it was just a s*itshow! But, they finally conceived the final product to the point where it ended up being the closing film at Cannes in 2018. Turns out they showed it during a Fathom Event on April 10th of last year. Little did I know it was going to get a bigger run afterwards, but I was curious enough to check out the film while I knew it was going to be around for what seemed like a limited time. Overall, it's a fun little film, I recommend it.
Now we going to continue an anniversary tradition that I have done in years past, where I take quotes that I provided in posts I made over the past year and insert them in here to remind you about some of what I consider to be highlights. Keep in mind that these did not go through any voting process, these are just quotes that I like and find amusing. If you don't like them, whatever. Anyway, let's dive into the tradition starting now!
"When J.J. Abrams' "Star Wars: The Force Awakens" came out in December 2015, that released in a number of IMAX 70mm locations, along with standard 35mm and 70mm theaters. It also was projected on IMAX's then new laser technology in other locations. While that's not film based, it is a digital response to IMAX's film projection. When it comes to being projected in IMAX 70mm, the following locations took action.
US/CANADA
Alabama
McWane Center IMAX Dome Theatre – Birmingham
IMAX, U.S. Space & Rocket Center – Huntsville
California
Hackworth IMAX Dome, The Tech Museum – San Jose
Canada
Kramer IMAX, Saskatchewan Science Centre – Regina
Florida
Museum of Discovery & Science AutoNation IMAX – Ft. Lauderdale
IMAX Dome, Museum of Science & Industry – Tampa
Indiana
IMAX, Indiana State Museum – Indianapolis
Iowa
Blank IMAX Dome, Science Center of Iowa – Des Moines
Missouri
Branson's IMAX, Entertainment Complex – Branson
St. Louis Science Center OMNIMAX Theatre – St. Louis
Pennsylvania
Tuttleman IMAX, The Franklin Institute– Philadelphia
Washington, DC
Lockheed Martin IMAX, National Air & Space Museum
Texas
Omni, Fort Worth Museum of Science & History – Fort Worth
INTERNATIONAL
LG IMAX, Darling Harbour – Sydney, Australia
The Science Museum – London, England
That's 15 locations. That is less than the number of seasons of "The Simpsons," "Family Guy," "NCIS," "America's Funniest Home Videos," "Jimmy Kimmel Live!," "Real Time with Bill Maher," "Judge Judy," "Dr. Phil," "South Park," "The Bachelor," and the combined seasons for "Star Trek: The Original Series," "Star Trek: The Next Generation," and "Star Trek: Deep Space Nine."" –Will STAR WARS: THE RISE OF SKYWALKER Be Shown On IMAX 70mm Film?
"Oh, and of course… There's a REAL LIFE plot to this movie too! After the events of "The Force Awakens" and "The Last Jedi," audiences are divided! Between playing it too safe in one movie and trying to find unlocked paths in another movie, there is no way to impress every single "Star Wars" fan out there! So now it is the job of J.J. Abrams to bring balance to the "Star Wars" fandom and take on the near impossible task of sticking the landing in terms of directing "Episode IX."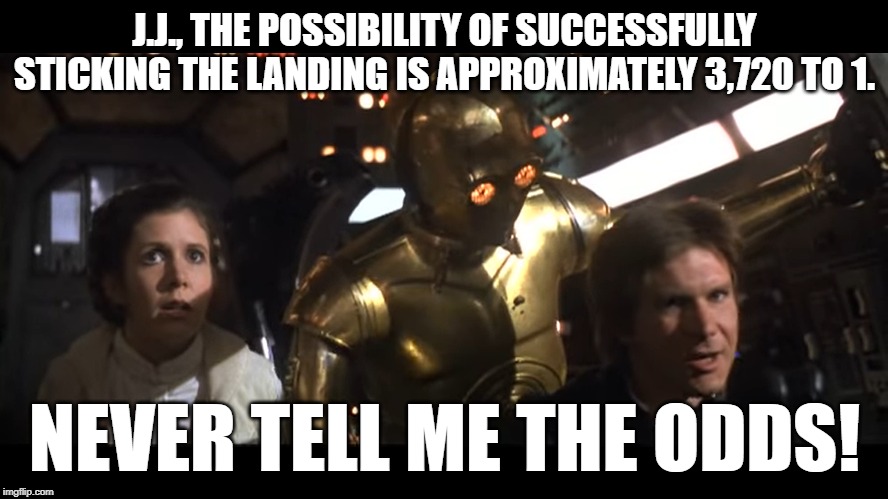 " –Star Wars: The Rise of Skywalker (2019): The Final Word in the Story
"Keep in mind, everybody was saying that "Avengers: Endgame" was going to be the biggest and best movie of the year, but when it comes to chances at awards, "Joker" may have an answer. "Joker" may be tapping on the shoulder of "Endgame" saying "On your left."" –Joker: No Laughing Matter (2019)
"I should also not go without mentioning that Joaquin Phoenix acts his ass off in this movie! I'm honestly having trouble right now on whether I should declare him the best Joker or if I should stick to my opinion towards Heath Ledger being the best of them all. I know it's only October, so there is an argument to be made that maybe Phoenix won't get an Oscar for this movie, but he BETTER get nominated, or there will be riots!
OK… Not literally! Movies don't promote violence! It's just the truth!" –Joker: No Laughing Matter (2019)
"This film was given an R rating from the Motion Pictures Association of America, and once I heard that was going into effect, I felt like climbing a tree, pounding my chest, finding a banana, and tearing it open! Going gorilla style! It was one of the most glorious moments of my life!" –Joker: No Laughing Matter (2019)
"You want to know how convincing Moose is in this movie? We are introduced to Moose, we see him enter a store where he happens to be a regular customer. One of the first lines in this scene, out of Moose's mouth is, "I can't talk too long, I gotta poo."" –The Fanatic (2019): Fred Durst Presents: THE ROOM
"This review is weird! I'm saying I like this movie, but at the same time, I want two different ones that I think could be better, based on its material! Pretty f*cking crazy if you ask me!" –Ad Astra (2019): Cliff Booth Goes to Space
"Without spoiling anything, here are my main thoughts on this movie's BEGINNING, MIDDLE, and END… In separate paragraphs.
BEGINNING:
The first act provides a fine sense of where this movie will eventually go. It establishes our society's insatiable hankering for smartphones. The humor is a little bit mixed, but when it's bad, it easily messes with my brain. Most of the standout moments and lines, kind of to my surprise, come from the AI. BUT THE MAIN CHARACTER IS STUPID.
MIDDLE:
Alright, this part is not too bad. I think the chemistry between the main character and his love interest is a tad off. Although wait a minute… DID THEIR CHEMISTRY JUST CLICK?! WHAT AM I WATCHING?! Also… That phone is starting to annoy me a bit.
END:
Never thought I'd say this, but "Jexi" has somehow built itself up pretty well. I'm somewhat irritated by the movie, but I do think it is funny at times, maybe for reasons I can't live with, but things seemed to have moved in the right direc–wait wait wait! WHAT?! NO! F*ck this s*it! I'm done! I can't! Why is this happening? This makes no sense!
As of this point, "Jexi" has tarnished my soul and made me feel somewhat insignificant." –Jexi (2019): Smartphony
"I will say this. I was not alive back in 1977, so I never got to witness one of the first screenings of "Star Wars" including the premiere at the Chinese Theatre in Hollywood. But I got very lucky, I managed to RSVP for "Cats," particularly for a screening in Boston on the Tuesday before it came out. I went in the snowy cold, and I can confirm that I am now a part of film history. I was one of the first to witness one of the most poorly received movies ever! This is honestly something that I would put on my resume, especially if I were applying to some outlet that needs a film critic." –Top 10 WORST Movies of 2019
"I don't know about you guys, but I didn't ask for a movie where Ian McKellan plays a live-action, human-like cat that is licking a plate. It's something so unimportant, yet so horrifying." –Cats (2019): Kitty Litter
"Personally, I don't ever see myself watching "Cats" again, and I had no plans to get a cat in the near future, but this movie has officially eliminated any possibility of me wanting a cat, because if I am ever presented with an opportunity to get a cat, part of me would not stop thinking of this piece of trash. And in other news, Taylor Swift is in this movie, that picture above is of her. And SPOILER, the movie DOES NOT go into how many cats she broke up with." –Cats (2019): Kitty Litter
"The overall experience of seeing "Cats" feels like a dream. Because I became increasingly sleepy, increasingly bored, and the movie itself became more irrelevant than the door close button on modern elevators!" –Cats (2019): Kitty Litter
"This movie overstays its welcome, even giving itself an opportunity to hammer in one final number that is so bad that it's good. And when those stinking credits FINALLY came on screen, I let out a bellowing "THANK GAAAWWSH!"" –Cats (2019): Kitty Litter
"Some of the camerawork is nice. But between some of the questionable editing, lame-ass script, and nearly nonexistent plot,
this movie made me angrier than that kid from "Looper" whenever something goes wrong for him. I would rather poke my own eyes out with my own two hands than go see this movie again." –Cats (2019): Kitty Litter
"But speaking of forces to be reckoned with, you know how in the first "John Wick" that the main character did what he did in that film because of the loss of his puppy? I had no idea on how prominent dogs would be in this franchise. I say that because as one who usually fears dogs, I could not help but appreciate what this movie did with them. You think Keanu Reeves and Halle Berry know how to kick ass? BRING ON THE F*CKING DOGS!" –John Wick: Chapter 3 – Parabellum (2019): He's Knowin' He's Back
"Forky is a gem if I have ever seen one, and he also might be the greatest throwaway character in movie history!" –Toy Story 4 (2019): Wait… This Got Made? Thanks, Pixar!
"The first scene in this film where we meet Jesus involves him finding out he is adopted. Later on in the film, this brings in an important point to the story, where Jesus has a meeting with God, his real father. This movie barely has a concept of time. It describes events that happen through white text on black backgrounds. But it takes about fifteen to twenty minutes of runtime to get from the exposition of Jesus finding out he is adopted to personally meeting with God. I would imagine that not that much has happened in that time, at least that is what the movie makes it feel like, and Jesus may still be dealing with these newfound internal thoughts of his. I found myself bewildered as soon as I heard God say "Are we gonna start this again?," once Jesus refuses to call him dad? Did the people of Earth suffer brain damage? Is God suffering from brain damage? AM I SUFFERING BRAIN DAMAGE?!" –Damned! (1998): An Impractical Joke
"Speaking of interesting performances, one of the characters in this film goes by the name of Herbie and I don't know what exactly James Murray happened to be thinking when drafting this character. I can honestly imagine him in front of a typewriter going "I'm going to write a guy who gets excited over breakfast being the most important meal of the day and random bowling balls!" To say that HE of all people happens to be the most cartoon-like of all this movie's characters is actually kind of insane. It's almost unbelievable!" –Damned! (1998): An Impractical Joke
In the end, "Damned!" is… Something. I don't even know what! All I know is it's not good! –Damned! (1998): An Impractical Joke
""Knives Out" is directed by Rian Johnson (Star Wars: The Last Jedi, Looper) and stars… well, pretty much everyone you know." –Knives Out (2019): 2019's Pop Culture Murder Mystery Dinner
"In the end, "Knives Out," the movie with perhaps the most badass title of all time, packs a brutal punch of bloody goodness." –Knives Out (2019): 2019's Pop Culture Murder Mystery Dinner
"Then came "Star Wars: The Last Jedi," directed by Rian Johsnon. Much like its chronological predecessor, "The Force Awakens," this was partially shot using IMAX cameras. I will say though, personally, I missed out on the IMAX experience for this film when it came out. But based on research, I did not miss much. Why? Multiple sources suggest that the film never had any scenes projected from top to bottom on IMAX 70mm screens. The entire movie was projected in an aspect ratio of 2.39:1, which is conventional in the movie industry. The original IMAX-specific aspect ratio is 1.43:1. "The Force Awakens" had 5 minutes of IMAX footage intact. All five minutes was blown up to fill the brand's screens. But for those who went to see "The Last Jedi" in IMAX, they may have gotten crystal clear images, but black bars up the wazoo. Turns out, as a matter of fact, IMAX was the only film format in which this movie happened to be presented. No standard 35mm or standard 70mm was available. And if viewers did manage to check out these types of IMAX screenings, chances are they flocked to one of these places.
US/CANADA
Alabama
IMAX Dome, McWane Center – Birmingham
IMAX, U.S. Space & Rocket Center – Huntsville
California
Hackworth IMAX Dome, The Tech Museum – San Jose
Canada
Kramer IMAX, Saskatchewan Science Centre – Regina
Connecticut
IMAX, The Maritime Aquarium – Norwalk
Indiana
IMAX, Indiana State Museum – Indianapolis
Iowa
Blank IMAX Dome, Science Center of Iowa – Des Moines
Missouri
OMNIMAX, St. Louis Science Center – St. Louis
North Carolina
The Charlotte Observer IMAX Dome, Discovery Place – Charlotte
Pennsylvania
Tuttleman IMAX, The Franklin Institute– Philadelphia
Texas
Omnitheatre, Fort Worth Museum of Science & History – Fort Worth
UK
London Science Museum – London
That's 11 locations. That is less than the number of seasons of "The Big Bang Theory," "Supernatural," "It's Always Sunny In Philadelphia," "Criminal Minds," "America's Got Talent," "Ridiculousness," "Bones," "Grey's Anatomy," "Face Off," "The Bachelorette," "SpongeBob SquarePants," "Dallas," "Two and a Half Men," and "Love Connection."" –Will STAR WARS: THE RISE OF SKYWALKER Be Shown On IMAX 70mm Film?
"Let me just get some things out of the way. I'm straight, I'm white, and I am a male. I am well aware that my physical and internal qualities that I can't change, unless I go through surgery, puts me in the position of associating with the most hated type of person on the planet. So… reviewing this movie is hard." –Captain Marvel (2019): Not That Marvelous
""Captain Marvel, she is as powerful a character as we've ever put in a movie. Her powers are off the charts, and when she's introduced, she will be by far the strongest character we've ever had."
Having now seen "Captain Marvel," I am definitely not going to deny that Captain Marvel is powerful as hell. However, as far as her character being the most powerful of all, that is still up for debate. At least from my point of view. And speaking of which, there is a climactic moment towards the movie that was probably played for comic relief, but it also made a certain moment feel rushed and kind of cheap. More powerful does not always mean more exciting. And I say this whole "power" thing is up for debate for one reason and one reason only.
Can Captain Marvel do this? I'll wait… I've got years of my life left, which give tons of time to provide an answer." –Captain Marvel (2019): Not That Marvelous
"AND JUST BECAUSE SONY AND DISNEY ARE NOT GIVING YOU WHAT YOU WANT, DOES NOT MEAN YOU CAN RAID THE STUDIOS! IF THERE IS GOING TO BE A BIG RAID AGAINST EITHER STUDIO, MY FAITH IN THE HUMAN RACE IS GOING TO GO DOWN THE CRAPPER! DON'T. EVEN. THINK. ABOUT IT. CAPICHE?!" –Spider-Man Out of the Marvel Cinematic Universe?!
"This takes place after "Avengers: Endgame," and Vision died in "Infinity War" only to never come back to life. So my question is… How will they allow him to return? Let me guess, time travel. Because now if the Marvel universe has a problem. Boop! You got a time machine! Want to save Nick Fury from losing an eye? Boom! You got a a time machine! Want to stop Tony Stark's home from being destroyed like it was in "Iron Man 3?" Boom! You got a time machine! Want to give Captain America the most advanced pop culture lessons of his life? Boom! You got a time machine!" –Marvel Cinematic Universe PHASE 4 Plans Announced
"First up for movies is a project that I think a good number of people know has been in full swing, "Black Widow." The plot and details are mostly unknown at this time, but Scarlett Johansson, the woman that I have a crush on who says she should be allowed to play trees, well then, if that's the case… Vin Diesel? Watch out, you might be fired soon! She is returning as the title character who we have seen in several parts of the MCU such as the "Iron Man," "Avengers," and "Captain America" franchises." –Marvel Cinematic Universe PHASE 4 Plans Announced
"There's not much to say on this next film, but I KNEW this was gonna be made at some point, perhaps soon. Why? Because again, it made SO MUCH money. I guess this is what happens when Disney remakes "The Lion King" for a new generation. Wait… I'm talking about "Black Panther 2." There's not much to say about this movie yet, but Ryan Coogler suggested that he'd write and direct this film, which does intrigue me because I thought he did a rather decent job with the first one despite its flaws. So… what Disney movie are they gonna retread next? Are they gonna do "Dumbo" because Black Panther is learning to fly for some reason? Are they gonna do a film in the style of "Wreck-It Ralph" where it is revealed that Wakanda is in an arcade cabinet? Are they gonna do one like "Frozen" where Shuri or Okoye just breaks out into an annoying catchy tune? By the way, screw "Frozen," that movie can rot in hell!" –Marvel Cinematic Universe PHASE 4 Plans Announced
"Another film on the list of "in development" is a third "Spider-Man" movie. By the way, by the time you finish reading this post, five more "Spider-Man" movies will be released, because they keep cranking them out!" –Marvel Cinematic Universe PHASE 4 Plans Announced
"But if I had any requests, make sure the word "home" is in the title. That way I don't have to end up confusing "Spider-Man" trilogies and can refer to this as the "Home" trilogy. Seriously! Even if it simply means that there is a minute of the two of the film where we find Peter Parker watching a Mets game, and for that reason it is called "Home Run," it would still work because the other two movies have the word "home" in their titles too!" –Marvel Cinematic Universe PHASE 4 Plans Announced
"This information, to me, came completely out of the blue. I was just enjoying my Friday off from school, summing up my thoughts on the latest movie I've gone out to see, when all of a sudden, I'm on social media, and a Variety article comes up with a headline that at this point looks too good to be true. Once I saw the headline "Spider-Man Will Stay in the Marvel Cinematic Universe," there was only one thing to do.
DO SOME CARTWHEELS AND ALERT THE FREAKING MASSES!
I try to maintain a level of professionalism on this website. There are definitely signs that may suggest otherwise, but that's because I want my blog to be fun, not boring, not unoriginal. I want everything to stand out. So with that in mind, THIS IS ONE OF THE BEST THINGS I'VE HEARD IN MY LIFE! HELL TO THE FREAKING YEAH! BOOM!" –Spider-Man Is BACK IN THE MCU!
"This separation would have been bad because Sony probably couldn't use any of Marvel Studios' other properties or characters if they needed to, and future Marvel Studios films would probably have to come up with some lame or cheesy excuse as to why Spider-Man is not with the Avengers.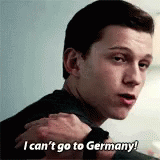 Did he have too much homework?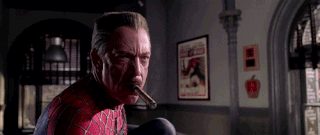 Is he busy with The Daily Bugle?
Did he not feel so good? I mean, come on!" –Spider-Man Is BACK IN THE MCU!
"And that was one thing that I personally was worried about, because as much as I want Spider-Man in the MCU, I understand why Sony left, and I would have rather had Sony leave the way they did as opposed to having them go along with the 50/50 terms because that means they lose control, or at least partial control of their biggest property, and let's face it, if this were a game of Film Studio Monopoly, Disney would be winning. They own Boardwalk (most of Marvel), they own Park Place (Lucasfilm), there are hotels on both properties, and you might as well say that they own Pennsylvania, North Carolina and Pacific Avenues, all of which represents the remains of 21st Century Fox, and they are starting to build on those properties as we speak. If Sony were playing this game, they'd be better off landing on the go to jail spot over and over again. I'm not saying they are in danger of going out of business, but still." –Spider-Man Is BACK IN THE MCU!
"This is the 23rd film in the Marvel Cinematic Universe, the second Spider-Man film in the Marvel Cinematic Universe, and the eighth big screen "Spider-Man" film of the 21st century. So much for originality! Yay!" –Spider-Man: Far From Home (2019): The Truth Is… I Am Spider-Man
"While I don't know whether or not I enjoyed this film or "Spider-Verse" more, I can confirm that when I saw "Spider-Verse," it was perhaps the biggest acid trip of a superhero film I have ever watched. Guess what? I might need to rethink that statement, and I won't go into why, BUT LET ME HAVE YOU KNOW THAT "SPIDER-MAN: FAR FROM HOME" IS ONE HELL OF A DRUG! If you drop acid before this movie, I wish you luck on getting out of the movie theater when the film ends because there are a couple of head-spinning moments that kind of left me speechless." –Spider-Man: Far From Home (2019): The Truth Is… I Am Spider-Man
"Moving onto our main character, Peter Parker is back and now the important question is this: What would be a bigger feat for him than going to space? Europe? That's nothing! Any idiot can fly a plane to Europe!" –Spider-Man: Far From Home (2019): The Truth Is… I Am Spider-Man
"WARNING: The following post is a spoiler-free review for "Avengers: Endgame." If you came to this post expecting a spoiler talk, go elsewhere. If you have yet to see the movie, you are safe. Why is this spoiler-free? Let's sum this up in a GIF.
This would be what I'd witness outside my front window should I even provide one single solitary important secret detail about the film. So Mark Ruffalo, Tom Holland, if you guys are reading this, please use this as a guide for your future interviews and press tours. LET'S GET THIS STARTED!
#DontSpoilTheEndgame" –Avengers: Endgame (2019): The MCU's Lifetime Achievement
"Oh yeah, Hawkeye. Let's talk about him. For those of you who don't know, I manage to share a popular opinion with others that Jeremy Renner's Hawkeye is not even close to being the being the best character in the MCU. I mean, what do you expect when your superhero identity is someone shooting with a bow and arrow as the definition of "Generic White Dude?" For years, I have considered Hawkeye to be that "other Avenger" who just shows up. Well, guess what? Forget about that in this movie! Because… HAWKEYE IS AMAZING IN THIS MOVIE! His story, his motivation for being in his current state, everything about him! There is literally not even that much I can say about what happens on screen during "Avengers: Endgame," but one of the things I can say is that Hawkeye, or in this case, Ronin, changed my perception on his usefulness as character! Let me just remind you of something I said in a post I made last year.
"Sure, you can also make the point that not every Marvel superhero in the Marvel Cinematic Universe had their own film released before "The Avengers." Although judging by the time, did you really think putting out a Hawkeye film before "The Avengers" would have gotten everyone flocking to the theater? Everyone would probably go see it now, including me even though I think Hawkeye's as useless as a rock paper scissors match to determine what time it is." –What the Heck is Up With Justice League (2017)? *PART 2*
Yeah, I said that. And I would have still gone to see the movie if he sucked, but now I actually would WANT to see a movie with him.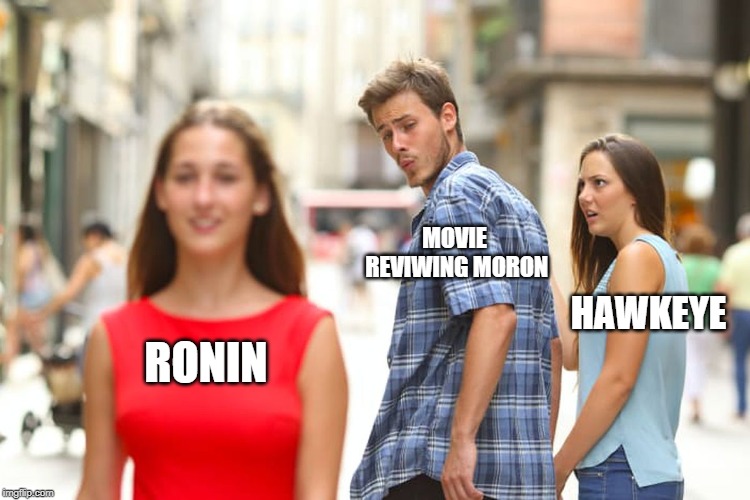 And by the way, I made a meme, I hope you like it." –Avengers: Endgame (2019): The MCU's Lifetime Achievement
"Now if you're curious, I actually already snagged my tickets, but it wasn't easy. I had to push people out of the way! I had to knock over an old lady who wanted to go see the film with her grandchildren when it came out! I was basically a maniac.
OK, no, not really, in the age of the Internet, that would almost be unlikely." –Avengers: Endgame Ticket Buying Insanity
"This post is not necessarily meant to be important, it's almost like a diary entry if you ask me, but let's be real here. While AMC and other popular movie ticketing websites were in trouble, Fandango definitely had a plan. Fandango didn't say "error" when you entered their website, you could click your time and press your luck at getting tickets. You just had to wait in line. But why the f*ck should I have to do that?!
THE WHOLE POINT OF ONLINE TICKETING is to conveniently score tickets possibly before anybody else, not having to leave your house, not having to talk to strangers, not having to talk on the phone with Kramer from "Seinfeld," and NOT WAITING IN A LINE. Congrats, Fandango! Not only did you make me wait in line, but you allowed a bunch of people to apparently CUT ME in line, but now I could have easily compared this experience to going to the box office, except in that case I would actually be allowed to pay in cash! Also, I have an account under you, so thanks very much for disappointing your support base. –Avengers: Endgame Ticket Buying Insanity
""Birds of Prey: And the Fantabulous Emancipation of One Harley Quinn," AKA "Birds of Prey," AKA "Harley Quinn: Birds of Prey," AKA "Whatever F*cking Title You Desire," is directed by Cathy Yan (Dead Pigs, According to My Mother)." –Birds of Prey: And the Fantabulous Emancipation of One Harley Quinn (2020): No Joke, Fun (But Forgettable) Time
"Oh yeah, apparently there's a team-up too, like it really matters. Because, you know, Harley Quinn is popular." –Birds of Prey: And the Fantabulous Emancipation of One Harley Quinn (2020): No Joke, Fun (But Forgettable) Time
"Harley Quinn uses a glitter gun in this movie! Not gonna lie, if I were dealing with certain people, that would be my weapon of choice! Because while this movie admittedly does make this glitter shine, it really does suck! Anakin Skywalker thinks SAND gets everywhere? Tell him about glitter!" –Birds of Prey: And the Fantabulous Emancipation of One Harley Quinn (2020): No Joke, Fun (But Forgettable) Time
"This film stars Kaya Scodelario and Barry Pepper as a daughter and father who live in Florida, a state known for the magic of Disney World, warm sandy beaches, and of course… stupid people. For all you old-timers out there, please search up "Florida Man" for more information." –Crawl (2019): When Life Gives You Gators, Make Gatorade
"However, Hanks as Mr. Rogers was everything I wanted. In fact, I think this was perhaps the easiest casting decision anyone could make for a role like this, because in Hollywood right now, Tom Hanks is often seen as that "nice guy." You talk to anyone in Hollywood, they'll often refer to Tom Hanks as a pure gentleman, therefore it's almost hard to avoid thinking of Tom Hanks as this generation's stereotype that could easily match with Mr. Rogers. Is he as nice? It's hard to tell. He does not have a children's TV show that airs on a network every day, but how often do you look at the news and read the headline "Tom Hanks Is a Dick Who Shatters Glass In Your Eyes, Says Everyone"?" –A Beautiful Day in the Neighborhood (2019): Why the World Needs Tom Hanks
"Also, speaking of time, the ending takes FOREVER to fully establish itself. There are like two, three, four, perhaps even five or six points during the climax where the movie could stop, and wrap itself in a bow that is satisfying. Unfortunately, it goes ahead and says "Look at me, I'm 'It: Chapter Two!' There's no stopping me now! Ha ha! Yeah!"" -It: Chapter Two (2019): Hiya, Sequel!
"Now… Don't think I am nagging on "Little Women" calling it a disaster. It is by no means the worst movie of all time, it just has problems is all. In fact, "Little Women," in terms of direction, shines. I feel like in terms of a director wanting to get THEIR vision out to the public, "Little Women's" Greta Gerwig succeeded at such a task more so than a good number of other filmmakers this year. A lot of the cinematography done by Yorick Le Saux is beautiful and totally stands out through the 35mm print shown at my screening. Alexandre Desplat's score is great and fits the vibe! I also like the idea of not only shooting the film on location, but shooting it around the area where Louisa May Alcott wrote the "Little Women" book, Concord, Massachusetts. It provided for some of the most gorgeous scenery of 2019's cinematic year and some of the better production design for said cinematic year. A lot of the scenes in the film are wonderfully realized and jump off the screen. Too bad the movie's kind of boring." –Little Woman (2019)- Call Me "March" Like You Said You Would
"Chris Evans is in this movie, and he plays one of the major characters. If you have seen trailers or marketing for the movie, you might know that there is a moment where he points at a bunch of family members around him and tells them to "eat s*it." This is Captain America! The embodiment of a proud, mighty, generous man who wants to do what he can to help those in need of saving. So… I guess he really IS America's ass." –Top 10 BEST Movies of 2019
"At #4, we have a film that I felt connected with probably before even setting foot in the theater, "Marriage Story," which… is really about divorce, not marriage, but… marketing." –Top 10 BEST Movies of 2019
"How many other films have a plot where a woman needs to play a game of hide and seek, thinking that the playing of this game will allow her to be part of a family she is marrying herself into, only to eventually realize that she may be killed by her newly established in-laws?! It's a f*cking plot. A F*CKING PLOT!" –Top 10 BEST Movies of 2019
"I saw "The Secret Life of Pets" when it first came out in theaters. It was… OK. Not great, but OK. But that film made WAAAAAAY more than its budget, so naturally a sequel had to happen. AND IT SUCKS! The secret's out! "The Secret Life of Pets 2" is utter garbage! This movie had Harrison Ford in it for Pete's sake! HE COULDN'T EVEN SAVE THIS HOT MESS! Fun fact, if you watch this movie and stay for the credits, you can hear Harrison Ford's voice at the end of the credits just letting you know that the movie's over. I know Harrsion Ford is never obnoxious or lively when it comes to how he traditionally expresses himself, but his delivery of that message was a symbol of how I felt while watching this movie. Lifeless and less than satisfied." –Top 10 WORST Movies of 2019
"One of the worst parts about this movie, and maybe one of the best parts as well depending on how you look at it, is that it is 89 minutes long, just short of an hour and a half. While this movie did not end up feeling like two hours for me, it did end up feeling like an abomination. The dialogue is cringy, the plot, while straightforward, is as bonkers as letting a beer bottle compete on a game of "Wheel of Fortune," and as a parody, it's insulting. I may ask for a lot of things during my moviegoing experience, because I am ultimately an entitled f-hole, but don't make me feel stupid." –Top 10 WORST Movies of 2019
"A lot of general moviegoers' opinions I have come across have gone something along the lines of "It's monsters fighting, whaddya expect?" First off, bad writing is bad writing. PERIOD. Second, I would love to say I immensely enjoyed all the monster fighting, but I almost don't even remember any of the monster fighting from this film. In fact, part of that may be due to a supposed migraine I must have received upon leaving the theater. I mean, I remember they fight in various locations around the world, including Boston of all places. I must say, as a Bostonian, this movie is an insult to my intelligence, and just because you have a big fight in my city, it doesn't make anything better. I'd say the destruction of my city is practically a symbol of how I view this movie. A monstrous mess, nothing more." –Top 10 WORST Movies of 2019
"And even though Hillary Duff is not the worst actress in the world or anything, this movie probably would have been better if maybe they got somebody else to fill Tate's shoes. Or, maybe it wouldn't because everything else in it is just about as lifeless and catastrophic as a brick that fell stories from the sky from a wrecking ball." –Top 10 WORST Movies of 2019
"Coming in at #22 is "The Hurricane Heist," when it comes to disaster movies, this one's, well, a disaster. And I mean that on every level from writing to characterization, and to my surprise, marketing. I say that because when I heard a title like "The Hurricane Heist" during ads for this film, and I saw what the commercials made this movie look like, I thought it could be the cheesiest fun bad movie of its year. It's not even close to being fun in any way whatsoever! It's just dumb! Not dumb good, in fact, if it makes sense, dumb ass!" –Top Movies of the 2010s (THE WORST 25)
"You ever hear that phrase, "respect your elders?" Well I want to coin a new phrase, "Respect all elders that are not played by Robert De Niro." "Dirty Grandpa" can suck it!" –Top Movies of the 2010s (THE WORST 25)
"In the end, I don't have all that much more to say about "The Aeronauts," partially because it is rather simple to explain, and to be honest, it's unfortunately forgettable. Let me just say, it's better than "Cats." Definitely better than "Cats." ANYTHING at this point is better than "Cats!"" –The Aeronauts (2019): The Theory of Ballooning
"De-aging through digital tech is a seemingly increasing trend. We've seen it so far in films like "Rogue One: A Star Wars Story," "Tron: Legacy," and "Gemini Man." I think one of the best de-aging jobs that has been done recently is for Samuel L. Jackson in "Captain Marvel." YES, I JUST BROUGHT UP A MARVEL MOVIE IN A REVIEW FOR A MARTIN SCORSESE FILM. REMIND HIM NOT TO READ THIS IN ORDER TO AVOID NIGHT TERRORS." –The Irishman (2019): Jack Does a Short Review of Martin's Long Film
"I still live with my mother. So… Hit me up girls. You'll find me very charming." –Marriage Story (2019): A Child of Divorce Gives His Two Cents
""Captain Sparklefingers," I mean "Captain Marvel," err I mean "Shazam!" is directed by David F. Sandberg…" –Shazam! (2019): Manchildren For the Win!
"Let's face it, if I were a kid and I magically became a superhero, of course I'd want to try out my powers! Think about it! As a kid, I would roleplay and it would partially involve superheroes from time to time. If I have enough fun pretending to be a hero, how much fun do you think I'd have using something like a flashy laser beam to break my own window and be forced to pay for by my own parents? It would be f*cking worth it! Because, ya know, superpowers!" –Shazam! (2019): Manchildren For the Win!
"MARVEL: We're making a "Captain Marvel" movie! Dope, eh?
DC: Same bat-hold. Same bat-my beer." –Shazam! (2019): Manchildren For the Win!
"I felt like I already gave a teaser to how chaotic this movie is in terms of building blocks, because it didn't feel like a movie. Instead, it felt more like a bad situation comedy episode with pets as the main cast. There are multiple plot lines for individual characters, which is fine for a number of films, but the execution was poor in this one. There are cheap jokes that don't land, and there are anger-inducing moments that make playing a game of pinball where the flipper buttons shock you with each press look fun!" –The Secret Life of Pets 2 (2019): The Secret's Out: This Movie's As Lifeless As A Pet Rock
"They say a story is only as good as its villain. If that's the case, THEN THIS STORY IS BULLCRAP!" –The Secret Life of Pets 2 (2019): The Secret's Out: This Movie's As Lifeless As A Pet Rock
"In the end, "The Secret Life of Pets 2" is more intolerable than a bite from a vicious dog. I cannot even believe I am still talking about this movie! But in all seriousness, this movie could have been a lesson to children to make them realize they may have to face their fears, but sadly, I'm a teenager, and now I have self-diagnosed disease of TheSecretLifeofPets2phobia." –The Secret Life of Pets 2 (2019): The Secret's Out: This Movie's As Lifeless As A Pet Rock
"If "Ford v Ferrari" does not at least get consideration in the sound categories during awards season, then the voters must be smoking something. That's the only conclusion I can come up with at this point." –Ford v Ferrari (2019) Damon and Bale Blaze to the Finish
"Just… Out of every movie… I saw this one. THIS IS THE CRAP I PUT WITH FOR YOU GUYS!" –Last Christmas (2019): I Gave You My Wasted Time
"But the one thing I am a total Scrooge about when it comes to Christmas, is the overplay of various songs that associate with the particular time of the year. I hear enough of the same regular crap on the radio everyday! The solution IS NOT to play Christmas crap instead! This may sound like nothing, but hearing "Last Christmas" play twice in a few minutes is just as annoying as it is to find out that your friend runs an annual awards ceremony dedicated to showcasing the best pieces of gum that are stuck on surfaces." –Last Christmas (2019): I Gave You My Wasted Time
"If you are with friends and family this year during the holidays and if this movie's still out in theaters, just go see "Star Wars." Granted, that's kind of irrelevant because I don't even know how the new "Star Wars" is going to be, but still… just go see "Star Wars." I command you! Either that, or go to Best Buy and purchase a copy of one of the "Star Wars" films, present it as a gift, and use that as an excuse to those around you to pop it in the DVD player." –Last Christmas (2019): I Gave You My Wasted Time
"Upon watching "Godzilla: King of the Monsters," I wanted to perhaps die. In fact, as I write this, I almost don't have words that I could possibly put into a sentence to describe this movie. And the sad part is, compared to a lot of other bad movies that I've witnessed, I have a tendency to go into them and not expect much. "Godzilla: King of the Monsters" is a movie that I was actually really excited for. It looked great, it looked like an epic theater experience (part of it was, but it didn't make up for tons of weaknesses), and I was just hoping for at the very least, a good popcorn flick. I am not one who would traditionally expect an Oscar-winning script from a movie like this, but I would at least want something where it feels like the writers are trying!" –Godzilla: King of the Monsters (2019): For Godzilla's Sake, Please Stop!
"As for how this movie's written, I don't know if someone secretly injected drugs inside of me for the first movie, because while Godzilla wasn't on screen for that long,  I thought the human characters such as those played by Bryan Cranston and Aaron Taylor-Johnson were at least tolerable. Here, we got a bunch of new characters that we never met in the first movie, and they feel so dumb that they would all need a dictionary to research the definition of the word "dumb." Yes, there are a lot of big name actors in this movie. You've got actors like Millie Bobby Brown, Charles Dance, Kyle Chandler, and my first impression of them wasn't anything that had to do with hating them, but that certainly changed as this movie went on. At first, these characters were believable and I could at least go along for the ride with them. Then during that ride, everyone is infected by a virus, making them go insane, and I am the only person who can BARELY keep himself in control." –Godzilla: King of the Monsters (2019): For Godzilla's Sake, Please Stop!
"I can imagine myself finding this movie on TV one day, perhaps on HBO or something, maybe watching it if I want to destroy my brain cells, clicking the info button and the description would be "Time to die."" –Godzilla: King of the Monsters (2019): For Godzilla's Sake, Please Stop!
"The next movie in this lineup is "Godzilla vs. Kong" and part of me is worried for that movie now because the excuse for both monsters to eventually interact could potentially be bulls*it. It could ultimately ruin the entire movie.
Please help me." –Godzilla: King of the Monsters (2019): For Godzilla's Sake, Please Stop!
"This film takes place during the late 1960s in Hollywood and is kinda sorta based on the Manson Murders, which involves the death of Sharon Tate herself. Only, this film explores Sharon Tate as this… Timid, constantly emotional scaredy cat that barely even qualifies as a person. My f*cking gosh, this review is going to turn into a therapy session." –The Haunting of Sharon Tate: Once Upon a Time in Hellywood
"Maybe with enough sips of alcohol, who knows? Maybe you'll enjoy the movie for all I know! But I can't say I had anything to drink. For one thing, I am under 21. Also, I had Diet Coke, which contains caffeine, which I probably needed to stay awake for whatever this mess was!" –The Haunting of Sharon Tate: Once Upon a Time in Hellywood
"In the end, "The Haunting of Sharon Tate" makes me wish I was struck by lightning. I cannot think of a single redeeming quality in this entire movie, and if you watch this movie and somehow do, BRAVO! You have thought a lot harder than me. Then again, it is a little hard for me to think right now because I think some of my brain cells have just been destroyed." –The Haunting of Sharon Tate: Once Upon a Time in Hellywood
"As for myself, I am kind of in an unfortunate position because I have been exposed to tons of content, and as much as I enjoy watching certain comedies, I often feel like I have "seen it all" or seen enough to know what to expect. Here, I was laughing through a number of scenes, I was appreciating a lot of the dialogue that has been uttered, and it never felt like the movie lost its groove. It was one interesting moment after another. And this all builds up to the big. F*cking. Climax of a lifetime! It is quite literally a Tarantinogasm of super f*cked-up awesomeness on a stick! Is it the best climax or ending in movie history? No, it's not, but it is by far one of the wildest. I cannot recall the last time, or at least the last recent time, that I laughed as hard as I did during this climax with all the s*it that was going down." –Once Upon a Time in Hollywood (2019): There Lived an Actor and His Stunt Double
"I saw some bits of marketing for this movie before checking it out and honestly, it looked charming. The two leads are extremely likable so if you put them together, OF COURSE I would be there to see them on screen. If anything has been proven in recent years, if your name is "Seth," you have a knack for comedy. Seth MacFarlane, Seth Green, Seth Meyers, and the main guy here, Seth Rogen, just because of your name, you are all SETH for life!
Aaaand, since my name is Jack, it appears that I'm not." –Long Shot (2019): The Hillary Clinton Story
""Midsommar" broke me, tore me apart, and ignited me into scorching flames. If I had to judge this as if it were two movies, I would point out the movie's excellence in terms of direction, cinematography, and location choices. The technical aspects stand out for good reason. But there is a lot that I can't stand when it comes to how the film plays out as to what characters do on camera." –Midsommar (2019): Can Ari Aster Top Hereditary?
"I will say, when it comes to the characters in general, they are very off and on. For one thing, I kind of hate the main group of guys in this film because they all seem to just be less than friendly to the main character at times and it is sort of off-putting. There's a scene where everyone completely establishes they don't want to go on this trip to Sweden with her, only to pretend to be nice to her when she's in the room and invite her to the trip. I understand why they would invite her, even if they have something against the main character to begin with. But even so, upon first seeing all the guys, they all had this rather unlikable vibe to them. It's like if a speeding ticket was a person!" –Midsommar (2019): Can Ari Aster Top Hereditary?
"There's this whole subplot about Nicole trying to find someone, the dialogue in the earliest scene regarding this is still in my head, specifically where one of her friends is trying to encourage her to go to town on a waiter. Cringe! Period! I can't even form complete sentences at this point! GAH! Even if Arnold Schwarzenegger confirmed to me that it's not a tumor, I'd probably feel like a tumor is destroying me as we speak." –The Murder of Nicole Brown Simpson (2019): Worse Than the Haunting of Sharon Tate?
"For all of you writing a book on the history of film reviews, mark this day, because I am about to use "The Haunting of Sharon Tate," a film that broke me to no end that it wound up being my #3 worst film of the past decade, AS THE POSITIVE in a comparison. We have officially reached worldwide insanity." –The Murder of Nicole Brown Simpson (2019): Worse Than the Haunting of Sharon Tate?
""The Haunting of Sharon Tate" AT THE VERY LEAST had one interesting point within its screenplay… Are our lives written from beginning to end? Is everything in our lives pre-planned? Can we write our own scripts? That reminds me, THIS MOVIE HAS A F*CKING DREADFUL SCRIPT!" –The Murder of Nicole Brown Simpson (2019): Worse Than the Haunting of Sharon Tate?
"In fact, get this. Whenever Simpson says something regarding how she thinks she is going to brutally murdered one day or something else along those lines, it felt like an utter joke. And speaking of jokes, there is a scene where Simpson and another character are sitting in the kitchen as they drink… WAIT FOR IT. WHAT COULD IT EVER BE? Oh, I know! ORANGE JUICE! Is it just me or is this movie a punishment for someone? Possibly a punishment for me?" –The Murder of Nicole Brown Simpson (2019): Worse Than the Haunting of Sharon Tate?
"Speaking of Robert Downey Jr., there is a point in this movie where he says a line where he basically invaded my mind and snatched an idea out of it. Now I know this is a kids movie, I know it is a family movie, some people will tend to say that these types of movies can get away with a few things here and there, cause ya know, kids just want to be entertained. I think that is a cop out of an excuse for a least a good portion of how many times such a thought is uttered. But what I find hilarious about this movie's script is that there is a point where a bunch of characters are in a room together and Dolittle is basically providing a blueprint of his plan to save the Queen, and there is a point where he has to point out how preposterous his plan sounds.
Shut up, movie. Shut up." –Dolittle (2020): –Why, Downey? Why?
"Oh, and speaking of which, the humor in this film is as stale as whatever the latest pop song that always plays radio happens to be! Not all the jokes stood out, but when a joke did, it made me hate my life and everything in it. I am a bit young to have kids, but if I ever did have kids, this movie would probably be banned from movie night. If a find a DVD copy of this thing in the house, chances are I'm going to throw it through the window and break the glass. Any movie that has a scene containing a barely understandable human being playing chess with a gorilla who shows his ass as a way of insulting his opponent is officially on my eradication list." –Dolittle (2020): –Why, Downey? Why?
"Ironically, there is a song at the end of the film by Sia. I do not have all that much to say about the song itself, but apparently, in this attempt to recreate "Doctor Dolittle," the song that plays is called "Original." This world is becoming increasingly dumber, and there needs to be a cure for this combined dumbassery." –Dolittle (2020): –Why, Downey? Why?
"Movie buffs, feel free to take my "Official League of Film Fanatics" card. That's a thing I just made up, but bear with me here. But if that did exist, let me just tell you that "The Witch" may be one of the most overhyped films of the decade." –The Lighthouse (2019): Spill the Beans! This Film Shines as Bright as a Bulb!
"In the end, "Countdown" is worth deleting off my phone, as long as it does not affect my relationship with the Terms of Service agreement. It does make me wonder though… What's next in the mobile cinematic universe? A battle between a Twitter bird mascot army and SnapChat ghost army? A movie where millennials go to war, but instead of fighting on land with weapons, they fight in comment sections online? A film where Siri, Alexa, and Cortana are judges on a talent show? I don't know if I want that question answered, but it's worth asking." –Countdown (2019): Time To Die
"As for "Solo: A Star Wars Story," which released almost half a year after "The Last Jedi," that was not filmed with any IMAX technology. It still released in the IMAX format however, going through a traditional DMR (Digital Media Remastering) process. Here are the theaters that presented "Solo: A Star Wars Story" in IMAX 70mm.
There aren't any, the film was entirely released in digital formats.
That's 0 locations. That is less than the number of seasons of "Freaks and Geeks," "Firefly," "Clone High," "Swamp Thing," "Whiskey Cavalier," "The Michael J. Fox Show," "Bam's Bad Ass Game Show," "Son of Zorn," "Bordertown," "Inhumans," "Selfie," "Heroes: Reborn," "Ghosted," "America's Next Best Weatherman," and "State of Georgia." FYI, ALL OF THESE got cancelled after one season." –Will STAR WARS: THE RISE OF SKYWALKER Be Shown On IMAX 70mm Film? 
Thanks to everyone for tuning into Scene Before for these past four years! It has been a ride like no other for me, and that ride is continuing. Also, I must say, I have nerves as to what exactly this ride is going to contain. Movies are getting delayed left and right, I'm busy with school, and this world is not a happy place. One of the positive things I can confirm to you is that I DO NOT HAVE CORONAVIRUS. Let's just start off with that. I'm traveling to a couple locations throughout the week, so hopefully I can keep this streak going. As far as I am aware, I am highly unlikely to die from Coronavirus or other related illnesses in the near future. Remember, if you are traveling, take precautions. Keep yourself clean, wash your hands (but also remember to save water), and if you are affected by Coronavirus in any way, distance yourself from others as much as possible. I will admit, I am somewhat affected by this because I bought tickets to "F9" which comes out in May. Turns out that is getting postponed until April 2021. I am ultimately disappointed with the situations, but the world's health is sometimes more important than the latest sequel of a popular franchise. I will say that I am thinking of doing an in-depth post talking about how COVID-19 could ultimately affect Scene Before and its upcoming events. I have a feeling that many of the movies that I would have expected to review this upcoming spring might get bumped to summer, fall, or even further down the road. They already delayed "No Time to Die," they delayed "A Quiet Place Part II," and not that I care much about it, they delayed "Peter Rabbit 2: The Runaway" from April to August, which I think is baffling because "Peter Rabbit 2" might as well have been an Easter film judging by the time it came out. Luckily, I will have reviews coming for "Emma" and "Onward," both of which I have already seen.
Although, should things go according to plan, I should keep my promise to do at least one post a week. But based on public fears and more and more places closing down, it is going to get harder and harder. I want to do what I have done in years past and list all the movies I plan to review, but I have no idea how long that list is going to stick. Let's just say, if I see a new movie in the theater, I'll review it. That's all I'm gonna say. If all hope is lost, I am going to create alternate content, and maybe I'll do an expansion on the "Top Movies of the 2010s" series I created two months ago.
Should Christopher Nolan's "Tenet" avoid getting bumped, I am planning on doing another review series around his movies (titles pending). I might do more around Ridley Scott and Robert Zemeckis since they have movies coming out this year. Maybe I'll do a review for "Top Gun" in preparation for the sequel. We'll have to see how things pan out.
And in case the film industry dies or dwindles from the effects of Coronavirus, let me just say that I still want to be your Movie Reviewing Moron for years to come. Maybe something could work out. Who knows? THESE ARE DARK TIMES.
Thanks for reading this post! For those of you who are wondering about my upcoming content, I should have you know that I am on vacation right now, so I'm not sure when my next review or alternate piece will be up. But if my next post is a review, it is going to be for "Emma." Stay tuned everybody! Be sure to follow Scene Before either with an email or WordPress account, and like the official Facebook page! It really helps me out! I want to know, what is your favorite moment from Scene Before either from the past year? Maybe before that? Or, what suggestions do you have for me (blog-wise) in case Coronavirus expands? Let me know down below! Scene Before is your click to the flicks!