Hey everyone, Jack Drees here. A couple days ago, it was Zack Snyder's birthday, if you don't know him, he directed movies like "300," "Dawn of the Dead," and "Sucker Punch." He's also responsible for directing some of the DC Extended Universe films. The films in the franchise which he directed include "Man of Steel," "Batman v Superman: Dawn of Justice," and the upcoming "Justice League" film which is supposed to come out in November. He's also directing a "Justice League" sequel but there's not an official release date on that film yet. The film I'm going to bring up today isn't one he's directing, but it is also one he's producing, and that film, is "Aquaman." I will be completely honest with you, when it comes to comic books, I don't read them, I just follow the films, so if I insert anything that a comic book fan might know about Aquaman that a normal person usually wouldn't, that's likely to be based off of brief research. The greatest knowledge I have when it comes to Aquaman, is a brief clip of him from "Batman v Superman," playing "Injustice: Gods Among Us," quite possibly Comic-Con, "The Big Bang Theory," and random places with that sort of information on the Internet and TV. I mean, I know his superpower…
In this post I'm going to bring up something Zack Snyder posted on his Twitter. He posted a few seconds of footage of "Aquaman" on there. The tweet stated "Working on my birthday 🎉." After seeing that, some thoughts are on my mind 1: It's nice to show people that more matters to you on your birthday than gifts or going out to dinner. And 2: Does Zack Snyder think nobody will care about or remember about his birthday? That's not the point really, but still, it's some stuff I thought about. If you want to watch the Aquaman footage, it's down below, enjoy.
As far as this footage goes, I must say I'm impressed with it from a visual standpoint, in a way, it almost reminds me of "The Legend of Tarzan," which came out last year, if it were underwater. I was bored throughout a good portion of that film, but I thought the visuals were tremendous throughout. Although just to get this out, "Aquaman" doesn't come out until October 5th, 2018. The movie could look a lot different in the final product as opposed to how it looks now. Also, this video was shot on a camera looking at a screen, and maybe if you viewed it in real life, maybe the footage would look even better. After all, you still need to color grade, and if possible, add music to suit the scene depending on when this happens.
As far as Aquaman goes in the footage, I'd say, just from this short clip, I approve of Jason Momoa playing Aquaman. He looks like he has the qualities of a superhero. He's fit, and while he may not look like the Aquaman you'd typically think of when it comes to the comic books, I still like the costume, or at least the part of it I can see, I bet his top will be covered for some time in the movie so I can glance at the rest of the costume. My only problem with Aquaman, is his hairstyle. When I look at Aquaman and notice his long hair, it almost reminds me of one of the dwarves from the "Lord of the Rings" franchise. I'm not joking! Regardless of whether or not you have seen one "Lord of the Rings" film (the books don't matter in this case), specifically the ones in the Hobbit trilogy, I have two images of posters shown below. On the left, is Aquaman, on the right, is Thorin, as he is shown in a poster for "The Hobbit: An Unexpected Journey." Just look at them.
I mean literally, what the hell is this?! I apparently just entered the Twilight Zone! Oh, and by the way, despite having black hair in the video and the left poster, Aquaman from what I heard will be blonde in this movie.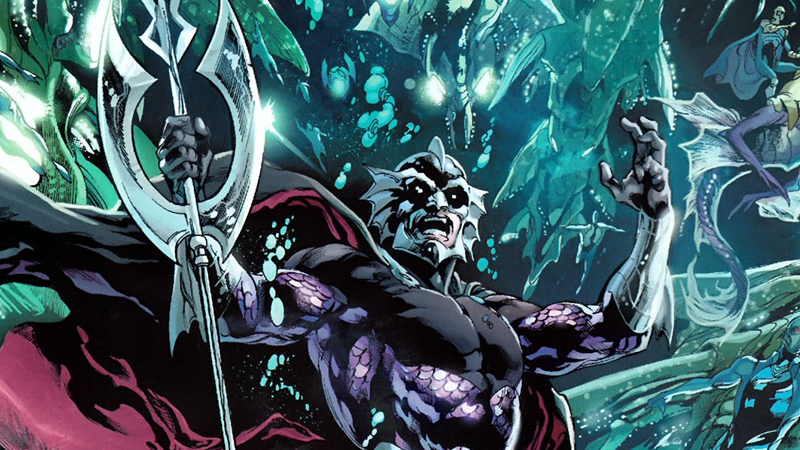 There's one more character in the video that I've yet to talk about. Aquaman is going up to him and he stops in front of him, based on some research, I was able to determine the guy would be a villain in the film, Orm/Ocean Master. In this movie, Ocean Master is being played by Patrick Wilson, who was in some fairly recent horror films including "The Conjuring" and "Insidious." I can't really say much else except that I hope Wilson does well in the film. From what I see, it looks like the movie interpretation of Ocean Master is faithful to the comic books just by the way it looks, but as far as everything else goes, that will be determined in the future.
I hope "Aquaman" is a good movie, because right now, the DCEU really needs something to boost itself. I enjoyed "Man of Steel," "Batman v Superman" somehow gets better every time I watch it and it made me find my celebrity crush, "Suicide Squad" was fun the first time, but it got SO MUCH WORSE the second time, probably not top 10 of the year worse, but it's just plain bad as of now. I mean, I have a lot of faith in the upcoming "Wonder Woman" film and I think it's gonna be sick, but we'll have to see. From the footage I saw, it looks pretty good, but we'll have to see what happens in the future when it comes to this movie. Also, I feel I should remind all of you once again that I have a petition to get "King of the Nerds" back on the air. If you want to sign it, I have the link down below, go right ahead. Just a little announcement that just came up to me recently, apparently as of yesterday, I have been on Scene Before for 1 year now. I don't know if I'm gonna do something for that, but we'll see. Be sure to stay tuned for my future posts and reviews! Scene Before is your click to the flicks!
KING OF THE NERDS SEASON 4 PICKUP PETITION: https://www.change.org/p/game-show-network-have-a-network-pick-up-king-of-the-nerds-for-season-4