Hey everyone, Jack Drees here! Remember how "Avengers: Endgame" became the biggest film in history? Well, some may argue that it couldn't have gotten to that point without one thing, putting a new version of the film in theaters! I remember back in June we were getting advertisements for the upcoming "Avengers: Endgame" rerelease, signifying there would be new content to witness. Granted, I already knew what audiences were in for. It's the exact same movie, but with end credits content that audiences didn't get to see originally. I still roll my eyes to this day that the marketing team decided to market this as a rerelease to begin with because THE FILM WAS STILL IN THEATERS BEFORE THIS HAPPENED! I figured this would be a one time thing. Granted, "Avatar" did a rerelease back in the day with extended content, but for one thing, that was a different version of the film, and it was already out on DVD.
I was able to personally let "Endgame" slide. After all, it ended up being the king of the box office as an effect. But then came August, and apparently "Spider-Man: Far From Home" was joining the party on this!
Now, I will give some credit to "Spider-Man: Far From Home" in regards to their actions during this rerelease game plan. Why? Because they at least called it the "extended cut." This cut featured additional footage that wasn't seen when this film originally came out, so ultimately, this wasn't a "Spider-Man 2," it was a "Spider-Man 2.1."
Wait a minute…
Coincidentally, on the same weekend "Spider-Man: Far From Home" came out with its alternate cut, another movie which, believe it or not, came out at the same time as Spidey's original cut, "Midsommar," was doing the same thing. "Midsommar" came out with what was marketed as the "Director's Cut." This different cut included extended and new scenes.
I will point out, for those who are not in the know, these "rereleases" and "alternate editions" are not a new thing. "Blade Runner" has had multiple releases in various forms including "The Director's Cut" and "The Final Cut." The "Lord of the Rings" franchise, including installments of "The Hobbit," would eventually release an "extended edition" on DVD of each film. And "Star Wars" has been putting out redos of the original trilogy in 1997, 2004, and 2011.
But here's the difference, everyone behind these movies are not putting these out only a couple of months after they originally went into theaters! I don't know how the average moviegoer feels about this, but if I had to judge from my perspective, it sort of is beginning to remind me of a path that the video game industry seems to follow. Back in the day, you would pay full price for a game, and you get the entire game. Nowadays if you typically want to buy a video game, you have to not only pay $60 if it is a big name title, but on top of that, you have all these additional downloads, in-game currencies, packs, those sorts of things! I remember I would play a lot of NBA 2K back in the day, everything I needed was included! Now, if you want the good stuff, you might as well sell your soul! This is why I refuse to buy what seems to be a pay to win-oriented NBA 2K20! If I wanted to gamble, I'd go to Vegas for crying out loud!
Movie tickets are not as expensive as video games (although if you are buying popcorn and bringing a family along, I might take that back), but it is still not cheap. The average price of a movie ticket in 2019 is $9.01, which as far as my area is concerned, is actually kind of a bargain. Where I live, specifically eastern Massachusetts, I'm usually paying somewhere in the double digits for one ticket each time I go see a movie. It could be worse, but it is certainly something that can warrant a slight complaint.
I don't mind seeing the same movie twice in the theater. I've done that with a number of a titles throughout my life because a lot of them happened to be very good and perhaps worth a rewatch. But it never felt like in any of those scenarios that the studio was robbing me. I was seeing the exact same film, just at a different time.
I guess there is a curiosity factor that can come out of an extended cut or something like that. What if there's a scene that makes the movie better? But at the same time, an extended cut of "Far From Home" feels cheap because I just saw the original.
I am not worried about this right now, but I honestly think this has the potential of becoming the next big trend in moviegoing. Audiences see a movie, and since Hollywood is running out of ideas, someone thinks, "Let's show the same thing two months later!" Now if this is a way for the director to get out a version that they would have preferred releasing as opposed to the original, then I can approve. However, why couldn't we have just seen that version in the first place? As a moviegoer, I want to see the next new thing as opposed to seeing studios perhaps making me obligated to see their product again because "it's my duty."
I just don't want to see a future where all of our movies lose their individuality. It seems kind of pointless and just an excuse to make more money. Even if these extended editions do end up somehow being better than their original counterparts, it manages to give me this vibe that certain movies are overstaying their welcome. Who knows? Maybe this will simply be a 2019 fad that will wash away over time, but I am hoping for the sake of individuality, not to mention moviegoers' wallets, that we don't give into Hollywood studios putting out a bunch of changed products. And you know what? Let me just put it this way…
I make a bunch of movie reviews for Scene Before. One of them by the end of the year is inevitably going to be for "Star Wars: The Rise of Skywalker." Let's say I see that movie, review it, and give my thoughts on it. How would you feel? After wasting about 5-10 minutes of reading that, that I announce, "Hold your horses! Stay tuned for this February where I release the EXTENDED EDITION of this review!" Granted, if I went ahead and made a spoiler talk that is one thing, because I'd intentionally make the review filled with spoilers, but what if I came out with the exact same wording, phrases, and paragraph structures as I did in that original review, but I sprinkle tiny new bits and pieces? Wouldn't you feel like I snatched your dignity and thrown it out the window?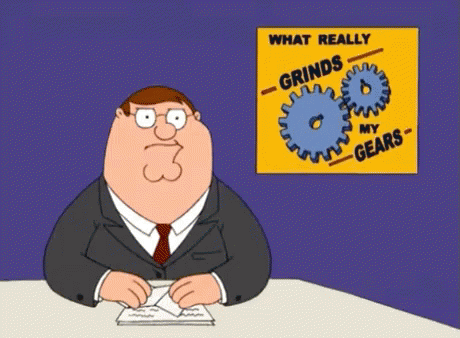 So please, Hollywood… Stop grinding my gears.
Thanks for reading this post! This weekend is the release of "IT: Chapter Two." As for whether or not I'm seeing it, that will be up for debate. And I just want to let everyone know that next week I'll be heading back to college for the fall semester, so if you see me posting a tad less than usual, that could be a reason why. However, this all depends on the workload, so we'll see what happens. I am not planning on losing my commitment to Scene Before, so I will do my best to stick to doing at least one post a week. I will do my best to cover topics that stand out and focus on big or important movies coming out. After all, …Oscar season is upon us. Be sure to follow Scene Before either with an email or WordPress account so you can stay tuned for more great content! I want to know, what are your thoughts on these alternate editions of films? Or, have you seen the recently put out versions of "Spider-Man: Far From Home" or "Midsommar?" Let me know down below! Scene Before is your click to the flicks!